"The war of 1914-18 was an artillery war: artillery was the battle winner, artillery was what caused the greatest loss of life, the most dreadful wounds, and the deepest fear."
       John Terraine,   White Heat – The New Warfare 1914-18
This is the story of 374104 Sgt. John Danton Mayhew, M.M., 163 Siege Battery, Royal Garrison Artillery
In 2019 the Royal Artillery published their Heritage Strategy, with a particular reference to the RA Museum and its fundraising campaigns. The move of the Firepower collection from Woolwich brought many frustrations for those wanting access to records. Based at a working Army site at Larkhill, made spontaneous visits impossible, with the necessity of applying for admission passes in advance for security reasons.  With 300 years of history to curate, careful planning was clearly paramount.  However, three years later and  covid-19 restrictions apart, a notice on the RA museum site currently states ," We are currently working with the Army to identify the best site on which to build the new museum, and we hope to have news on this soon."
Fortunately, during ongoing work involving 163 Siege Battery, John Mayhew's records were accessible online, including pages of Territorial Force Attestation papers from the Burnt records,  Medical Reports, Medal Index and Pension awards. A comprehensive collection like this gave a great deal of information on  both the man himself and his army career.  If only all Great War records were as complete. Having foundations to base further research on, this man's experience as an artilleryman, shows the price paid for serving the guns.
John Danton Mayhew was born in 1895 and lived at 135 High Street, Lewes, Sussex.
He worked as an iron moulder in a foundry in his home town. On 6 June 1913, aged 18, he enlisted in the Territorial Force, and was posted to  B Battery, 2 Siege Battery Reserve Brigade, and  subsequently mobilized on 5 August 1914 with the rank of Gunner  Mayhew signed Army Form E.624 on 23 September 1914, while attached to Langdon Battery, Dover (Lewes Coy. Sussex RGA), which as a man of the Territorial Force, confirmed that he would be prepared to serve " in any place outside the United Kingdom in the event of National Emergency."   By 17 June 1916 he had been promoted to Bombardier and was posted to 163 Siege Battery, RGA.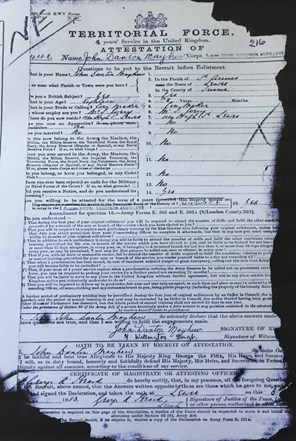 This unit was created as part of the increased firepower reorganisation of  guns with the introduction of Corps artillery groups in 1916.  It comprised six x six inch 26 cwt. guns, the standard medium howitzer of the British Army.  (Maximum range 9,800 yards, but later marks ranged from 12,500 yards.)  Their primary role was to engage in neutralising enemy artillery, along with the destruction of strongpoints, ammunition dumps, roads and railways behind enemy lines.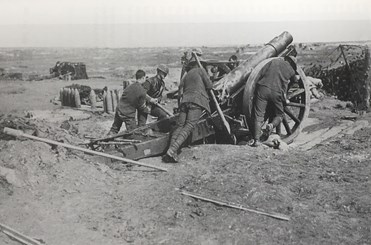 Following training at Larkhill and the Salisbury Plain area, 163 SB moved to Southampton on 22 September 1916, arriving in Le Havre the following day.  Via Rouen, Abbeville, and Savy, the battery served in 44 Heavy Artillery Group, and were moved to Mont. St. Eloi in December 1916 in preparation for operations in the Vimy/Arras area.  Over the next two years they saw action at Vimy, the Somme, Third Ypres, finally supporting Currie's Canadian Corps for the Hundred Days Offensive.
1917 would prove to be a memorable year for John Mayhew, starting with an award of the Military Medal for Bravery in the Field. On 7 July 1917 163 SB were sited in fields at Gunner's Lodge, south east of Ypres, near to the current site of Bedford House CWGC cemetery.  Here they experienced many difficult conditions, firstly finding their billets occupied by another battery, then stores lost or damaged, plus having to endure almost constant  shellfire.
As a result of enemy action on that day the Battery War Diary notes, " Sgt. Mayhew put out camouflage and cartridge fire under heavy shellfire.  Recommended for M.M. "  This was duly awarded and appeared in the Supplement to the London Gazette, 18 October 1917.  Mayhew was also promoted to full Sergeant on 21 October 1917.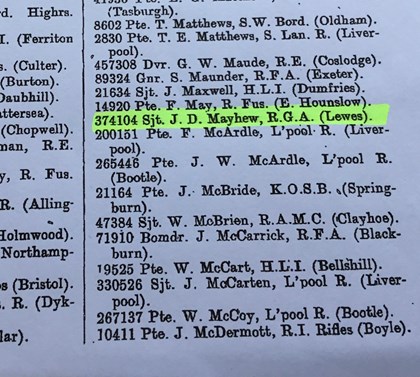 Meanwhile, Mayhew had managed to obtain home leave in September, when he  married  Dorothy Emma Kendall at St. Stephen's Church, Thornton Heath, Surrey.  By the time he returned to France, 163 SB had moved from the Ypres sector to Athies, south east  of Arras, as part of 72 Heavy Artillery Group under Col Caine. For the next fifty days they took part in the Boiry Line programme providing harassing fire both during the day and night on German positions.
Just thirteen days after his marriage, John Mayhew was wounded by counter battery shellfire at Esk Position, Athies on the 8 October.  He received multiple shrapnel wounds to his right hand and forearm, left knee and right thigh.  After treatment at the nearest aid post and CCS, Mayhew was sent to number 11 Stationary hospital at Rouen, where he remained for eleven days.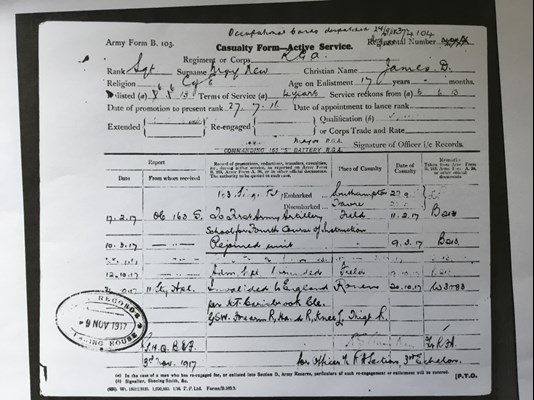 He was invalided back to England on the HT Carisbrooke Castle, and initially admitted to Richmond Military hospital, Surrey where he remained until 26 November 1917.  After his wounds healed, he was transferred to Eastbourne Convalescent hospital but had to undergo further surgery at the Military hospital in the same town.  Additional treatment  by massage was given, and he was also referred to an aurist for his hearing problems.  By the time Mayhew was discharged to furlough in September 1918, he had spent 122 days in hospital.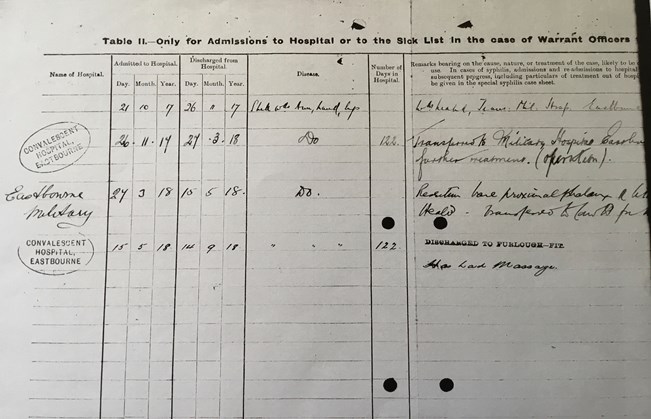 The notes made on the Ministry of Pensions  Medical Board Opinion form help complete the picture of Mayhew's state of health following treatment.  Significant points state:-
"right hand aches after working a short time, left knee pains after kneeling and locks occasionally, when he has to stop and give a kick to fix it.  The right thigh pains at times, worse since demob.  He has not consulted Doctor.  He has been able to continue work.
Operation – removal of bone from hand and removal of shot from knee and thigh.
States slightly deaf in one ear and attributes to gunfire.  No discharge from them at any time.
Notes right digit firmly healed, somewhat thick scar tissue on inner aspect of metacarpus phalanx joint, supple, not tender but flexion of digit not quite full in the joint.  Power of flexion 50%.
Right forearm – scar, sound and supple on ulnar border in lower third – causes no trouble.
Right thigh – tri-radiate scar in middle third, outer surface soundly healed, 2½" longest diameter, not tender, supple.  Involves fascia lata.  Slight surrounding hernia of muscle when erect.
Right knee – curved soundly healed scar in popliteal region 2½" long.  Nothing abnormal felt in knee.  Movement today unimpaired.  Slight wasting of thigh on measurement 17½/18.  No wasting of calf.
General condition: 119ils.  Good.  No evidence of disease in other organs or systems.  Multiple gunshot wounds.  States became deaf right ear during 1917, due to gunfire, some rustling noises in ear.  Memb tymp (eardrums) both indrawn. Rt. Ear spoken voice heard 15' distant.  Soft voice 8' distant.
Deemed disabilities are as a result of war service and likely to last at least six months.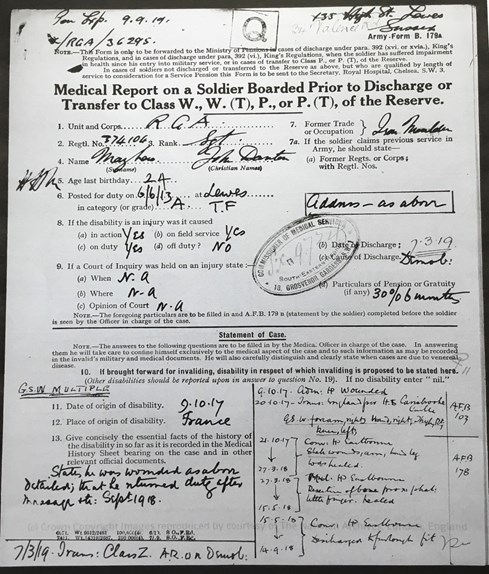 After a total of 5 years and 275 days service in both the Territorial Force and RGA, Mayhew was demobilized on 7 March 1919, with a character of Very Good.  Prior to this he saw no further active service but had been posted to No. 2 Artillery Reserve Brigade.  Pending an application for a disability pension, three bounty payments were made of £16, £5 and £15 pounds in early 1919. It is not known when Mayhew resumed his civilian work, but these interim payments would assist with living expenses.
A framework for payment of disability pensions per disorder had been established, and Gun Shot Wounds generally attracted a rate of 30 to 36% over a set period.  Mayhew  attended a Ministry of Pensions Medical Board in Brighton on 13 October  1919.  A committee of four individuals awarded a 30% conditional pension and bonus of 26 weeks with effect from 8 March 1919.  The First Award was for 9/9d. and a Revision then reduced the amount to 6/6d. per week.  An extra 3/- was paid in respect of his wife for ten weeks.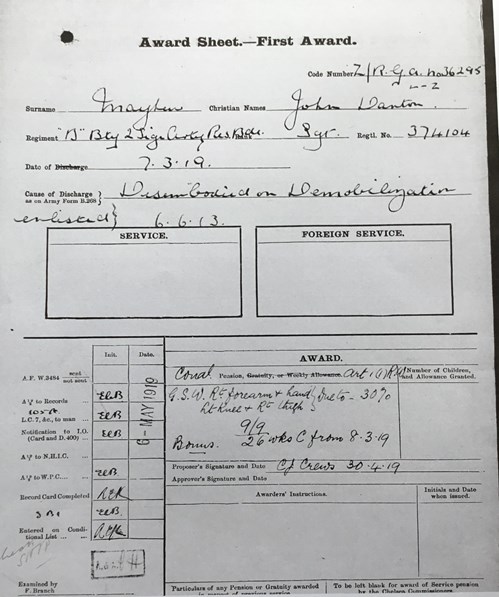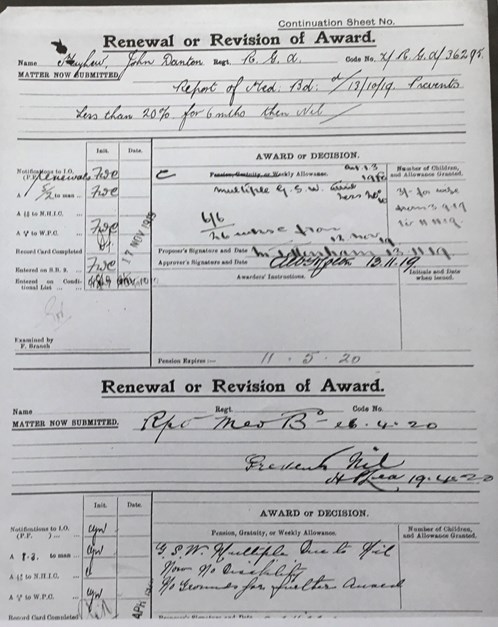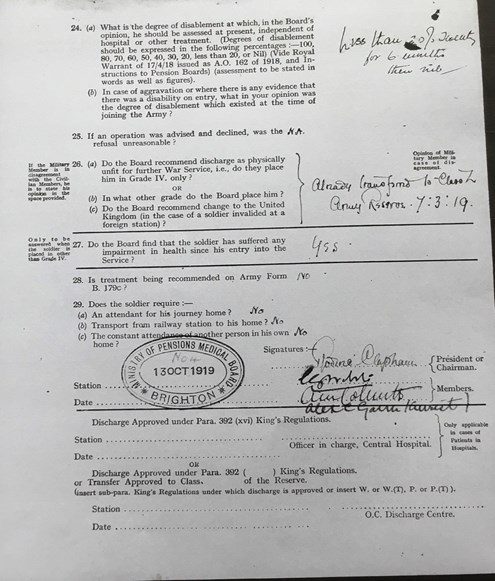 The existing file gives a hint of the vast amount of paperwork that was generated for just one man.  In April 1919 RGA Records sent B103, B120, B178, D400Z, Z69, Z22 to the Ministry of Pensions, W3463Z to the Ministry of Labour, notified TFA of Demobilization, and sent L21 to man.  Additionally, Army Records sent B079 and slip to man, and notified TFA and Ministry of Pensions in November 1919.
Remaining information exists for John Mayhew in the Territorial Force War Medal ledger, Silver War Badge B344144 awards file, and his Medal Index card.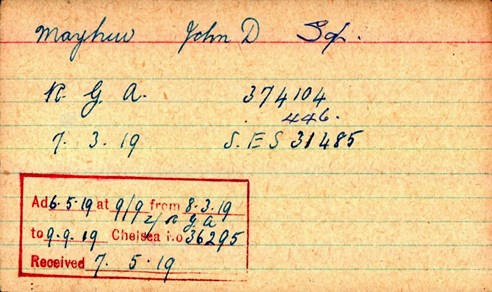 Out of a unit of over 170 men in 163 Siege Battery, John Mayhew was a random individual selected to research purely for the range of information about him still available today.  Although seriously wounded, he survived the war and died in 1974 age 78 in Brighton. 
Unfortunately, no photo of him or the Battery has been found to date but will be an ongoing task once the Royal Artillery museum and archives become available again.  He was also a good example of how the WFA pension and disability records provide not only a valuable insight into the nature of wounds and injuries, but also  from a social history aspect how the Great War affected families.
Article by Dora Ringland