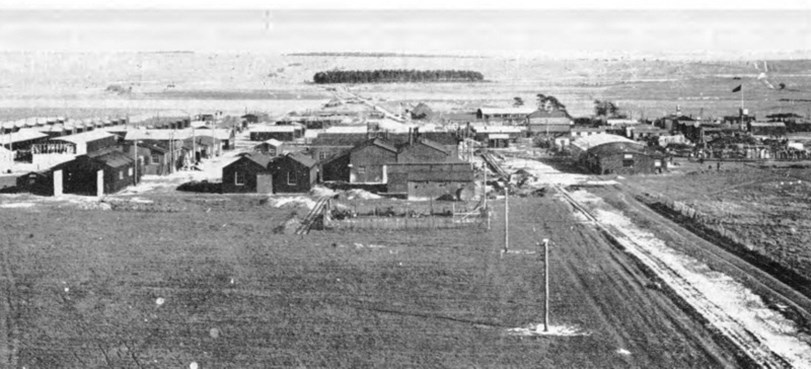 General view of Porton from the water tower, c.1918. In the centre background is 'Gas Wood', where the first gas cylinders to he delivered to the site for testing were placed under the guard of a single civilian night watchman. PRO: MUN 5/386/h/I650/14.
The 'revelation' earlier this year [1981] by a BBC television reporter of the projected use of anthrax spores on German cities in the last war was largely based on previously unpublished documents in the Public Record Office and on an interview with the Director of the Government's Porton Down chemical warfare research establishment.
Porton was opened in 1916 as a Royal Engineer Experimental Station dealing with all forms of gas and chemical weapons. Through diligent research work at the PRO we are able to present this previously unpublished photograph of Porton as it looked during the Great War. We can also reveal that, according to a report preserved at the PRO, the very first workman employed in preparing the site of this highly secret establishment was subsequently identified as a German.
There are extensive 1914-1918 chemical warfare records at the PRO in both the Ministry of Munitions and War Office groups of files. For instance, WO 142 contains the CCP (Colonel Commandant, Porton) reports on experimental work from July 1916 to December 1919.
What a pity that the records of the Trench Mortar Experimental Camp, just down the road at Porton South, do not seem to have survived.
W M B K
This item first appeared in Stand To! No.3 Winter 1981 p6. Archived issues of Stand To! are available to read online or to download by WFA members via the Member Login.
Learn About The WFA.
If you'd like to become a member of the WFA Join Today.