Capt H L Skrine, 6/Somerset Light Infantry
Killed in action 25 September 1915.
No known grave. Remembered on the Ypres (Menin Gate) Memorial
Memorial: Stone cross next to the Bowlby Mem. (qv) on Cambridge Road, N of Menin Rd and Railway Wood, 2.5km W of Ypres.
Guardian: CWGC.
Born on 12 November 1880, Henry Langton Skrine was the only son of Colonel Henry Mills Skrine and Lady Mary Skrine of Warleigh and Claverton Manors near Bath. He was educated at Eton and Balliol College, Oxford, gazetted into the Somerset Light Infantry in 1901 and was en route for South Africa when the Boer War ended.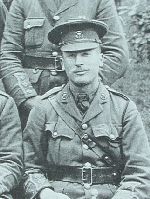 He applied for a posting in a remote part of Nigeria where he struggled to learn the native languages, and was promoted Lieutenant in 1904. But having become quite ill in the climate he retired to the Reserve of Officers in April 1906. On 7 October 1914 at Aldershot he married Ferdinande Anna Josephine d'Orgeva. Early the following year his father died and he inherited the estates at Bath together with property at Maidenhead and the Lordship of the Manor of Cookham, Berkshire, nearby.
Skrine rejoined his Regiment on 7 September 1914 and was promoted T/Captain on 24 October. As 'A' Company commander he went to France with the 6th Battalion (43rd Brigade, 14th Division) on 21 May 1915.
Prior to the second attack either side of Bellewaarde Farm on 25 September the Battalion, which had spent several unpleasant tours in the vicinity, was attached to 42nd Bde. After a heavy night bombardment of Railway Wood and the trenches beyond, the three attacking companies of the Brigade went over. Shortly afterwards the Somersets were ordered to re-inforce the line just north of the Wood when the enemy retaliated and drove the attackers back. Col Rawlings went forward to Railway Wood and seeing that a further assault was out of the question under the terrible gunfire, concentrated on holding the existing line for the rest of the day.
Captain Skrine, two other officers and eleven men were killed, one officer and 38 men wounded and three missing in the engagement. Col Rawlings wrote to Skrine's wife "...he was buried by his Company in rear of the fighting line. He died instantaneously, shot through the head. With him died four men... During the attack he saw Germans collecting in a communication trench. Immediately he ordered rapid fire on the enemy. A machine gun on a flank opened fire in return and your husband fell..."
No grave was discovered after the War, but his damaged wooden cross was found lying at Gully Farm in 1920. Skrine's sister, Dorothy, and his widow bought the 1500 square metre field where he had fallen and erected a memorial by the roadside in his memory.
There to this day, it is a rough hewn cross in blue stone with a curved block base set on two steps, inscribed:
'TO THE GLORY OF GOD AND IN LOVING MEMORY OF HENRY LANGTON SKRINE CAPTAIN 6TH SOMERSET L.I. WHO FELL IN ACTION AND WAS BURIED CLOSE TO THIS SPOT 25TH SEPTEMBER 1915'
Below that are the words:
'IN MEMORY ALSO OF THE MEN OF HIS COMPANY WHO LIE HERE WITH HIM'
and on the bottom step:
'DULCE ET DECORUM EST PRO PATRIA MORT'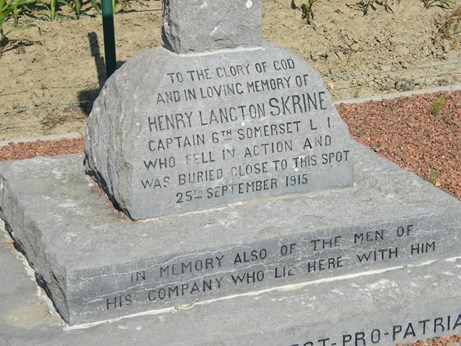 Originally there was a small garden, and dwarf posts and an iron railing which needed frequent repairs.
Soon afterwards land was sold to the widow of Captain G V S Bowlby and she erected a memorial at the top of the track to Gully Farm. Both families found it difficult to maintain their memorials adequately and in 1930 Miss Skrine first discussed it with CWGC. Suitable financial arrangements were made, CWGC took charge and the annual reports confirm that plants were cared for and the grass and surrounds were in good order. But, concerned about cost and unable to sell surplus land economically, the families agreed new joint rates with CWGC in 1950 and accepted a lower standard of care for the surrounds. Ownership of the spare land appears to have reverted to the Belgian State in 1957.
When Miss Dorothy Skrine died in 1956 her younger sister, Mrs Margaret Mowll, took on the cost followed in turn by her husband, her other sister, and eventually Mrs Mowll's son, who was unmarried. Thus Henry Skrine's family carried out their duty. Mrs Mowll also gave a chair in her brother's memory to St George's Church, Ypres. In 1996 by agreement with all concerned the troublesome railings were removed, a lay-by was built and Captain Bowlby's memorial was moved to join that of Captain Skrine by the roadside. Now much easier to maintain and visit, these two memorials art now safe for the future.