Like most youngsters growing up in the 60s and 70s The Great War was a long time ago, and although my Grandad, Fred Booty, had medals in his china cabinet, along with an old photo of his brother Arthur, in Army uniform (who was the subject of a "Centenary of Relatives Lost in the Great War" article in the May 2016 Suffolk Branch Newsletter), the only occasion when Fred did speak about The Great War was when I had built a working model Trawler, which I took to Norwich to sail on Eaton Park Pond. I proudly showed it to Grandad who, much to my surprise, became very animated and discussed all the fixtures and fittings. Unfortunately, I did not pursue this and left it as a mystery as to why Fred, who worked all his life for Norwich Union, should be an expert on Trawlers!
The subject did not arise again until I was sorting out Fred's house, long after he had passed away, after my Aunt, who had never left home, had also passed away. I was entitled to any books from the house and was intrigued to find a copy of "Swept Channels" by Taffrail (Captain Taprell Dorling DSO, FRHistS, RN), a complete history of Mine Sweeping in The Great Was, [i]with Fred's name carefully inscribed on the fly sheet.
I then found in his papers a photograph, inscribed by my Aunt as "Dad with his Navy mates, 1914-18"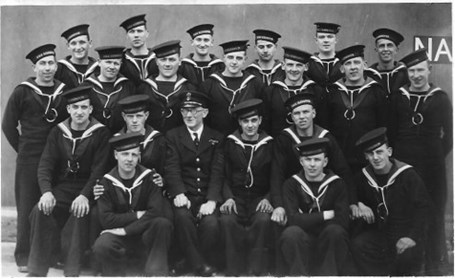 Fred is on the end of the second row, seated on the right (the Petty Officer's left). The Cap Tallies say "HMS Glendower" but I can find no trace of this in any on line WW1 records. HMS Glendower in WW2 was a training base in a former Butlins camp in North Wales, and I can only assume in WW1 it was a similar establishment, though where it was located remains a mystery.
Fred's Naval Discharge Papers were with his papers and showed he joined the RNVR at The Strand in London on 21st July 1916, 3 months after his 18th Birthday. He was not mobilized until 11th December 1916, doing his initial training at Victory VI Depot (The RNVR Depot at Crystal Palace), followed by a Naval Signaler course which he passed, with 100% marks, in March 1917. He then moved on to HMS Vivid, but this was merely an "Accounting Base" where crew were actually based on smaller ships – in Fred's case, Mine Sweepers and Auxiliary Patrol Craft, mainly comprised of requisitioned Trawlers which were usually requisitioned complete with their crews. A new Naval Rank of "Skipper" was created to apply to the formerly civilian Trawler Skippers.
Fred and his Signaler comrades would be posted to Trawlers to operate the signaling equipment – often comprising just Semaphore Flags or a Morse Lamp. Unfortunately, there is no record of Fred's "little ship" postings or exploits.
Fred went on to serve in the Territorial Army between the Wars, and in the Royal Air Force in the Second World War – but that, as they say, is another story!
The threat from mines was clearly understood long before the Great War, and in 1911 the Royal Naval Reserve (RNR) Trawler Section was formed, comprising 100 trawlers, fully manned by fishermen[i]. On 4th August 1914 these were activated and 94 were in post within a week at ports of "military importance", Cromarty, Firth of Forth, Tyne, Humber, Harwich, Sheerness, Dover, Portland and Plymouth. The groups were commanded by Naval Officers, often from the retired list. At this point the entire Fleet Minesweeping Force comprised 6 old refitted motor gunboats.
The laying of a large minefield off Southwold by the Germans soon dispelled the idea that mines would be used sparingly, and another 100 Trawlers were requisitioned on 10th August 1914 and by the end of October 1914 478 "Skippers" had enrolled in the Trawler Reserve, presumably along with their vessels.
Losses[ii] from Mines during the Great War amounted to:-
                46 Royal Naval Vessels, including 5 Battleships;
                225 Auxiliaries on Naval Service;
                214 Minesweepers, including 24 from Harwich, HMT Dane's base;
                259 Merchant Vessels, with a further 84 damaged
                63 Fishing Vessels
During the Great War, the Germans laid 22,067 Mines in the North Sea and a total of 43,646 in all areas, whilst the British laid 112,354 and 128,652 respectively[iii]. Of these the British destroyed 10,700 enemy mines in Home Waters[iv] during hostilities.
By November 1918 the Navy could muster 726 Minesweepers – purpose built or requisitioned, 412 being Trawlers – across 26 home ports and 35 ports abroad.
Clearly there was a fairly rapid learning curve as in 1914 one vessel (of all types) was lost per mine destroyed, by 1917 this had improved to 28 mines per vessel lost and in 1918 85 mines destroyed per vessel lost.
The result of all this effort was that the supply of the Western Front from home was never interrupted, which makes the Minesweeping efforts one of the success stories of the Great War.
HMT Dane
As can be seen from the above, the Dane was one of a great many requisitioned Trawlers. She was quite modern, having been launched in 1913 at the Cochrane & Sons shipyard in Selby for the "D" Line Steam Fishing Co. Given the parlous state of our current fishing industry it is hard to imagine the numbers of Trawlers in service pre-War. Cochrane and Sons could build 8 at a time using a version of assembly line construction and had full order books[v].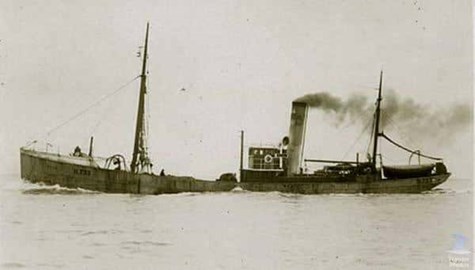 Above: H733 Drax (registered in Hull) She sank off Iceland after striking a rock in August 1913
There is no on line picture of the Dane that I have been able to source, but this is a very similar Trawler in terms of Gross Tonnage (265 Tons), age and size (130 feet long, 23 feet beam and 12.2 feet draught). Dane was powered by a 3-cylinder triple expansion engine, with 1 boiler, 1 shaft and 1 screw providing a maximum speed of 10 knots. Her registration was GY 947 (GY being Grimsby, not, as I had thought, Great Yarmouth!)[vi].
Dane was requisitioned in April 1915 as an Auxiliary Patrol Vessel and was based at Harwich in a group commanded by Lt. Parker RNR. Her Admiralty Number was 1446.
Her loss occurred at 07:50 on 28th August 1915 1 mile North West of the North Aldeburgh Napes Buoy at 52.10.08 N, 01.41.06 E as she struck a Mine laid by the Submarine Minelayer UC6 commanded by Matthias Graf von Schmettow[vii].
The Germans had unleashed these submarine Minelayers in April 1915. Built in Germany, these 170- ton vessels were dismantled and re-assembled in Antwerp or Pola, rather like an early IKEA kit. They were crewed by one Officer and 13 crew. They carried 12 cylindrical mines in 2 tubes and were grossly underpowered, being unable to make way against the current in the Dover straits. However, by the end of the War, 90% of German Mines in Home Waters had been laid by such vessels[viii]. UC-6 carried out 89 patrols until hitting an explosive anti-submarine net on 27th September 1917. Her mines accounted for 36 Merchant Ships sunk and 7 damaged along with 19 warships sunk (Including HMT Dane) and 2 damaged.
Crew of HMT Dane
As regards the Crew, there seems to be some confusion and missing information. Due to the COVID-19 restrictions I have been unable to check the local newspaper archives to see if there is more definitive information there. Online sources mention "4 ratings lost, I more died of wounds, 8 killed" but I can only trace 5 named casualties, none of which are of "Skipper" rank. Those named are
Seaman CARRADICE, (Served as WILSON) RNVR No 7929/A, CWGC grave in Ss Peter & Paul Churchyard, Aldeburgh[ix]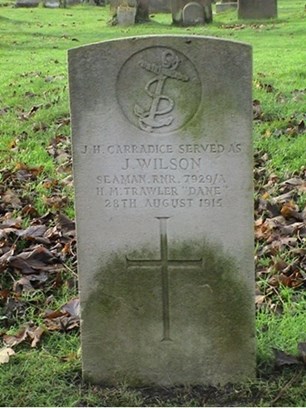 Above: The headstone of John Carradice who 'served as' Wilson. 
Below: The Pension Card confirming the alias and showing John's brother Basil who was also killed in the war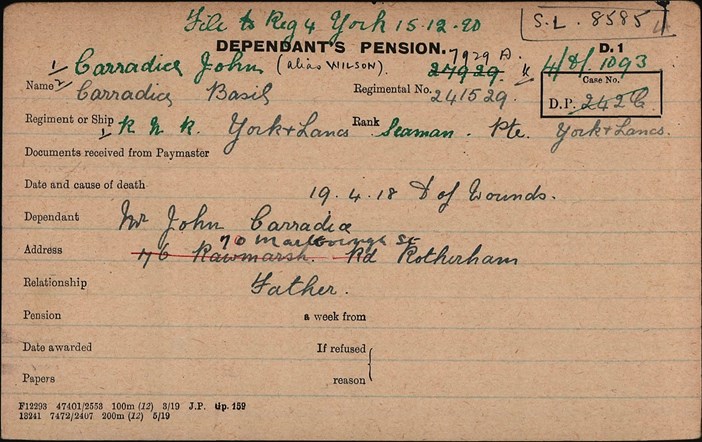 Deckhand HOWARD, Arthur Horace Samuel (18) RNVR No 4399/DA, CWGC grave in Caister Old Cemetery (He is the one rescued, but died of wounds).
Deckhand POTTER (32) RNVR No 6356/DA, Son of George S Potter of 4 Lime St., Yoxford . CWGC grave in Ss Peter & Paul Churchyard, Aldeburgh.
Engineman PRETIOUS, James William (41) RNVR No 2795/ES. Husband of Ellen Pretious of 25 Freeston St., New Cleethorpes, Lincs. Listed on Chatham Naval Memorial to the Missing.[x]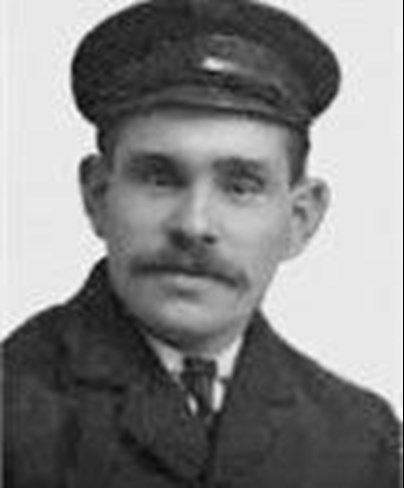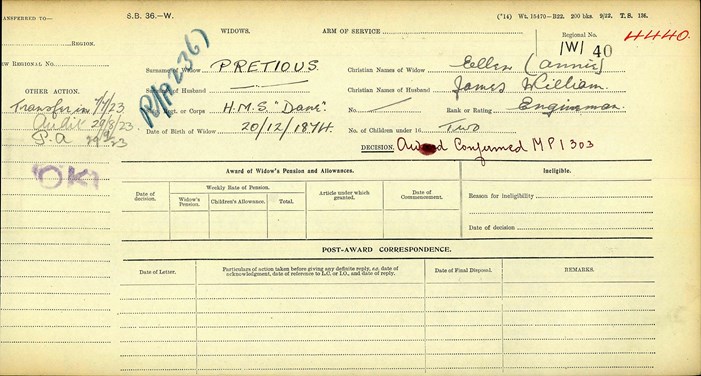 Deckhand WILKINS, Ernest (21) RNVR No 7433/DA Son of Anna Wilkins of Lessigham, Norwich and the late Robert Wilkins. Listed on Chatham Naval Memorial to the Missing.
Assuming a crew of 8, there are 3 names missing, including the Skipper, and no mention of a Stoker nor any gun crew (Assuming HMT Dane was armed, at least with Machine Guns). The CWGC lists no other local Naval casualties for 28th August 1915, so currently this remains something of a mystery. Did the other 3 survive? As an average, for each Trawler sunk in action, half the crew were lost so this may be the answer. Until the COVID-19 lock-down is removed sufficiently for me to get to Suffolk Records Office and investigate the local Newspaper Archive this seems to be as far as I can progress! At that time I will also visit Ss Peter & Paul Churchyard in Aldeburgh and Caister Old Cemetery. Hopefully, in the not too distant future, I will also be able to get to the Chatham Naval Memorial.
Conclusion
HMT Dane was one of a great many craft brought in to fight the menace of German Mines. Despite serious losses, they were highly successful, especially in the later stages of the Great War. Their losses are minute compared to those on the Western Front, but without their efforts, the Western Front could have been starved of supplies and reinforcements. Those efforts are now largely forgotten, although I note that one of the Presentations at the (cancelled) WFA AGM was to have been on this very subject.
As for Grandad Fred, his luck held throughout the Great War, and again in World War II, where he ended the War as a Ground Crew Flight Sergeant servicing fighters whose base had progressed as far as Belgium.
Fred was a fairly grumpy curmudgeon in my memory! Nonetheless, I wish I had taken the opportunity to find out about his exploits before it was too late.
Article by John Booty
[i] Dorling, T., 1935. Swept Channels. 1st ed. London: Hodder and Stought pp 62 - 63
[ii] Dorling, T., 1935. Swept Channels. 1st ed. London: Hodder and Stought App. 1
[iii] Dorling, T., 1935. Swept Channels. 1st ed. London: Hodder and Stought App. 1A
[iv] Dorling, T., 1935. Swept Channels. 1st ed. London: Hodder and Stought App. 2
[v] https://sites.google.com/site/trevorhallifax/dane-gy-947
[vi] http://trawlerphotos.co.uk/gallery/showphoto.php?photo=146018&title=drax&cat=1203
[vii] https://www.wrecksite.eu/wreck.aspx?70089
[viii] https://en.wikipedia.org/wiki/SM_UC-6">https://en.wikipedia.org/wiki/SM_UC-6
[ix] https://www.greatwarforum.org/topic/66602-hmt-dane/
[x] https://www.ww1hull.com/directory-newtest/listing/pretious-james-william/.