In Gun Fire edition number 33, there is a short paragraph in the 'Notes and Queries' section dealing with a First World War memorial within the prison at Parkhurst on the Isle of Wight.
This paragraph in Gun Fire reads as follows:
Perhaps the most unique and interesting war memorial in the country is that placed in the Prison Chapel at Parkhurst, which was unveiled on Wednesday by Major-General J.E.B. Seely, C.B., C.M.G., D.S.O., M.P., the lord-lieutenant of Hampshire, for it is a tribute paid by convicts to fellow prisoners who were liberated on volunteering to fight for their country and fell gallantly facing the enemy. The memorial consists of a brass tablet on a dark oak background, and the inscription is:
To the glory of God and in memory of those who went from imprisonment in this place and gave their lives on the Field of Honour in the Great War, 1914-1918.
"These are they which came out of tribulation."
Rev. vii. 14.
Erected by their fellow prisoners.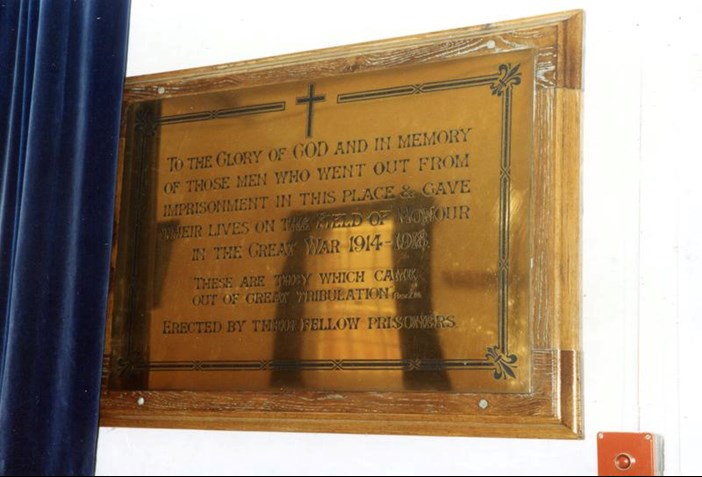 Above: The memorial in the chapel at Parkhurst Prison (image: www.isle-of-wight-memorials.org.uk/prisons/parkhurstprisoners)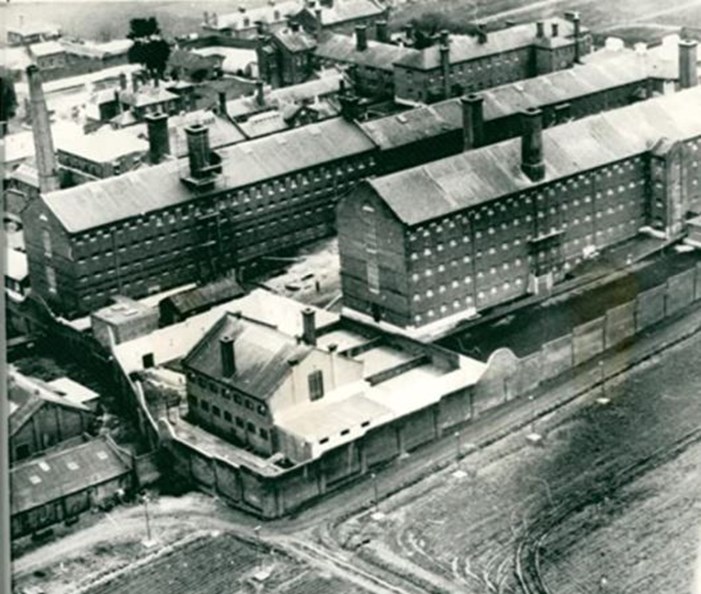 Above and below: Two views of Parkhurst Prison on the Isle of Wight.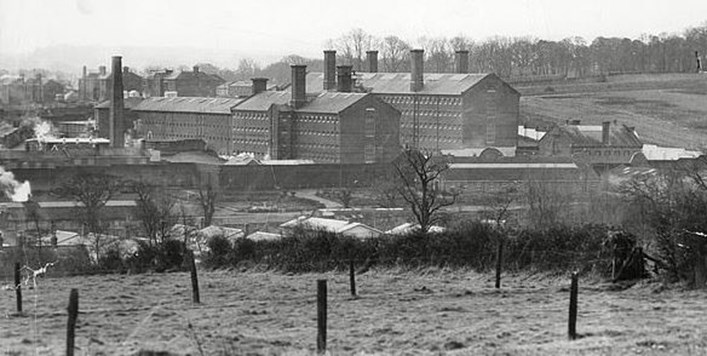 The piece in Gun Fire continues...
"The memorial was subscribed for by the convicts only, and so keen were some to give substantial sums towards it that the Governor had to limit the subscriptions. Men of all nationalities, including a German and a Mahommedan, willingly gave their little quota, and judging by the reverence and general demeanour of the 700 or so prisoners who were present at the unveiling ceremony, no memorial yet erected has been raised with a more genuine spirit of respect and honour than was this tablet in memory of men who might, not unjustly perhaps, have felt that they had but little to arouse their spirit of patriotism. Yet, as the Governor and the gallant General mentioned in the course of their sympathetic and able speeches, almost every man who was able volunteered, and amongst the large number who went was one brave man who died of wounds after winning the highest honour the British nation can award her heroes of the battlefield - the V.C., whilst several others gained commissions and promotion for gallantry."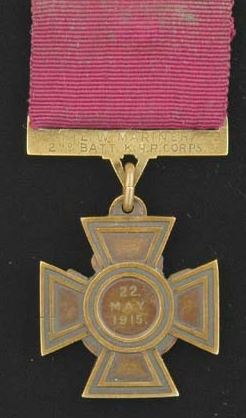 Above: The reverse of Mariner's VC
The reference to a former prisoner being awarded a VC seemed to be something worthy of further research.
The following has been established from a fairly brief amount of research, which possibly highlights the advantages that modern technology brings; something not available when 'Gun Fire' was published !
It seems that a former prisoner, although he was never imprisoned at Parkhurst, was indeed awarded the Victoria Cross. The facts around this have come to light on the back of an article that was published in the Daily Telegraph a few years ago which is reproduced below:
A previously unknown eyewitness account of the action that earned the 32-year-old burglar Britain's highest gallantry medal on May 22, 1915, has been found among the records of his regiment, the King's Royal Rifle Corps. It was written by another soldier, Jack Laister, who as a nine-year-old survived the 1906 San Francisco earthquake as well as most of the bloodiest battles of the Great War, including Delville Wood and Passchendaele. He accompanied Mariner for part of his apparently suicidal mission against a German machine-gun post. His account shows that Mariner not only destroyed the gun emplacement but also brought two prisoners back to his trench.
Writing in 1991, when he was 94, Mr Laister described the night he slithered into the mud of no man's land with William Mariner.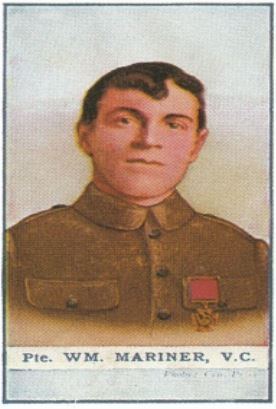 "I had just had my 18th birthday and that night Mariner said to me: 'This is it, Chico [Laister's nickname], got your cutters?'….He told me he needed two bandoliers of Mills bombs [grenades] and said 'I can't drag a box over no man's land'. He shook my hand and told me to crawl up to the German wire with him, cut and then 'for God's sake get back'.
"Things seemed to be in our favour — it was a pitch-black night although of course we had to tuck ourselves into the ground when the Very Lights went up. We reached the wire and I started to cut, all the time being terrible afraid that if the Germans heard me it would mean certain death for both of us, but they didn't. Then Mariner took off his tunic and his shirt so they didn't catch on the wire and whispered 'now get the bloody hell out of it' and I remember thinking, I'll never see him again. I crawled back as fast as I could but I had only got half way back when all hell was let loose.
"I never saw anything like it: standing on top of the German front-line trench was Mariner. In the light from the Very Lights I could see him hurling bomb after bomb into the German trench. Pieces of bodies, limbs, heads were all flying out and up into the air. Again I thought, that's the last I'll see of him because the Germans had opened up with every gun. I managed to get back to our line and as I dropped over on to the fire-step, my mates grabbed me and one even kissed me, saying 'My God, you got back alive'. But we all thought we'd never see Mariner again.
"We sat on our fire-step, keeping our heads down and waiting for a counter-attack and after a while we heard people speaking German, which was strange because they were giving the game away. Then, pushed over the parapet, came two Germans who dropped onto the fire-step and Mariner jumped in after them, carrying part of a German machine-gun."
Much mystery has surrounded the Convict VC and it can now be settled: John William Mariner was born in Chorley, Lancs on May 29, 1882, the illegitimate son of a cotton weaver, Alice Mariner, who two years later had another son out of wedlock, named Frederick. The shame of illegitimacy was such that in the 1891 census, William and Fred were listed as the sons of Alice's parents. She had married John Wignall three years earlier and had two children by him.
By 1900 William had signed up with the King's Royal Rifle Corps. The undernourished, 5ft 3in weaver served in India until 1909, becoming the regimental lightweight wrestling champion. He was twice court-martialled, once for striking an officer and once for using threatening behaviour, serving long prison sentences with hard labour.
Mariner left the Army in 1912 as a private and was soon convicted of breaking and entering, serving at least a year in prison in Manchester. In October 1914, he signed up with his old regiment, under his own name, and was sent to France.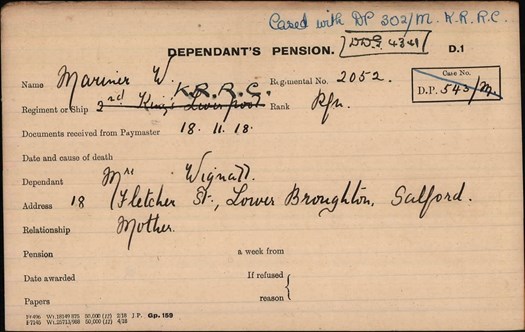 Above: Mariner's Pension Record Card
After the action described above, William returned to Salford on leave in August 1915 and left home one day without informing his mother. She suspected he was going to receive his VC and travelled to Windsor with her daughter, but on arrival was told the investiture was in London. The VC was presented by King George V outside Buckingham Palace on 12th August 1915. Alice and Mary arrived to join hundreds of spectators and saw William as he left the investiture. The crowd was so large that William and fellow VCs, Henry May and Joseph Tombs, left immediately in a taxi, unaware that his mother and sister were in the crowd. Back in Salford, he received a civic reception from the Mayor and Corporation and was presented with an illuminated address and a gold watch. He was also given a reception in Chorley.
Mariner also received a letter from Lord Kitchener, urging him to do some recruiting. Mariner took him too literally, overstaying his leave and being arrested after some high jinks in London. He wore his VC in court and received a severe ticking-off.
Mariner returned to his unit and was in the line near Loos in June 1916.
On 30 June 1916 the 2/KRRC were in the front line of an attack on the Railway Triangle, South of Loos. At 9.15pm the battalion moved forward. The German line was reached but Mariner was killed in a communication trench when he was hit by a shell.  A witness, Giles Eyre, recorded what happened. "As I round the corner and glimpse Mariner in the very act of a bayoneting a prone German – a whistling swish seems to fill the world – Mariner, caught full tilt by a shell, has been blown to fragments." He was listed as missing and his name is commemorated on the Thiepval Memorial to the Missing.
Above: Mariner's name on the Thiepval Memorial
Perhaps the above may whet the appetites of researchers to investigate the question of former prisoners being released from their sentences to serve in the army. How many took this option? What happened to these men? How was this administered and is there a full list of these men in any archive?
If anyone wants to take up this challenge, please get in touch with the author
David Tattersfield, Vice-Chairman, The Western Front Association