The Woodborough Road Baptist church in Nottingham was an imposing late Victorian building, designed by the eminent architect, Watson Fothergill, and opened in February 1895. Sadly, the church closed in the 1970s and the Great War memorial tablets to the men who served and those who died, were removed from the premises before its sale. The UK inventory of war memorials showed that the memorial was 'lost'.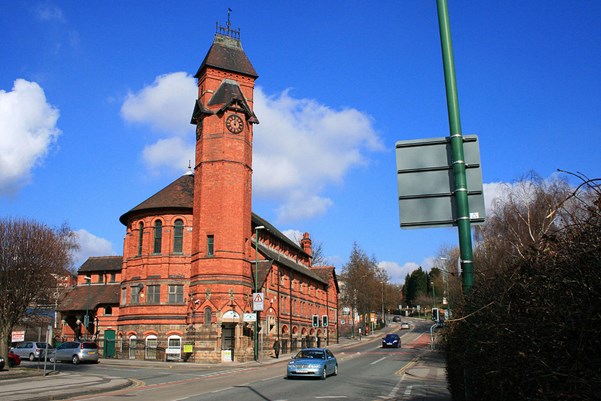 Above: the former Woodborough Road Baptist Church building. Photo geograph.org.uk
In the summer of 2019, Lincoln Western Front Association member, Rory Newsome, spotted the memorial tablets languishing in a reclamation yard in Grantham. Recognising the importance of the tablets, he purchased them and stored them at his home. The Lincoln & North Lincs branch of the WFA then became involved and ascertained that the Baptist authorities were delighted with this 'find' and agreed that a new home for them would be found in the Mansfield Road Baptist Church in Nottingham. From an early stage, the East Midlands (Nottingham) branch of the WFA were also involved in the project with both branches making a financial contribution to the restoration project.
After being unloved for many years, the memorial tablets were sorely in need of repair, restoration and a good clean. Stamford based monumental mason and WFA member, Andy Baker, was approached and kindly undertook all of the work free of charge. A really nice touch in the repair process was the use of a patch of brass cut from a British 1917 shell case. By December 2020, the restored tablets were rehung in their new home.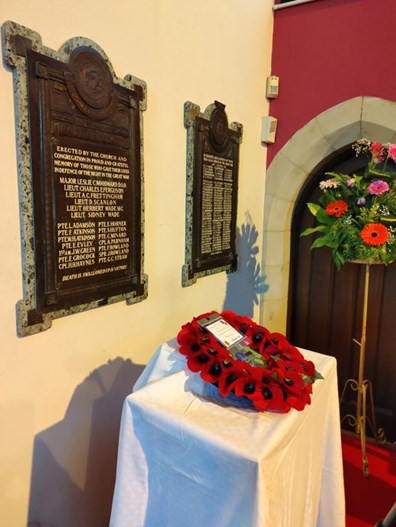 Above: the newly restored war memorial tablets
Throughout this whole process, the Mansfield Road church Minister, Andy Wilson, was a tower of support and it was with his blessing that a service of rededication was arranged for Saturday 3 July 2021. Purely by coincidence, a named soldier's bible, which had been given to Thomas Cottingham by the congregation of the Woodborough Road Baptist church at Christmas 1914, came up for sale on a well known auction site. This featured in the service when the Minister, Andy Wilson, read the 23rd Psalm from it. This was a most moving moment that brought a lump to the throat.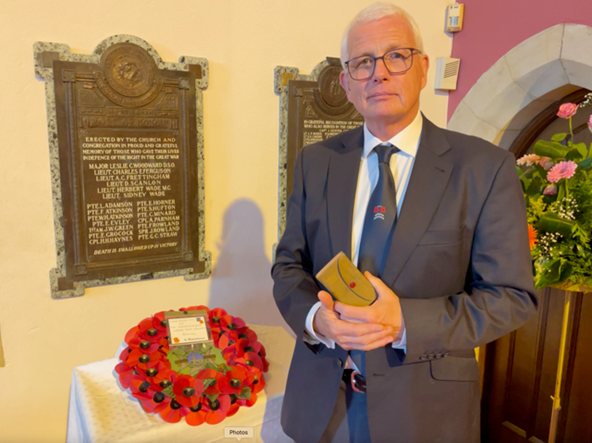 Above: Jonathan D'Hooghe, Chairman of Lincoln & North Lincs WFA
The tablet detailing those killed has 20 names – all but one werecasualties in 1917 and 1918. 
The first casualty in 1916 was Herbert Douglas Scanlon (listed on the memorial as D. Scanlon) who had served as a 2nd Lieutenant in the 22nd Battalion of the AIF. Herbert had emigrated to Australia in 1912 and enlisted in March 1915. He served at Gallipoli before going to France in March 1916. He was promoted to Sergeant in April 1916 and then to 2nd Lieutenant in early August 1916 but was killed at Pozieres on 5 August 1916. He is buried in Pozieres British Cemetery.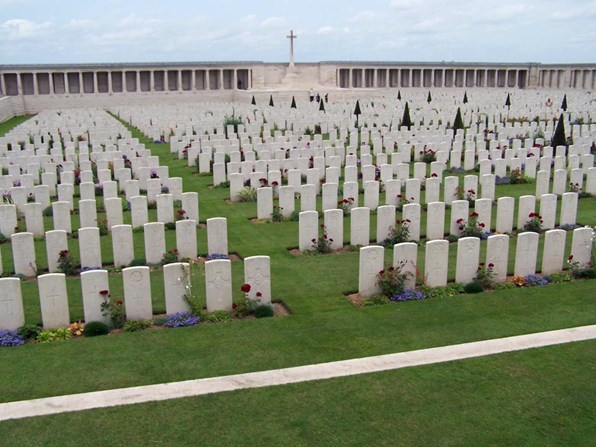 Above: Pozieres British Cemetery.(c) CWGC 2021
The highest ranking officer named on the memorial is Major Leslie Collins Woodward (image below).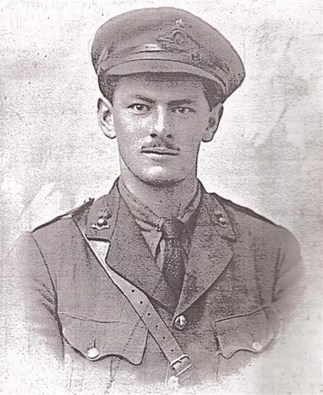 Leslie had attended Nottingham High School and worked pre war as a bank clerk. He was also a member of the Nottingham Rowing Club and is also commemorated on the Club's Memorial.
Above: Nottingham Rowing Club Memorial
He enlisted on the outbreak of war to serve in the Royal Artillery. Mentioned in dispatches on two occasions, he was awarded the DSO posthumously with the citation reading:
"for conspicuous gallantry and devotion to duty when in command of a brigade. Hearing that the enemy had broken through to his right, he brought up three guns on to a crest and for several hours fought, his battery under heavy artillery and machine gun and rifle fire, only stopping when it was no longer possible to see. Throughout the day he displayed the greatest coolness and courage and the work performed by his battery was invaluable at a critical time".
The medal was presented to his two year old son by the Mayor of Nottingham in October 1918.
2nd Lieutenant Charles Edgar Ferguson (image below) had been born in Warsaw, Poland in 1892 but by 1899 the family was living in Nottingham.
Serving in 22 Squadron Royal Flying Corps, he was killed in action with his observer on 18 October 1917 when he was shot down by Leutnant E. Loewenhardt of Jasta 10.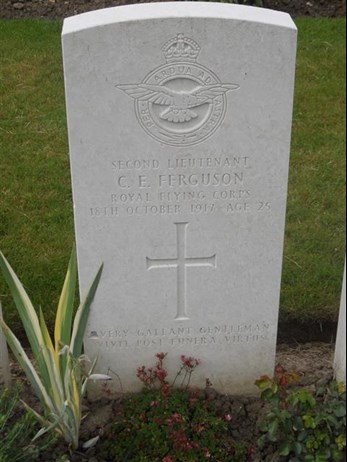 Above: the headstone of Charles Edgar Ferguson in Sanctuary Wood Cemetery
Lance Bombardier Leonard Adamson's father was a Baptist Minister. Leonard had worked in a bank pre war until he enlisted in the Royal Field Artillery in 1916.  He had been twice wounded and had only been back on the front line for a week or two when hit by a stray shell and killed on 7 June 1918. He is buried in Houchin British Cemetery.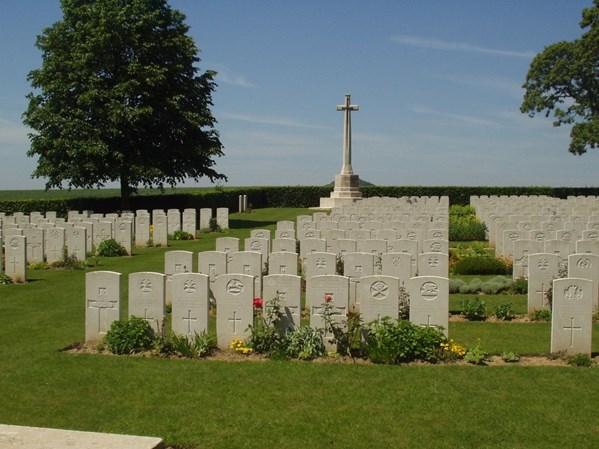 Above: Houchin British Cemetery. Photo - CWGC.
Two sets of brothers are also commemorated –Joseph and Frederick Rowland. Joseph, the eldest in the family, born in 1891, served in the Egyptian Expeditionary Force in the Royal Engineers. He was killed in action on 2 November 1917 and is buried in Gaza War Cemetery. His brother, Frederick, born 1900, served in the 1/7th Durham Light Infantry in France from the end of March 1918. He was taken prisoner on 27 May 1918 and was later deemed to have died in captivity between 18 June and 18 September 1918, although his family did not accept his death until 1920. His grave was relocated to Sissonne British Cemetery in 1925.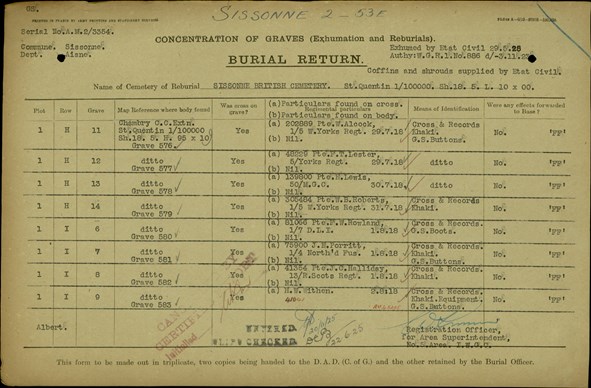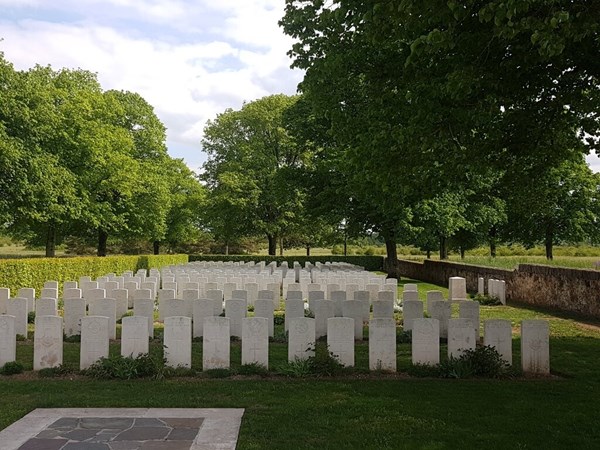 Above: the grave documentation from the CWGC and Sissonne British Cemetery. Photo - CWGC
Sidney and Herbert Wade died within a week of each other in 1918. Sidney served as 2nd Lieutenant in the Lincolnshire Regiment. He died of pneumonia following influenza at Towcester, Northampton on 26 October 1918, with his brother, Herbert, attending his funeral on 30 October 1918. Herbert returned to France where he served as Lieutenant in the 17th Machine Gun Corps (previously Sherwood Foresters, Notts & Derby Regiment). He was killed on 2 November 1918 at Vendegie-au-Bois. Herbert was awarded the Military Cross.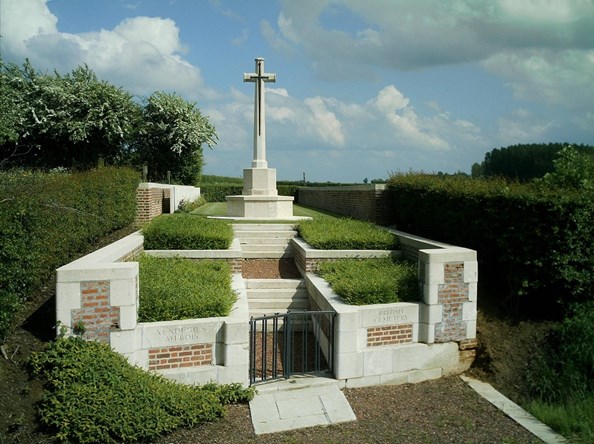 Above: the Vendegie-au-Bois British Cemetery. Photo - CWGC
A full list of those commemorated on the Woodborough Road Baptist Church Memorial, with brief biographical details, can be accessed via the pdf below.
Download PDF
Article by Jonathan D'Hooghe Chairman Lincoln & North Lincs WFA and European Trustee, The Western Front Association  and Jill Stewart  Honorary Secretary, The Western Front Association