Back in 2014, I was helping to plan my brother's stag party. We planned to go to Ypres to visit many of the First World War sites and particularly the Menin Gate. It dawned on me that once there, as a group, we would wonder how many of our fellow Townspeople of Clitheroe were commemorated on Menin Gate and Tyne Cot Memorials. I did some research and there are 20 and 22 respectively. So, we ordered 2 wreaths from our local British Legion and honoured the brave men named on Menin Gate and Tyne Cot.
My Mum saw how much time I had put into this and said, "Once you're finished doing that, how about finding out about these five men"? She placed in front of me a fantastic picture of my five Great Uncles who all served in the Great War. The challenge was on.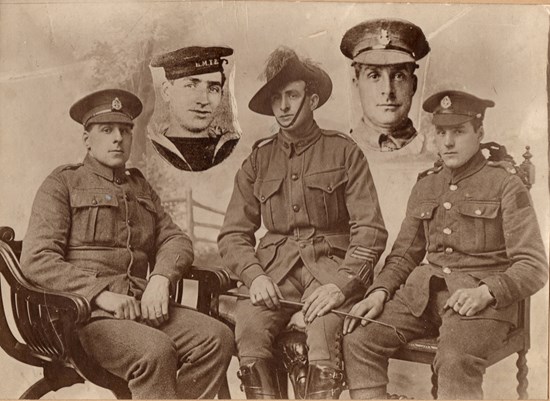 The five brothers are:
Inset left Able Seaman Lewis Wood J77239, who served aboard H.M.S. Shakespeare and H.M.S. London.
Inset right Pte William Wood 24739 6th Battalion Loyal North Lancashire Regiment.
Seated left Pte Fred Wood 26731 "Z Company", 11th Service Battalion, East Lancashire Regiment (The Accrington Pals, pictured in this uniform) and then 28880 8th Battalion Kings Own Royal (Lancaster) Regiment.
Seated middle Gunner Dyson Wood 101 1st Australian General Hospital, 1st Division Ammunition Column (pictured in this uniform) and 37 Artillery Battery, 3rd Army Brigade, Royal Australian Field Artillery.
Seated right Pte Craven Wood 202151 "C Company", 2/4th Battalion, East Lancashire Regiment, killed in action 21/03/1918.
Looking at the picture of the brothers, eventually you start to think where and when the picture could have been taken. Well, there are several things to note about the photo of the brothers regarding the Army patches and Insignia etc. which may indicate as to when the picture was taken, particularly when you cross reference them with their Service records. We are lucky that four of the brothers have Service records, the only one not to have a service record is Craven.
Craven is wearing full British infantry uniform including his puttees.  On his upper left sleeve is a small square patch.  This patch indicates his battalion, which is the 2/4th East Lancashire Regiment and is recognisable by a 2-inch green square patch. Soldiers in the British Army also wore bands on their left wrist area if they were given extra jobs. The bands were differently coloured depending on what job they were doing and are listed as follows:
Signaller (blue), Runner (red), Scout (green) and Carrying Party (yellow). If you compare the 2-inch Green patch and the band on Craven's left arm, they appear identical in both shade and colour, which would indicate that Craven was a Scout.
Dyson's uniform is that worn by mounted troops and is completely different to the Infantry uniform worn by both Fred and Craven and also that of the Australian Infantryman. Dyson was listed as serving in three branches of the Australian Army from his War Service Record and in the picture; he is wearing the uniform of the First Division Ammunition Column AIF. Their job was to supply ammunition to the troops and artillery on the front line by horse and mule.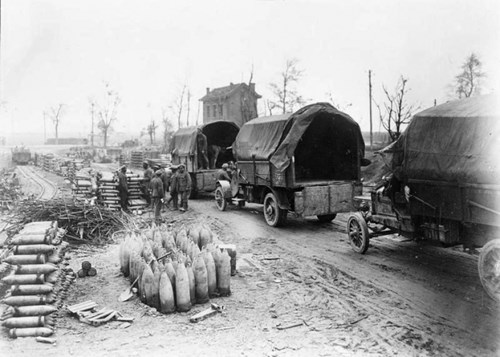 Above: An ammunition dump with vehicles of an ammunition column queuing up to collect shells.
Below: Ammunition being delivered to the 54th Battery, 36th Australian Heavy Artillery Group. The artillery pieces seen here are believed to be 8" howitzers. Note the light railway to assist the delivery of the shells.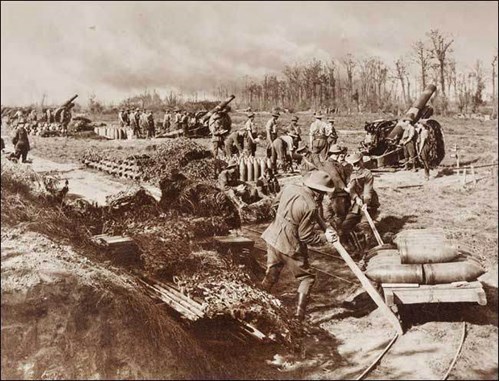 Also, if you look at Dyson's hat (this was unique to the Australian Army and was known to them as a Slouch Hat) it has an Emu feather plume attached to it. This feather was also a unique feature and worn only by the 6th Australian Light Horse who came from Queensland and according to Dyson's Grandson, Dyson was awarded the plume in recognition that he had initially applied to join the 6th Light Horse but as there were too many drafts, he was subsequently put in the 1st Australian General Hospital. 
If you look on Dyson's left sleeve, you will see three inverted, "V", stripes which are good conduct stripes.  One stripe is awarded for every year of continuous good service, so if a soldier had pay deducted for an offence, then he would not be awarded a good conduct stripe for that 12-month period of his service.  Therefore, Dyson's stripes indicate that this picture was at least taken in 1917. 
Positioned vertically and directly underneath the three Good Conduct Stripes are two wound stripes.  Wound stripes were awarded to soldiers for every occasion that they were wounded in action.  Dyson was injured for the second time on 30 October 1917 and as he is wearing two wound stripes, this would also indicate that the picture was taken between late 1917 to sometime in March 1918 prior to Craven being killed in action. 
Interestingly, on 4 January 1918, the Australian Imperial Force also approved the wearing of the overseas service chevrons (A.I.F. Order No. 1053) which had already been adopted by the British Army. These were embroidered or woven inverted chevrons worn above the cuff on the right arm.  For each year of war service, a blue chevron was awarded and those men who had embarked in 1914 received a red chevron to indicate that years' service. Dyson would therefore have had a red stripe and four blue stripes at the end of the war on his right sleeve. As there are no stripes on his right sleeve, this can narrow down the date of the picture being taken further still to between mid-November 1917 and January 1918.
Fred has a wound stripe on his left sleeve.  This wound stripe is a simple brass strip attached by lugs and a pin.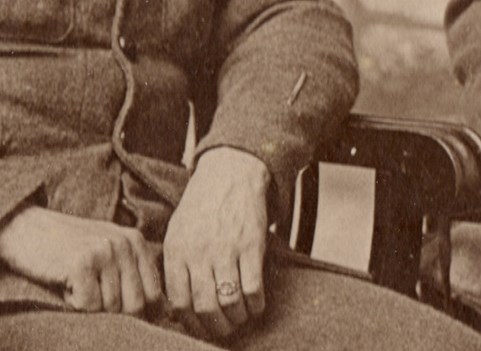 Note the difference in quality of Dyson's wound stripes to that of Fred! 
Fred is also seated without his Puttees which could indicate that this picture was taken during his recuperation period in Hospital at Paignton sometime in late 1917 or early 1918 as he was wounded in a Gas attack on the 5 September 1917.
However, if you look closely at Fred's wedding ring finger, you will see that a ring is in place!  Fred was married to Susan Alice Farrow on 29 January 1918 and he was granted Furlough (leave) until 4 February 1918 in order to do so. This would put the picture being taken in that seven-day window as Fred went back to his Depot Battalion on the 4 February and this might better explain as to why he is not wearing his Puttees in this picture due to him getting married.
We also have a postcard sent by Craven from France and it is dated 12 February 1918.  It is addressed to his two sisters, Ethel and Dorothy and it reads, "To my dear sisters, just to let you know we have landed back in France and I am alright".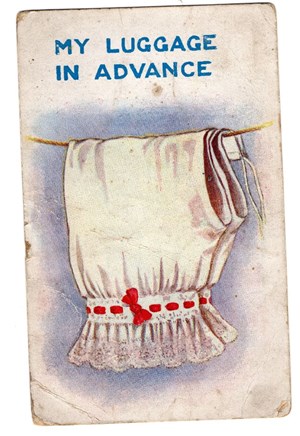 Whilst the picture can be dated to between 29 January and 4 February 1918, it is virtually impossible to identify as to exactly where and to the exact date it was taken, but it is highly probable it was taken locally in the Bacup area where Fred and Susan got married and the three brothers took the opportunity for the photo whilst at the wedding. Bill (William) was on active service in Mesopotamia and Lewis was aboard H.M.S. Shakespeare when the picture was initially taken. Their smaller inset photos would have been added at a later date.
My Great Grandma Wood, pictured (this picture was taken sometime between 1916-17) seated with my Grandma stood next to her, can count herself extremely fortunate in that she only lost one of her sons during the Great War.  Fred was gassed near Vimy Ridge in 1917 and got a gunshot wound to the right elbow which ended his war in October 1918. Dyson, whilst serving with the 1st Division Ammunition Column was first injured on 18 November 1916 at Fricourt (the last day of the Battle of the Somme) with a fractured left rib and again on 30 October 1917 with concussion.  Lewis, whilst serving aboard H.M.S. Shakespeare, was lucky as the ship hit a mine which resulted in only one Seaman being Killed in Action. 
Above: H.M.S. Broke - this is the same class of vessel as H.M.S. Shakespeare
Bill (William) served in the Mesopotamian theatre of war and took part in the 6th Loyal North Lancashire Regiments Diyala River crossing action and also suffered from dysentery. 
Craven survived the Battle of Passchendaele at Poelcapelle but not the opening day of the German Spring Offensive of 1918.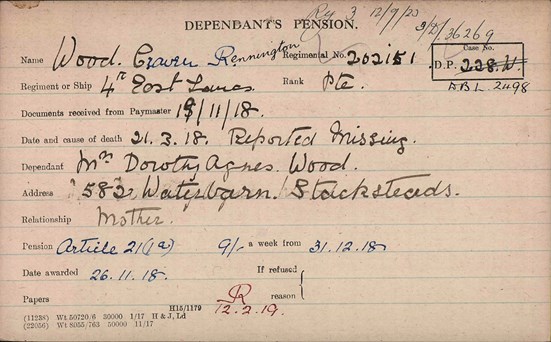 Craven's next of kin was named as his mother and, as can be seen from the above record, was awarded a pension of 9 shillings per week
If those bullets, mines and explosions had been aimed only slightly differently, it could well have been a totally different story and Great Grandma Wood could have lost all her five sons.
My Grandma was the youngest of nine children and would go on to live to the ripe old age of 105.
Article by Craig Suddick