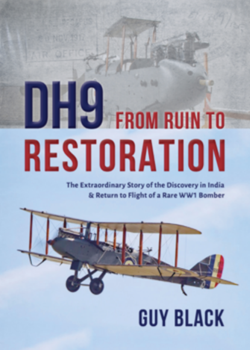 By Guy Black 
206 Pages
7 Appendices. ills throughout, bibliog, 
index ISBN: 9781908117335 
As Guy Black, a dedicated and unparalleled restorer of vintage aeroplanes relates, as a treasure map it was disappointing: a much–folded copy of a map of north west Rajasthan near the Pakistan border. Marked by a cross was the city of Bikaner where an aviation enthusiast on holiday in India had discovered the remains of two World War 1 DH9 aeroplanes, quietly rotting away in the elephant stables of a maharajah's palace.
It was to be the start of an epic of over two decades of recovery and restoration.
This book describes in extensive detail the restoration of the two aeroplanes: one for static display at the IWM at Duxford, the other restored to full flying condition. 
Each had its own challenge. In order that generations to come will have an utterly authentic example of the aircraft – down to the smallest detail of the manufacture of the aeroplane in 1918 – Guy Black and his team at Retrotec's remit was to restore the IWM DH9 using only materials and manufacturing techniques used at the time of its production in 1918. 
The dedication of Guy and his team to this task was truly remarkable. To give one example, in 1918 steel bolts were manufactured from hexagon bar, not round, but the team– although acknowledging it to be unlikely that anyone would ever know – acquired an early 20th machine to enable them to manufacture bolts from hexagon bar. 
For the sake of safety, the restoration of the other DH9 to flying condition was carried out using modern techniques and materials but was no less exact in its dedication in the use of original parts obtained from many sources. Guy's experience of engine design enabled him to rectify the faults of the original engine design responsible for the relative failure of the DH9 as an effective aeroplane. The work was essential for the successful flight of the DH9 in the capable hands of Roger 'Dodge' Baily, on Sunday 14 July 2019. 
The scope of this fascinating book is enormous and impossible to convey in a short review. Guy's writing approach offers a straightforward, personal, record of his dedication, that of his team and their remarkable engineering skills. But it is also a history of the DH9 in RAF service – a detective book, and a travel book, full of humour and personal touches. 
I cannot adequately express my admiration of Guy Black, his team at Retrotec, and his many supporters. Your first interest may not be in the aircraft of the First World War, but I thoroughly and unreservedly recommend that you to buy this account of a remarkable project, successfully accomplished. 
Review by Alex Revel