Frances Lincoln Ltd Publishers, 2008, £30, 224pp, illus, index. ISBN 978-0-7112-2678-8 
This coffee-table size book, published on the 90th anniversary of the Armistice, is a real credit to its joint authors: WFA member Gerald Gliddon, who needs no introduction to readers of Stand To!; and Tim Skelton, a chartered surveyor and a member of the Lutyens Trust. 
Together, the authors have collated detailed information on each of the war memorials designed by Sir Edwin Lutyens together with a listing of every one of the 133 IWGC (now CWGC) cemeteries in France and Flanders for which Lutyens was engaged by the IWGC as the Principal Architect. The colour photographs – mostly taken by Tim Skelton – of every one of Lutyens's memorials and cemeteries are really quite magnificent and the vast amount of research which the authors have put into this book reflects their desire to produce a book that is worthy of Lutyens's huge architectural output relating to the war: a task that they have unquestionably accomplished. 
Lutyens died in 1944 and, for many years afterwards, went out of fashion as an architect of repute – which probably explains why this book is the first ever to be published on this subject. 
It is fitting that the Foreword to the book is by the noted architectural historian Gavin Stamp who was largely instrumental in putting together both the 1977 RIBA exhibition Silent Cities: An exhibition of the Memorial and Cemetery Architecture of the Great War and the 1980 Arts Council exhibition on Lutyens's work. 
Indeed, those two exhibitions mark the reversal of Lutyens's reputation and to the increasing recognition of his architectural genius over the last 30 years or so. The book tells much more than the story of the Whitehall Cenotaph – for which Lutyens is best known today – and draws the readers' attention to the surprisingly high number of war memorials in cities, towns and villages around the country that were all designed by Lutyens.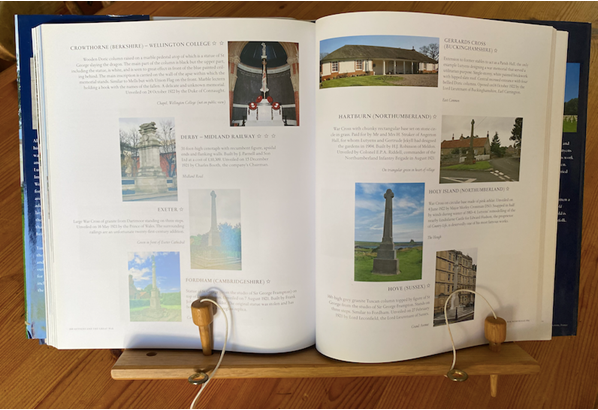 Importantly, the authors explain how Lutyens, through connections with his private clients, was commissioned to design those local war memorials. In particular, the authors tell the fascinating story of how the Lincolnshire town of Spalding came to have a Lutyens-designed war memorial and of the trials and tribulations that were endured to achieve it. 
This book is very highly recommended and the publishers are to be congratulated on the very high quality of the reproduction of the photographs. At £30, this book is considered good value for money and deserves to be on your bookshelf. 
Review by James Brazier
[This review first appeared in the April/May 2009 edition of Stand To! The Journal of The Western Front Association. Members receive three copies of Stand To! and three of our sister publication Bulletin when they become members. They also get a Member Login to the entire Stand To! Archive, Gun Fire and Pension Records].