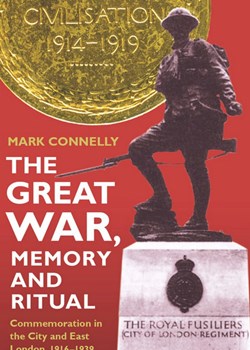 Book review by James Brazier.
This is the latest volume in The Royal Historical Society's Studies in History series. The book's author, Dr Mark Connelly, is Reuters Lecturer in Media History at the University of Kent and has given talks to a number of Western Front Association Branches in the south east on Great War British and Canadian war artists.
In the first part of his book, the author explores the iconography of war memorials in the City of London, East London and metropolitan Essex. By focusing on a particular part of the country, the author has been able to present, in microcosm, much of what was occurring throughout the country on the theme of remembrance.
The author's research into the street war shrines erected from the autumn of 1916 under the National Mission of Repentance and Hope is particularly interesting. A chapter in the book is devoted to war street shrines and the author shows how the experience of erecting those street shines influenced the war memorials movement which resulted in the huge number of war memorials that were erected throughout the country after the war. In the second part of his book, the author studies the rituals surrounding Armistice Day through the twenties and the thirties up to the second world war.
By means of a detailed local study of a part of the country containing a wide variety of religious, economic and social variations, the author describes how both the survivors of that war and the bereaved sought to come to terms with the losses and implications of the war. He also tells how the war memorials became a focus for a continuing need to remember, particularly each year on Armistice Day. Your reviewer found the book a most interesting and informative read. It is well researched, well written and well presented with nine well-chosen photographs and a map which shows the area covered by the study. This book will appeal to anyone who is interested in the aftermath of the Great War and in how the theme of remembrance has continued despite the passing of the generation who were left behind.
[This review first appeared in the journal of The Western Front Association Stand To! Issue 64 April 2002. This and other copies of Stand To! are available to read online to members by signing in using their Member Login]
The Great War, Memory and Ritual: Commemoration in the City and East London, 1916-1939
Mark Connelly
Boydell & Brewer Ltd PO Box 9 Woodbridge Suffolk IP12 3DF
£40.00, 2001
257 pp, illus, index
ISBN 0-86193 2536