Photography had already established itself as a popular hobby by the time of the Great War, and 'The Brownie' series had brought the concept of 'snap shots' to the masses. Despite this, the number of informal photos taken during the conflict remained small.
There were, of course, obvious risks in allowing photographs to be taken by your troops - if the images fell into the wrong hands they could provide the enemy with valuable information.
Stories soon circulated, and might well be encouraged by senior officers, that anybody taking a photograph in the front line could be court-martialled and shot. Such an extreme level of threat was untrue, although ownership or use of a camera by serving soldiers was very much down to the tolerance of individual senior officers in the early part of the war.
A small number of enthusiastic photographers, presumably having already got a feel for the attitude of their superiors, did take their cameras to war with them.  They were nearly always officers, as cameras were still only affordable to those members of society who enjoyed a disposable income.
Most would have used 'Box Brownies', which part of a well-established series of light-weight cameras that had first been introduced in 1900 by Eastman Kodak.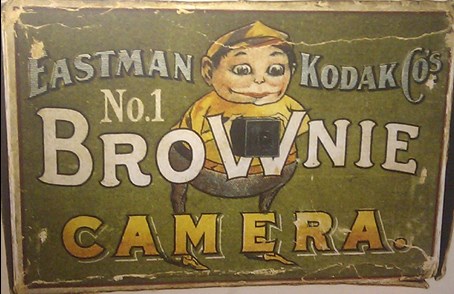 Above: A Kodak Brownie advert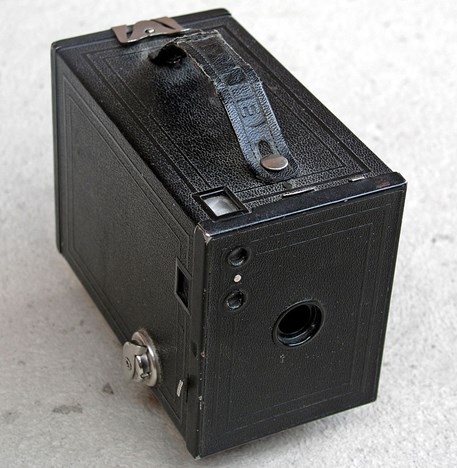 Above: Brownie No. 2 (1901–35)
It was almost certainly a 'Box Brownie' that Captain Geoffrey Prideaux took with him when he went off to war with the 1st Battalion Somerset Light Infantry in 1914.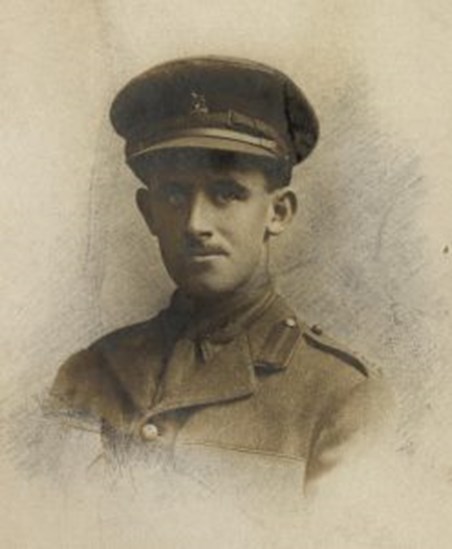 Above: Captain Geoffrey Prideaux
Prideaux's surviving snapshots in Ploegsteert Wood in November 1914 provide a remarkable record of front-line life in the early stages of the war, and at a time when the war was beginning to stagnate into a state of trench warfare.
The WFA was, as such, delighted to be given the opportunity to share these images by the South West Heritage Trust in 2014...
Geoffrey Prideaux had been commissioned into the Somerset Light Infantry in 1911 and would fight in the opening battles of the war as a transport officer with the 1st Battalion. This battalion had been stationed at Colchester as part of the 11th Infantry Brigade of the 4th Division and was the first Somerset regiment to be selected for active service.
The battalion was mobilised within days of the declaration of war and two-weeks later was on the Western Front, where it would remain for the duration.
Part of the first 100,000 of the British Expeditionary Force, the 1st battalion saw action at Le Cateau, before taking part in the retreat from Mons. At the start of October the battalion entered the trenches for the first time, at a position in Ploegsteert Wood, Belgium, where it would remain for the whole winter. Conditions were bad, with mud and ice-cold water filling the trenches and German shelling frequent.
In November 1914 Prideaux took command of A Company, and kept a diary as well for posterity, as well as the shots on his camera. He mentions the dreadful weather and regular engagements with German troops.
The South West Heritage Group kindly provided the following sections from his diary at the time...
10 November: In the evening we were warned that a Division had detrained at Warneton that day and that they were expecting to attack our line. We redoubled our sentries but nothing happened.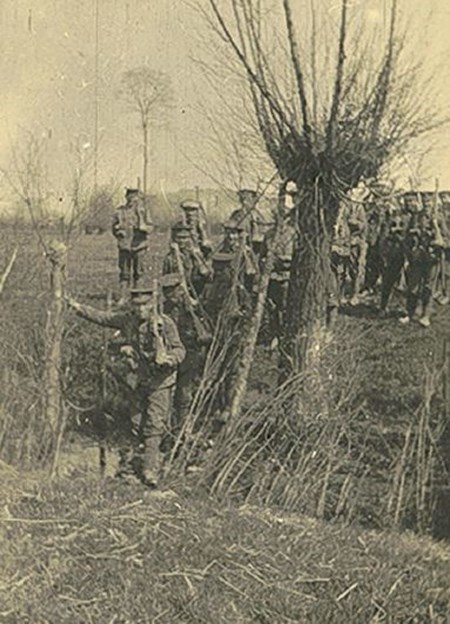 A column of 10 Platoon C Company in a field.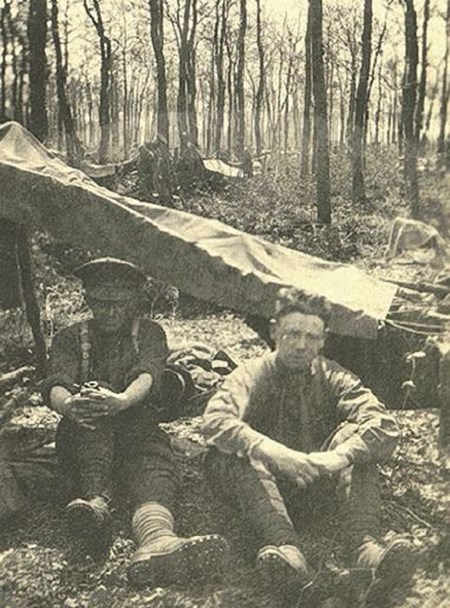 Gould and Doddington sitting on the ground in front of a tent and trees
11 November : It poured with rain & blew very hard all night. We had to dig auxiliary shelters & tried to put up barbed wire. Altogether a poisonous night & a foretaste of what winter will be like.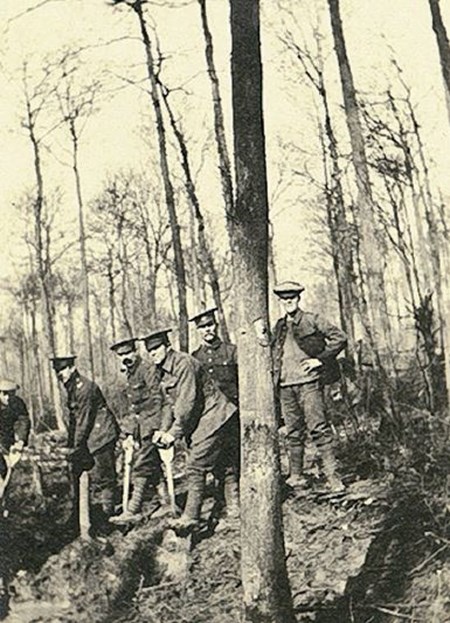 Fatigue party working in Hunter's Avenue cleaning the breastworks.
12 November: On looking round these trenches in daylight, I found that they had suffered greatly since we had occupied them last... The left trench had been blown up three times on three consecutive days. This bit of trench had been abandoned.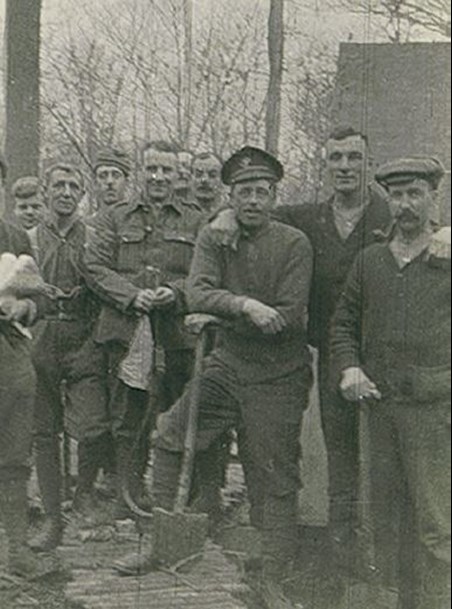 Soldiers with trenching tools
13 November: ...we went back to some support trenches in Ploegsteert Wood, which were full of water. We had to march through thick mud all the way in pouring rain & had great difficulty in finding the trenches.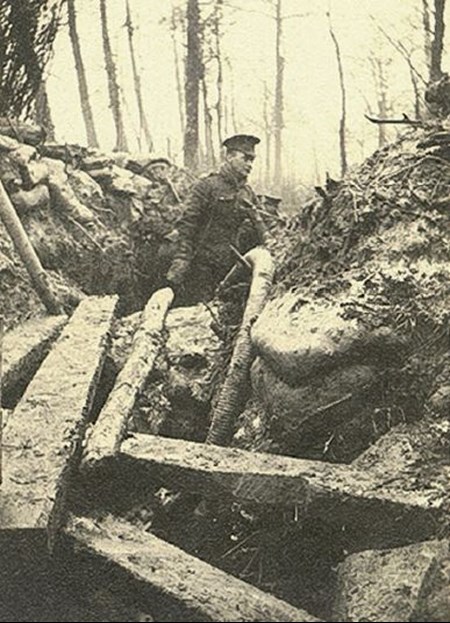 Soldiers in the night trench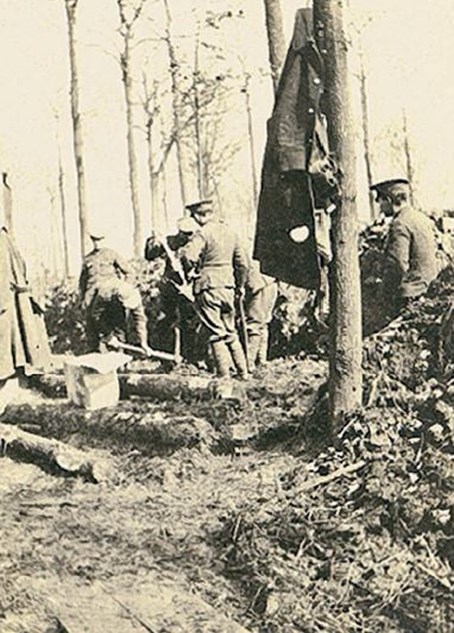 Work on the trench at Hunter's Avenue
14 November: In the afternoon A Coy moved back to a farm near Ploegsteert Village. For the first time for a fortnight we got under a roof & took off our boots.
Prideaux was to prove a brave and able officer who was awarded the Military Cross in June 1916 and also mentioned in despatches. On 18 January 1917, while visiting the front line near Peronne on the Somme, he was killed by a German shell. Geoffrey was 25-years-old and a Brigade Major. It seems a burst of shell fire landed in the trench close by where he was standing. He is buried at Hem Farm Military Cemetery.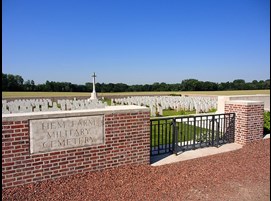 Remarkably, the original grave marker still exists, and is located at All Saints Church, High Street, Lindfield, West Sussex.
Above and below: All Saints Church, Lindfield. Images courtesy of www.thereturned.co.uk/crosses/lindfield/
He is also mentioned on the Eton roll of honour and on the war memorial at St Mary's church, Taunton, Somerset.
Edited by Dr Martin Purdy