Cpl. Henry Richard White signed up early in the war joining the Royal Berkshire Regiment on 6th Nov 1914. He was 17 and came from Charlton, a small farming hamlet 1 mile NE of Wantage in Berkshire. What thoughts he had as he prepared to serve his country can only be imagined coming from such a rural background. However he was soon to see action after the 2nd Btn landed in Le Havre in 1914. They were soon engaged in the battles of Neuve Chapelle, Aubers and Bois Grenier in 1915 and it was probably then when he was wounded and invalided home. The extent of his wounds are not known but he was now to return to England on the hospital ship Anglia. This was a return sea journey he had not expected nor had foreseen but once on board perhaps he was thankful just to be going home. We will never know, but whatever his thoughts he surely would not have imagined what was about to befall him.
Henry's Pension card stands out because it states he was "Drowned on hospital ship Anglia". As he was clearly not a sailor this required further research and so it transpired he was probably one of the "cot cases" on board the Anglia when she sunk in the Channel. He would have had little chance of survival.
SS Anglia was a steam ship requisitioned for use as a hospital ship during the First World War.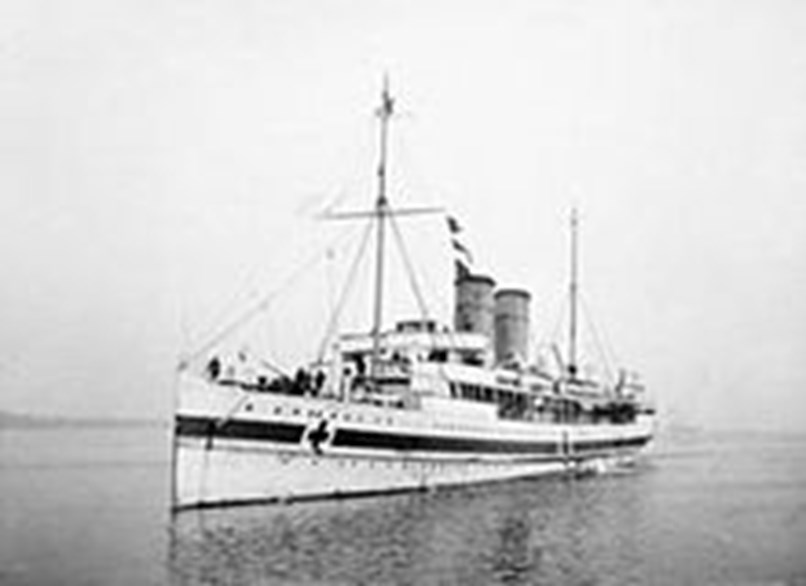 Above: HMHS Anglia
On the morning of 17th November 1915, HMHS Anglia left Boulogne harbour and headed for Britain – a passage of a few hours only. On board she carried some 366 wounded men, of whom 166 were "cot cases" accommodated on beds or stretchers. She headed for a gap in the British sub-surface defences known as 'The Folkestone Gate', reaching it just after noon. Close to it she struck a mine laid by the German U-boat, UC-5. the explosion being sufficiently powerful to rupture a hole on the port side, just ahead of the bridge. She immediately began to settle by the bows, listing heavily to port as she did. The bridge had been wrecked, though the captain, Lionel John Manning, had survived. He immediately tried to have a radio-SOS transmitted but the set was damaged and the operator was injured.
All now depended on the Anglia's escort, the River-class destroyer HMS Ure, the nearby collier Lusitania and the torpedo gunboat HMS Hazard all helped to try and evacuate the passengers and crew. HMHS Anglia had begun to settle so quickly that two of its hospital wards were flooded almost immediately and it appears that few escaped from them. Other wards became quickly awash and crew, nurses and the less badly-wounded patients now attempted to get the more severely injured cases to safety. Due to the listing only one lifeboat could be got away – this was on the port side and could take no more than 50 people. Despite this order was maintained and the behaviour of all involved appears to have been beyond praise as regards selfless courage and discipline. Stories abounded of nurses staying by the wounded as the ship settled and of amputees finding the strength to struggle on deck or even to swim.
It took the Anglia just 15 minutes to sink and the estimated losses vary between 120 and 164 personnel, including 25 of her crew, who were either killed by the explosion or drowned.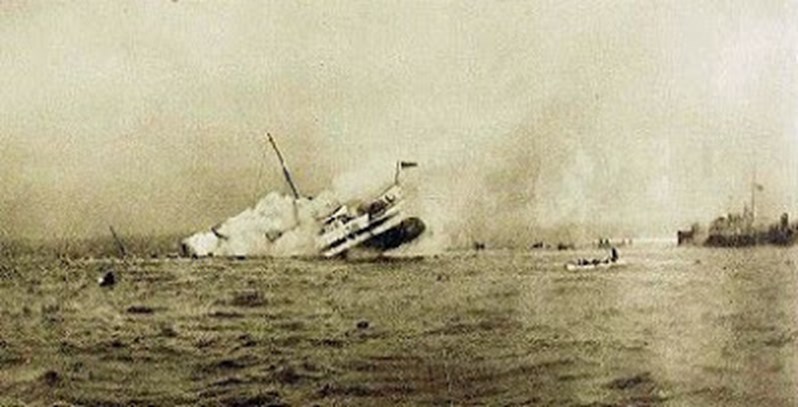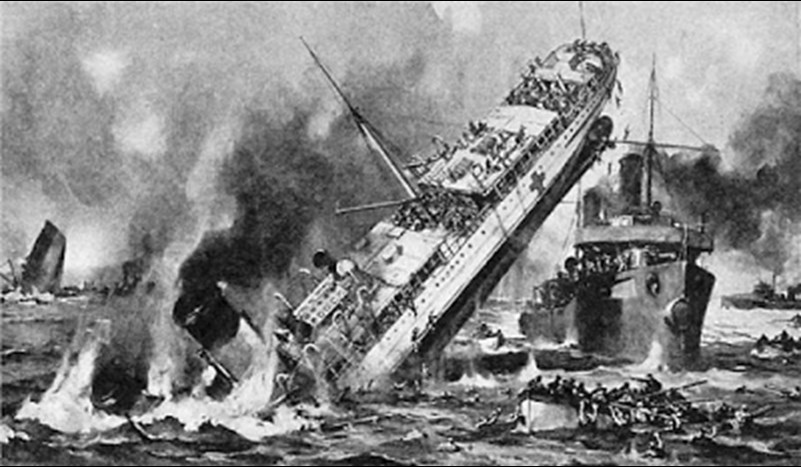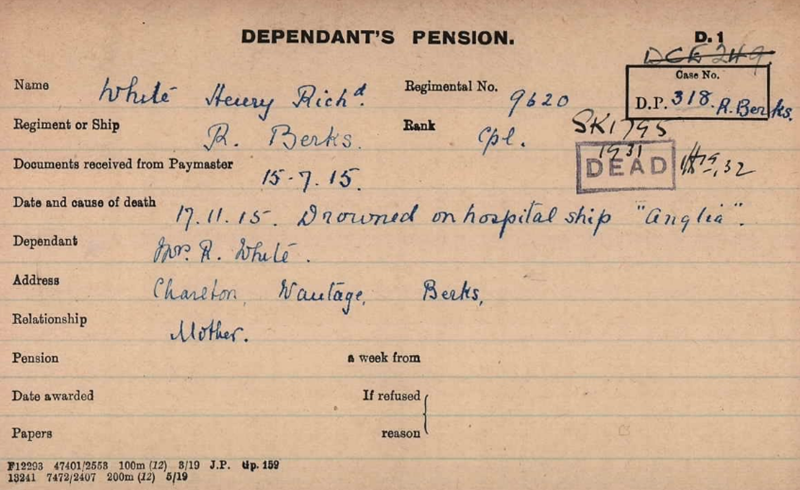 The Pension Card of Cpl. Henry Richard White (9620) Royal Berkshire Reg.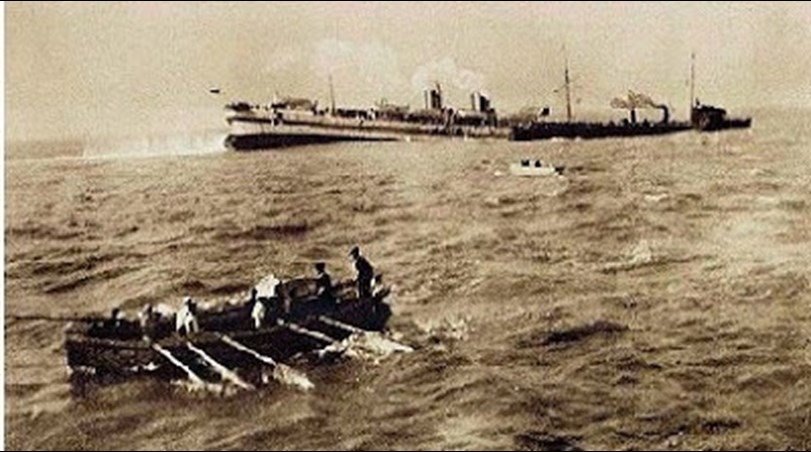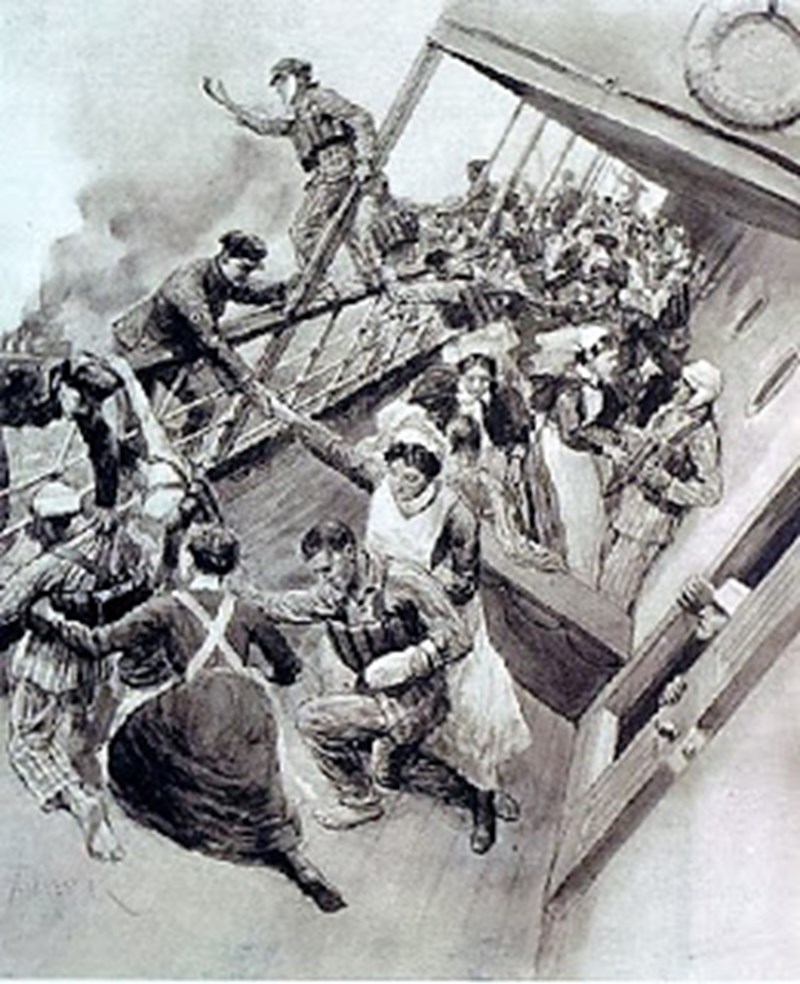 There were many acts of bravery during the tragedy made worse by the fact that it was only 12 days since her sister ship H.M.S. Tara (renamed from the S.S. Hibernia) - had been sunk off Tripoli by a torpedo from a German U-boat.
Cpl. Henry Richard White is buried/remembered along with many others at Hollybrook Memorial Cemetery, Southampton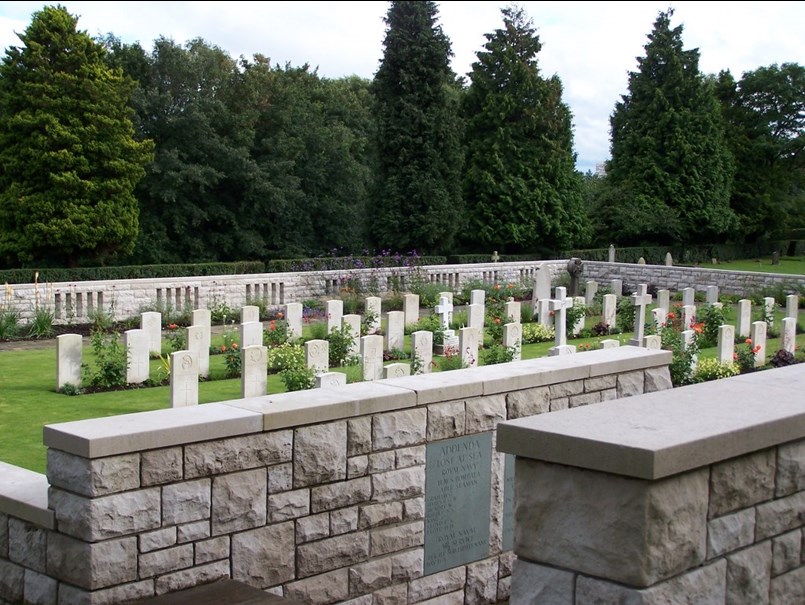 Post Script
The submarine that had laid the fateful mines (UC-5 ) herself came to grief after she became stranded on a sandbank while on patrol 27 April 1916 and was captured by the Royal Navy. Her crew were captured by HMS Firedrake. The U-boat was salvaged and put into a floating dock by teams from Harwich and Chatham, led by Captain Young and Lt Paterson--a dangerous procedure because of the two mines still on board. Her captain had also rigged up explosive charges to wreck his ship in the event of abandoning, which the British press described as an attempt to kill the RN personnel who rescued his crew. Paterson was able to find and disable them after being warned by one of the prisoners. The U-Boat was towed first to Harwich, then on to Sheerness, where an approved party of journalists and even two war artists were taken to inspect it.
She was later put on display at Temple Pier on the Thames and was a clear act of propaganda, and she was later transported to the U.S., where the same was done with her there.

UC-5 displayed in Central Park, New York City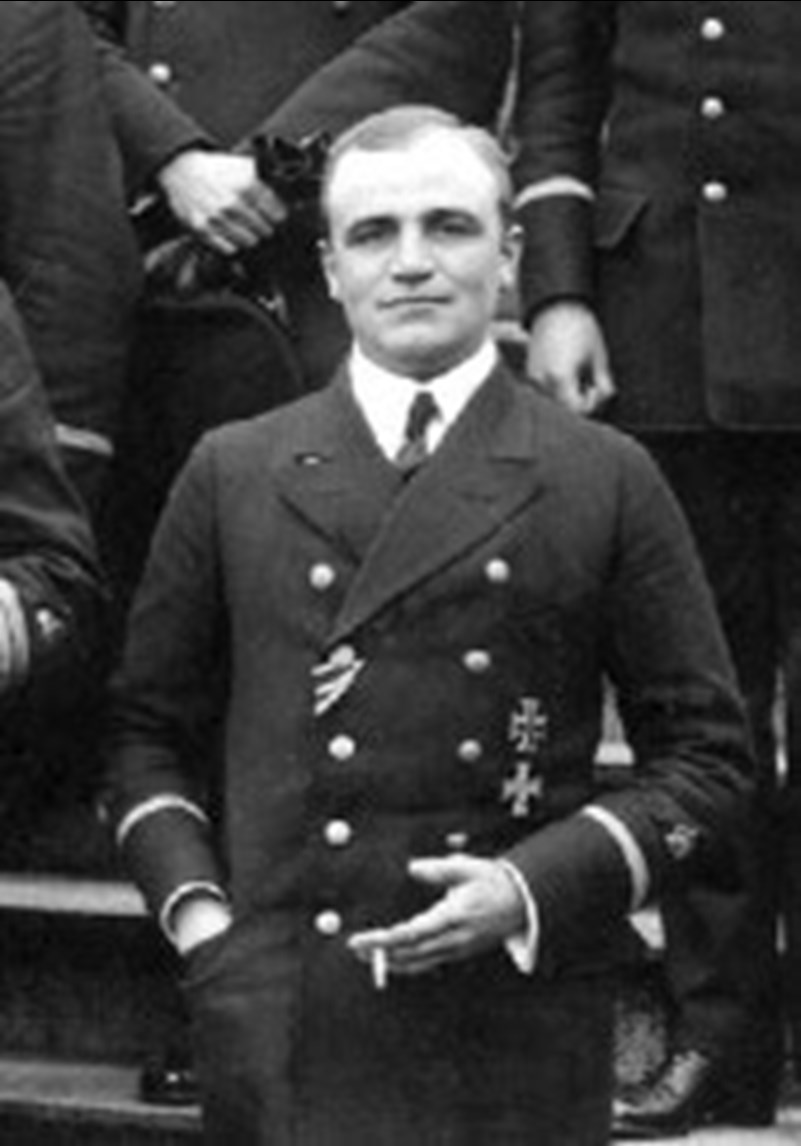 Herbert Pustkuchen was the Commander of UC-5 between 6th August 1915 and the 13th Jan 1916. He later was killed and his 23 man crew whilst commanding UC 66 when it was bombed and sunk on 27th May, 1917 north of Round Island, Isles of Scilly, by RNAS Curtis H.12 flying boat No. 8656 piloted by William Anderson. The wreck was located in 2009.
Commander Ulrich Mohrbutter took over until 27th April 1916 when she was grounded on the Shipwash Shoal and he attempted to scuttle but the charges failed to explode.
UC-5 sank 30 ships (37,231 tons) and 7 ships damaged (20,262 tons).
Before he died in 1917 I wonder whether Commander Pustkuchen ever reflected on the consequences of mine laying in enemy waters when the target ended up a hospital ship. Not surprisingly the Allies used this a propaganda and evidence of the Germans being prepared to engage in Total War.
In March 2017 the wreckage of the HMHS Anglia was declared an official war grave, making it illegal to remove or disturb any human remains at the wreck site.
Henry Richard White never returned home to his farm in Charlton he died aged aged 18 at sea, something he could never have imagined when he enlisted as no more than a boy at the outbreak of war.
He will be remembered.
Article by Robert Stone
Further Reading