Cambrai - Attack and stalemate
The British attack at Cambrai on 20 November 1917 is well known for the mass-use of tanks for the first time. This operation, initially highly successful, was originally intended to be little more than a large-scale raid, but evolved into a much more ambitious affair. Whilst the use of tanks has made this action famous, the role of artillery, which used new 'silent registration' techniques, has been overlooked.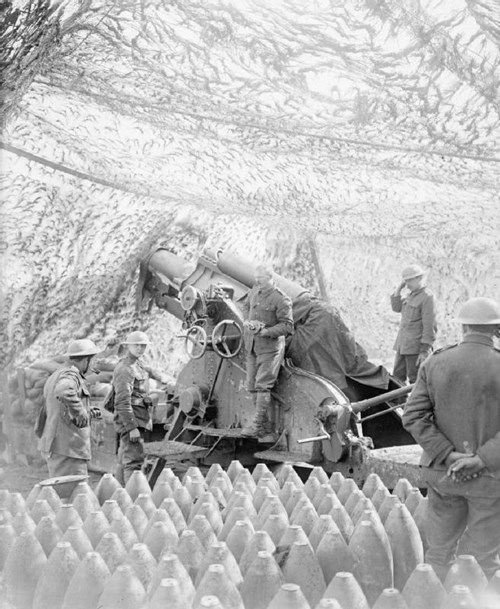 Above: A inch Howitzer of the 91st Battery RGA. (IWM Q 6460) 
Although much has been made of the achievements of the tanks, many became ditched or were destroyed by German fire, more were disabled and damaged. Others broke down and were captured by the Germans in the days immediately after the initial attack. These were taken away by the Germans in order to be used against the British in future actions.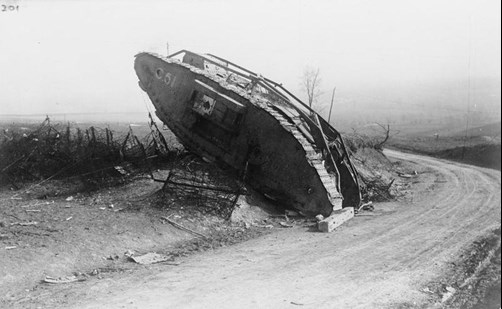 Above: British Mark IV Female Tank 'C 51' ('Chaperone') of 'C' Battalion, abandoned at the roadside near Le Pave on the approach to Lateau Wood. (IWM Q45410)
Initial optimism that the attack was going to meet all its objectives began to disintegrate after the first day, but it was still hoped that after the initial attack, the line would stabilise. General Byng, commanding the Third Army was, by 30 November, in the process of withdrawing divisions as it seemed the battle was now over. Away on the right flank, in the area of VII Corps (commanded by Lt.-Gen. Snow), there were growing signs of enemy activity.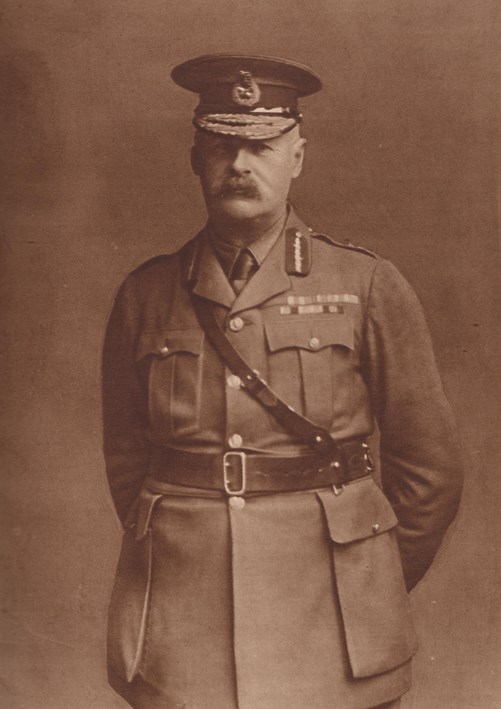 Above: Lt-Gen Thomas d'Oyly Snow
Snow reported these matters to Byng who passed the information on to GHQ. Possibly due to overconfidence in the ability of the troops to deal with any counter attack, or possibly due to the belief that the right flank was not the important area, when compared to Bourlon Wood on the left, little was done above Corps level to meet the impending crisis.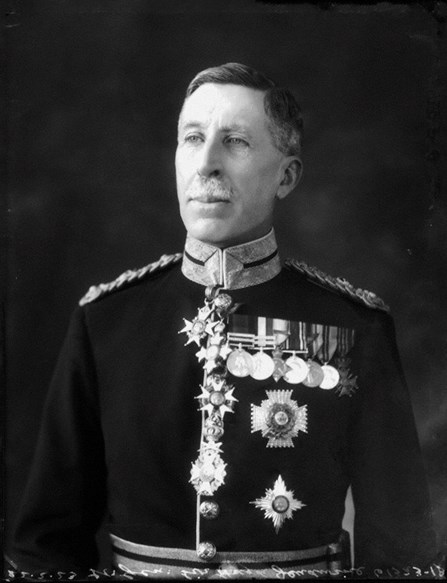 Above: Maj-Gen Sir Hugh Jeudwine
The divisional commanders (Major Generals Scott and Jeudwine) and Lt.-Gen. Snow realised that there was every likelihood of an attack. Jeudwine had an additional problem in that his division was holding a front of nearly six miles, which meant it would be over-stretched in the event of a German attack on its front.
Counter Attack at Cambrai
As predicted, the German counter attack fell on the over-extended troops (mainly the 55th (West Lancashire) Division) in the Gouzeaucourt and  Villers-Guislain area. The German barrage built up very slowly, so much so that it was becoming effective even before it was recognised for what it was. On 30 November, out of a thick mist, and under a heavy barrage of high explosive and gas, the Germans attacked. Low flying aeroplanes were deployed to harass the defending troops. Infiltration tactics were used, which worked remarkably well. 
The attack on the British left flank at Bourlon was repulsed primarily through the massive amount of artillery, but the attack in the south in contrast achieved spectacular results for the Germans. The troops on the British right flank requested assistance from the Heavy Artillery of III Corps in putting down a barrage on the Banteux Ravine. III Corps declined this request on the grounds that no warning had been received from Third Army of an impending attack!
It was through the intervention of an ad hoc formation known as 'Vincent's Force', together with Tanks and Cavalry (both of which were in the process of being withdrawn when the Germans struck), that the hole in the line was plugged. Units made heroic stands (such as by the 29th Division) or counter attacks (Guards Division) and it was through individual and collective acts of courage in these and others that the German attack was halted.
Reinforcements were moved up to the front line to help staunch the German attack. This included elements from the 5th Cavalry Division, some of whom attacked towards Gauche Wood to help drive the Germans back. Within the 5th Cavalry Division was the Canadian Cavalry Brigade; the brigade was commanded by Brig-Gen JEB Seely (who had been Secretary of State for War until early 1914).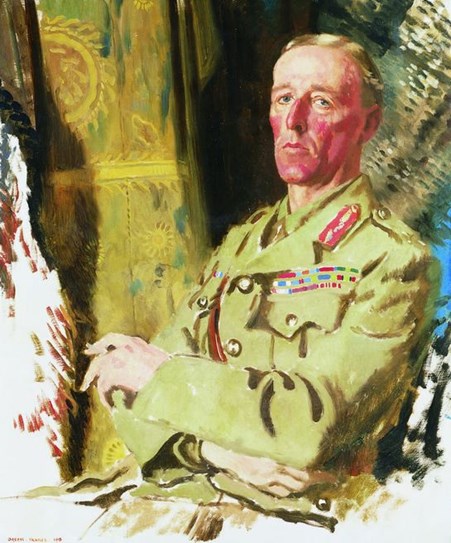 Above: Brig-Gen JEB Seely
1 December 1917 
One regiment within the Canadian Cavalry Brigade was Lord Strathcona's Horse, a unit which was formed in February 1900 by Donald Smith (Lord Strathcona) for service in the Boer War. The Regiment's war diary records:
On the morning of December 1st, 1917 patrols from Major Goodday's squadron...followed the tanks to Gauche Wood and remained in observation keeping the regiment informed of the progress of the attack....[Another patrol] under L/Cpl Ewing and five men worked their way behind an enemy post of six men and one light machine gun, who when rushed surrendered... A patrol under L/Cpl Russell and 4 men surprised another enemy post and captured a heavy machine gun and four prisoners.
Sgt Henry Rebitt was one a member of Lord Strathcona's Horse; a record of his involvement in the proceedings has survived:
One of my men returning from a patrol on our front asked me if I would like a Bass ale, and much to my surprise produced it. The patrol had found a deserted enemy canteen, which still had some supplies in it. This information, which was soon public property, proved unfortunate to those so foolhardy as to try to forage in the light of day. Our position was quite exposed. Amongst the prizes brought to our lines was a small keg of SRD rum. This I had buried, as I knew we were to advance, and contrary to many others we never, to my knowledge, had rum before a fight.
Sgt Henry Rebitt, Lord Strathcona's Horse, quoted in Captain SH Williams MC 'Stand to Your Horses': Through the First Great War with the Lord Strathcona's Horse and Bryn Hammond Cambrai 1917.
At 3pm orders were issued for 'A' and 'B' Squadrons to seize the road running from Gauche Wood to Villers Guislain. Another troop was to seize the railway cutting north of Chapel Crossing.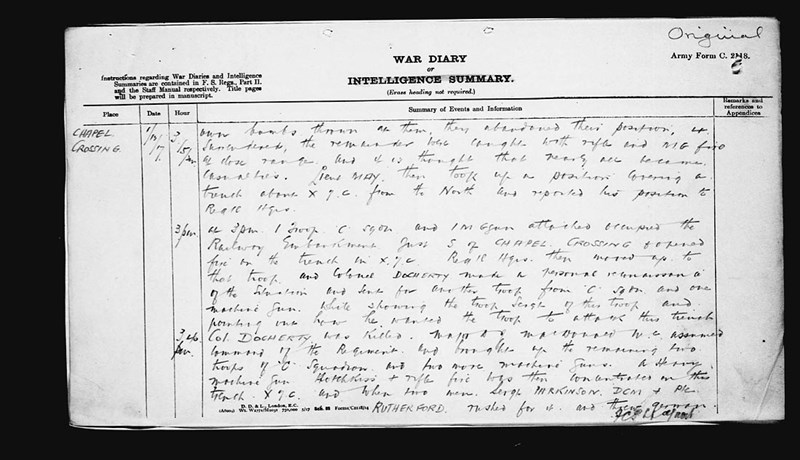 Above: The War Diary of Lord Strathcona's Horse, 1 December 1917.  
The regiment's diary continues:
At 3.15pm, 'A' and 'B' Squadrons under Major JC Clarke and Major C Goodday respectively moved by Morris Banks and Gun Lane to [map reference] X.2.c 1.1. They were under heavy MG and artillery fire. Major Clarke was wounded and Lt Rex Young killed with about 20 other ranks killed and wounded.
Lt Nicol took charge of 'A' Squadron and with Major Goodday went forward to the east end of Gauche Wood to reconnoitre the objective. The enemy were found to be strongly entrenched and also to have occupied three abandoned tanks near the objective. Moreover as the attack from the south did not seem to be developing, Major Goodday therefore decided to occupy a line of shell holes in Gauche Wood immediately behind the 2nd Grenadier Guards....
The narrative is continued by Henry Rebitt: 
At 3.00pm 'A' and 'B' Squadrons made a circular approach to Gauche Wood. We had a fair cover part of the way, but finally had to come out in the open on the down slope to the wood. This part we covered in rushes. We suffered several casualties from artillery fire and from machine-gun fire. Many of my men were quite exhausted on reaching the shell holes in the wood, which finally formed our line. I remember assisting some of the most exhausted ones in digging in the sides of the shell holes to afford them better shelter.
Sgt Henry Rebitt, Lord Strathcona's Horse (quoted in Bryn Hammond Cambrai 1917.)
The War Diary states:
Lt May's troop accompanied by one machine gun attacked southward from Morris Bank, they met with no resistance until they came to rifle pits shown X.7.c 4.1. Here the enemy attempted to put up a fight, but fire having been brought to bear on them and some of their own bombs thrown at them, they abandoned their position. Four surrendered, the remainder were caught with rifle and MG fire at close range and it is thought that nearly all became casualties.
Colonel Docherty (the regiment's commanding officer) made a personal reconnaissance of the situation and sent for another troop from 'C' Squadron and one machine gun. While showing the troop Sergeant of the troop and pointing out how he wanted the troop to attack this trench, Lt Col Malcolm Docherty was killed. The war diary mentions his burial in Heudicourt Communal Cemetery Extension.
Lt Andrew Morgan was deeply affected by the death of his friend, Lt Rex Young:
Andy went out as soon as it grew dark to search for Rex Young's body. When he had found the body, he gathered it up, and weeping like a child carried it back to our lines. Andy and Rex were friends and neighbours of long years standing back home before the war.
Lt Samuel Williams, Lord Strathcona's Horse (quoted in Bryn Hammond Cambrai 1917.)
Of the regiment's fatalities on this day, four are buried at Villers Hill British Cemetery, two of the fatalities are buried at Gouzeaucourt British Cemetery and one is buried at Ruyaulcourt Military Cemetery. Six others have no known grave and are named on the Vimy Memorial.  
Two men died of wounds, on the following day but the last Lord Strachcona's Horse fatality of this action was Private Lord Edward Beauchamp Seymour. After suffering a gunshot wound to the head, he died on 5 December 1917 at the 48th Casualty Clearing Station and is buried at Rocquigny-Equancourt Road British Cemetery. His is a quite remarkable story.
Private Lord Edward Seymour
Edward was the seventh child of eight born to Hugh Seymour, the 6th Marquess of Hertford and his wife, Mary. The family seat was - and still is - Ragley Hall in Warwickshire.


Ragley Hall
Lord Edward was born in 1879, and after leaving Haileybury College he attended Oxford Military College. Lord Edward was well travelled: in 1899 he was a rancher in Ceylon (now Sri Lanka) and later took part in the Boer War in Lord Strathcona's Horse. His connection with the regiment is certainly due to him being a rancher in Canada at the turn of the century.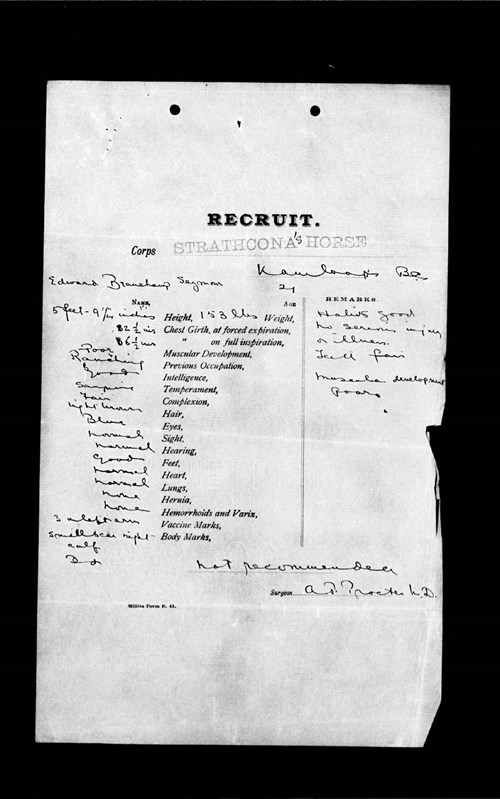 Above: One of the Attestation papers of Edward Beauchamp Seymour, signed at Kamploops. Although undated, this is certainly from 1900 (his age of 21 being given). Note, the medical examiner "not recommending" him possibly due to "poor" muscle development. Notwithstanding this, he was accepted and served as a private in the regiment in South Africa.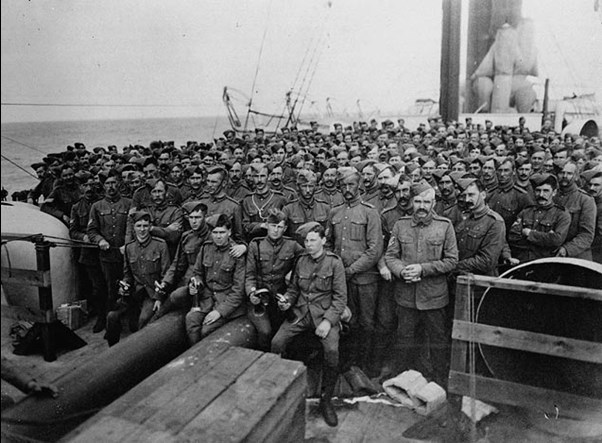 Lord Strathcona's Horse en route to South Africa aboard the S.S. Monterey 
Lord Edward probably continued his ranching activities in Canada, but when the First World War broke out he returned to England in 1915 - he had married Elfrida de Trafford the previous year. He applied for a commission in the Royal Warwickshire Regiment, describing himself as a Gentleman Farmer (presumably this sounded more suitable than a "Rancher").  The address he gave was 'Souldern Court, Banbury'.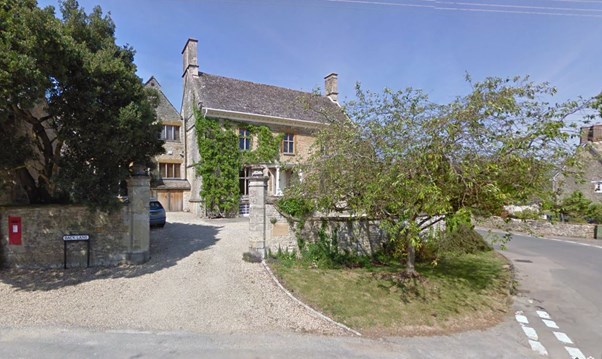 Souldern Court
His application suggests that he had previously been commissioned, and served time "in Germany" - this must have been at the end of the 19th century, and confirms he was a private in Lord Strachcona's Horse in South Africa. A letter within Lord Edward's file in The National Archives, dated March 13th, 1915 is intriguing. This is addressed from Souldern Court (image below):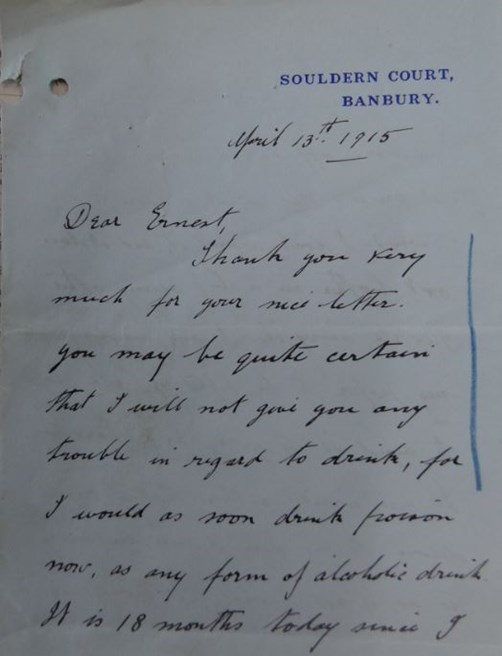 Dear Ernest, Thank you very much for your nice letter. You may be quite certain that I will not give you any trouble in regard to drink, for I would as soon drink poison now, as any form of alcoholic drink. It is 18 months today since I swore off and I have not touched it since.  but what is more to the point - I don't want it, and it does not bother me a bit seeing other people using it. I am sending my paper to be filled up, and hope to send it to you by Thursday......I cannot tell you how grateful I am to you for giving me this chance and I give you my word that I will do the best I can to be a credit to the battalion.
A letter - dated 16 April - from the Commanding Officer of the 4th (Extra Reserve) Battalion of the Royal Warwickshire Regiment (a training unit that remained in the UK throughout the war), Lt Col Williams to the Military Secretary at the War Office states that he (Williams) had known Lord Edward since he was a boy. Williams goes on:
There was a time, when he was in the colonies, that he drank too much and on one occasion he got into serious trouble, this is now 14-15 years ago. He has since married and is a tea-totaller. I am prepared to vouch for his good conduct in the future. He has returned from Canada for the purpose of serving his country.
The application for a commission was successful, and he was appointed to Special Reserve of Officers, on probation and joined the 4th Royal Warwicks as a Second Lieutenant.  This was confirmed some months later in the London Gazette dated 20 December 1915. A few months after being awarded his commission, Lord Edward found himself in trouble. It seems that he was on duty in the battalion camp in Grantham (the Machine Gun Training Centre) on New Year's Eve, 1915, being orderly officer for numbers 1 to 6 companies. He was tried by General Court Martial on a charge of 'drunkenness when on active service'. Pleading not guilty, the court martial exonerated him.  (Another London Gazette entry confirmed him being 'restored to the establishment' on 25 January 1916.)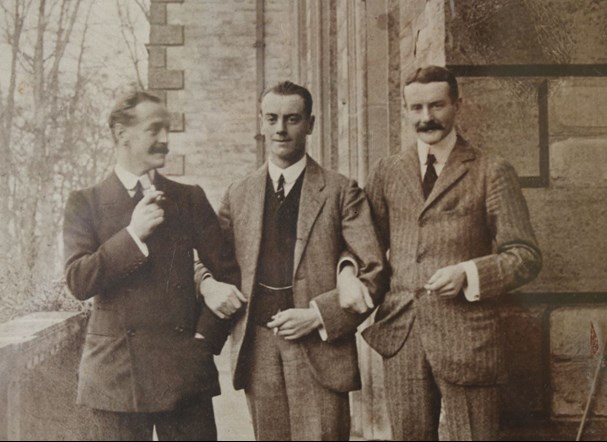 Lord Edward Beauchamp Seymour (on the right wearing a striped suit) with his brothers at Ragley Hall. His brothers are: (left) Lord Henry Charles Seymour (Grenadier Guards); and (centre) Lord George Seymour (Royal Navy). Image courtesy of Henry Seymour, Marquess of Hertford.
Despite this, it seems that Lord Edward did not heed the warning, and - after being posted to France in April 1916 - once again found himself in front a court martial on 23 May 1916 whilst serving "in the field" with the 1st Battalion of the Royal Warwicks. Again, the offence was 'drunkenness'. His battalion - as part of the 4th Division - was in the Beaumont Hamel area on the Somme and whilst the battle had not yet started, clearly any misdemeanours would be more harshly dealt with than they would have had these been committed whilst in the UK. The papers for his court martial have not survived, but the decision of the court martial has. He was found guilty and he was dismissed.


Extract from TNA WO 90/6. Image courtesy of Glen Phillips
A further London Gazette entry confirmed his fall from grace:

Extract from the Supplement to the London Gazette, dated 10 July 1916.
After returning to the UK under a very dark cloud, Lord Edward did not go for any soft option. No doubt recalling his time in the Boer War with Lord Strathcona's Horse, he enlisted, as a private, in the regiment at Shorncliffe (Kent) only two or three weeks later. His attestation form survives and is dated 12 July 1916. Although there is no evidence, it is likely that more than a few strings were pulled to enable him to enlist in the regiment so soon after his dismissal.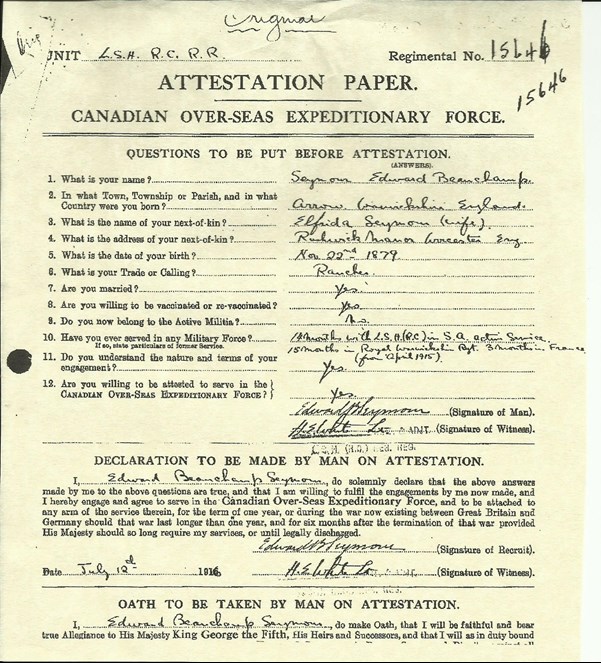 Lord Edward's attestation in the CEF dated 12 July 1916. His next of kin is listed as Elfrida Seymour of Rushwick Manor. This image is courtesy of Henry Seymour, Marquess of Hertford. A full screen version (and both sides) of the document can be accessed on-line via this link.
Lord Edward served with Lord Strathcona's horse for just less than 19 months, and, after celebrating his 38th birthday on 22 November, was mortally wounded on 1 December 1917.
As mentioned above, he died of his wounds on 5 December and is now buried at Rocquigny-Equancourt Road British Cemetery, Manancourt.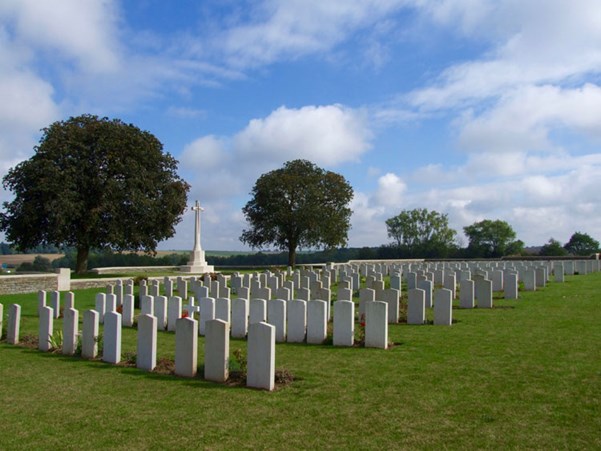 Rocquigny-Equancourt Road British Cemetery
The grave marker that originally stood over his grave is now in the church close to Ragley Hall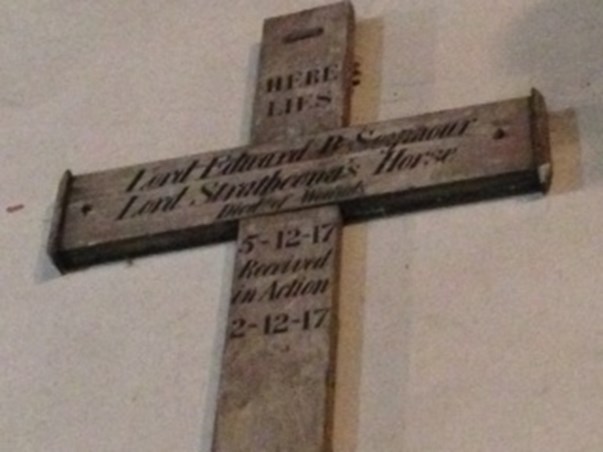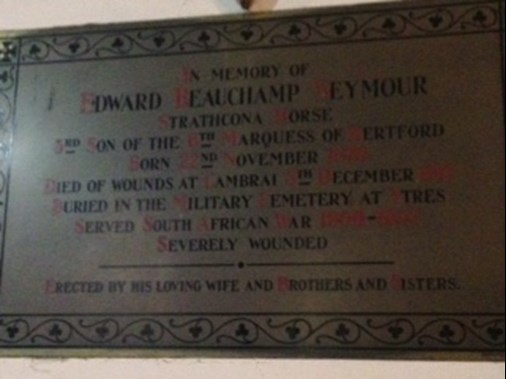 The original Grave Marker in The Holy Trinity Church, Arrow (near Ragley Hall) and a plaque in The Holy Trinity Church commemorating Lord Edward's service in Lord Strachcona's Horse in both the South African War and the First World War
Aftermath of the Action
After the action, the troops of Lord Strathcona's Horse found themselves able to relax. Sergeant Henry Rebitt made contact with the neighbouring unit the 2nd Battalion, Grenadier Guards. Rebitt recorded:
I found to be most curious about our methods, country, etc. Most of them were quite ready and willing to share some of their (at that time) meagre food supplies.
Rebitt and his troop were given permission to withdraw. He had not forgotten the rum he had buried earlier in the day:
By the aid of the stars I was able to lead my troop back to our jumping-off spot and retrieved our buried treasure.
Sgt Henry Rebitt, Lord Strathcona's Horse (quoted in Bryn Hammond Cambrai 1917.)
Cemeteries in the area
Besides Rocquigny-Equancourt Road British Cemetery, there are numerous cemeteries in the area between Cambrai and Peronne. 
Heudicourt Communal Cemetery Extension not only contains the grave of Lt Col Docherty and one of his men, but also buried adjacent to Docherty is another Lt Colonel, who died on the same day as Docherty. Lt-Colonel Edwin Corbyn was the commanding officer of the 18th King George's Own Lancers (an Indian Army unit).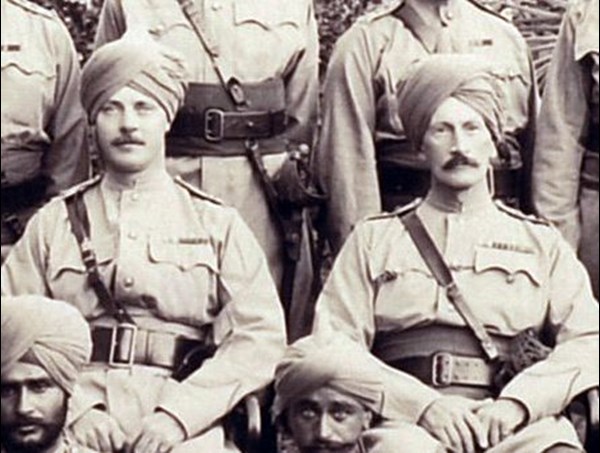 Officers and men of the 18th King George's Own Lancers. On the left is Lt-Colonel Edwin Christian Corbyn who was killed on 1 December 1917, aged 44.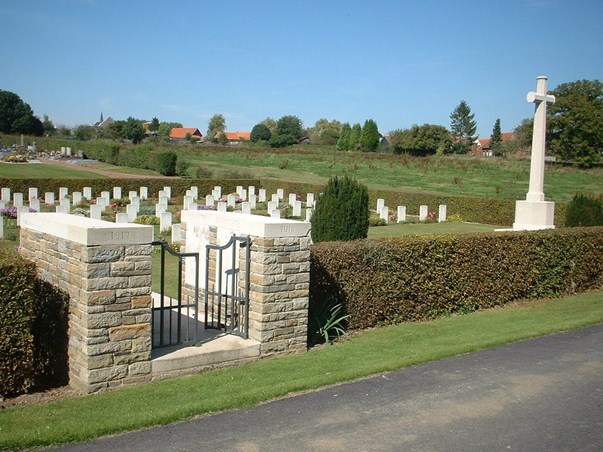 Heudicourt Communal Cemetery Extension
Also buried here is one of the youngest soldiers to be killed in the war, Private David Ross of the 2nd South African Regiment died of wounds on 25 March 1918, aged just 14 years old.
The nearest CWGC cemetery to Gauche Wood, where Lord Strachcona's Horse were in action, is Gauche Wood Cemetery. However, the men buried here are were all killed during the fighting in the area in 1918. Also close-by is Villers Hill British Cemetery, Villers-Guislain. This cemetery contains only 16 men from 30 November - 1 December fighting: four of these are men from Lord Strathcona's Horse, including Lt Young.  The Cambrai Memorial at Louveral has inscribed on its panels nearly 3000 men from these two days fighting.
Further Reading
Books:
Cambrai, 1917 by Bryn Hammond is possibly the most definitive modern book of the battle. 
'Stand to Your Horses': Through the First Great War with the Lord Strathcona's Horse by Captain SH Williams MC and quoted above, is rare and out of print.
Web article:
The Battle of Cambrai - why did it succeed and what went wrong?
Acknowledgements
Dan Hill of Herts at War kindly obtained copies of Lord Edward Seymour's file at The National Archives. ('Herts at War' is a community led project to commemorate the diverse experiences of Hertfordshire during the First World War.)
Fiona Poole, Private Secretary to Henry Jocelyn Seymour, 9th Marquess of Hertford DL has been most helpful in providing details from the Seymour family archive. A display can be currently seen at Ragley Hall about other members of the family and their involvement in the Great War.
Glenn Phillips of the Great War Forum kindly provided additional information about the second court martial.
Article by David Tattersfield, Development Trustee, The Western Front Association