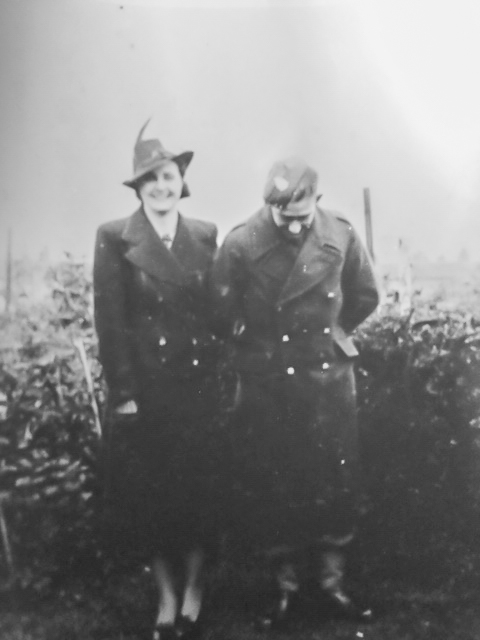 The author's great-grandparents during the Second World War 
This is my story.
Many still come to me for reassurance, many still look at me in pain and many more look at me for guidance but I call to the unknown whilst their families are near. Giving them a spark of hope just when time runs out. 
I had a family once long ago but I had to part. It was my duty to the world and to this country to keep you-the future-safe from the disasters that are beyond my reach. You, my friends and now my people, it is now your turn to save the weak and support the frail. The agony is far from easy but the loss of being apart from my loved ones and not knowing where they might still stand waiting and mourning when I am in front of them all along still tortures me and fills me with torment every stinging, silent second of my life. Standing there on the battle field waiting for it to be my turn to be shot still to this day fills me with dread, the muffled blast in the background waiting for my final minutes to pass and the screaming of the dead waiting for the affliction to end I will never forget…
The day I was found the tunnel seemed to shine brighter at the other end and a slight glimmer of hope started to flourish. Would I return to my family? Days went by and the world changed around me. I happen to hear the words France and chapel. I had never before felt closer to God: the spirits, aurora and sense of warmth flowed through to my chilled bones. I was to be chosen from four unknown soldiers. As I came closer, I felt their spirits lift inside of me, all their emotions and feelings filled me with joy. I have never felt so at home. Looking back I saw a finger point my way. I was in disbelief. No words could describe the sense of fulfilment. 
In a blink of an eye I was polished and ready to pass: one of the proudest moments of my life. There were thousands of people gazing my way. Every turn I took more and more people stared at me in amazement. What had I done to deserve this? Halting to a stop, I said a prayer for all the soldiers that died. I was extremely grateful and lucky.
Just as I passed the Abbey, my dream finally came true. I had longed for this moment the second of my death. One last time I found my family in the far crowds below. I felt their sorrow but comforted them and told them I was no longer in torment; the only thing that I could ever need was their love. 
I was no longer The Unknown Warrior; I was the found.
A letter from the Unknown Warrior submitted by Eloise Rawsthorne-Durrant
Alleyne's Academy, Stone, Staffordshire