William Hoey Kearney Redmond was born on 13 April 1861 to a Catholic father and a Protestant mother. After leaving school at Clongowes Wood College in Kildare he was commissioned as an officer in the Wexford Militia before becoming actively involved in politics. He campaigned for Charles Stewart Parnell in the 1880 General Election and two years later, as a result of intense agitation for land reform, both of them ended up sharing a cell in Kilmainham Gaol for three months.
Upon release Redmond travelled to Australia, New Zealand and the United States seeking international support for Irish Home Rule and when he returned to Ireland he too stood for election and became the Member of Parliament for Wexford in 1883. He would fight many more elections in the years that followed before eventually finding his political home in East Clare. 
Willie Redmond was by any definition an extreme Irish nationalist. In 1885 he declared in Dublin that '...nationalists will be enemies of English power in Ireland so long as England refuses them their parliament". In Newcastle-upon-Tyne he stated that ... "the bulk of the Irish people are in a state of rebellion which is merely tempered by the scarcity of firearms. And in Dundalk he advocated that, '...England's difficulty, under providence of God, is Ireland's opportunity.'
Thus began a career, and a life, dedicated to achieving Home Rule and Self Government for Ireland - and the pursuit of these objectives would ultimately cost him his life. When the Great War erupted in August 1914, and the Third Home Rule Bill had finally received Royal Assent on 18 September, Willie Redmond was clear where his duty required him to be. Addressing a crowd on St. Patrick Street, Cork, on 22 November he was crystal clear:
I speak as a man who with all the poor ability at his command has fought the battle for self-government for Ireland ... No man who is honest can doubt the single-minded desire of myself and men like me to do what is right for Ireland. And when it comes to the question – as it may come – of asking young Irishmen to go abroad and fight this battle, when I am personally convinced that the battle for Ireland is to be fought where many Irishmen now are – In Flanders and France – old as I am, and grey as my are my hairs, I will say "Don't go, but come with me".
And true to his word, even though he was far too old to be a soldier, he applied for and received a commission in the Royal Irish Regiment taking up the appointment of Company Commander, B Company, 6th Battalion in the 47th Brigade of the 16th (Irish) Division.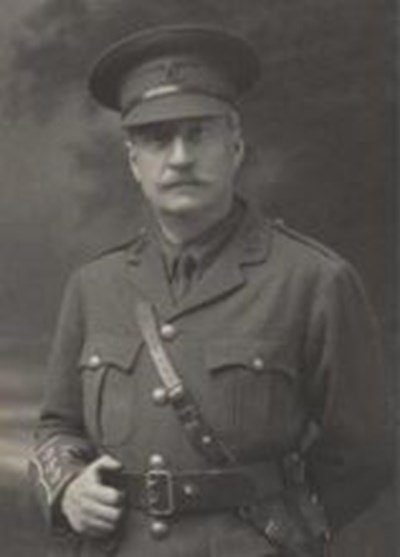 Major Willie Redmond
Throughout 1915 and 1916 he suffered horribly in the trenches of the Western Front with those who went to war with him. Eventually his health failed and he was presented with the opportunity to leave the front lines and take a job in the safety of the rear areas. This he utterly rejected and was adamant that he would never ask his soldiers to do something he was not prepared to do himself.
On the 7 March 1917 he made what turned out to be his final visit to the House of Commons and wearing the uniform of the Royal Irish Regiment he delivered an impassioned speech concluding his remarks with these words:

In the name of God, we here who are about to die, perhaps, ask you to do that which largely induced us to leave our homes; to do that which our mothers and fathers taught us to long for; to do that which is all we desire; make our country happy and contented, and enable us, when we meet the Canadians and the Australians and the New Zealanders side by side in the common cause and on the common field, to say to them: 'our country, just as yours, has self-government within the Empire.
At ten minutes past three on the morning of the 7 June 1917 Major Willie Redmond was once again in command of B Company of the 6th Royal Irish as the Battle for Messines Ridge erupted around him. Moving forward as part of the 16th (Irish) Division, and with the 36th (Ulster) Division to his right, he was hit almost immediately in the wrist and then in the leg. Sometime later he was found by Private John Meeke from the 36th Division and evacuated to the 108th Field Ambulance Station where he was administered to by Reverend John Redmond (no relation) from the 9th Enniskillen Fusiliers. Unable to withstand the shock of his wounds, later that evening he passed away.
Today Willie Redmond lies in a single grave which stands in its own plot outside the Locre Hospice Cemetery in Flanders.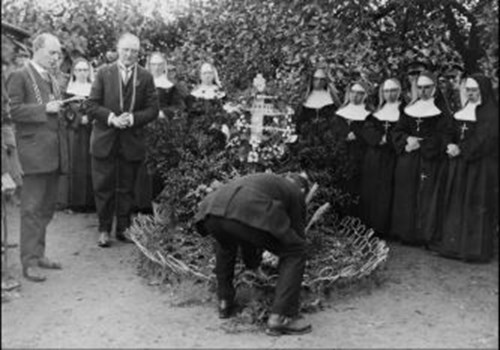 An official visit to Willie Redmond's grave in 1917. (Ref: IWM Q3035)
In October 1919 his widow Eleanor visited the grave and was very pleased with how it had been kept by the local sisters. Later the Commonwealth War Graves Commission wrote to her asking for permission to move his remains a few yards into the cemetery. Eleanor requested that his body be left where it lay and in later years the local parish priest resisted attempts at his re-interment. 
On 7 June 2017, An Taoiseach Enda Kenny, and three Irish government ministers laid wreaths at Willie Redmond's grave. The card from An Taoiseach read 'He lived for Country, He fought for Country, He died for Country. Let Unity and Peace be his Legacy for Ireland.'
The wreath laid on Willie Redmond's grave by An Taoiseach, Enda Kenny on 7 June 2017.
On 6 May 2018, the Dublin Senior Football Team visited his grave and also laid a wreath. It has taken 100 years but finally this Irish patriot has begun to receive the recognition he deserves. 
Willie Redmond was an Irish Volunteer, an elected Member of Parliament, an Irish Nationalist and a British Soldier. In the context of his time this complex identity contained no contradiction whatsoever. His vision for Ireland and her people was that she would be free to take her place amongst the nations of the world on exactly the same terms as Australia, New Zealand, and Canada. As a political visionary he was decades ahead of his time.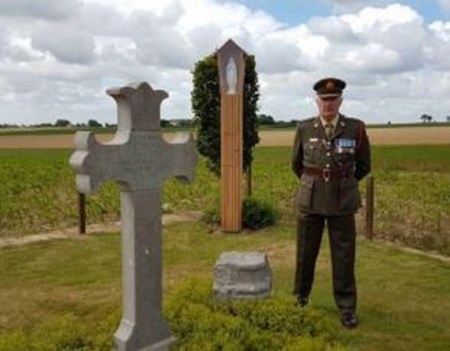 The author at Willie Redmond's grave in 2017.
One hundred and two years ago, on the 7 June 1917, Ireland lost a true patriot and someone who could and would have made a significant contribution to the evolution of our country in the post war years. We are all the poorer that that opportunity was lost.
Sé mo laoch, mo ghille mear.
Ar dheis Dé go raibh a anam dilis.
Article contributed by Dr Brendan O'Shea
European Officer, The Western Front Association