As many member of The Western Front Association will know, especially the those who have accessed the pension records, the WFA's Pension Cards and Ledgers that have so far been published are a massively valuable aid to finding out more information about individual servicemen who served in the British Army, Navy and Air Force in the Great War.
At the moment (February 2020) approximately 54% of the records have been digitised and published by the WFA's partner Ancestry.co.uk on their Fold3 platform.  More records will be published during the course of this year. These are of course searchable for free by members of The Western Front Association. 
But one question that comes up repeatedly is 'what exactly are these records'.
The answer is complicated because there are numerous types of record card and ledger that have been saved, but - generally speaking - these cards and ledgers were used as 'finding aids' to assist Ministry of Pensions clerks locate the file that was created for each serviceman and the pension claim either made by him (if he survived) or his next of kin (if he died or was killed in the war).
Unfortunately - but inevitably - these files were destroyed and the valuable (for researchers) contents lost forever.
But the good news is that not all were destroyed....
At The National Archives (previously the Public Record Office) at Kew, in London is a sample set of records bearing the reference 'PIN26'. This is what TNA say about these records...
This series contains a representative selection of case files of the Ministry of Pensions and successors concerning war disability pension awards. Following expert advice, a 2% representative selection of surviving material has been made for permanent preservation. The cases selected cover all types of disability pensions awarded after the First World War, and include files for serving men and officers, army, navy and air force, widows and dependants, and nurses.
The files have been transferred in two major tranches:
PIN 26/1-203. These pieces (transferred to the PRO in 1975) have been listed in order of the date of termination of pension, or death; details of the type of award and other relevant information are indicated by a selection code letter.
An alphabetical coded index is available for the first 203 files in this series.
PIN 26/204-22756. These pieces (transferred to the PRO between 1989 and 1997) have been listed slightly differently. The list gives the covering dates of each file, the name of the individual, and an indication of the nature of the disability.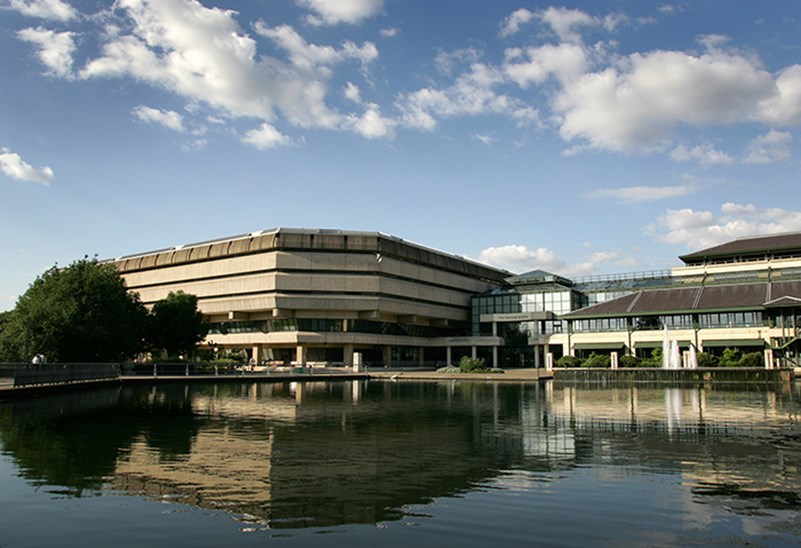 Above: The National Archives at Kew
Knowing that nearly 23,000 files exist detailing pension claims, I paid a visit to The National Archives ('TNA') and undertook a very small sample of these files during the period discussions with Ancestry were taking place. This to try to form an understanding of the Pension Cards and ledgers. 
Obviously the chances of any PIN26 file surviving for an individual serviceman that a WFA wishes to research is - to say the least - remote. However, the details provided in these examples may answer some questions about what kind of information would have been available had the files not been destroyed . These also give a few clues in terms of some of the reference numbers and notations found on the (WFA) Pension Cards and Ledgers.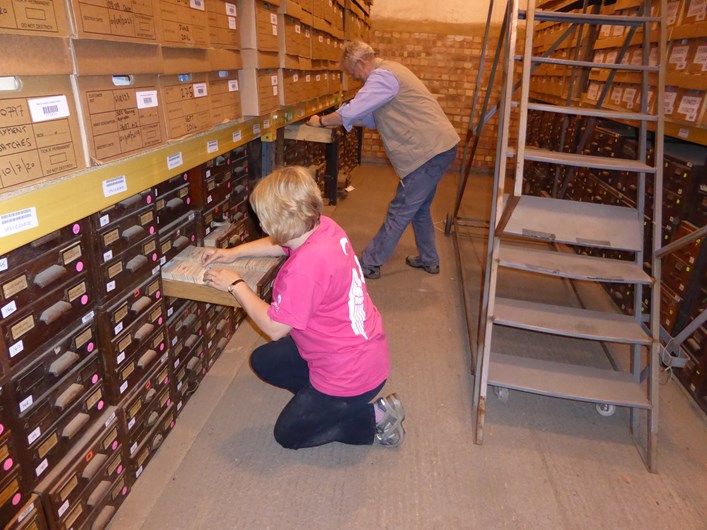 Above: Two volunteers looking up pension cards in the WFA archive, prior to the digitisation 
I hope the following will help WFA members understand the cards and see what the pension files may have typically contained.  Please forgive any out of focus images (in mitigation, I was attempting to review as many files as possible within a limited timescale).
Let's look at some examples.
Denis Cavanagh
The very first file in the PIN26 series is PIN 26/1 being the pension claim by Denis Cavanagh (356401, Corporal , Labour Corps).
Below is his Pension Ledger (note the number 1/MC/1969)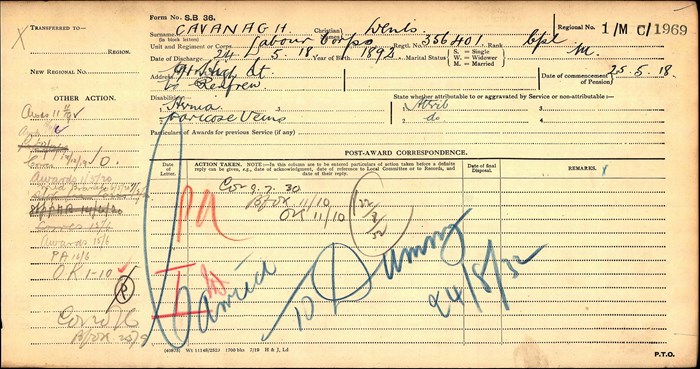 Below is his Pension Card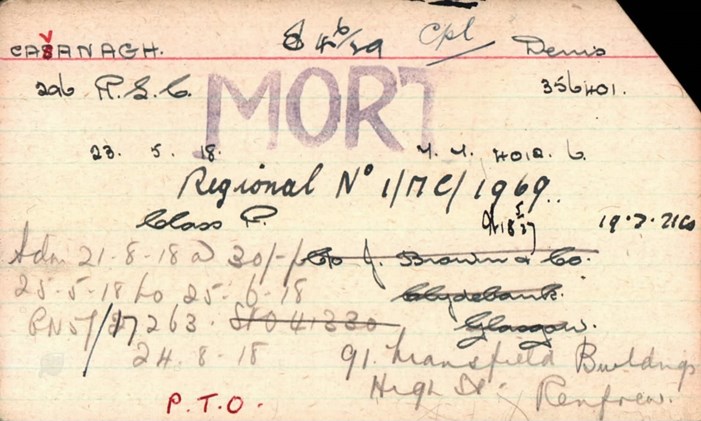 Here is a link to the file at TNA: PIN 26/1 (note: these files are only able to be accessed via a personal visit to TNA; they are not available on-line) 
The PIN26 file for Cavanagh contains a small amount of correspondence which I captured on 29 digital images back in 2015. These are available on the LINK HERE.
What it is interesting to note is the correlation between the 'WFA ledger' and some of the contents contained in the PIN26 file. Below we have 'corres 15/6', 'awards  15/6' and 'PA 16/6'. These dates are identical, or closely match entries on one of the pages in the PIN26 file (see image number 1050121 from the digital photos - which is also reproduced (with much smaller resolution) below).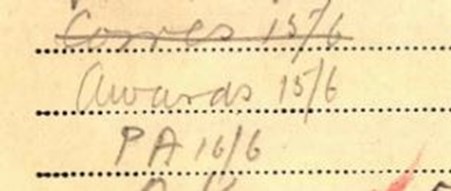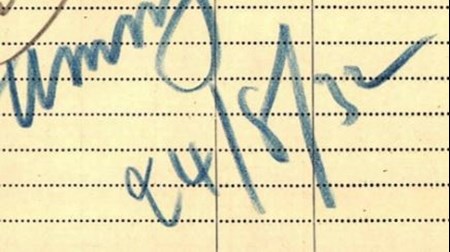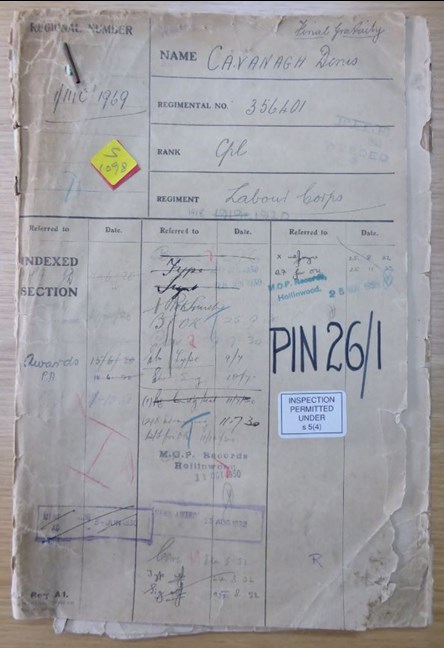 Above: The front (cover) sheet of Denis Cavanagh's pension file at TNA.
William Abbott
William, number 36607 was killed in the war. According to the Pension Card below this was on 13 April 1918.  We have a card for him (because the set of cards for soldiers who were killed has been published by Ancestry) and a ledger. Both of these are shown below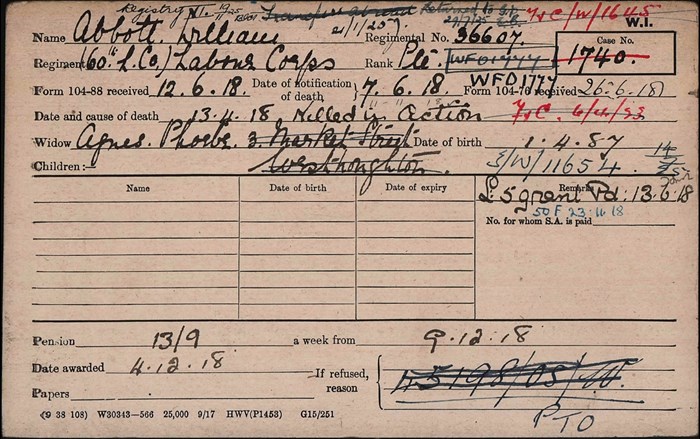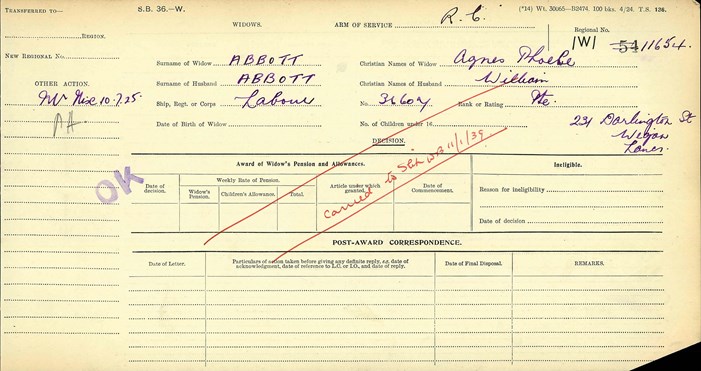 William is buried at Louvencourt Military Cemetery
It will be seen there is a contradiction between his CWGC entry (62nd Coy, Labour Corps) and the above Pension Record Card (60th Company).
His file is part of the 'second series' of files at TNA, being numbered PIN 26/17179.
The original pension file at TNA is quite small; the 21 digital photos of this file can be viewed HERE.
On Abbott's card there are a lot of reference numbers, including 3/W/11654, 45198/OS/W, 1740 and WFO1777 (WFD 1777). See images below. These are picked up on various digital photographs shared above.   

3/W/11654 - this is the ledger number  see images numbered 1050333, 1050342, 1050344

45198/OS/W  see images numbered 105351, 1050347, 1050351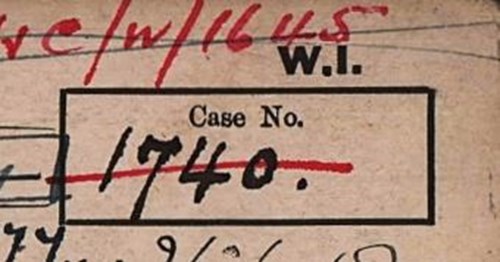 1740 see images numbered 1050335, 1050337, 1050345, 1050348, 1050349, 1050350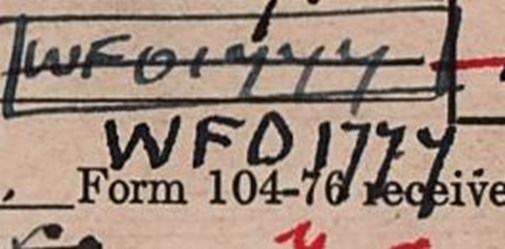 WFO1777 (WFD 1777) see image number 1050348
Arnold Loosemore
Another soldier to survive the war, but was Arnold Loosemore. Arnold was awarded a Victoria Cross.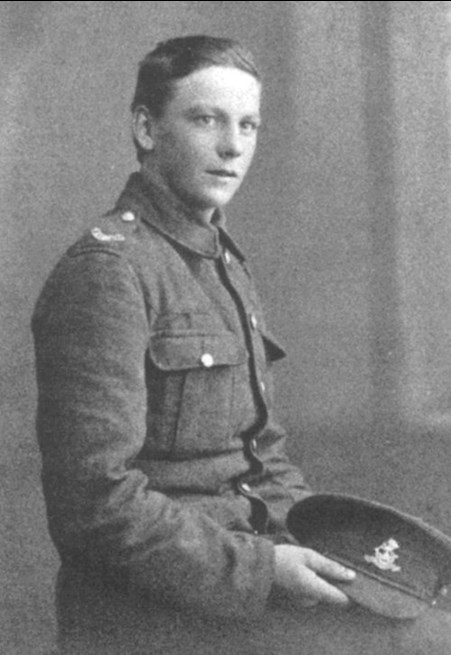 Above: Arnold Loosemore, VC
Below is the pension card. This is not typical because there are two cards (four sides) here.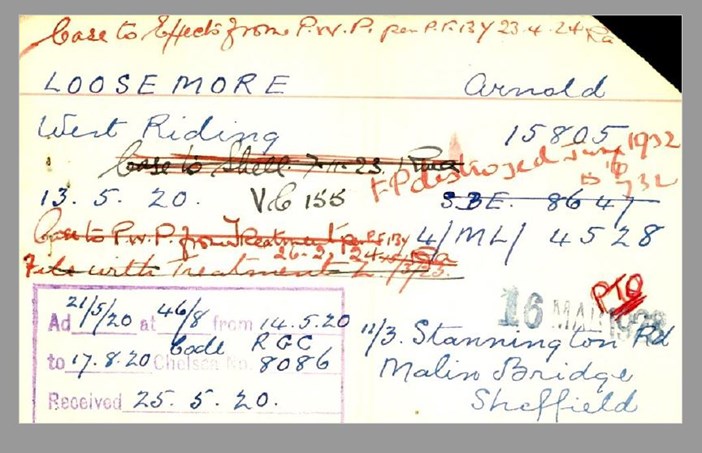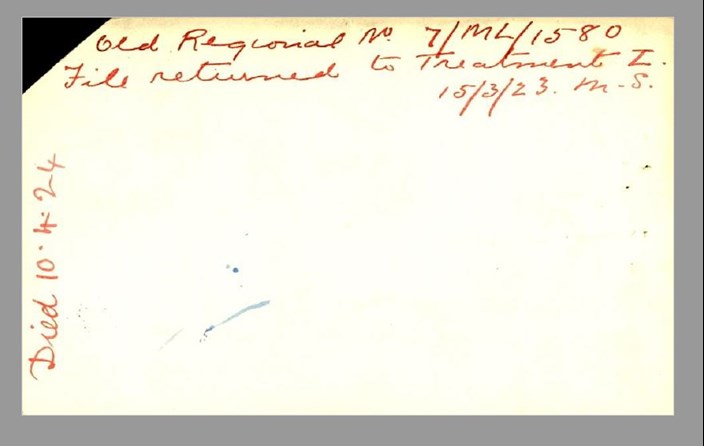 Above: Front and reverse of the 'main' card for Arnold Loosemore.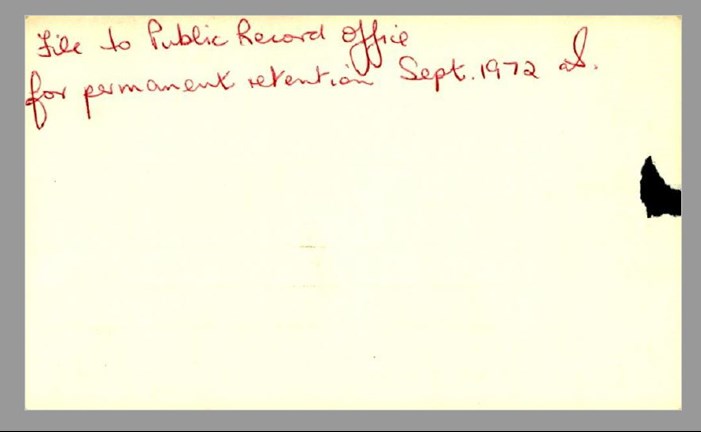 Above: Front and reverse of the 'secondary' card for Arnold Loosemore - note the reference to the file being sent for permanent retention. This is now the PIN 26 file.
These cards 'point' to the ledgers for Loosemore, for which, unusually, there are three: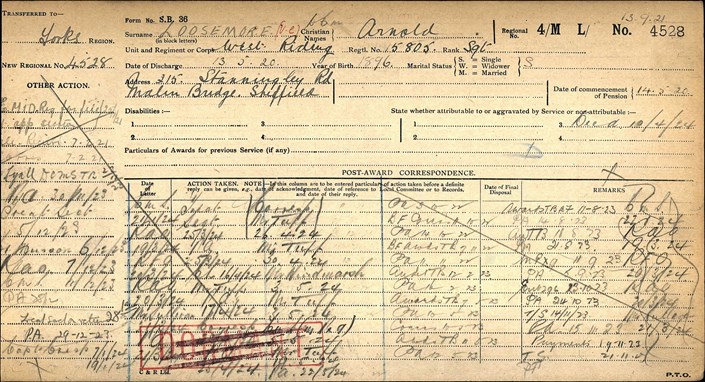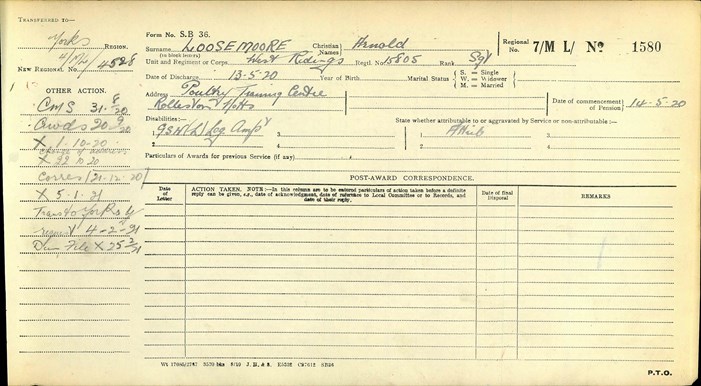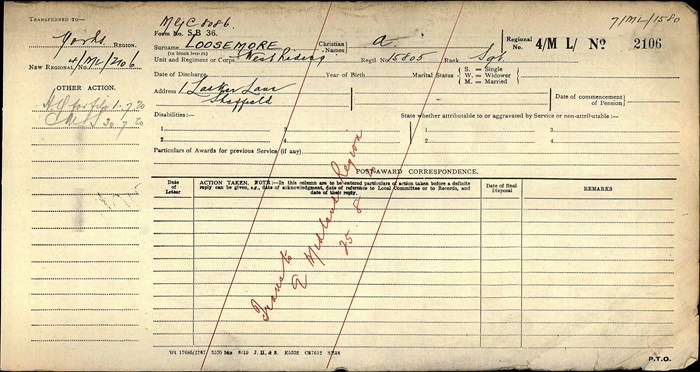 The file at TNA is numbered PIN 26/18. This file at TNA is large, running to 90 digital photos. These can be viewed VIA THIS LINK
Thomas Harkness
Thomas was one of the 'young' soldiers, born on 2 June 1900 (according to one of the documents within the pension file at TNA). 
Thomas survived the war, but claimed a pension (VDH is an acronym for valvular disease of the heart). He died on 1 March 1972 in the USA. 
Below is the ledger preserved in the WFA collection and the related pension card.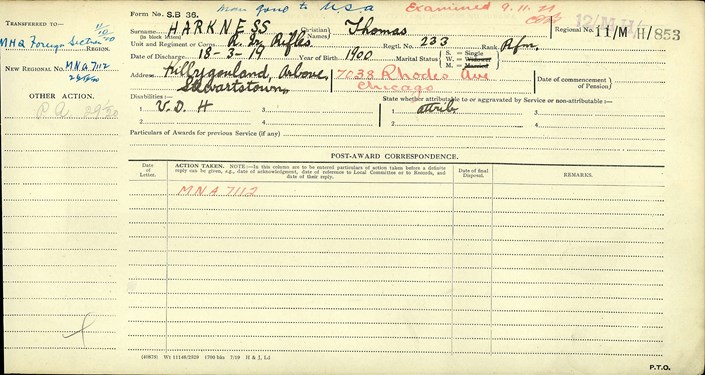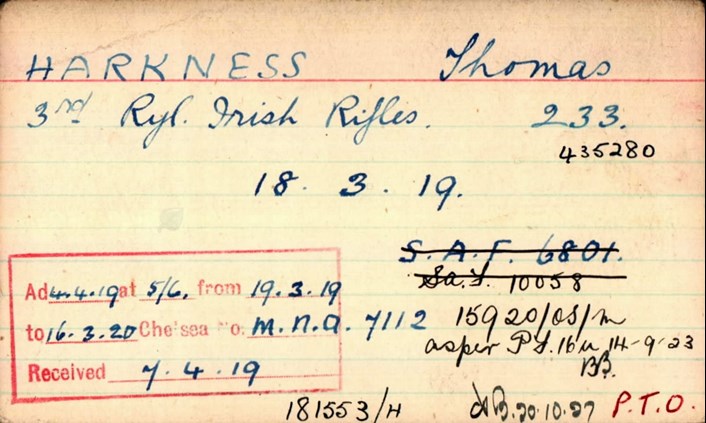 This is the last of the original 203 files to be taken into TNA, which is available via the reference PIN 26/203.
The original pension file at TNA is massive, with over 150 digital photos being needed to copy this file. It can be viewed via THIS LINK
Joseph Young
The last example of the PIN 26 files I will provide in this article (but other articles will follow) is that of Joseph Young who was killed whilst serving in in 'C' Battery, 159th Brigade, Royal Field Artillery on 25 March 1918. He is buried at Suzanne Military Cemetery Number 3.
His Pension Record Card is shown below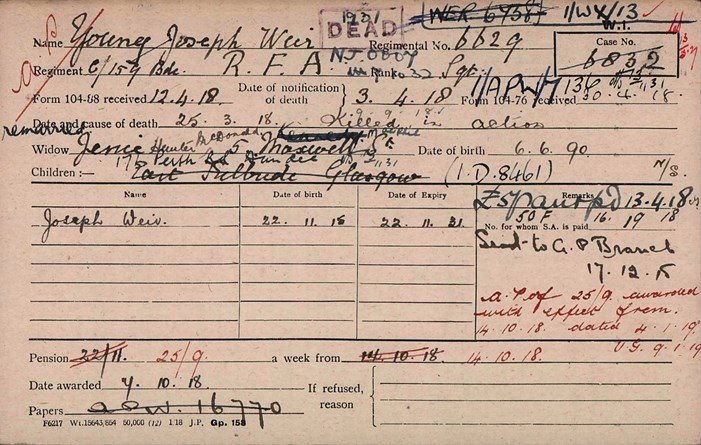 Inexplicably there is a second card for him as well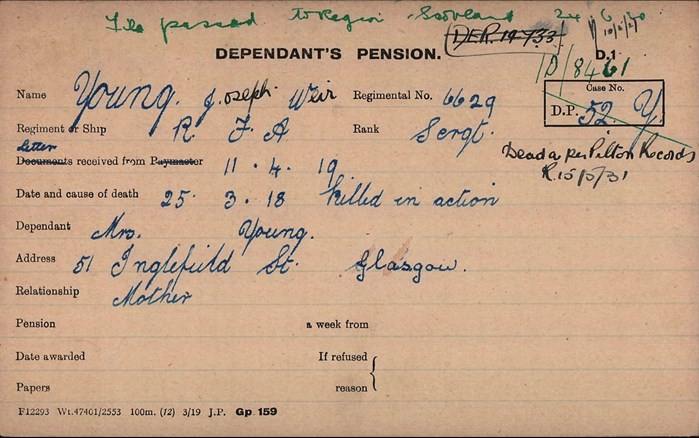 The pension awarded seems to have been an Alternative Pension (the 1/APW/7136 on the first of the above cards gives the clue here). Unfortunately this ledger seems not to have survived.
Again, his pension file is one of those preserved at TNA, this time under reference PIN 26/19720. This file is small, with only 23 digital photos being needed to copy this file. It can be viewed via THIS LINK
A second article can be seen here which provides more examples of PIN 26 pension files and compares these files to the WFA's Pension Records. 
A third and final article has also been published, which can be seen here.
David Tattersfield, Vice Chairman, The Western Front Association