I read with great interest the recent 'Trench Lines', especially the articles on hard-to-decipher writing, and the man who served as Stewart Elder, but had the aliases of McVey and Palmer.  Unusual indeed.  So, being a keen family historian, I decided to try and unravel the mystery.
It is necessary in the first place to go to the parents of Stewart. They were John and Theresa. I discovered that John McVey (bachelor) and Theresa Palmer (spinster) married 6th July 1877 in St Mary's Chapel, Glasgow, according to the forms of the Catholic Church. Both parties were born in Ireland and lived in Glasgow, John a bricklayer's labourer and Theresa a power loom weaver.  Neither was able to sign. 
In 1881 they lived in Dalmarnock Road, Glasgow,  John now a potter's labourer.  There are no children shown.  Unusual for the time, I would have expected a child or two by then, unless of course they had children that died. 
The next document consulted details Stewart's brother, James, who is also mentioned on the Pension Record Cards.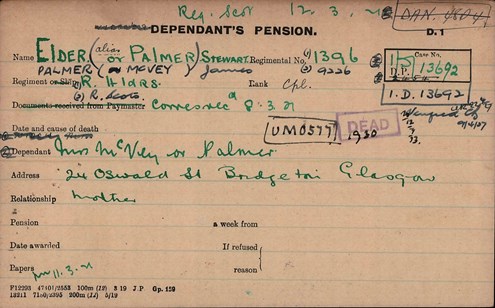 Above: One of the four records for Stewart McVey / Palmer / Elder located in the WFA's Pension Records
His registered surname is given as "Palmer or McVey".  Couldn't they make up their minds?  He was born 16th June 1888 in Old Dalmarnock Road.  The next entry, regarding his parents, is very interesting:  "Theresa Palmer, delft hawker, wife of John McVey, pottery labourer, who she declares is not the father of the child and further that she has not had relations with him for the last 11 months".  Clearly the marriage was not a happy one.
Next, we have the birth of another son.  Stewart, surname  Elder (no mention of Palmer or McVey) was born 21st July 1890 in Oswald Street, Glasgow.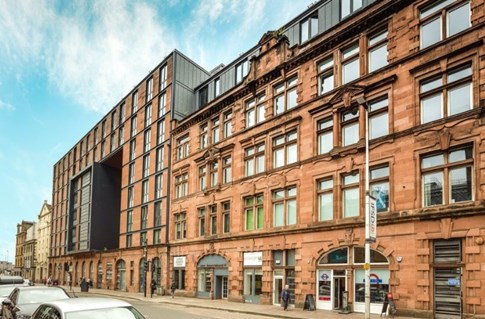 Above: Oswald Streeet, Glasgow today. 
Regarding his parents, again we have something similar to James:  "Father is Stewart Elder, Iron Moulder journeyman; mother is Theresa Palmer, housekeeper, wife of John McVey, labourer, who she declares is not the father of the child and that she has not had relations with him since 18?7".  The third number is smudged and hard to decipher.
In 1891 the family, Stewart snr, Theresa, James and Stewart jnr, are all together in Glasgow as a family, all having the surname of Elder.
In 1901 the family, still with the surname of Elder, are in Tobago Street, Glasgow, James is absent, Stewart jnr  is absent, and another son, Herbert, has popped up.  I did not locate them in 1911.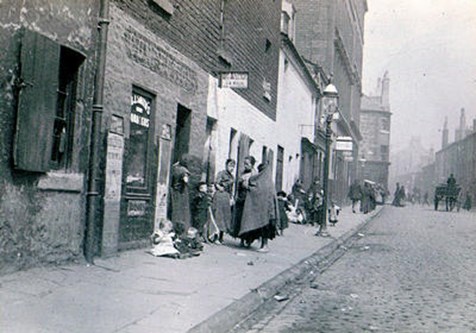 A group of women, barefoot and wrapped in shawls, stand gossiping in Tobago Street with a shopkeeper, early 20th century. Toddlers play on the pavement. A few doors further along the street is another group of women and children. (Image courtesy of www.theglasgowstory.com ) 
(As an aside, James (Stewart's brother) joined the Army in 1905 with the surname of McVey and it looks as if he lived with that surname entirely.  He has a surviving service record. James was killed on 15 September 1914).
So, Stewart jnr.  I am perfectly convinced that Stewart Elder snr was his biological father, and Theresa registered him as such.  Normally at that time, if the parents were not married to each other, he would have been registered with his mother's legal name, McVey, as she was legally married to John Mc Vey.  But also the mother's maiden surname goes on a birth certificate.  It is clear that Theresa wanted nothing to do with her husband, and lived with Stewart Elder snr as husband and wife.
The only other curious thing is that the CWGC  Debt of Honour Register has Stewart jnr's age at death as 18.  He would have been 24!
Stewart  - the second of Theresa's sons - was killed on 9  May 1915 and is commemorated at Le Touret Memorial to the Missing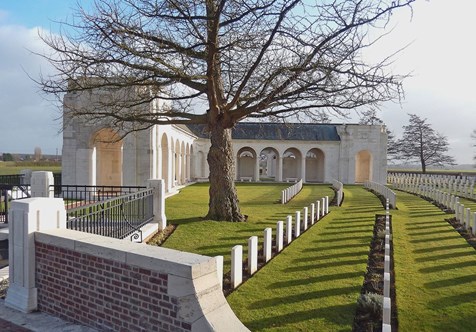 This may explain the story why Stewart ended up with three different surnames on the Pension Records
Article by Dorothy Williams
Further reading:  Stewart McVey: The soldier with TWO aliases