One of the many names listed on Le Touret Memorial to the Missing is that of Corporal Stewart McVey. Aged just 18 he was killed on 9 May 1915 at the Battle of Aubers Ridge, whilst serving with the 1st Battalion Black Watch. Unusually, but by no means uniquely he had a pseudonym, the CWGC noting he 'served as' (Stewart) Elder. 
But this is not as straightforward as it appears. 
Stewart has so far proved to be the only soldier that has so far been located by the WFA volunteers working on Project Alias who had not just one, but two aliases. 
Below is the first of the cards that have been located showing that Stewart McVey's pension record needs to be located under the name of Elder. So far so straightforward.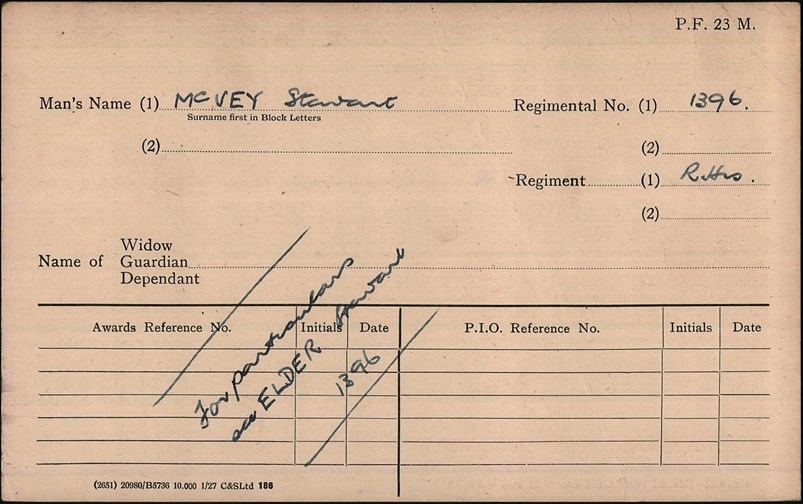 However, the card below (note the same regimental number) suggests that Elder 'or Palmer' was Stewart's surname. It does not mention the name McVey apart from the reference to his mother (Mrs McVey or Palmer).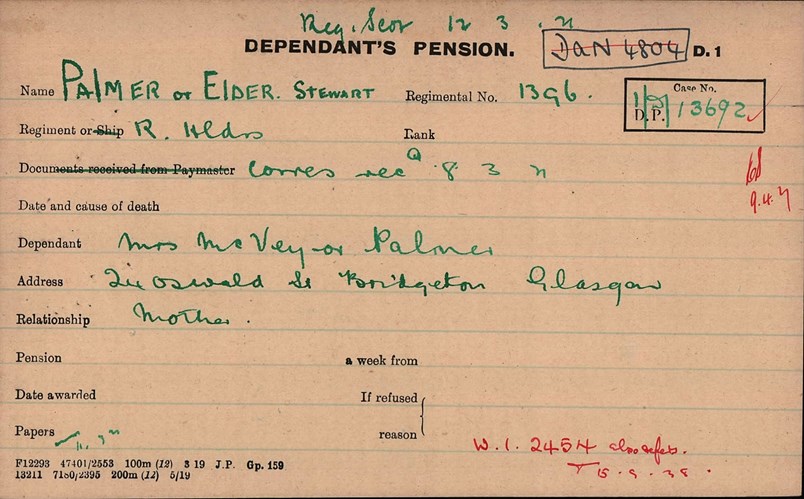 The card below complicates matters further, as it mentions also his brother James (number 9226). James (aged 26) had been killed on 15 September 1914. He is commemorated at La Ferte-Sous-Jouarre Memorial. This suggests that Jame used both McVey and Palmer as alternative names.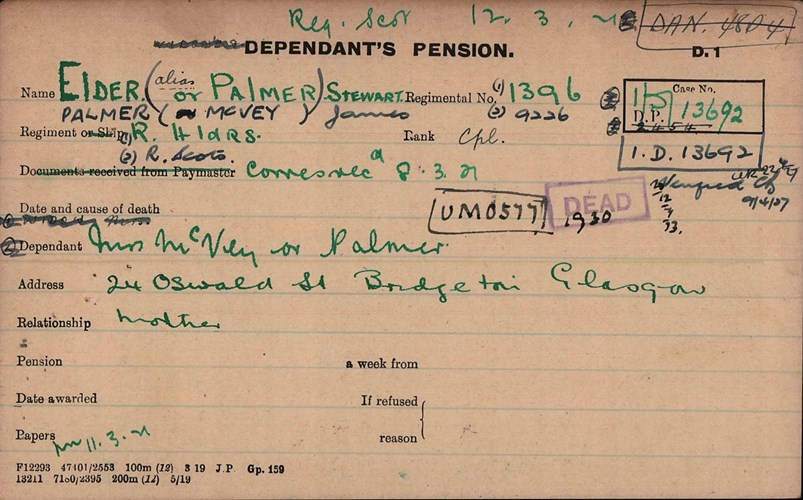 The card below, which bears case number 2454, again references Stewart Palmer and refers to an alias of Elder. But does not mention the name of McVey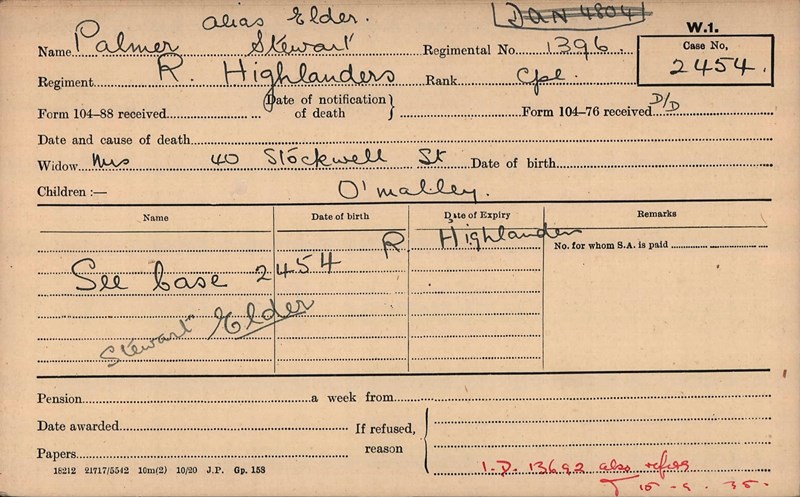 Turning for a moment back to James, we can see from the card below that he used the surname Palmer.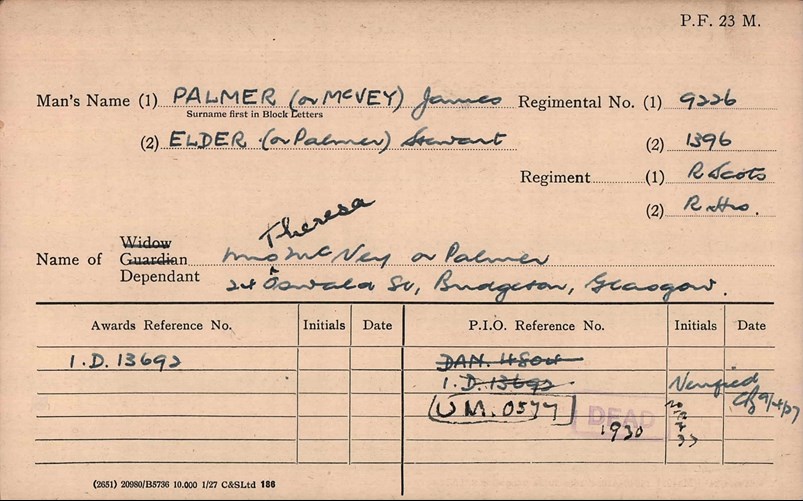 The final card (below) is Stewart's Medal Index Card which makes no mention of any form of alias.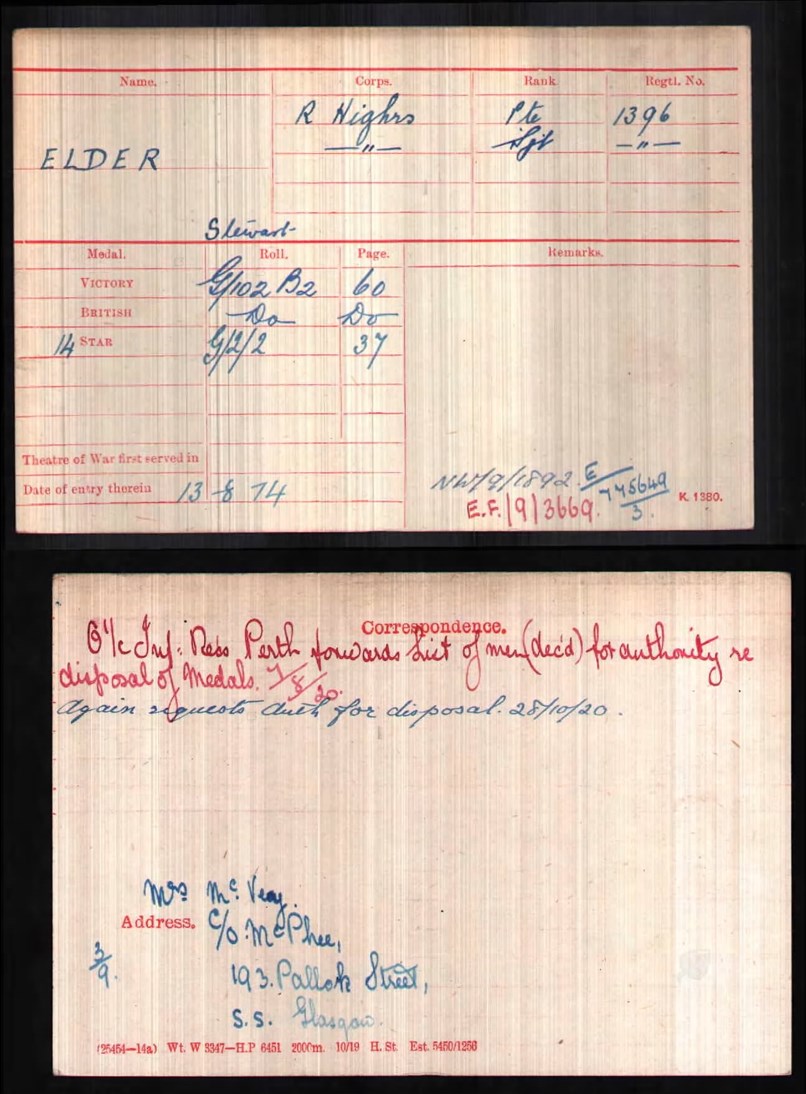 This is just one example of the complications that the team of 'Alias' volunteers are finding within the WFA's pension records.
If any member would like to unravel the McVey / Palmer / Elder brothers various names and the reasons for this, please do get in touch with Project Alias and we will publish the story.
David Tattersfield
pensionrecords@westernfrontassociation.com
Further Reading: 
Project ALIAS - early results and discoveries  
Project ALIAS: A major scheme to locate men who served using a 'different' name
Project Alias and Project Capture - how WFA members are working on the Pension Records
Project ALIAS reveals the man who is listed twice