In recent days an issue has come to light that affects approximately 2 percent of the Pension Cards for 'soldiers died'.
The following article is to advise WFA members what to look out for in terms of 'un-indexed' names and also provides details of a work-around that will enable cards to be located despite the issue that has been flagged.
Ancestry are aware of this and are working to resolve this. The estimated time for full resolution will be September this year, so the following workaround will need to be considered until the upgrade is pushed through on the Fold3 web site.
Please imagine a set of drawers. These drawers are arranged alphabetically and contain all the cards of soldiers who died whose relatives claimed a pension. There are 1046 of these drawers. Each drawer contains varying numbers of cards, but typically 900 or so.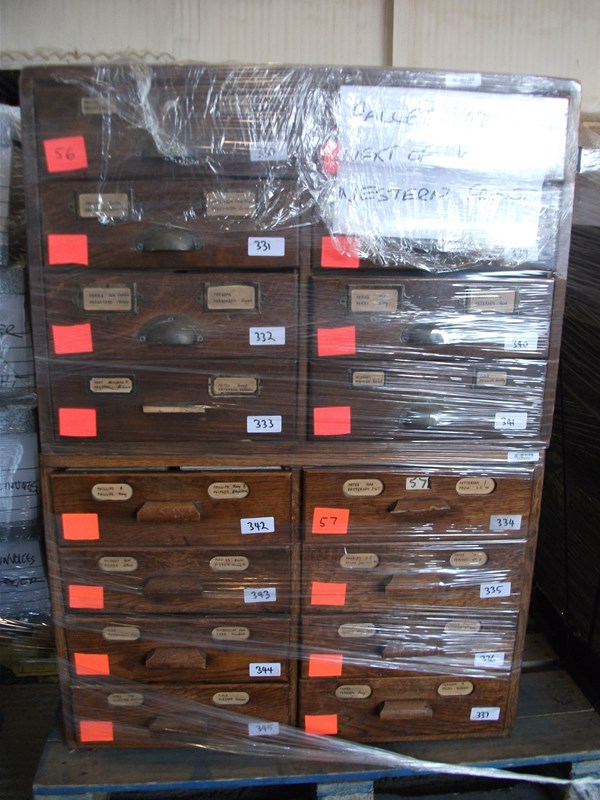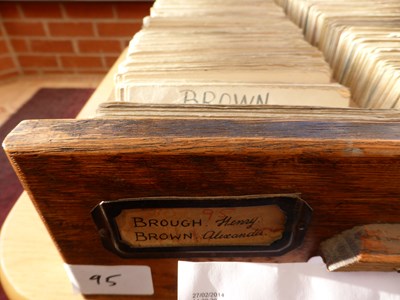 Of these drawers, 1024 have been correctly processed by Ancestry's sub-contractors. Regrettably 22 drawers have not been correctly processed, but the contents have been scanned.
This means that 22 different sets of names won't - for the moment  - be revealed if there is a search undertaken on Fold3.
Below are the 22 ranges of names that are affected. However, beneath the list is a workaround that enables a search to be undertaken 'manually'.
The first and last names of the ranges are listed, together with two numbers. The numbers will be explained in the footnote to this article. 
| | | | |
| --- | --- | --- | --- |
| Bennett CJ | Bennett L | 021 | -071 |
| Brown J | Brown JR | 031 | -123 |
| Burrows T | Burns W | 034 | -140 |
| Chapness A | Charlton WJ | 040 | -171 |
| Farrant, J | Farrow H | 069 | -312 |
| Fishleigh P | Fitzjohn WG | 071 | -323 |
| Hunter, J | Hurrell E | 105 | -479 |
| Major L | Mallindale G | 133 | -618 |
| Moore C | Moore J | 135 | -659 |
| Newman D | Newstead B | 139 | -686 |
| Nixon A | Nodwell J | 144 | -691 |
| Petrie G | Philiban J | 149 | -734 |
| Phillips I | Philp F | 152 | -736 |
| Roberts E | Roberts J | 161 | -788 |
| Sandeman A | Sandry J | 164 | -815 |
| Shannon A | Sharp JW | 165 | -829 |
| Sutcliffe W | Sutton J | 175 | -901 |
| Townshend HG | Traynor H | 180 | -938 |
| Tucker E | Tulloh J | 183 | -942 |
| Watson B | Watson J | 185 | -978 |
| Wells AC | Welsh H | 187 | -988 |
| Woods, J | Woodward RR | 193 | -1033 |
The Workaround
If you have a soldier within one of the above 22 ranges that you need to locate, this is what you need to do:
Enter the Fold3 site and click on 'browse'. 
From here you will see a heading 'Category' with 'All titles' beneath.
Click on 'All titles' and you will be presented with 'Publication' and two options. Click on 'UK, WW1 Pension Ledgers and Index Cards'.

Next click on the 'Pension Record Card' option
and on the next pop up ('Description') click on 'Pension Record Card' option again.
Next - click on 'ALL', then 'Other Ranks Died'.
At this point you will be presented with 1046 options which are listed alphabetically. Locate the 'un-indexed drawer' from this alphabetical list. The range is prefixed by a number code which is shown on the above table. See footnote below. 
Once you click on the 'drawer' you will see the word 'index'. Click on the word 'index', or in a small number of cases the name of the single solder which is presented to you. This will present the images of the contents of this drawer. This will amount to around 1800 images (being the 900 cards front and reverse in each drawer). The exact numbers will vary from drawer to drawer. 
If your man is likely to be at the end of the range, scroll towards the end. If at the beginning of the drawer, don't scroll too far. Locate a card and make a note of the number. By a process of 'over and under' you can arrive at about the right area quite quickly. Once you are in the right area, click on a card and then click on the 'film strip icon (see image below).

The film strip will bring up a series of images which make it much easier to scroll through until you find the correct soldier.
Remember, these are ordered alphabetically, any middle names (if on the card) will affect the search. Men with the same name are then sorted by regimental number. This was the way the Ministry of Pensions worked. Any missorts in the digitised records here will of course be corrected when these are re-worked by Ancestry.
While the un-indexed cards are regretted by Ancestry, it is hoped that the above workaround will resolve many issues until the correction becomes effective.
Please note: It is important NOT to put any of these un-indexed cards through the WFA 'correction' process. These will all be 'corrected' by Ancestry. Attempting to add these to the WFA process will simply overload the current system! 
David Tattersfield
Footnote:
If you use the number shown in the above table it enables you to find the 'drawer a little bit quicker. The first number should be used to go down the list of 1046 drawers, the second number will then take you to an exact drawer which will match the alphabetical range.