In 1915 an R.F.C. aeroplane, crewed by two newly-qualified pilots, crashed in the grounds of Glamis Castle in Scotland, witnessed by a teenage girl who went on to become a Queen and, later, Queen Mother.  Here we look at the story behind that fatal accident.
The Castle and the Bowes-Lyon Family
Glamis Castle (below), sometimes described as Scotland's most beautiful castle, is in the valley of Strathmore, 8 kilometres from Forfar and 19 kilometres from Dundee.  Among its claims to fame is the setting for Shakespeare's Macbeth.  Since 1372 it has been the family home of the Earls of Strathmore, after King Robert II granted the thaneage to Sir John Lyon.  [In Scotland a thane was a man, often a clan chief, who held land from the King; he ranked with an Earl's son.]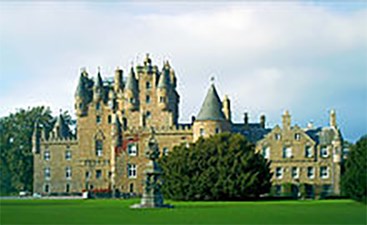 In 1376 Sir John married the King's daughter, and since then Glamis has been popular with the Scottish and British Royal Families. During the Great War period it was the home of Claude Bowes-Lyon, Lord Glamis (later the 14th Earl of Strathmore and Kinghorne in the Peerage of Scotland), and his wife, Cecilia Cavendish-Bentinck, who was descended from British Prime Minister William Cavendish-Bentinck, 3rd Duke of Portland, and a Governor-General of India, Richard Wellesley, the 1st Marquess Wellesley, the elder brother of another Prime Minister, Arthur Wellesley, the 1st Duke of Wellington.  The Bowes-Lyons had ten children, the best known of them being the ninth: Elizabeth Angela Marguerite, who became Her Majesty Queen Elizabeth, The Queen Mother, born in 1900.
Glamis was used as a Military Hospital during the Great War, while four of the Bowes-Lyon sons served: John (1/5th (Angus & Dundee) Battalion, The Black Watch (Royal Highlanders); Patrick (Grenadier Guards); and Michael (Royal Scots) were wounded, with the latter also being captured in 1917.  Fergus, a regular soldier who had served in India with the 2nd Battalion of the Black Watch before the War, and later the 1/5th (Angus & Dundee) Battalion, was posted as missing, believed killed in action with the 8th (Service) Battalion, during the 9th (Scottish)  Division's assault on the Hohenzollern Redoubt during the Battle of Loos on 27 September 1915.1
In October 1915 a Maurice Farman biplane from No. 6 Reserve Aeroplane Squadron, Royal Flying Corps (R.F.C.) was forced to land in the Castle Grounds while on a training flight from Montrose aerodrome.  As we shall see, both airmen on board were fairly inexperienced pilots.  However, it seems that the aeroplane itself was the cause of the fliers' problem.
The First Airman
Born on 23 October 1885, Captain Frederic George Alleyne Arkwright was the second son2 of Frederic Charles Arkwright J.P. D.L. and his wife Rebecca Olton, the third daughter of Sir John Gay Newton Alleyne, 3rd Baronet of Chevin, in Derbyshire.  He was educated at A.T.B. Dunn's School (now called Ludgrove School) founded in 1892 by Arthur Tempest Blakiston Dunn and then located in Cockfosters, North London.  After leaving Dunn's, Frederic was enrolled at Eton, where he enjoyed time rowing on the Thames with the Boat Club as well as playing Association Football in Miss Evan's House XI.  Following his school days he entered the Royal Military College at Sandhurst, where he won prizes for riding. On 11 August 1905 he was gazetted as a Second Lieutenant in the 11th Hussars (Prince Albert's Own), known as "The Cherry Pickers" after the regiment sought cover in a Spanish cherry orchard when ambushed in August 1811 during the Peninsula War.  Perhaps by coincidence, the 11th's dress uniform includes crimson, or cherry-coloured, trousers, following an 1861 re-design by Prince Albert, Queen Victoria's consort.
2Lt. Arkwright was promoted to Lieutenant on 7 November 1906.  He was awarded the Royal Humane Society's Vellum Medal for saving the life of a drowning soldier after the man fell into a stream while horses were being watered during a halt on a march from Shorncliffe to Salisbury Plain.  The soldier then became Frederic's soldier-servant.  Appropriately for a cavalry officer, he was an excellent horseman, with a reputation for skill in riding to hounds and in point-to-point races.  In 1912 he was unlucky enough to break both legs in a motoring accident, but recovered to resume his place in his regiment.
As War approached, Frederic was promoted to Captain on 1 August 1914. After War was declared on three days later, the 11th Hussars moved to France as a component of the British Expeditionary Force's 1st Cavalry Brigade, together with the 2nd Dragoon Guards (Queen's Bays), the 5th (Princess Charlotte of Wales's) Dragoon Guards and the 1st Signal Troop in the Cavalry Division (to be re-titled the 1st Cavalry Division on 16 September).  The regiment took part in the Great Retreat after the Battle of Mons on 23 August and, together with the 2nd Dragoon Guards, took part in a cavalry charge which led to the capture of eight guns at Néry on 1 September.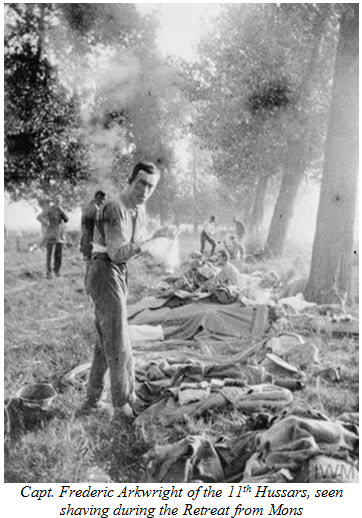 After the decisive Battle of the Marne in late September, the B.E.F. moved north during efforts out outflank the German Army that became known as "The Race to the Sea" that ended in the First Battle of Ypres between 18 October and 22 November.        
At this early stage of the War, the expanding Royal Flying Corps (R.F.C.) did not have enough trained observers, so experienced soldiers from other branches of the Army were attached; if the transferee found flying acceptable, the transfer was made permanent.  Perhaps appreciating that the onset of trench warfare after First Ypres signalled the end of the fluid conflict for which cavalry was intended, Frederic decided to move to No. 5 Squadron R.F.C., then based at Ballieul (Town Ground) aerodrome.
On 27 November 1914 Frederic was the observer in Henry Farman F.20 1823, a fairly new aeroplane, delivered to No. 5 Squadron on 2 October, flown by Lt. Hugh Fanshawe Glanville3  (formerly West India Regiment), who qualified for Royal Aero Club Certificate No. 307 flying a Bristol Biplane on 1 October 1912.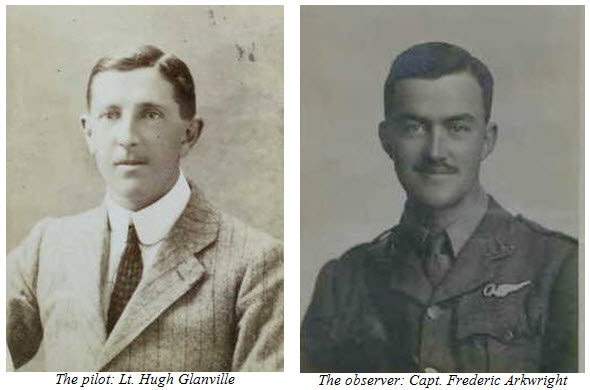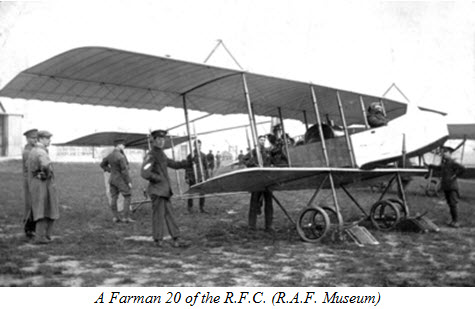 The Farman was on a reconnaissance flight, during which Lt. Glanville flew low over enemy-held territory while Frederic, seated in the front cockpit, noted troop dispositions.  The aeroplane was subject to heavy fire from the ground, and sustained 28 hits from shrapnel, one of which wounded Frederic in the foot.  Despite the damage, Lt. Glanville was able to return 1823 to Ballieul, where it was deemed to be not worth repairing, and was struck off.
After he recovered from his foot wound, Frederic was posted to No. 8 Squadron at Oxelaere aerodrome, and was the observer in a B.E.2c, possibly 16664, flown by 2Lt. Marmaduke Henry Monckton (formerly Royal Garrison Artillery) on 4 June 1915, when the aeroplane was involved in a fight with a German aircraft, described as an Aviatik (at this stage of the War, often a generic term for any enemy aeroplane) at 7500 feet (2286 metres) over Ledeghem at 18.10.  Both British airmen emerged unscathed.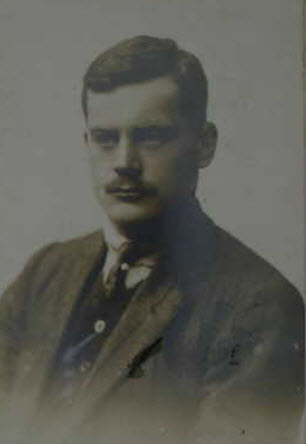 2Lt. Monckton (above) qualified for Royal Aero Club Certificate No. 730 on a Vickers biplane at Brooklands on 28 January 1914.  He joined No. 8 Squadron from the Central Flying School at Upavon on 19 March 1915. Sadly, he did not live long after the 4 June fight, as he was killed in a flying accident in a Bristol Scout from No. 2 Squadron on 9 July.
Frederic was gazetted as a Flying Officer (Observer) on 16 June, before returning to the United Kingdom to train as a pilot with No. 6 Reserve Aeroplane Squadron at Montrose5, in Scotland's Forfarshire, where he qualified for Royal Aero Club Certificate No. 1773 on a Maurice Farman biplane on 21 September 1915.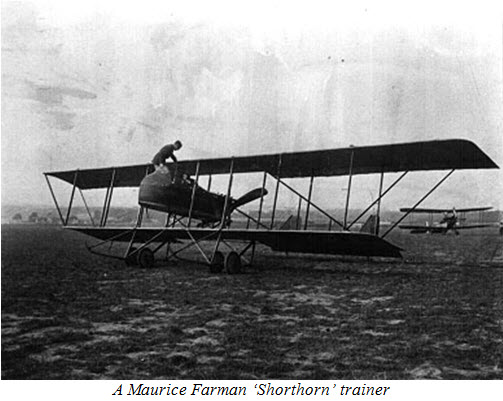 The Second Airman
Lt. Allan Herbert Hardy (below) was born in 1890, the son of Colonel Charles Stewart Hardy and his wife Fanny, of Chilham Castle in Kent.  His family home and surrounding estate, comprising 3720 acres, (1520 hectares) with 14 farms and 60 dwellings occupied by estate workers, was purchased by his grandfather, Charles Hardy, in 1861, after he made his fortune as an iron-founder in Bradford, Yorkshire.  Allan's father, a lawyer, went on to become the Member of Parliament for Bradford in 1928, a decade after the castle and estate was sold to Edmund Davis.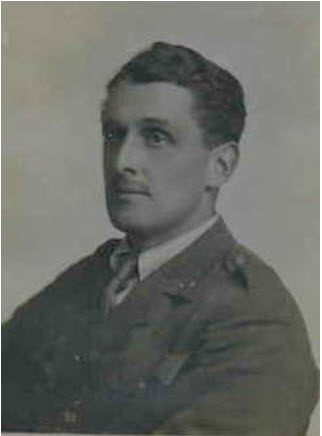 Allan transferred from the Royal East Kent Yeomanry to the R.F.C. and was posted to No. 6 Reserve Aeroplane Squadron for pilot training on 3 August 1915.  Like Capt. Arkwight, he he qualified for his Royal Aero Club Certificate, in his case, No. 1775, on a Maurice Farman biplane on 21 September 1915.
On Wednesday 13 October 1915 two newly-qualified pilots, Capt. Arkwright and Lt. Hardy, were to gain experience by flying a Maurice Farman 'Shorthorn' from their base at Montrose to towards the west.  The airmen had flown less than 40 km when they experienced propeller problems, and were forced to land in the grounds of Glamis Castle.  It was not possible to repair the Farman that day, and no doubt the fliers enjoyed the hospitality of the Bowes-Lyon family as they stayed overnight.
A replacement propeller from Montrose was fitted to the Farman next morning and, with their hosts looking on, Lt. Hardy sat in the pilot's seat and opened the throttle; the aeroplane then took to the air on its return journey.  However, it was soon apparent that things weren't going to plan.  After climbing to about 100 metres, the Farman was seen to be in difficulty.  The Castle was circled once or twice before tragedy struck.  Before the gaze of the horrified onlookers, including the future Queen, the biplane plummeted to earth, and both airmen were killed in the crash.  A very sad ending to two short flying careers.
Capt. F.G.A. Arkwright is buried in St Mary Churchyard, Cromford, in Derbyshire, where a plaque inside the church relates his fate; his gravestone is a pillar surmounted by a cross.  He is included among the 178 names on the Matlock War Memorial, and the 15 names on the Starkholmes War Memorial.
Lt. A.H. Hardy is buried in Chilham (St Mary) Churchyard, near Canterbury.
Notes
1  Capt. F. Bowes-Lyon's body was not recovered, and he is commemorated on the Loos Memorial to the Missing.  When his sister Elizabeth married the future King George VI in Westminster Abbey in 1923 she placed her wedding bouquet on the Tomb of the Unknown Warrior in memory of her brother.
2  Frederic's older brother was Richard Alleyne Arkwright (1884-1965).  His sister was Kathleen Rebecca Arkwright (1890-1943) who married Capt. Guy Bonham-Carter (1885-1915) in 1911.  Her husband was an officer in the 19th (Queen Alexandra's Own) Hussars.
3  Lt. H.F. Glanville initially served in No. 3 Squadron in 1913, before a transfer to No. 5 Squadron.  On 15 August 1914, while on his way to France, his aircraft was wrecked at Shoreham.  He went on to fly with Nos. 5, 16 and 9 Squadrons, then No. 5 Reserve Squadron at Castle Bromwich and No. 8 Reserve Squadron at Netheravon before commanding No. 28 Squadron in October 1917.  Major Glanville was killed in a flying accident on 23 May 1918 when Avro 504 D44 of No. 2 Training Depot Station at Gullane did not pull out of a spinning nose dive.  Pte. N.S. Grant was also in the Avro, but was not hurt.
4  The Sky Their Battlefield II indicates that 1666 was the B.E.2c involved on 4 June, but this aeroplane appears to have been struck off on 25 May. 1665 was flown by No. 8 Squadron from 15 April to 12 August, when it was flown to England.
5  Montrose aerodrome, established in 1913, 1.5 km north of the town, was Britain's first military aerodrome, intended as a base to provide aerial support for Royal Navy bases in Scotland.  R.A.F. Montrose closed in 1952.
References
Title                                                  Author(s)                        Publication Information
Airmen Died in the Great War             Chris Hobson                     ISBN 0 871505 81 X
Cross & Cockade International            Various                             ISSN 1360 9009
Most Unfavourable Ground                  Nial Cherry                       ISBN 1874622035
RAF Squadrons                                  Wg. Cdr. C. G. Jefford        ISBN 1 84037 141 2
RFC Website                                      www.airhistory.org.uk          
The Sky Their Battlefield II                 Trevor Henshaw                ISBN 978 0 9929771 8
The War in the Air                              H. A. Jones                       Naval & Military reprint
Article by Gareth Morgan