"Private Smith, one of the ordnance men in our team, was killed tampering with a 106 fuse. Chinese now totally frightened of job and there is every possibility of their refusing to carry on until an inquiry is carried out."
The above is a diary entry dated November 21, 1919, from Lt Frank Coxon (formerly of the 7th Royal Fusiliers) who was spending an inhospitable winter out on a lonely outpost on the site of the old Hindenburg Line at Bellicourt, close to the St Quentin Canal.
Above: Frank Coxon pictured in 1916.                       Above: The St Quentin Canal shrouded in mist.     
In an article researched by WFA member Tony Spagnoly (that first appeared in the Bulletin in June 2000) we are informed that Coxon was in command of a small section of NCOs and 26 Chinese coolies engaged in the dangerous task of salvaging and defusing explosives from the old battlefields. We also learn that the death of Private Smith would result in the Chinese members of the team downing tools and refusing to work.
Above: The cover of the Bulletin in which the story was first covered.
The fighting had been intense in the area that Coxon and his unit were based and the amount of ordnance his men were tasked with handling was shocking - after just four days on the job he recorded: "Total defusing now up to 301 and we added a further 220 today by utilising the elevating gear of an old German minenwerfer we found in a nearby trench to act as a vice."
Above: Unexploded shells are still a common find.
Equally disturbing is his description of the Heath Robinson-style methods involved in making a live 4.5 high explosive shell (of which he says there were "lots") safe: "1. Two benches of six men each. 2. Hammer and chisel operator for removing punch dabs. 3. His assistant to hold shell. 4. Hammer key operator to start the fuse. 5. Another assistant to hold the shell. 6. Another man to place same in basket... carefully!"
Above: Members of a Chinese labour team who were working in the Ypres sector in 1919.
In a letter to his mother three days after the fatality, Coxon wrote: "I am sorry to have kept you all for so long without a letter but I have had big trouble here recently. Well, last Friday (21 November) I had a man killed on the job - not through the process of defusing, which is quite a safe procedure, but because he tried to take a 106 fuse to pieces and it went off in his hand.
"No need to go into details mother but his injures were terrible and as there is no medical assistance nearer than Roisel - 15 kilometres away - the poor man died in half an hour. No wonder the Chinese were terrified and work has stopped. I could only bandage the poor man and exhausted every means trying to get an ambulance along these awful roads but failed. The nearest decent telephone was several miles away. We could do nothing to save him. The ambulance finally got here at 10pm to take poor Smith away. He will be buried at Roisel tomorrow.
"So you see, the Great War still claims its victims."
The timing of the tragedy could not have been worse for Coxon, who had recorded in his diary in the days immediately prior tothe death that his Chinese crew were becoming "very discontented".
Heavy snowstorms had added to pre-existing delays to the arrival of warm rations, which was resulting in "growling", and on November 19 Coxon penned: "Chinese very insubordinate owing to shortage of food and I sense trouble. I notice all fresh water for the Chinese Labour Corps, Battlefield Salvage and Graves teams brought to us by an officer as the one driver available became a casualty on the old battlefield."
Deaths were clearly not uncommon, but the fatality among a member of their own team resulted in the Chinese downing tools - leaving Coxon with no choice but to suspend all work. In a bid to try and head-off a full-scale revolt, he made a report out to Captain Wicks, the Deputy Assistant Director of Ordnance Supply at La Chapellette, and asked him to come and address his team "at once".
Wicks arrived on November 23 and Coxon got an assurance that no more work would be done by his team until the No. 58 Casualty Clearing Station could be organised to offer proper medical arrangements in the case of any further accidents. In a bid to close the chapter, Private Smith was "buried very quickly"(the next day) in the temporary British cemetery at Roisel.
Above: The Roisel Communal Cemetery Extension. Private 'Smith' (presumed to be a pseudonym) was said by Coxon to have been buried here.
Coxon claimed that the accident had been Smith's own fault for tampering with a fuse, but he added in his diary that the Chinese were "having none of it and refused to proceed".
He continued: "Owing to this, I learnt from Colonel Turner of 57 Labour Company that white personnel might be provided. Chinese now employed around the camp in general tidying operations. Military Police employed at night to secure the camp."
A full-scale revolt does appear to have been avoided and Coxon, who had seen action during the conflict itself, would finally be demobbed in January 1920 and live for a further 55 years.
It would be several years after Coxon and the Chinese coolies had left before restrictions were lifted in many of the worst hit areas of the Western Front and the civilian populations allowed to return.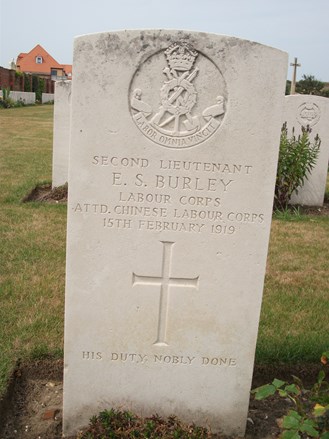 Above: A headstone of one of the officers of the CLC. This is at Les Baraques Military Cemetery
There are no records of a Private Smith in Roisel cemetery or of a man with such a name having died in November 1919. It is assumed that Coxon gave the man the pseudonym 'Smith' to protect his identity – probably as he was accusing him of having been responsible for his own death.
Original research by Tony Spagnoly. Edited Dr Martin Purdy. 
To learn more about the Chinese Labour Corps, watch the video: The Chinese Labour Corps on the Western Front by Wenlan Peng
One of the key roles that the WFA has played in its 40-year history has been its research into lesser-known aspects of the First World War - shining a light into the shadows to illuminate the oft-unsung heroes and heroines. The work of the salvage teams and Chinese labourers is no exception and was highlighted at the annual Armistice Day event at Whitehall, London, in 2017.
The WFA revived the tradition of hosting an event at the Cenotaph on the 11th hour of the 11th day of the 11th month back in 1994, and it can now draw a crowd of thousands. In 2017 itwas also to generate previously unseen levels of media coverage from China and the East courtesy of the WFA's decision to honour the work of the Chinese Labour Corps.
Members of London's Chinese cultural community were invited to lay wreaths and Karen Soo, the granddaughter of one of the corps, described how grateful she was: "I am sure my grandfather and all 140,000 men of the Chinese Labour Corps are very pleased, as well as all their officers. I feel very privileged to have been a part of it."