This article, Part 2 of 2 parts, first appeared in Stand To! No. 88. April/May 2010. This and all issues of Stand To! are available to Members to view via their Member Login. 
In the first part of the story of eleven British soldiers, trapped behind the lines in the retreat from Mons to the Marne in the summer of 1914, Hedley Malloch told how they became encircled behind the German lines and how they were sheltered by French villagers. Part 1 concluded with Waechter and Bachelet boarding a small convoy of two cars and a lorry in La Place des Armes in Guise along with German troops to set off for Chalandre's house in Iron. Hedley Malloch now picks up the story again at the point of the soldiers' capture.
When Waechter left Guise he knew exactly where to find all eleven of the British soldiers – in Chalandre's house. This was because after the perquisition raid on the Logez mill on 15 December, during which they had only narrowly escaped capture, it had been decided that the mill was too dangerous for them as the mill was a prime target for the inevitable future German raids. For this reason the seven soldiers hidden in the mill were moved to join the four in Chalandre's house.
The arrival of the German troops was witnessed by one of the Logez ladies, probably Jeane.(1) Years later she told Walton:
'We realised that when we saw the road suddenly covered with Boches that the crisis had come. I tried as I had done on the first occasion to warn the soldiers ... but it was impossible to do anything for they had been told where they would be likely to find the men.'(2)
On arrival at Chalandre's house Bachelet and Waechter got out. Without hesitating, Bachelet opened the door of the house. He saw Chalandre who was in the yard and said to him, 'I want you to know that I have sold out you and the English! ... Let that be a lesson to you for feeding deserters!'(3)
The eleven soldiers were in Chalandre's large attic busy washing themselves and repairing their clothes or shoes. They had guns and about 1,000 rounds of ammunition between them. They could have fought the Germans, but they went quietly, perhaps reasoning that any resistance on their part would only lead to reprisals against the villagers. The Germans tied their hands behind their backs, and then bound them in pairs. Along with Chalandre, they were punched, kicked and beaten into the waiting lorries. According to Les Onze Anglais at least one was slashed on the thigh with a sabre.(4) Before they left the Germans torched the Chalandre family home and all their possessions. The villagers were forced to witness the incineration.(5)
The soldiers were then taken to the German HQ in the Guise Town Hall located then, as now, in rue Chantraine. At Madame Logez' suggestion, a story had been agreed, in case of just such an eventuality. This said that the soldiers had been in Iron for a week; before that they were living rough and stealing their food. They knew neither the mill, nor the Logez family. It was only Chalandre who gave them food to eat, and then only for payment.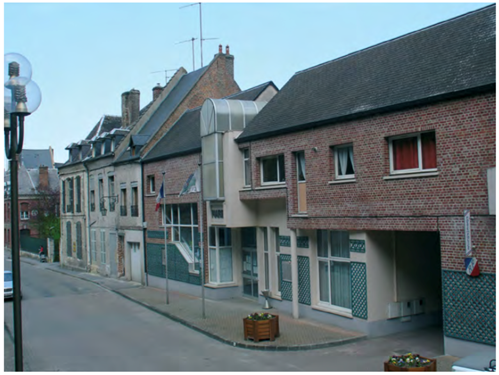 It was here that Madame Logez witnessed Bachelet's betrayal of the British soldiers, and where they were brought after their capture and held until their execution. Since 1915 the façade has been cleaned and renovated, but its interior remains much the same. The neighbouring houses whose inhabitants were disturbed by the screams of the British soldiers can be seen on the left of the Town Hall.
Burnt to the ground
Next day, 23 February, Mrs. Chalandre, her daughter, Marthe, and her son, Clovis, were arrested. They knew the cover story, but Clovis could not keep to it and he told the Germans everything he knew, thus sealing the fate of soldiers and civilians alike. Madame Logez was arrested on the evening of 23 February and brought to Guise Town Hall. There she was beaten up and imprisoned in the open yard for two nights, next to where the British soldiers were held. Whilst she was in detention the Germans returned to Iron and burned her mill to the ground again in front of the assembled villagers.(6) The farm's poultry was killed on the spot by the Germans, loaded into two lorries and taken away.
At this point a curtain descends. The German record, if it exists, cannot now be traced. Les Onze Anglais claims that the twelve did not receive a trial or any form of hearing have to be regarded with scepticism; indeed, Les onze Anglais contradicts itself on this point, later quoting a newspaper report stating that the soldiers had received a trial, albeit a mock one. (7) Another source speaks of the soldiers passing before 'a hastily convened military tribunal.'(8) It is likely that the soldiers and Chalandre were given some sort of hearing. Otherwise why wait two days? A public mass execution in Iron immediately following the arrest, with a blazing family home as a backdrop, would have been a very impressive demonstration of German power and resolve. 
Observed German practice in similar cases supports the idea that the twelve were put through some type of formal hearing. For example there were three British soldiers arrested in St. Quentin at about the same time,(9) and there is the well-documented fate of the four British soldiers at Le Catelet.(10) These seven soldiers received a military trial before sentence and it is likely that the British soldiers and Chalandre went through the same process. On the other hand, Waechter issued a lengthy public statement after the execution of the soldiers, in which he makes no reference to a trial or hearing; he simply states, that 'I had them all shot'.(11) 
The Execution
According to one newspaper report, the soldiers were badly beaten up on the night of 24-25 February, to such an extent that their cries woke the residents of Rue Chantraine.(12) On the morning of 25 February the twelve were woken and subjected to 'a terrible beating with punches, whips, cudgels; blunt instruments and rubber hammers in an orgy of joyous and strictly administered callous cruelty'.(13) Half- conscious, the twelve were put in a cart and taken into the Château at Guise by the porte-secours, a gate at the rear of the castle specially built to allow the admission of reinforcements in times of crisis.
On the other side of the relief gate a ditch had been dug. Everyone understood its significance. The soldiers were made to stand along the edge of the ditch in two batches of six. The youngest of the soldiers spoke briefly.(14) His last words were: 'Let's pray - chins up. Remember – Englishmen were never slaves. No-one can say that.'(15) Then the soldiers saluted. The order to fire was given twice; gunfire rang out and the Englishmen were mown down and fell into their communal grave where a German soldier gave them the coup de grace. Their bodies were then covered with soil.
At least this is the account given in Les Onze Anglais and by Walton. It is not wholly true since, on exhumation, the soldiers' hands were tied behind their backs thus rendering the act of the final salute impossible. (16) Similarly exhumation revealed that only Chalandre of the twelve had been given the coup de grace. These errors beg the question as to how much of the rest the account of the execution is the product of a fertile imagination rather than detached and objective reporting.
Whether or not the British and Chalandre received a hearing, the members of the Logez and Chalandre family were brought before a military tribunal. Madame Logez' life was spared. She was given five years' imprisonment, Jeanne, her daughter, one year's imprisonment, Oscar, her son, was sentenced to penal servitude for an unspecified period. Madame Chalandre was sentenced to four years' forced labour; the Chalandre children Clovis and Germaine respectively drew three years and two-and-a- a-half years' hard labour. Their sentences were served in German prisons.
Explaining the German reaction
Whether or not a trial took place, the Guise executions were calculated, deliberate and carried out in cold blood. The executions were large in terms of numbers; certainly nothing equivalent in size has been traced. They may not have been illegal, but they were harsh and this raises the question of why the Germans reacted in this way.
Occupying Germans had a choice as to how they handled captured Allied soldiers and their helpers. The death penalty was by no means automatic; discretion was possible at every level. Macintyre highlights several interesting cases, including one in which an eminent French lady hid two British troops whilst simultaneously playing hostess to several German officer lodgers. Her relationship with one of the German officers appears to have been intimate. Eventually the two British soldiers tried to escape, were captured and promptly denounced her to the Germans. One of the officers told his hostess that 'her friends' had been caught, but no action was taken against her.(17) 
Not all soldiers caught were executed: the two soldiers in the previous incident appear to have been spared. McPhail cites a case of three who were betrayed in St. Quentin; two were shot, but the third was packed off to a PoW camp in Germany.(18) Even a death sentence did not necessarily lead to an execution. Private David Cruickshank of the 1st Battalion of the Cameronians was taken in by a family at Le Cateau and remained undetected for two years. He was captured and sentenced to death in October 1916. His protector, Madame Baudhin, was tried with him. Her son had been killed earlier in the war in the French Army. She saved Cruickshank's life with an impassioned plea to the judges that: 'the cruel battlefield has already robbed me of one my sons ... God has sent this British boy in his place.' Following her plea Cruickshank's death sentence was withdrawn and replaced with 20 years' imprisonment.(19)
Even Waechter can be seen to have exercised some discretion. He could have shot Léonie Logez, Madame Chalandre and other members of their families. His reasons for sparing them and shooting the twelve men remain unclear, but any military governor requires at least a measure of compliance from the ruled and this may have stayed his hand in the case of the Chalandre and Logez families. He wanted the citizens of Aisne subdued with a sharp lesson; he did not want a rebellion. Why he chose to execute them all remains unclear, but this was the largest group of British soldiers taken from a single hiding place and it happened under his nose. His professional pride may well have been severely bruised.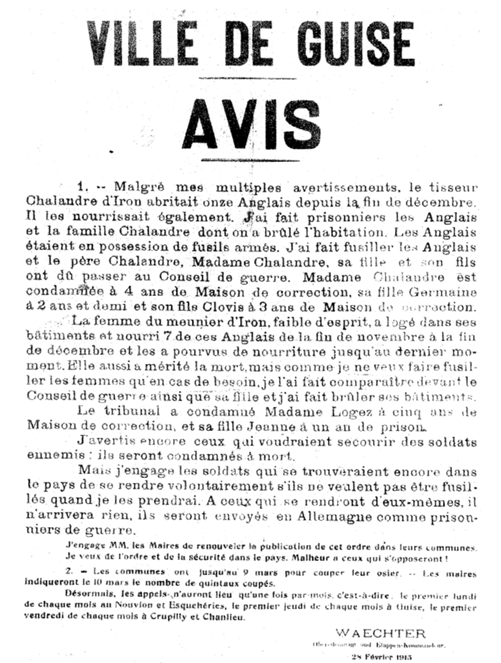 A place in a PoW camp is offered to any Allied soldier surrendering voluntarily, but death is promised to those French people found sheltering them. Waechter is specific about what happened to the Chalandre and Logez families, but vague about the 12, other than they had been shot. His lack of detail has prompted speculation, probably incorrect, that the 12 were shot without any sort of a hearing.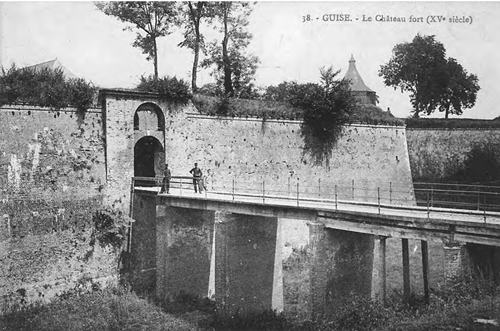 It was through this gate that the British soldiers and Chalandre were led to their place of execution on 25 February 1915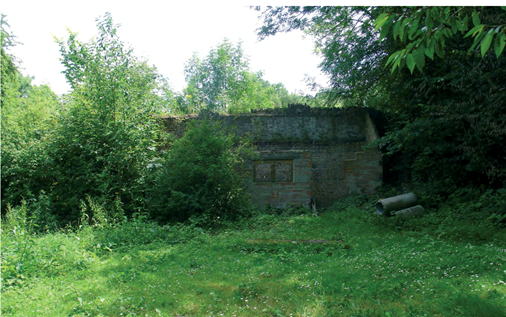 The aftermath and Bachelet's fate
Bachelet's treachery was not yet finished. He told his German masters all he knew concerning the whereabouts of other Allied soldiers on the run and in hiding around Iron. Consequently the Germans mounted manhunts in the area during which an unknown number of Allied soldiers 'in hiding, who were waiting for the return of the French Army, or for a chance to escape to Holland, were hunted, taken and shot.'(20) He took his 120 francs reward for the Iron captives, but it seems to have brought him little consolation. He returned to live in Iron where he was despised, rejected and reviled by the locals. On occasion he appears to have been badly beaten up by them. He complained to the German authorities who did nothing. He was captured and taken into custody when the Allied armies returned in September 1918. He was loathed so much that his captors refused him food. He was transferred to a military prison in Châlons-sur-Marne where he died in custody whilst his case was being investigated, apparently from natural causes.(21) In another account Bachelet is reported as being found dead on arrival at the military prison.(22) Whatever the manner of his death, he maintained to the end that the men he had denounced to the Germans were not soldiers on the run, but 'deserters who had got what they deserved'.(23)  
The Logez family
Madame Logez was sent to Delitsch prison which appears to have been an important incarceration centre for French women convicted of helping British soldiers. There she was, in her own words, treated like a criminal 'and herded with murderers, forgers and thieves. We suffered greatly from the damp, and it sends a shiver through me today to think of the food we were forced to eat. ... I was ill most of the time I was at Delitsch. It lasted more than three years and a half – a purgatory that only ended with the Armistice'.(24) Her daughter, Jeanette, went with her to the same prison. Madame Logez' husband was forced onto the streets where he lived on neighbours' charity until his death shortly afterwards. When Walton visited Iron in the mid to late 1920s he found that Madame Logez had re-married and was now Madame Griselin. The Griselins were trying to rebuild the mill burned by the Germans, but had had to abandon their efforts due to lack of funds.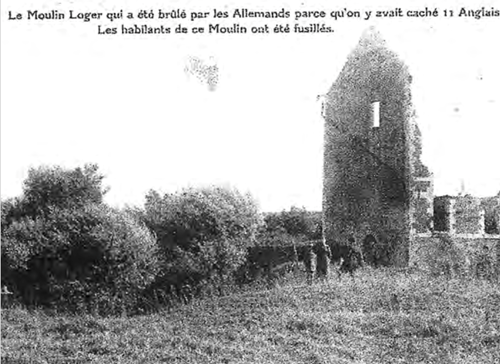 Burned by the Germans as part of their reprisals against the Logez family, the mill was never rebuilt. 
The Chalandre family
The three youngest Chalandre children, Marthe, Marcel and Leon were turned out onto the street where, according to one account, 'they existed by begging until the armistice'.(25) Clovis served his sentence in Rheibach prison, near Bonn; his mother and sister Germaine went to Siegburg, near Cologne. Here the Chalandre women found conditions similar to those experienced by the Logez women in Delitsch. Madame Chalandre's health deteriorated to such an extent that she was spitting blood.(26) She was released with her daughter in 1917 and returned to Iron where they were reunited with the three youngest children. The events of February 1915 and what passed subsequently had severely depleted them all. The health of all of the young Chalandre children was broken. Clovis, released after the Armistice, seems to have been unhinged by his experiences and became mentally ill. Madame Chalandre died in July 1919 and the burden of looking after the four children fell on Germaine. Marthe was spitting blood; Leon 'was much weakened by congestion of the lungs'.(27) Smith reports that both Marcel and Marthe subsequently died. (28)
Germaine took on the role of provider for her younger siblings. She gained employment in the Paris office of a US company, the Equitable Trust Company of New York and taught herself typing and shorthand. In April 1922 she won a major competition sponsored by l'Instringeant for the most deserving Parisienne worker, after being nominated by her fellow employees. She won 40,000 francs, furniture and a car. In 1928 she married a M. Delcher. She returned to Iron after the Second World War and saw out her days there.
Edith Stent's visit to Iron
Walton reports that Stent's sister, Mrs. Pryke, had visited Iron and met the Logez family. Miss Stent had married Fred Pryke of Bromley, Kent and he too served in the war as a soldier in the 15th (The King's) Hussars. According to the 1901 Census, Stent had one sister, Edith, a school teacher.(29) She was seven years older than her brother. Walton does not give a date for the visit, but the evidence suggests that it was made between 1920 and 1927. Edith took away from Iron a curious and important memento of the incident. After the events, Madame Logez had found in the ruins of the mill a handwritten list of the names and addresses of nine of the soldiers. It had been hidden under a stone. Madame Logez gave this list to Edith and it is now lost. 
PoW helpers' medals
Recognition from the British government to the Logez and Chalandre families came in September 1920. In brief, after the war two new medals, silver and bronze, were created for Belgians and French who had helped British PoWs behind the lines. The Foreign Office (FO) ran the awards system – British military intelligence identified names to British Ambassadors who made recommendations to the FO. The FO had a wider remit than PoWs in Belgium and France, notably British and non- British civilians in neutral countries throughout the world. The effect of this wider brief was to absorb the two PoW helpers' medals into a civilian honours hierarchy of medals, Empire awards, medallions and letters of thanks. The FO made this wider range of awards available to PoW helpers: they were now eligible for a range of decorations and medals and not just the two new medals. The hierarchy of awards was as follows:
CBE and letter of thanks




OBE and letter of thanks




Silver medal and letter of thanks




MBE and letter of thanks




The Medal of the British Empire and letter of thanks




Bronze medal and letter of thanks




Letter of Thanks



A full description of how this system developed can be found in the National Archives as can a full list of the awards made to PoW helpers. (30, 31) This more liberal approach was not as open- handed as it first appeared. In the relevant file there is a concern to restrict the number of British Empire awards awarded to non-British subjects and to close the lists of those eligible as quickly as possible. Certain awards were rationed. For example, there were to be only two CBE awards made available to PoW helpers and the number of bronze and silver medals was limited to about 100 and 500 respectively.
A total of five were made to the two families most concerned. Two bronze medals went to the Logez family, one each for mother and daughter. Three were awarded to the Chalandre family: a silver medal to Vincent Chalandre; a bronze medal to his wife and a bronze medal for Clovis. An extract from the list of awards made to the Chalandre family is shown here: 

The lower-case 'm' means a bronze medal; the capital 'M' signifies a silver medal. OBE means Order of the British Empire.
'Catch 22'
There are three points concerning the awards made to the Chalandre family, which require explanation. The first concerns Clovis' bronze medal. According to Walton and Les onze Anglais it was his lack of intelligence and weaknesses, which helped to condemn the soldiers, the Logez family, killed his own father and, indirectly, his own mother and two of his siblings. How could he be considered eligible for a PoW helpers medal? The most likely reason is that the bronze medal was a blanket award made to all helpers who had been imprisoned by the Germans, and that British military intelligence did not enquire too carefully into the circumstances of each case before passing on their findings to the relevant Ambassador
The second concerns Vincent Chalandre's award. The scratched out OBE award indicates that he was one of only sixteen French and Belgian citizens considered for this award. He and two others seem to have been disqualified because they were dead and this award was not made posthumously. Vincent Chalandre demonstrated his courage and dedication to the Allied cause to such a level that it qualified him for one of the highest honours in the British honours system, yet he was debarred from that very award because those self-same acts resulted in his death before a German firing squad. Vincent was the victim of a 'Catch-22'; the likes of which Joseph Heller would have been extremely proud.(32) The inability of the UK government to recognise fully his valour is a direct outcome of a decision to bestow honours which were inappropriate for what was, in effect, military type service. It is clear from the relevant file that this was due in large part to the Army Council's reluctance to give military awards to civilians. (33)
Thirdly there is the absence of any award to Madame Chalandre. Her husband is executed, she is imprisoned, her house is burned to the ground, her children are left to fend for themselves - all as a direct result of her sheltering British Soldiers. Yet she receives nothing from the British government. Premature death for herself and three of her children is her only reward
It also appears from the British records as if Germaine Chalandre and Léonie Logez suffered an injustice in that their services to the eleven would seem to merit a silver medal rather than the bronze they received. Dame Adelaide Livingstone who worked in the British Embassy in Brussels spelled out the criteria for the award of the higher award, the silver medal. In a letter to Sir Frederick Ponsonby, one of the Palace's eyes and ears on this part of the honours system she wrote of the gold medallion – which later became the silver medal.(34)
'... the gold medallion [silver medal] is to be given in reward for very considerable services; indeed I am told that it is never to be given except in cases where the recipients have risked their lives by sheltering our prisoners during the German occupation in their own homes by giving them food and assistance at a time when they themselves were practically starving. (Letter written by Dame Adelaide Livingstone, Chief of War Office Special Mission to Sir Frederick Ponsonby, 14 January 1920).' (35)
The Chalandre and Logez ladies appear to have met all the relevant criteria for the award of a silver medal. There appears to be no rational reason why they were awarded the lesser recognition of a bronze medal. 
The twelve were buried where they were shot, in two batches of six. This photo was taken in 1919 or 1920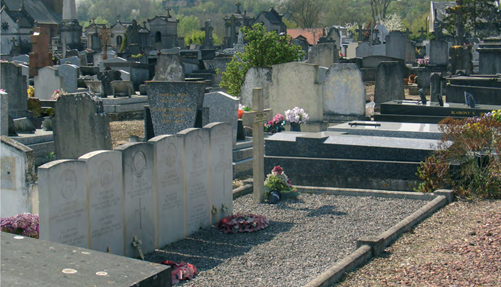 Above and to the right the brooding tower of the château, their place of execution 
Exhumations and re-interments
The bodies of the eleven soldiers and M. Chalandre were exhumed in May 1920. The soldiers' remains were placed in four coffins. Individual identification was not possible except in the case of M. Chalandre who was distinguished by his civilian clothes, and one of the British soldiers, thought to be Fred Innocent, who was wearing a medallion.(36) The coffins were draped in a Union Jack and interred in a collective grave in Guise Communal Cemetery under CWGC care where the soldiers are appropriately commemorated.
Chalandre was interred a few yards away. Today his grave is totally unmarked and utterly neglected. How and why the grave of a French hero, considered by the British government to be amongst the very bravest of the French and Belgian civilians to have helped Allied soldiers trapped behind the lines, has come to this pass must be a matter of serious concern. It seems likely that it is in part connected with the aftermath of the events of February 1915 which killed his wife, two of his children, and sent a third mad. They swept away his family and with them went those who most likely to ensure that his memory was preserved.(37)
Unanswered questions
Smith's account of events in Shot by the Enemy ends with two unanswered questions. These are:
Was there a twelfth British soldier who escaped the clutches of the Germans?

Why did the soldiers stay in Iron rather than try to escape back to the UK? 
The story of a possible 'twelfth British soldier' is recounted in Harry Beaumont's account of how he escaped from German-occupied Belgium back to England.(38) Beaumont met another fugitive whilst they were both sheltering in Edith Cavell's clinic. The second soldier was called Michael Carey, a Munster Fusilier. The story Carey told Beaumont was that Carey had been one of a party of twelve Munsters sheltered by a miller at 'Hiron'. There they had worked for him in return for his kindness until dawn one morning when the Germans had raided the mill. The British soldiers and the miller had been tried on the spot and shot within an hour. The mill had been burned to the ground and the miller's wife and family had been transported to Germany. Carey had been spared this fate because of a sudden inclination to leave his bed and visit friends on a neighbouring farm. There he stayed the night, returning to the mill next morning to find only the remains of a smoking ruin, and to learn of the unhappy fate that had overtaken his former comrades and benefactor.
This is clearly the same incident and Smith argues that while there are many inconsistencies there is some support for it in the form of one of the older residents of Iron who said that as a young man he had heard of an escapee.(39) Yet when Carey's account is compared with other accounts it receives hardly any verification. The soldiers belonged to three regiments and not one; they were taken by the Germans in the afternoon and not at dawn; at the time of their capture they were sheltering in Chalandre's house and not at the mill; it was Chalandre's house and not the mill that was the first to be burned; the twelve were not tried and executed on the spot; and the miller (Monsieur Logez) was never implicated in the affair.
There are other unsatisfactory aspects. His name does not feature on surviving accounts of the list taken away from Iron by Edith Stent. The ease with which Carey suggests that he could come and go from his hiding place does not ring true. To clarify matters for this research M. Gruselle was asked if he had heard of another escapee in the village. He said that as a young man he had heard of one. He was then asked if a twelfth man had ever been discussed in his family. His reply was emphatic: 'Non, c'était toujours les onze' – 'no, it was always the eleven.'
If there had been a twelfth man then the Logez family would have known about him. There would have been good reason to be silent about him during the war but that would have vanished with the Armistice. Then there would have been many reasons to talk about him and to celebrate his survival. His escape would provide a ray of light in an otherwise bleak picture. The fact that he was never discussed in the Logez family is conclusive proof that there was no twelfth man. Carey knew a garbled version of the incident. He may even have been hidden in Iron, but at no time was he part of the group.
There is a warning in Carey's story for all students of the Western Front: because a personal account is vivid, exciting and recounted with conviction, this does not mean it is true. There is a whole genre of very persuasive Western Front literature based on little other than the personal testimonies of survivors of the sort given by Carey to Beaumont. Carey's account reminds us that the test of these stories is not interest, drama, emotion or danger, but whether or not the account can be verified. 
Why did the Soldiers stay in Iron?
M.Gruselle was asked if he could shed any light on the soldiers' motivation for staying in Iron. He said that as a young man he had known older villagers who had met the soldiers and discussed the soldiers' plans with them. According to these sources the soldiers decided to stay where they were and await the return of the Allied armies. With the benefit of hindsight it can be seen that that view was untenable, but in the winter of 1914-15 it had some foundation. Iron is roughly halfway between Ypres and the Marne. The soldiers would have been able to hear the guns of the armies as they fought down to the gates of Paris; and then again as they pounded their way back to the North Sea coast. Whilst there was gunfire there was hope. The battles of 1915 such as Neuve Chapelle, Aubers Ridge and Loos, which would show the rigidity of the Front, lay some months ahead. Then there was the general expectation that this was a war which would be over by Christmas. There were many external reasons why staying put made sense.
On the other hand, there seem to have been few internal forces to move. The soldiers had all experienced life in the chill outdoors of the forests and fields. It is now impossible to understand the social dynamics of the group, but there does not appear to have been any the eleven who had either the formal authority or the charisma to impose any alternatives on the group. 
Successful escapes did take place, but mainly in the early months of the war. Les onze Anglais reports the escape of thirty-five Englishmen from northern France to Holland, organised by 'an admirable woman, Mademoiselle Louise Thuliez'.(40, 41) Lyn Macdonald reports two similar mass escapes, admittedly in the immediate aftermath of battle.(42) Once the Front settled down the Germans tightened their grip on the rear-zone and escape became increasingly difficult throughout 1915-16. In 1915 escape networks in Lille and Brussels were broken by German intelligence, and their organisers executed, notably Philippe Baucq, Edith Cavell and Eugène Jaquet. (43) In early 1917 the German army withdrew to the Hindenburg Line, only a few miles from Iron. When that happened the front line moved to the back door and the German control tightened considerably making escape all but impossible. McIntyre reports two attempted escapes at about this time from Villeret involving three British soldiers.(44) Both failed. In truth the chances of a successful escape for the eleven became increasingly faint from the end of 1914 onwards. From that point the only alternative to hiding was surrender.
Conclusions
One conclusion relates to the precarious nature of ventures such as the one described here. On the whole communities like Iron held firm in the face of German threats: they erected a wall of silence behind which Allied soldiers could shelter. Yet the lesson from Iron was that 'on the whole' was not good enough. It only took one person to inform for the soldiers to be handed over to the Germans. The motive was not usually money. Lust, jealousy, anger or mental instability seem to have been much more important. By nature these are both unpredictable and volatile and they made ventures to conceal Allied soldiers a hostage to a fickle, but ultimately malign, fortune.
Episodes such as this force a re-appraisal of what the 'Western Front' means. It was not defined by the front line – what happened behind the lines was important. Whilst it has always been recognised that behind the lines was important in the sense of logistics, engineering and communications supporting the troops in the trenches, this case suggests that what was happening behind enemy lines was significant. The players were different and the occupying power certainly had very different concerns. This aspect of the Western Front has been neglected. For example there is no memorial for those who would not surrender. Nor is there one to the civilians who helped them. As this story shows they paid for their courage with their lives. In broadening the scope of the Western Front new actors emerge. Women take on a new role; children too young to serve in the trenches have parts in this drama. This is a positive development. This article was written in the months after the death of the last soldiers to serve on the Front; and many of us who knew them are no longer in the first flush of middle-age. Memory of the Western Front is at a critical juncture. It stands a much better chance of surviving if it encompasses a wider cast and broadens its geographic scope. It can do both by more fully embracing stories such as this one.
Hedley Malloch is a member of the WFA. He lives and works in Lille, France.
Acknowledgements
The author gratefully acknowledges the help given by the following: Paul Crowther and Karine Sbihi for help with translations; Paul Byrne for sharing his materials and his interest; André Gruselle, the Mayor of Iron; the staff at St. Ménard Cemetery, Guise; the staff at the National Archives, Kew; Roslalind Guillemin at Guise Château; David and Janet Arrowsmith and the family of Fred Innocent; and to my wife, Fiona, for proof-reading and an inexhaustible supply of ironic metaphors and witty similes of how some men define women's wartime roles. Last - but by no means least - to Derek Smith and the Royal Munster Fusiliers Association who kept this incredible story alive. Of course the author alone is responsible for all errors of fact and interpretation.
References
(1) Walton attributes this statement to Léonie Logez, but at the time of the raid she was being held in the Town Hall at Guise. M. Gruselle confirmed that in his family's oral history Léonie remained in Guise all day. Walton has confused his femmes Logez. The most likely source of this quotation is her daughter, Jeanette. It was she who warned the soldiers on the occasion of the first raid on 15 December; the quotation which follows refers to that event.
(2)  Walton, op.cit., pp.417-8.
(3)  Les onze Anglais d'Iron, op.cit., p.3.
(4)  Les onze Anglais d'Iron, op.cit., p.4.
(5)  Walton, op.cit., p.418.
(6)  Les onze Anglais d'Iron, op.cit., pp.4-5
(7)  Ibid., p.8.
(8)  Entry for 25 February 1915 in a diary of an anonymous 'local man'; held in Guise Town Archives.
(9)  McPhail, op.cit., p.28.
(10)  Macintyre, op.cit.
(11)  Les onze Anglais d'Iron, op.cit., p.6.
(12)  Ibid., p.8.
(13)  Ibid., p.5. 
(14)  Walton, op.cit., p.419.
(15)  Les onze Anglais d'Iron, op.cit., p.5
(16)  Ibid, p.8.
(17)  Macintyre, op.cit., p.125.
(18)  McPhail, op.cit., p.28.
(19)  South Lanarkshire Council Museums

Service. Soldier of the Month. [cited 2009 28 September]; Available from: http:// www.cameronians.org/museum/soldier-of- the-month_Cruickshank_print.htmj.
(20)  Les onze Anglais d'Iron, op.cit., p.7.
(21)  Loc. cit.
(22)  A Notebook of a Guisard, op.cit.
(23)  Les onze Anglais d'Iron, op.cit., p.7.
(24)  Walton, op.cit., p.420.
(25)  A Notebook of a Guisard, op.cit.
(26)  Loc. cit.
(27)  Loc. cit.
(28)  Smith, op.cit., p.40.
(29)  The National Archives (TNA), 1901 Census for England and Wales.

(30)  TNA WO 32/5771: Mark of Appreciation to Allied Subjects who have helped British Prisoners of War. 1920.
(31)  TNA WO 329/2957: op.cit.
(32)  Heller, J: Catch-22 (Simon Schuster, 1961).
(33)  TNA WO 32/5771, op.cit.
(34)  How the 'gold medallion' was transformed into a 'silver medal' is a fascinating story in its own right, but it lies well outside the scope of this article. See WO 32/5571 for further details of this and other Baroque workings of the British honours system.
(35)  TNA WO 32/5771, op.cit. 
(36)  Another source says that identification was possible in the case of four soldiers as well as Chalandre. See Entry for 25 February 1915 in a diary of an anonymous 'local man'; held in Guise Town Archives.
(37)  Following representations made to Le Souvenir Français, Morts Pour La France and the township of Guise, it has since been decided that the township will mark Chalandre's grave with a simple iron cross.
(38)  Beaumont, op.cit., pp.149-151.
(39)  Smith, op.cit., p.83.
(40)  Les onze Anglais d'Iron, op.cit., p.2.
(41)  Louise Thuliez was part of Edith Cavell's escape network and was condemned to death with her in October 1915. Her sentence was later commuted to hard labour for life.

(42)  Macdonald, Lyn, op.cit., p.187.
(43)  As with Chalandre, Phillipe Baucq was denied an OBE by a German firing-squad.
(44)  Macintyre, op.cit., pp.164-5.