Blacks v. Whites
Fight at Winchester Camp. A dozen men wounded.
This shocking headline appeared in the Hampshire Telegraph on 2 May 1919 to describe events of the previous Monday 29th April 1919 when violence broke out between black British West Indian soldiers and white American soldiers serving with British forces who were housed in barracks at Winchester camp at the time and had gone into town.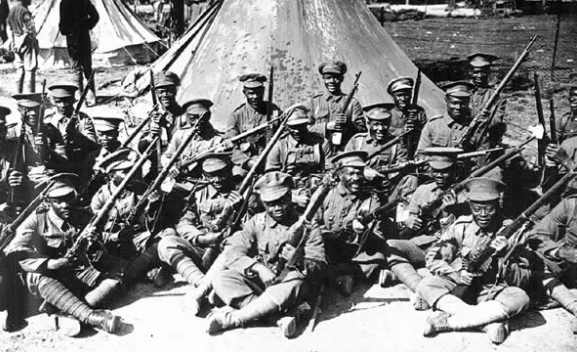 As had occurred in France in 1918 and 1919 at the major ports where African Americans and white Americans had mixed, and as occurred with far greater violence and numbers of fatalities and lynchings in America in 1919 as soldiers were demobbed, the violence broke out where white men took umbrage at the sight of a black man talking to a white women. 
Using the correspondent's words a 'negro' (sic) pulled a knife when he was confronted while talking to a women in the town. He then went back to the camp to gain support from his fellows before returning to the High Street with 50 or so men threatening to 'slay the Yanks' according to the Hampshire Independent.
A dozen men were admitted to hospital. Despite some sensationalist reports, none was killed. 
'Race riots' of a different nature also occurred in Cardiff, London and Liverpool in 1919 over jobs for demobbed soldiers, rather than where a black men was seen with a white woman - something that Americans took more offence over than the British.
Resentment had built up over any person 'colour man' in employment - ironic given that some of  these same men will have been  turned down when they had tried to enlist.
Such was the racist world of 1919 - far more severe and violent in American than in Britain, but none the less ever present.
On Monday evening 'a party of black troops' (sic) were confront by Americans in a Winchester picture house. Military Police put up barricades in the street at one stage in order to redirect the soldiers to their camp where they were spoken to by an officer and in due course they returned to their quarters. The Americans referred to were US citizens who were serving in the British army not US troops. It was reported that to save one man from a potential lynching PC H Bailey had threatened to draw a non-existent revolver to get the men to disperse. 
The following day the black troops were moved on. The American Army HQ confirmed on Tuesday 30 April that there had been ten Americans in the camp and that one had been injured - all were removed from the camp on 1st May. 
These events are mentioned in Richard Smith's Jamaican Volunteers in the First World War: Race, Masculinity and the Development of National Consciousness . The Hampshire newspapers which reported, the Hampshire Telegraph and the Hampshire Independent can found on the British Newspaper Archive. 
Post by Jonathan Vernon