Family history research revealed at least five relatives who served in the Royal Garrison Artillery in the Great War, and an episode recorded in Ernest Bashford's military papers deserved further investigation.  Great Uncle Ernest was the son of Edward and Sophia Bashford, one of a family of ten, born at Bayham Abbey, Kent in 1880.  His normal occupation was a gardener like his father, and the 1911 Census shows him living on the Boughton Malherbe estate of Viscount Chilston who was Home Secretary 1902-1905.  During the war Chilston was County Director for the British Royal Red Cross and St. John Ambulance in Kent.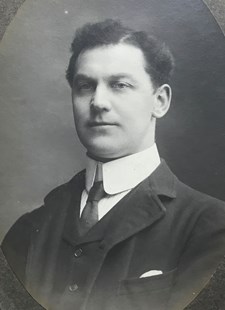 Ernest's Short Service attestation paper indicated that he had previously served with the Territorial Forces, Royal East Kent Regiment (The Buffs) for three years.  Being over six foot tall and physically fit made him a natural candidate for service in the Artillery when he enlisted on 5 November 1915. By 11 November he had been posted to 41 Company Dover, South Eastern Coast Defences as a Gunner.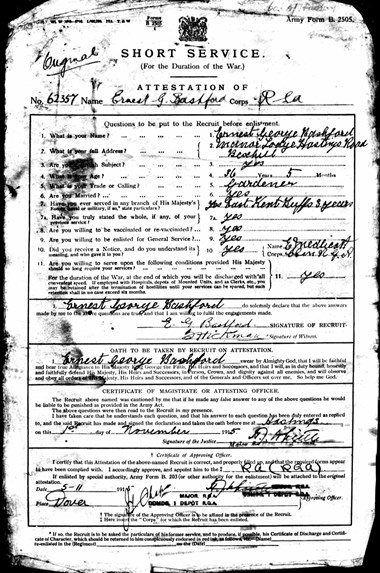 In December 1915 he was sent to Withenoe Camp, Plymouth for training, prior to being posted to 199 Siege Battery, Royal Garrison Artillery.  This was one of twenty new Batteries raised by authority of the Army Council in July 1916, comprising six 6" howitzers which arrived in France on 25 November 1916.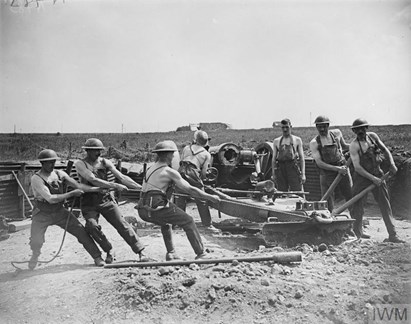 Unfortunately, the War Diary of 199 SB is completely missing, but their movements are recorded in WO95/392( June to October 1918) as part of 54 Heavy Artillery Group. Additionally, a personal diary kept by a Bombardier Andrews locates the Battery sites at the end of June 1918 as divided between Beaumont Hamel and Beaussart for "a stint".
Amendment no.1 to IV Corps Artillery Instructions no.212 gives a clue to the ongoing operations.:
"Secret.
From Zero plus 45 minutes to Zero plus 48 minutes all 6" and 60-pdr guns of IV Corps that can bear will concentrate on the N.W. exits of ACHIET LE PETIT after which they will return to their Counter-battery programme.
Rate of Fire – INTENSE
A. Third Army have been asked to fire a concentration from the long range guns on railway mountings at the same time on FAVREUIL.
Owing to it having been found necessary to take 10 6" Hows off the protective barrage to neutralize batteries in VI Corps C-B area, the rate of fire for the remaining 22 will be NORMAL instead of SLOW. Each howitzer will swoop so as to cover the whole barrage line.
Counter-batteries will use Gas shell if conditions are favourable.
L.R.Reid
Bt. Lt.Col. G.S.
For Brigadier-General, General Staff."
The CRA War Diary shows the Corps HQ location at Marieux, about 13 km. west of Beaussart, with the centre of their sector primarily Essarts, Fonquevillers and Gommecourt.  It lists 199 SB several times during June 1918. For example:
09/06/1918 – 199 3 NF's (now firing) answered and two destructive shoots carried our successfully.
10 & 11/06/1918 specific targets for 199 SB were 10:30pm. Track L13.b.6580 to l.13.9568 and at 11:30pm. Crossroads L.20.a.4583.
Concentration shoots took place daily in June, and harassing fire was building in intensity.  On 20June forty batteries took part in destruction shoots, which resulted in hostile activity well below normal.  Perhaps indicating the effectiveness of the firing programme.
On the night of 30 June/1 July, some seventeen batteries were firing on enemy held tracks, roads, railways, tramlines and a level crossing. Between 9:50pm. and 07:45am.  frequent 2 minute concentrations were fired at SOS rates. In retaliation the Germans fired blue and yellow gas shells. Although the 199SB War Diary was not available to consult. Army Form W.3428.Report on Accidental or Self-Inflicted Injuries, provided the required details of the incident which wounded Ernest.
By July 1918 he had been promoted to Sergeant, and as such would have been the number 1 of the team of ten, in charge of working the gun and setting the range. Every man had a specific role to play when in action, and the HMSO book "Gun Drill for 6" Howitzers" runs to 138 pages, outlining specific duties. Number 1 was positioned usually on the left of the gun, with numbers 2 and 4 on the right.  Number 2 was the limber gunner responsible for opening and closing the breech and firing the gun with a short lanyard.  He also operated the quick motion lever which depressed the gun for loading, and then raised it to the approximate elevation for firing.  The final setting to clinometers was done by number 1 on the slow motion screw.  Number 4 situated behind number 2 was the gun layer, using the dial sight to correct the line of the gun, and the rest of the crew were concerned with loading.  Numbers 8 and 10 were normally away from the gun, in charge of shells and cartridges.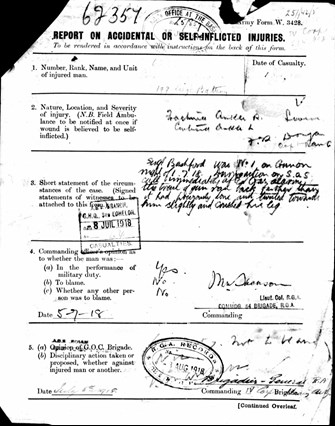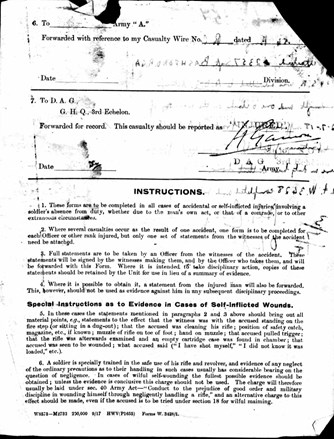 The circumstances of  the accident relate directly to the German gas shell activity, as during action responding to  an SOS call from the infantry after a gas alarm, the trail of the gun ran back further than it had done previously, turned towards Ernest slightly, and crushed his leg.  Any suspected non-accidental wound would initially be reported by a Medical Officer, for further escalated action by the C.O. but in this case great emphasis was placed on it being  purely caused by accident and not the soldier's carelessness or negligence.
The Manual of Military Law – War Office 1914 outlines the potential punishment if a man was found guilty under the Army Act.  Under Discipline (Crimes and Punishments) S.S.18(2) it states:- "Every soldier who wilfully maims or injures himself, or any other soldier, whether at the instance of such other soldier or not, with intent thereby to render himself or such other soldier unfit for service, or causes himself to be maimed or injured by any person, with intent thereby to render himself unfit for service, shall on conviction by court-martial be liable to suffer imprisonment, or such less punishment as is in this Act mentioned."
With a potentially serious outcome, the form passed from Battery commander through to Brigade and ultimately to Corps level, making the reason clear with regard to  the amount of evidence collected, to confirm the man was in no way to blame.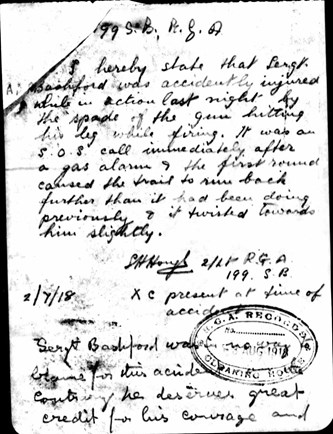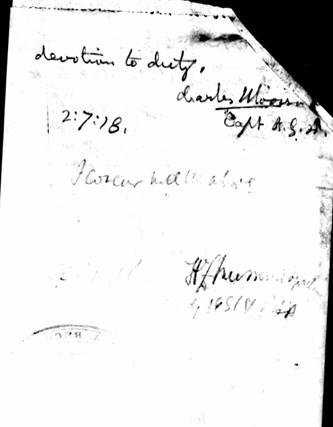 2/Lt. Hough of 199SB provided  the first witness statement, confirming it was a genuine accident, and another officer Capt. Charles Morrison commended Ernest as "deserving great credit for his courage and devotion to duty." The Battery commanding officer also concurred with their comments.  After initial assistance at the Battery site, Ernest was admitted to 37 Field Ambulance  advanced dressing station between midnight and 01:00am on the morning of July 2, suffering from a fractured right ankle and contusions of the left ankle. Major S.G. Cook, RAMC officer commanding, wrote a note to advise that the two doctors who were on duty at that hour endorsed the injury as arising from an accident.  He also completed the W.3428 form indicating the injury was accidental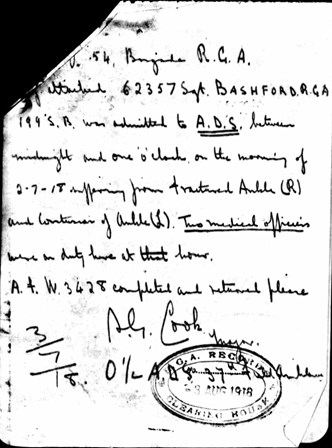 By 4 July 1918 Ernest had been evacuated to the Lakeside Unit, based in the BEF hospital no. 9 , outside the city of Rouen, and staffed by nurses from Lakeside Hospital, Cleveland, USA. Under the command of Col. H. Gilchrist, with 26 doctors, 64 nurses and 156 enlisted men, it cared for over 82,000 cases in twenty months.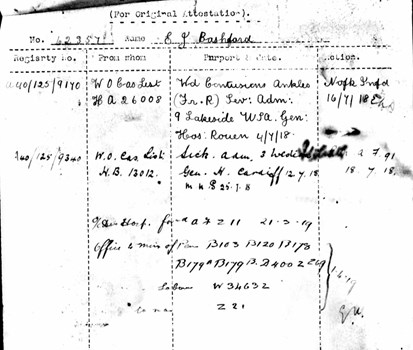 Within two weeks Ernest was back in the U.K.  and admitted to No. 3  General Hospital, Cardiff for further treatment to his crushed right ankle.  From this hospital he was sent to convalesce at a VAD hospital near his home in Sussex.  He was discharged to furlough in September 1918 and took no further part in the fighting.
As Ernest could not immediately return to his civilian occupation as a gardener, he applied  for a Disability Pension.  His record sheets show  several forms were issued to both the Ministry of Pensions and Ministry of labour.  These included :-
B.103 – Casualty Form  - Active Service
B.120 – Regimental Conduct Sheet
B.178 – Medical History
B.179a - Medical Report on Soldier Boarded Prior to Discharge
B.179b – Statement by Soldier Concerning his own Case
D.400 - Descriptive return of Soldier Medically Boarded before Discharge
W.3463 – Report to War Pensions Committee
Ernest was put in Medical category BIII and received a 30% pension at 9/9d per week, reviewable after 26 weeks, plus a 6/- allowance for his four children.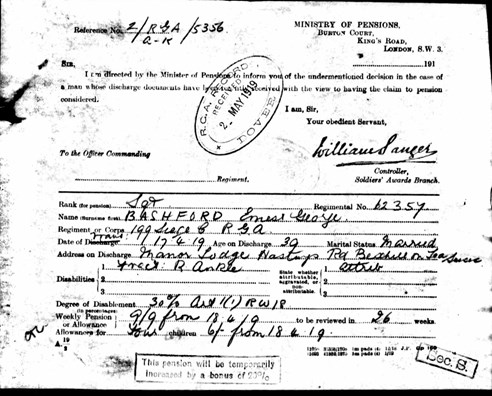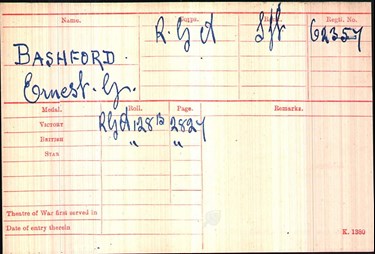 Ernest received the British War and Victory medals for his service in the Great War, but by the early 1920's felt unsettled, and needed to make a new start.  He found gardening work difficult at times due to his leg injuries, and wanted to train for another less physical type of job.  His wife and three of their children led the way to a new life in Canada sailing from Liverpool aboard the liner Megantic in 1921. In May 1922 Ernest and his eldest son Frederick set sail for Quebec on the White Star ship "Regina", thus reuniting the family.  The family soon settled into their new life in Canada, and never returned to England.  Ernest died  in Toronto in 1957 aged 77.
Article by Dora Ringland