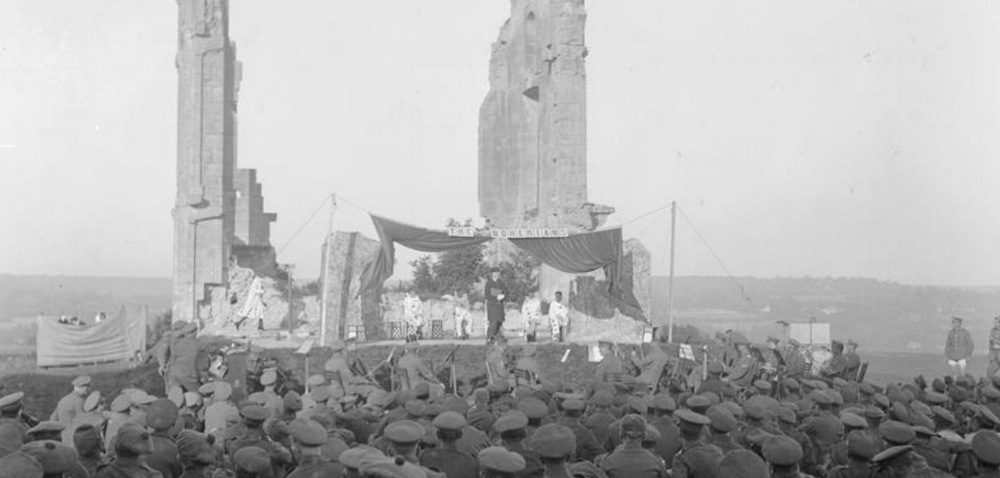 This item appeared first appeared in Communication Lines (letters to the editor) in the Stand To ! No. 31 Winter 1991
Sometime ago, a member's request for information had me checking up the name of a divisional concert troupe, a subject on which I had no records. Since then I have been collecting these names which are, frequently, another clue to a division's identity.
Some titles reflected the divisional insignia, some troupes had names associated with the region from which they came, while others were the brainchild of their founders.
According to the 6th Divisional history, the first division to form a concert troupe ('The Follies') was 4th Division, in the early part of 1915, followed by 6th Division ('The Fancies').
Most, if not all, divisions on active service formed a concert troupe, so my list is far from complete; can any member add to it?
4th Div The Follies
5th The Whizz Bangs
6th The Fancies
9th The Thistles
12th The Spades
15th The Jocks
17th The Duds
19th The Follies
20th The Very Lights
21st The Soarers
23rd The Dumps
29th The Diamond Troupe
34th The Chequers
36th The Merry Mauves
1st Can The Volatiles
ANZAC The Shrapnels
37th The Barn Owls
40th The Gamecocks
42nd Th' Lads
46th The Whizzbangs
47th The Follies
49th The Tykes
50th The Jesmond Jester
52nd The Thistletops
56th The Bow Bells
58th The Goods
59th The Crumps
60th The Roosters
62nd The Pelicans
3rd Can The Dumbells
4th Aus The Smart Set
Terry Cave, Worthing