St. Andrew and St. Mary the Virgin is the parish church of Fletching, a charming little village in East Sussex, which nestles in the Weald around 13 miles north of the South Downs and borders the southern edge of the Ashdown Forest. It is thought that Fletching was founded in the late 5th century AD as an Anglo-Saxon fort. It appears in the Domesday Book as Flescinge(s) and its name is derived from the Old English '(Settlement of) the family or followers of a man named Flecci' [1]. Immediately to the west of the town is the impressive Sheffield Park estate with its famous gardens, now managed by the National Trust, and its cricket pitch, which has hosted some of the earliest international matches. Legend has it that Fletching was where the manufacture of arrowheads that were used in the battles of Crécy, Poitiers and Agincourt took place. This is one of a number of martial connections with the town.
The building of the church began in the late 12th century and was completed in 1230. During the Second Baron's War in 1264, Simon de Montfort, 6th Earl of Leicester, and his noblemen travelled here, holding a night-time vigil on the eve of the Battle of Lewes and praying for victory against the autocratic Henry III, whilst his soldiers camped on Fletching Common. His triumph the following day is seen as pivotal in the development of modern parliamentary democracy.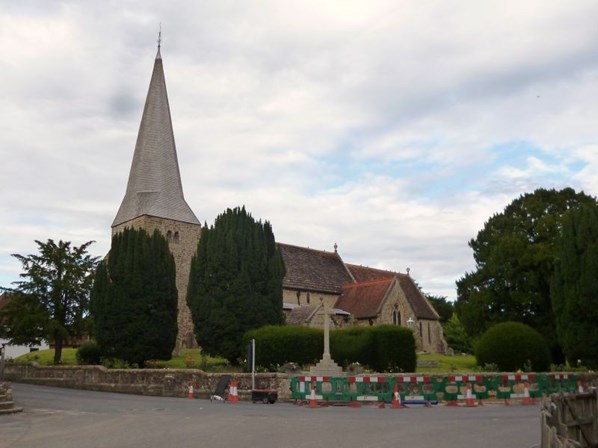 Above: Fletching Church. Photo - British Listed Buildings.co.uk
Within the churchyard are buried three of Fletching's sons, who, 650 years after the Battle of Lewes, served in a conflict that in its nature and scale was beyond anything that de Montfort and his Barons could ever have imagined. Here lay Private Richard Aubrey Grover of the 1st East Surrey Regiment, Lance Corporal Thomas Brown Morling of the 11th Royal Sussex Regiment and Private Henry Welfare of the 15th Essex Regiment.
Private 10726 Richard Aubrey Grover, 1st Battalion East Surrey Regiment
Born in 1889, Richard Aubrey Grover came from a family of butchers; he was the son of Alfred Grover, a local master butcher, and his wife Emma. The year before Richard's birth, his family, in the person of his uncle Edward, Alfred's brother, became embroiled in a scandal involving a hoax letter purportedly sent by Jack the Ripper to Lord Sheffield, who was his elderly mother's landlord. It was reported that Lord Sheffield had recently served Edward's 73-year-old widowed mother named Frances (Richard's grandmother), notice to quit her cottage. The hoax letter was dated the 27 October 1888 and went as follows.
Dear Lord Sheffield. I am sorry, but feeling it is my duty to let you know, as I do not think you do, or would you have the heart to turn out an old tenant like poor Mrs Grover out of her home after such a hard struggle to maintain and bring up her family. Not only that, but allowing anyone to get an honest living there in the butchering line or that have done for a number of years. But it seems to me as though you and your faithful steward want it all, and if you had my wish you would get more than you wanted. Remember, this is a warning to you, but at the same time I should be much obliged to you if you can arrange it for your steward to sleep under the same roof as yourself on Monday night, October 29th, or else I shall have to bring an assistant. My knife is nice and sharp. Oh for a gentleman this time instead of lady. I am sorry for troubling you, but don't forget the 29th. I remain yours truly, Jack the Ripper.[2]
A reward of £250 was offered for information leading to the arrest of the author of the letter. This resulted in the apprehension of Edward Grover, and on Monday 26 November 1888, he was remanded at Uckfield Petty Sessions on a charge of inciting several persons to attempt to murder Lord Sheffield. Edward was arrested on the previous Thursday night at East Grinstead, but managed to persuade the arresting officer to allow him to go upstairs for a coat, subsequently escaping from a bedroom window by means of a blanket, fleeing shoeless across Sussex to his hometown Fletching, where he was re-arrested on Sunday.[3]
On Tuesday 4 December 1888, Edward was committed for trial charged with inciting persons to murder the Earl of Sheffield. [4] He was refused bail by the magistrates and remanded in custody. The case was heard at Lewes Assizes on 17 December; the prosecution case revolved around threats to kill Lord Sheffield made by Edward whilst 'in his cups' in the Rose and Crown in Fletching, there being no evidence that he had actually written the letter. Addressing the court, defence counsel stated that 'the words of the prisoner were the mere idle brag of a half-drunken man and the prisoner now expressed […] his great regret at having used them'. It ended happily for Edward; he was acquitted [5] and was freed to resume his living as a butcher, subsequently setting up shop in Pulborough nearly 30 miles away. By the time Edward died in 1906, his nephew Richard was a teenager.
Richard grew up living at Church Gate House, Fletching, over the Butchers shop with his parents and his four brothers, Alfred Jr, Bernard, Percy and the youngest, Harry. By 1911, aged 22, Richard had moved away and was working as a live-in Grocer's assistant at his employer's establishment in Yalding, Kent.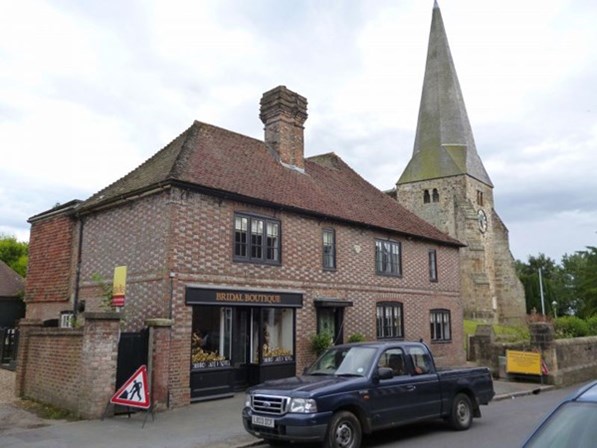 Above: Church Gate House formerly Alfred Grover's butchers shop where Richard grew up. Photo - British Listed Buildings.co.uk
At some point, Richard returned to Sussex from Kent and joined the family business, following in his father's footsteps as a butcher. On 29 February 1916, Richard enlisted with the army before the magistrate at Uckfield at the age of 26 years and 119 days. The date of his attestation follows shortly after conscription was introduced in accordance with the passing of the Military Service Act in January 1916. He was mobilised in May 1916 with the East Surrey regiment and arrived in France on 27 August 1916. Richard was posted to the 1st Battalion on 10 September 1916.
Meanwhile, in June 1916, his younger brother Harry had also been called up. His father Alfred had applied for exemption for his youngest boy, probably on the grounds that Harry's work as a slaughterman in the family trade was vital to its continued existence, that his absence would cause 'potential damage to their business'. It was all to no avail; Private 34557 Harry Cecil Grover enlisted into the 1st Battalion Northumberland Fusiliers on 18 August 1916 and joined the BEF in France on 14 December. On 3 May 1917, the battalion took part in an attack at Monchy during the Second Battle of Arras and suffered heavy casualties, including 110 other ranks. [6]  A few days later, on 6 May, at the age of 20, Harry died from wounds at the No.8 Casualty Clearing Station. He is buried at the CWGC cemetery in Duisans British Cemetery at Etrun that was established there in February 1917. 
An acquaintance of Harry's father noted in his diary that, in May 1917, 'the local butcher had recently received an official envelope. "This he put down thinking it was from the War Office about sheep and cattle as he had had several". He opened it at dinner time "and found it was a notice to say Harry, the youngest boy, was killed in France…Poor old Grover was so upset and can't seem to get over it, if any one tries to sympathise he stands and cries".[7]
When Harry's older brother Richard returned home shortly after this on 21 June 1917, having been 'Discharged no longer physically fit for war service', Alfred must have been overjoyed that this particular son was no longer in harm's way following the devastating loss of Harry. Richard had served for precisely 1 year and 114 days. He was on active service in France with the BEF from 27/08/16 to 25/02/17 for a total of 183 days. On 30 June 1917, he was awarded the Silver War Badge and accompanying certificate number 203829 verifying that he had served with the colours, to be worn on his right lapel upon his return to civilian life. He was discharged with a weekly pension of 27 shillings and 6 pence.
His army medical notes observe that 'Patient states that he had good health till about 3 years ago. When he had lung trouble. At the time he had some blood spitting. He improved very much and lost his cough completely till about Christmas 1916, when it recurred and he has not been free from it since. About 3 weeks he had some haemoptysis'. He was diagnosed with Tuberculosis. This was considered neither to have been directly caused by active service, nor climate or ordinary military service. However, it was decided that his illness had been aggravated by the 'stress and exposure of active service'.
Unfortunately, there was more heartbreak to come for Alfred, Richard's health continued to deteriorate and he died on 27 November 1918, shortly after the armistice. He was laid to rest in Fletching churchyard; his headstone bore the following inscription:
In
Loving Memory
Of
Richard Aubrey Grover,
Died November 27th 1918,
Aged 29 Years.
Also to the Loving Memory
Of
Harry Cecil Grover,
Died near Arras May 6th 1917,
Aged 20 Years.
"Blessed are the pure in heart, for they shall see God."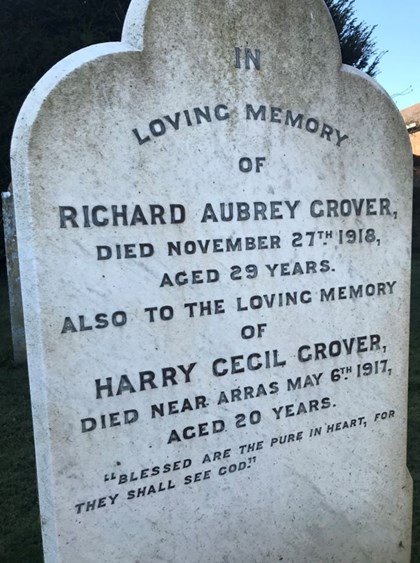 Above: Richard Aubrey Grove's headstone
Lance Corporal SD/1078 Thomas Brown Morling, 11th Royal Sussex Regiment, formerly Rifleman 4445 of the Rifle Brigade
Thomas was born in April 1895 to George Morling, a general labourer, and his wife Mary, née Brown, and baptised at St James the Less church in Nutley, Sussex, on 2 June 1895. Thomas was the youngest of six brothers (one of the boys named Horace had died at the age of 2 in 1886), though not the youngest child; two sisters 'book-ended' the brothers, Edith being the eldest, born in 1877, and Hester the youngest, born in 1902. At the time of the 1901 census, Thomas aged 5, is shown as living with his parents and brothers Frank and Frederick, aged 14 and 11 respectively, within the parish of Fletching at a dwelling adjacent to or within the grounds of Woodcock Farm, one of a number of farms fringing the Ashdown Forest. Curiously, the residence was recorded on the census as 'Side of the Road', presumably a farmworkers' cottage. His nearest neighbours' occupations are listed as farmer, carter on farm, retired farmer, stockman on farm, gamekeeper and under-gamekeeper, indicating the nature of his father's work.
The 1911 census shows that Thomas has moved out of his parents' home and is living with his elder brother Walter, aged 29, his sister-in-law Florence, and their daughter Gladys at 18 Thomas Street in Lewes. At this time, Thomas, aged 15, is working as a van boy at a laundry.
But Thomas had a longing for adventure. The following year, on 22 January 1912, he enlisted with the Rifle Brigade at Brighton, claiming he was 18 years old. He joined the regiment at the Rifle Brigade Depot in Winchester three days later on 25 January. However, his true age came to light, and he was 'Discharged having made a misstatement as to age on enlistment' on 25 April 1912. He had served for exactly 94 days.
At some point upon the outbreak of the Great War, Thomas reenlisted, this time with the 11th Battalion Royal Sussex Regiment. The writer Edmund Blunden, author of the critically acclaimed war memoir 'Undertones of War' would also serve in the same battalion. Initially raised on 7 November 1914 at Bexhill, the battalion remained in England until March 1916 when they marched out of Witley Camp and entrained for Southampton on 4 March. They sailed at 7.30pm that day, disembarking at Le Havre on the 5th at 7.00am. Throughout March and April, the battalion served in the trenches at the Fleurbaix and Givenchy sectors respectively.[8]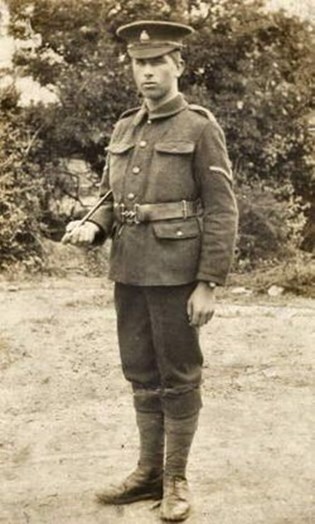 Above: Thomas Brown Morling. Photo - Ancestry
Thomas's journey came to an end on 11 May 1916 at Tankerton Military Hospital near Whitstable, Kent. The 300-bed hospital, formerly the Marine Hotel, was situated on the seafront at Marine Parade and used to treat wounded and convalescent soldiers throughout the war. Thomas died from pneumonia. The Sussex Express dated 26 May 1916 reported his death as follows:
MORLING. Lance-Corporal Thomas Brown Morling, 11th Royal Sussex Regiment, youngest son of George and Mary Morling of Black Ven, Fletching, died in Tankerton Hospital. Aged 21 years. Interred in Fletching Churchyard, Sunday 14th May 1916. Dearly loved by all who knew him. [9]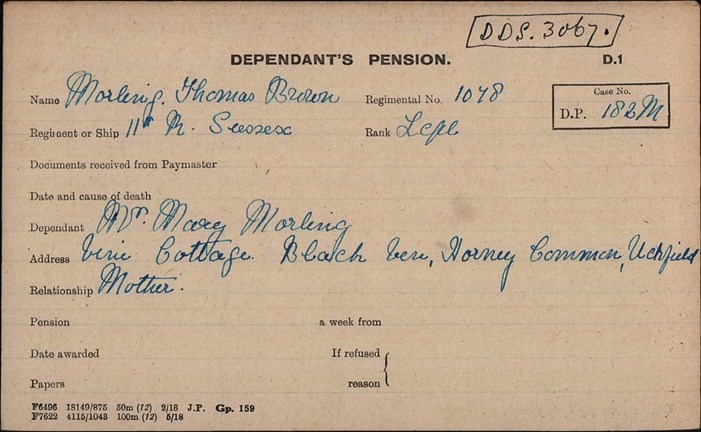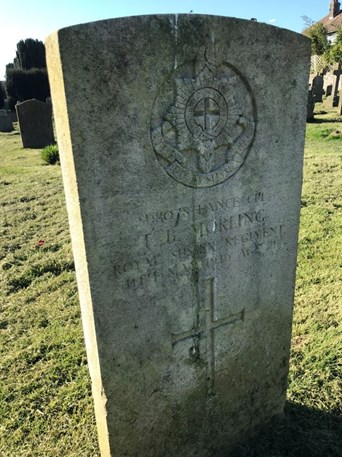 Above: Thomas Brown Morling's Pension Card and headstone
Private TF/350583 Henry Welfare 15th Essex Regiment
Henry was born on 10 September 1879 to John Welfare, a carter, and Susannah, née Cox, a dairywoman, and was baptised on the 5th of October. John and Susannah had Henry relatively late in life, in early middle age. The 1881 census shows the small family unit living at the Sheffield Stewards House on the Sheffield Park estate, John's occupation listed as Head Carter (farm). A decade later, the 1891 census reveals a tragedy has befallen the family; John Welfare is listed as a widower. His wife Susannah had died on 26 April 1887 when Henry was only 7 years old. On the 1901 census Henry is aged 21 and working as a labourer on the farm, still living with his father, aged 70 and his Uncle George aged 79, at Sawyard Cottages on the Sheffield Park estate. In 1908, Henry married Winifred Eliza Bannister aged 25, a dressmaker. By 1911 the couple are living in a small cottage at 2 Robins Cross, Fletching, Henry's occupation is listed as Gardener (Domestic).
Henry attested on 10 December 1915 and was mobilised on 14 June 1916 with the 1st Reserve Garrison Battalion, Suffolk Regiment. Formed in March 1916, it was a home defence force, carrying out guard, escort and similar duties. He was transferred a week later on 21 June to the 65th Provisional Battalion. This was one of a number of provisional battalions raised for men of the Territorial Force who were earmarked for home service only. On 1 January 1917 the 65th Provisional Battalion became the 15th Battalion Essex Regiment.
Henry was discharged on 24 May 1917 as 'no longer being physically fit for war service'. His health problems began whilst he was stationed in Yarmouth in December 1916. He was diagnosed with sciatica in both legs and pains across his back. The condition came on gradually, eventually he was unable to march or carry out patrols. As in Richard Grover's case, it was concluded that his illness had been aggravated by the 'stress and exposure of active service' and he was awarded a war gratuity of £35. There were other symptoms recorded on his discharge papers that suggest an underlying and undiagnosed condition. This is borne out by the Medical Officer's notes that record the following:
Man emaciated, unable to walk any distance or do work for any length of time: is steadily getting worse. Weight 8st 2lbs (114lbs) allow 14lbs for clothing = 100lbs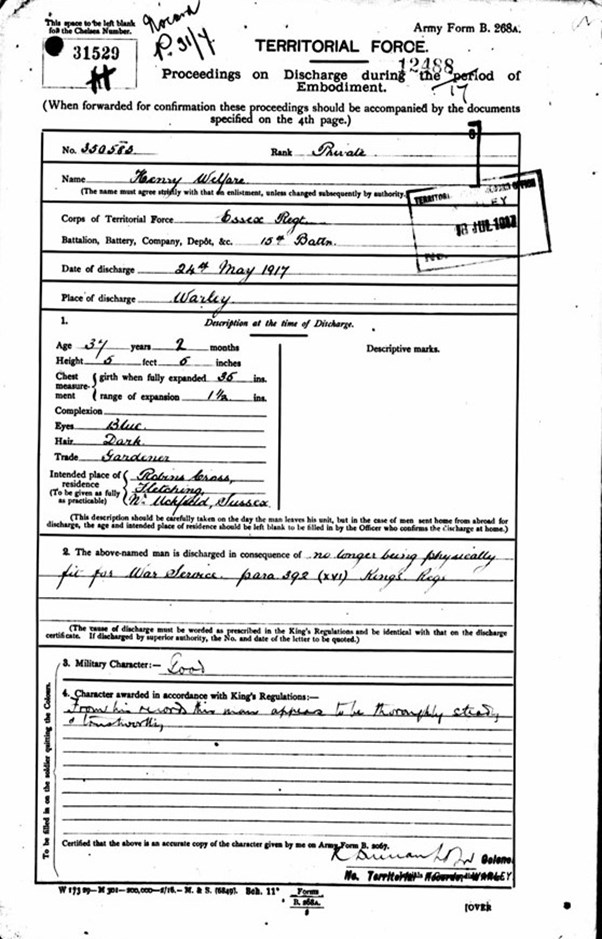 Above: the discharge papers for Henry Welfare.
He was 37 years old at the time of his discharge, at 5'5" tall with a chest measurement of 35 inches; his weight is clearly a cause of concern. Henry's total period of engagement was 1 year and 166 days, and upon his return to civilian life, also like Richard Grover, he was awarded the Silver War Badge, certificate number 177442, on account of 'Sickness Kings Regulations 392 (xvi)' at Warley. Winifred would only have a matter of weeks with her husband, Henry's health deteriorated and he died on 9 July 1917.
The 20 July 1917 edition of the Sussex Express printed the following:
Former Cricketers Funeral
We regret to record the death of Mr Henry Welfare, which took place last week, at the age of 37 years. Deceased, who joined the army in June 1916, was discharged about seven weeks ago. He was formerly in the employ of Mr A. G. Soames, of Sheffield Park, and will be remembered as one of the best local cricketers, his prowess as a wicket keeper being widely recognised, both in his youth and later when he played for the local club. He was a member of the A.O.F., representatives of which society attended the funeral, which took place last Thursday, when Bros. S. Stevenson, R. Relf, West, and Burley acted as bearers. The service was conducted by the Rev. J. Jellicoe, in the absence of the Vicar, the Rev. E. P. Hood. The mourners included: Mrs. Welfare (widow), Mrs Goswell (aunt), Mr Billy Welfare (cousin), Mr and Mrs. Reeves, Mr and Mrs Wickens, Mr and Mrs. R. Bannister, Mrs Bannister, Miss Bannister, Mrs F. Bannister, Mrs Burley, and Mr W. Moore. The floral tributes numbered 15.[10]
It is said that, following de Montfort's victory at the Battle of Lewes, he carried his slain noblemen from the field of battle to Fletching church, and buried them there in full armour. Although Richard, Thomas and Henry did not die on the battlefield, these sons of Fletching were casualties of war nonetheless; they died serving their country and a cause, just as de Montfort's men had. Buried in this place alongside the Barons from six and a half centuries before, it is fitting that these brothers-in-arms rest in eternity together.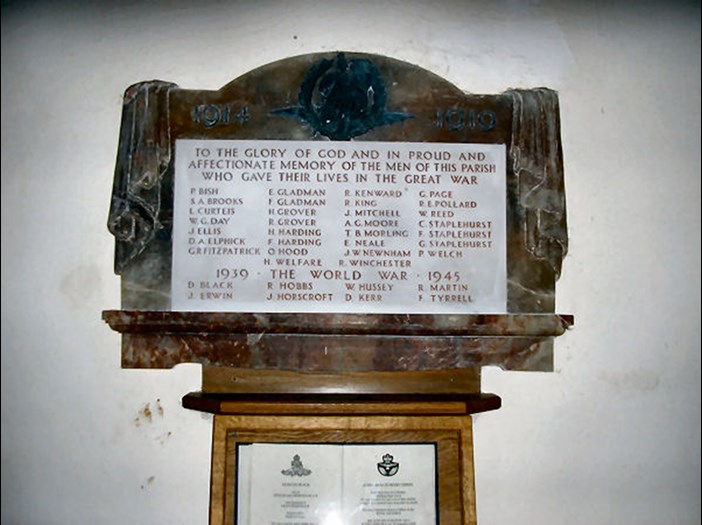 Above: The Roll of Honour in Fletching church
Article by Paul Blumsom
References
Mills, A. D., A Dictionary of English Place-Names, Oxford University Press, Oxford, 1991, p.133.
Kent and Sussex Courier dated Wednesday 7th November 1888, p.3.
Mid Sussex Times dated Tuesday 27th November 1888, p.5.
Eastbourne Chronicle dated Saturday 1st December 1888, p.3.
Eastbourne Chronicle dated Saturday 22nd December 1888, p.6.
WO/95/1430/3 War Diary 1st Battalion Northumberland Fusiliers 1/10/1916 to 31/10/1917 National Archives

Ugolini, L.,

Fathers and Sons in the English Middle Class, c. 1870–1920,Routledge, London, 2021, pp.4-5
WO/95/2582/1 War Diary 11th Battalion Royal Sussex Regiment 04/03/1916 to 07/11/1916 National Archives
Sussex Express dated Friday 26th May 1916 p.4.
Sussex Express dated Friday 20th July 1917, p.3.