The concept of the 'Pals' battalions is familiar to people who are familiar with Britain's part in the First World War – however this contribution is about lower-case pals, in this case a peacetime friendship that carried over into war. In the course of my research on the Old Boys of Bradford Grammar School (BGS) in the Great War,1 I have been fortunate to have received several approaches offering to share details of family members who served and died in the First World War. This story arises from an enquiry to BGS from John Clifford Thompson's grandson Mike who inherited a collection of photos his grandfather took during the First World War. Mike knew that Laurie Denison was Clifford's best friend and he hoped to find that they had been in the same form at BGS. It is a curious coincidence that Denison and Thompson shared a middle name: Clifford.2 By the time of his death Denison was known as 'Laurie', although the 1891 Census records him as 'Clifford Denison'; whereas it seems Thompson was always known as Clifford, even though the same Census recorded him as 'John C'. What follows is what I have been able to recover of their story.
Early life and schooldays 
Laurence Clifford Denison was born at the end of 1890 in Calverley, which lies between Leeds and Bradford, to Dyson Denison and Mary Smith née Butterfield.3 In the 1881 Census they were both listed as 'stationer's assistant' – perhaps for the same firm – and in 1888 they married at St Peter's Church in Bradford. Dyson became a stationer's 'traveller' (salesman) before he went into business with his younger brother Walter, trading as 'Denison Brothers, printers, offset lithographers and wholesale stationers', at Providence Street, Bradford. In 1901 the brothers lived in houses on Southfield Square in Manningham. Laurie was Dyson and Mary's only son; their only other child Margery died aged 7 in 1902. Laurie attended the nearby Belle Vue Schools on Bradford's Manningham Lane.4 For the last year of his schooling between the ages of 14 and 15 (1905-1906) Laurie went to BGS, which was then located on Grammar School Street at the top of Manor Row, Bradford (a short walk to the south along Manningham Lane). At this time it was not uncommon for boys to spend a single year at BGS as a preparation for a career in business or commerce, and Laurie subsequently joined his father as 'Printer Letterpress Manager' (1911 Census). After leaving school he also served for four years with the local Territorials, the 6th Battalion West Yorkshire Regiment ('Bradford Rifles'). The barracks backed onto the Belle Vue Schools, but just as important to him must have been the fact that 'H' Company consisted largely of old BGS boys and that the school magazine, the Bradfordian, regularly advertised the delights of the Territorials. Laurie had resigned prior to the outbreak of war, perhaps after his family moved to Bankfield Drive, Nab Wood, Shipley.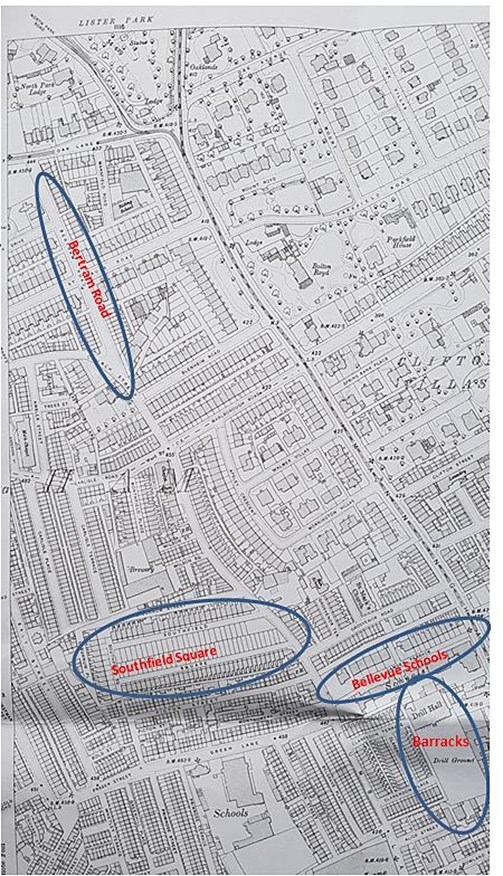 Clifford's childhood was more difficult to uncover than Laurie's. His grandfather John was a chemist and druggist in Knaresborough, and Clifford's father George initially followed in his footsteps. In 1890 he married Gertrude Isabel Greaves, daughter of a Bradford stuff merchant. Their son John Clifford was born in Gainsborough, Lincolnshire in spring 1891. The family seem to have led a peripatetic existence as George followed a career as a 'Chemical Manure Manufacturer' and 'Chemical Agent': in the mid-1890s the Thompsons were in Haringey, north London; however, in the 1901 Census, Clifford and one sister were living with their widowed maternal grandmother on Duchy Road, Harrogate (North Yorkshire), while their parents with two more daughters were lodging in Southend (Essex). George Thompson died at some time between 1901 and 1911 (I have yet to find a record of his death), and it was presumably after this that his widow and children moved to Bradford. They are found in the 1911 Census at 32 Bertram Road, Manningham, and in 1914 nearby at 23 Welbury Drive which ran west from the former. The map of Manningham helps us to understand how Clifford Thompson and Laurie met each other. The southern tip of Lister Park is at the top of the map.5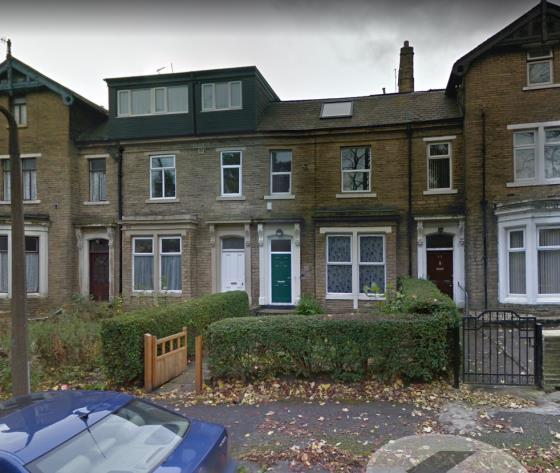 The house with the green door is where Clifford lived with his mother when he enlisted in 1914 (Google Street view).
In the early 1900s Laurie and Clifford lived within a few streets of each other, and it is likely that both attended Belle Vue Boys School where a slightly younger contemporary was John Boynton ('J.B.') Priestley. Clifford followed Laurie to BGS in 1906 - by which time Laurie had left. In his one year at BGS (1906-1907) Clifford was in Form 5th Modern Upper. At the end of the year he was placed 5th in French, 9th in German and Art, 8th in Maths, 6th in Physics and 4th in Chemistry. Laurie had also done well at Chemistry, where he came 2nd in his form.6 Both boys' achievements were a tribute to the quality of preparation they had received at Belle Vue Boys' School.
After School
The boys' paths then apparently diverged. Laurie joined his father's business whereas Clifford was a part-time student at Bradford Technical College and worked as a 'dyer's chemist'. After leaving school Laurie and Clifford might have drifted apart. Their work alone might have led in this direction, and whereas Laurie was in the Territorials for 4 years, Clifford did not join. The photo below however taken in May 1912 at Knaresborough, where Clifford's father had lived, shows the friendship persisted.7 Laurie is on the left and Clifford on the right. In the centre, 'Harry Firth' is presumably identical with 'Firth, H.' recorded at Bradford Grammar in 3rd Classical Lower at the same time as Laurie was in Form 4th Modern Lower (1905- 1906), and in 3rd Classical Upper when Clifford was at the school. The 1911 Census has several boys of this name in Bradford, none of whom lived in Manningham, so he cannot be firmly identified.8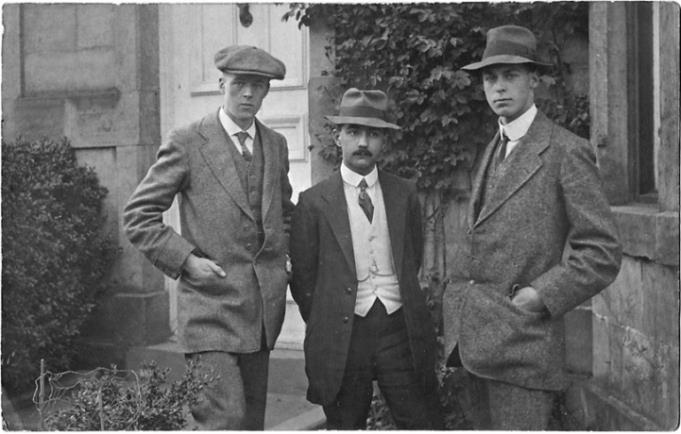 Another photo in Clifford's collection, taken by Walter Scott of Bradford, is labelled 'Cadets April 1910'.9  Clifford's connection with them is not known; the army cadet corps pictured is unidentified and the boys look too young for him to have one of them. BGS can be ruled out as it did not acquire a cadet force until October 1914.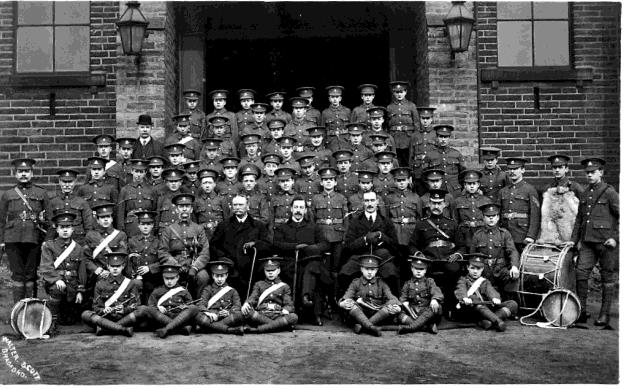 From 1912 Clifford was 'Technical Chemist, Thornton, Harrison, Marshall Ltd, Brookfort Dyeworks, Brighouse.' He travelled from Manningham to his workplace in Brighouse by motorcycle, which on one occasion resulted in some difficulty for him as was related in a newspaper report. Clifford was accused of riding at excessive speed and on the wrong side of the road when he collided with a carter making a delivery of mineral water in Brighouse. The jury accepted Clifford's defence that he was travelling at only 12 mph and was unable to take evasive action when the plaintiff stepped out from behind the horse. Furthermore the plaintiff had said to him that 'it was an accident and that he (the defendant) was not to blame.'10 This enthusiasm for motorcycling would influence Clifford's war service.
Wartime
When the First World War began in August 1914 Laurie and Clifford did not enlist at the same time. Laurie re-joined the 6th West Yorkshire Territorials and, as he had resigned from the battalion, was given a new service number (see Medal Roll Index Card).11 He was posted to 'C' Company into which the pre-war 'H' Company consisting largely of old BGS boys had been merged. The preceding number, 2427, was issued to William Ewart Dennis who enlisted on 2nd September - not only was he also a former BGS pupil but he lived at 13 Welbury Drive close to Clifford. William and Laurie likely enlisted on the same day, perhaps even stood next to each other in the queue at Belle Vue Barracks.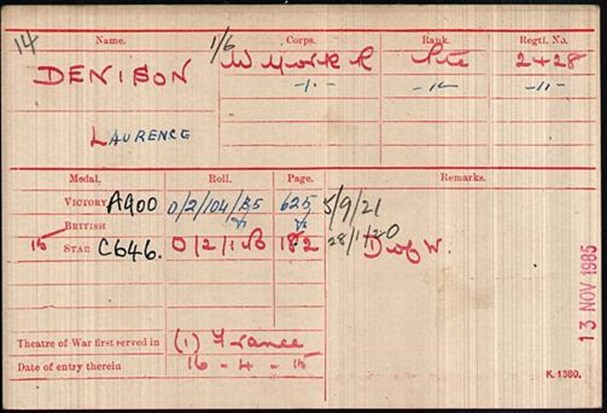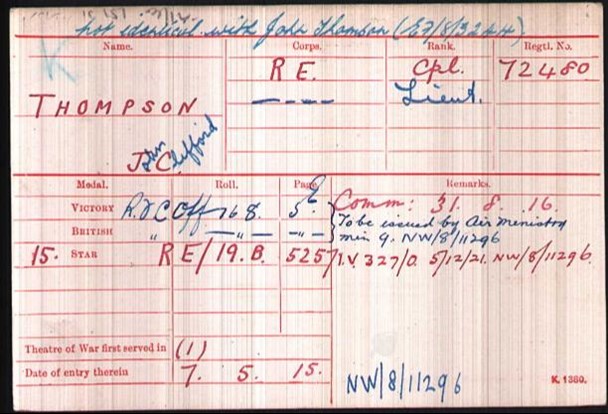 Clifford probably learned of Laurie's enlistment, however he delayed until 31st December before volunteering for the Royal Engineers as a motor cycle despatch rider with the Northern Signal Service, part of the Territorial Force, with its depot at Gibraltar Barracks, Claypit Lane, Leeds. Four pages of his Service Record survive, although they are difficult to use in reconstructing his military service as they form part of the 'Burnt Records'. His Officer File12 helps to fill in his movements before he was commissioned. Clifford was promoted to Corporal on the second day of his service and trained at the RE Signal School at Houghton Regis, Bedfordshire.  Contrary  to  the  regulations Clifford kept a camera which he used to take photos during his military service, like those reproduced here.13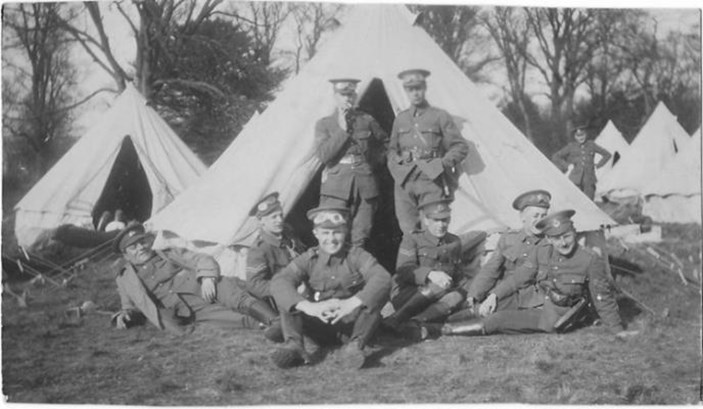 The above image is captioned 'Tent party, Houghton Regis', no date. Clifford is standing, left. The photo below is dated 'Sunday 11th April 1915'. This was  possibly  taken  at  the  Biggleswade Signals Depot, from which Clifford would before long be transferred. The motor cycles look like the Model H Triumph. 
Laurie was first to cross to France. On 16th April 1915, Laurie and 1/6th West Yorkshire disembarked in France as part of 49th West Riding Division, spending the next 2 months in and out of the trenches in the area of Neuve Chapelle and Fleurbaix, a monotonous, low- lying and water-logged region. It was with relief that the battalion was relieved at the end of June and marched northwards. Departing from the Fleurbaix sector on 25th June they reached Doulieu on 29th, then undertook a 16-mile night march on wet pavé via Méteren, Berthen and Boeschepe to Proven, north-west of Poperinge. Captain Tempest recorded their arrival in his history of the battalion:
'A few hours' sleep, and the Battalion woke up, refreshed, to find they were in Proven, one of the pleasantest villages in Flanders … During the five days rest at Proven the 146th Infantry Brigade was inspected by Brig. Gen Macfarlan, C.B., Sir John Keir (VI Corps) and Sir Hubert Plumer … On July 4th the Battalion left Proven in motor busses, 800 all ranks, debussed at Vlamertinghe, and marched to the Canal Bank, one mile north of Ypres, where they arrived 11 p.m.'14
The division would remain in this sector until the end of the year. 
Clifford disembarked in France on 6th May, three weeks after Laurie, and joined Signals Depot in France. Three days later he was posted to 28th Signals Company Royal Engineers, attached to 28th Division which had been in the Ypres area since mid-January 1915. The Signals Company War Diary15 is quite a scrappy affair and its compiler was certainly not interested in the activities of a motor-cycle despatch rider. However, it does provide the locations of at least the administrative centre of the company. On 15th May this moved to Proven, followed by a march to the rest camp at Watou and thence from mid-June to Westouter, some four miles south-west of Poperinge. The night march undertaken by 49th Division passed two miles from 28th Signals Company at Westouter, whilst at Proven its units were billeted some four miles to the north-west of Poperinge, known as 'the last stop before hell'. The paths of Laurie and Clifford were converging.
The meeting
After Clifford died a letter was found in an envelope among his personal effects. It also contained photos of his girlfriend, whom he later married, newspaper obituaries of Laurie Denison, and two photographic negatives, one of Clifford, the other of Laurie.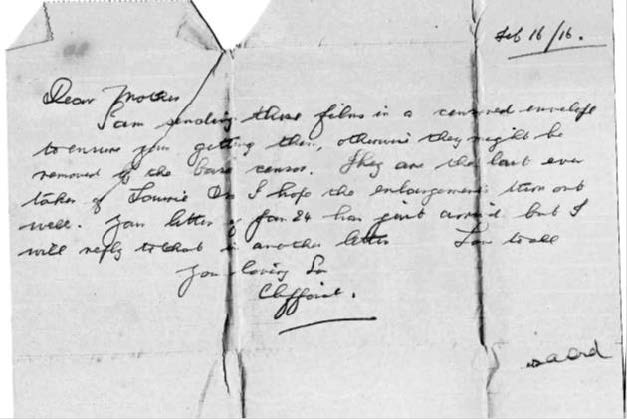 The letter dated 16th February 1916 was addressed to his mother:
Dear Mother
I am sending these films in a censored envelope to ensure your getting them, otherwise they might be removed by the Base censor. They are the last ever taken of Laurie D. I hope the enlargements turn out well. Your letter from 24 has just arrived but I will reply to that in another letter. Love to all, your loving son, Clifford.
He was by this time in Egypt. A print of the photo of Clifford is mounted in his wartime photo album with the label: 'Reserve Trenches - Proven Ypres 1915 - With Laurie.' Mike Thompson had the two negatives printed and then, on the advice of his daughter, had another print made that combined both (below, Laurie is on the left). When Mike contacted  me  seeking  information  about Laurie Denison I jumped at the opportunity to help. The composite image is evidence that although they were in different divisions Clifford and Laurie were able to meet up in Belgium in 1915. If the caption to the photo in the album is accurate then the meeting was taken at the end of June or start of July. The implication is that they were in touch and still close friends, although the details of how they were able to arrange a meeting are unknown to us.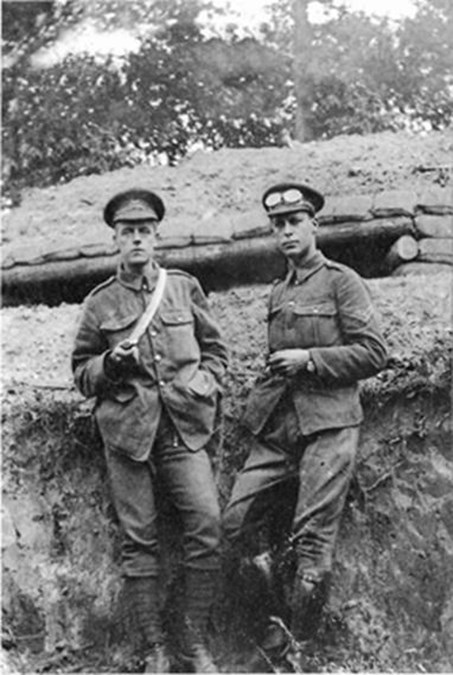 Yet there is something about the caption to the photo that jars: the scene does not resemble Tempest's description of Proven as 'one of the pleasantest villages in Flanders.' The two men are standing in a trench while behind them is a shelter made of sandbags, earth and timber; Proven lies some distance from Ypres, was well behind the front, and on the only trench map I have found of the area (from 1918) does not show any defences there. To describe it as 'reserve trenches' seems inaccurate. Could it be that when Clifford came to mount the photos of his wartime service into the album – after the war - that he misremembered the location? If Clifford had forgotten the exact place the photos were taken – and it is simply a hunch that he had – is it possible to identify a plausible alternative? His division began to march away from the Salient on 23rd September 1915, heading south-west into France, and then on 24th October set out for Marseilles to embark for Egypt. Following its pleasant but brief sojourn at Proven, 49th Division moved towards the front and would spend most of the next six months north of Ypres, on the Canal Bank and to its east near Turco Farm and Pilkem Trenches (see map16). A possible solution to this conundrum may be found in Tempest's description of 1/6th West Yorkshire's first days on the Canal Bank in July, one mile north of Ypres:
'…in support on the Canal Bank. … Even in July, 1915, some corners of the Canal Bank, lined with poplars eighty feet high, gave one the delusion of peace and safety. Men, for a few days of the summer at least, bathed in the Canal, where there were fishes and water lilies. In the shelter of the East Bank men in reserve moved freely on quiet days. When the battalion first took over the line, the trenches had not fallen in, and were deeper and narrower (for protection against heavier shell fire) than those further south in Fleurbaix. In fact, in the middle of summer the trench system at Ypres seemed tolerable. There were support and reserve lines…communication trenches: and shelters …'17
I suggest we see the elements of Tempest's description repeated in the photo: the tall and leafy trees, the 'delusion of peace and safety', the men in reserve able to move freely, the shelters. Tempest went on to state that August rains caused the trenches to collapse. His words lead me to place the meeting between Laurie and Clifford in the days between 4th and 13th July 1915 when 6th West Yorkshire was 146th Infantry Brigade's support battalion (near Essex Farm). A less likely proposition is the period 19th-25th July when the battalion was in reserve in the grounds of Chateau Trois Tours, near Brielen (between Ypres and Elverdinge).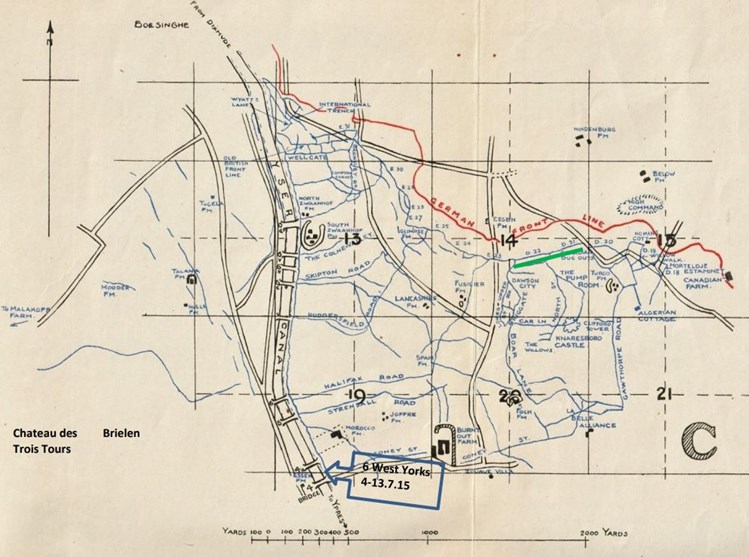 Tempest described  the  chateau  grounds  as  'quite charming'. The battalion 'found their billets comfortable and peaceful after their tour in the line' and there was time for a cricket match, although the "billets" consisted 'merely of holes in the ground'.18 It might be objected that this does not match the photo's label 'reserve trenches'.
Laurie's death
The bucolic scene described by Tempest could not last. Ken Bloomer, another former BGS pupil in 'C' Company, reported the conditions of November in a letter to his father:
'It has been raining for weeks now and the trenches are waist deep in water. Waders reaching to our waist protected us to some extent but we were wet to the skin the whole time. Dug outs there were none – bits of corrugated iron stretched across the highest bits of trench were the best we could do. The parapets kept falling down and had to be rebuilt. Men were in real danger of drowning – having to discard equipment and everything and shout for help! The infantry on both sides were absolutely indifferent to each other and only the extra energies of the artillery told us there was a war on. The communications trench was ignored being nothing but a muddy stream 3-4 feet deep and men walked as openly on the top by day as by night.'19
On 19th November Corporal Sam Meekosha led his surviving men in full view of the enemy to dig out comrades buried by shellfire, for which he was awarded the VC and four of his men DCMs. On 15th December 1/6th West Yorkshire took over the front line trenches in D21 and D22 (green line on map) and for the 17th the War Diary records heavy shelling and 'our parapet blown in in several places.' Tempest adds the detail that 'C' Company's No.12 platoon 'was reduced to seven men.'20 Laurie Denison died of wounds on 18th December and was buried at Lijssenthoek Military Cemetery. Captain N.A. Fawcett wrote to Laurie's father Dyson:
'I am grieved to have to tell you of the death from wounds of your son Laurie. He was wounded on December 18th, during the attack the Germans made, and died the same day, or early the next, in the field ambulance.'21
Is it possible some confusion regarding dates has crept in? Following the heavy shelling of 17th December, the 18th was (according to the War Diary) 'on the whole fairly quiet' despite some shelling – the great German gas attack would take place the following day. It is possible that Laurie was wounded in the bombardment of 17th December. He would have been evacuated via the Advanced Dressing Station on the Canal Bank at Essex Farm and died as Captain Fawcett explained in the ambulance en route to the Casualty Clearing Stations near Poperinge. Consequently he was buried nearby in Lijssenthoek Cemetery, and his date of death recorded as 18th December.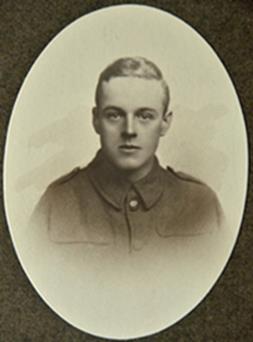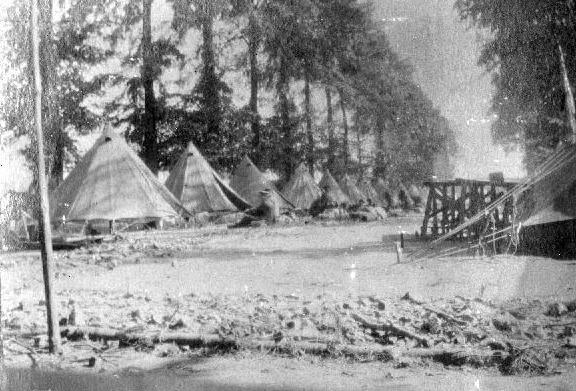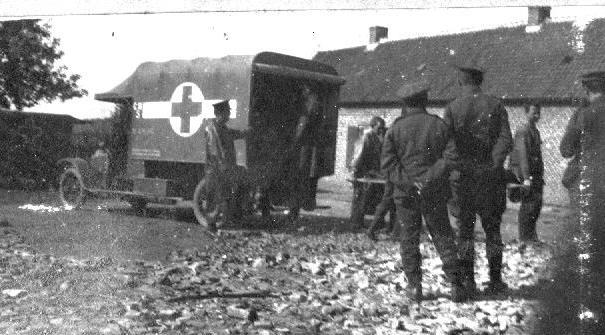 The aid posts operated by 1st/1st West Riding Field Ambulance, 49th Division. Essex Farm is pictured above.23
Thompson's War
Clifford probably learned of Laurie's death from newspaper cuttings sent from home, which he preserved among his possessions with Laurie's photo as out-lined above. Perhaps his mother's letter of 24th January, referred to in his letter above, contained the sad news and prompted him to send home the negatives of his last meeting with Laurie. This was surely a sign of how severely he felt the loss. He had disembarked at Alexandria in Egypt on 1st November 1915 ahead of 28th Division which arrived towards the end of the month. Whereas it was then sent onwards to the Salonika Front where it would remain until almost the end of the war, Clifford was posted to Cleopatra Signals Depot (Cairo?) and then at the start of the New Year to the ANZAC Signals Company stationed at Ismailia on the Suez Canal. There he was selected for a temporary commission on 25th April and so began a tortuous process. He embarked for the UK on 'HMS Euripides' on 10th May. His application for 'Admission to an Officer Cadet Unit' was dated 8th August at the RE Signals School at Stoney Stratford, and with the certificate testifying to his education signed by BGS Headmaster of William Edwards, Clifford was medically examined on the 18th and discharged on appointment to a temporary commission on 31st August 1916. The certificates of recommendation for admission to an OCU were then signed by a Lieutenant- Colonel and two Brigadier-Generals on 16th September. And that is where the 'paper trail' for Clifford practically ceases.24
Clifford's appointment as a temporary Second Lieutenant Royal Engineers for service with Signal Service was effective from 1st September 1916,25 but it is to his photo album that we must turn for hints relating to his service.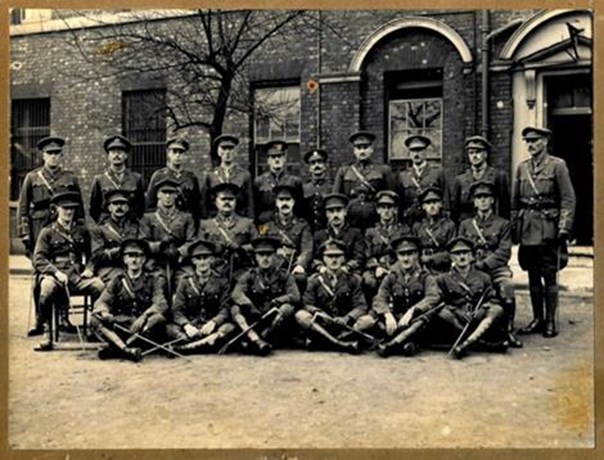 The photo above was taken at 'Birmingham' in October 1916 – Thompson is in the back row, third from left. Whether he remained at a home station, was posted to the BEF or returned to Egypt is not known for certain, although a photo of him in officer's uniform with the caption 'Heliopolis Palace Hotel 1916' (opposite) indicates the third option.26
It is not until 1st April 1918 that Clifford's whereabouts once more features in an official record – this time serving as a Lieutenant attached to the RAF and serving in Egypt. He passed through several training squadrons and the last recorded wartime date for him is 28th July 1918 when he was posted to 17th Training Depot Station Middle East for 'further instruction'. His RAF record lists the aircraft he trained on as: MFSH, Mono Avro, Sopwith Scout and Bristol Scout.27 His album contains photos he took during that training, which are reproduced below.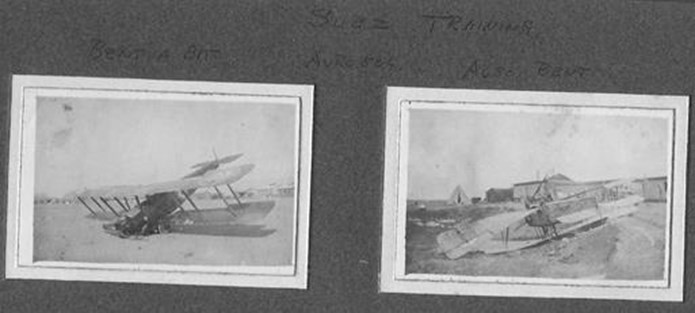 Two images are labelled 'Suez Training. Avro 504 aircraft', 'Bent A Bit' and 'Also Bent'. Whether he was responsible is not stated. Two further images are of a knocked out British Mark IV female tank in the desert near Gaza.
It appears from his RAF record that Clifford did not join an operational squadron and flew no combat missions.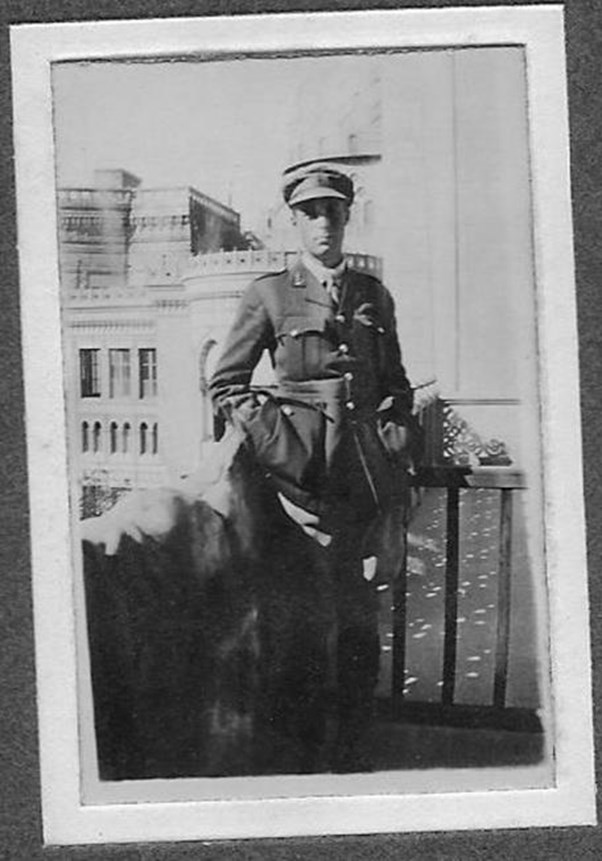 Very soon after the cessation of hostilities on 27th December 1918 he embarked at Port Said for home. His rank was reduced to '2nd Lt. (A), and to be Hon[orary] 31st May 1918 (substituted for notification in the Gazette of 2nd Aug. 1918).'28 Once home he was transferred to the Unemployed List on 7th February and demobilized on 17th February. His rapid demobilisation may have been on account of his long service in the Forces, and his peacetime occupation as a chemist may also have contributed as necessary for the transition to a peacetime economy. He wasted little time in marrying his sweetheart Elsie Mary Calvert, who was also from Manningham. After the war Clifford prospered and in 1939 he was managing director of a textile chemical manufacturer and lived at Constable Corner, Ben Rhydding Road in Ilkley. He died in 1983.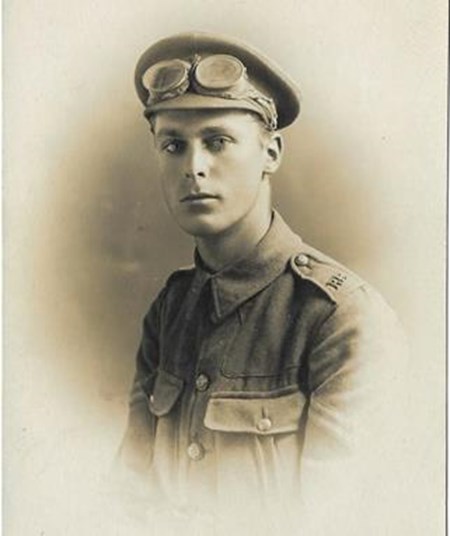 Article by Nick Hooper MA, FRHistS 
1 https://www.bradfordgrammar.com/old- bradfordians/bradford-grammar-school-in-ww1/.
2 It has emerged from family research by Lorraine Amos that their grandparents Robert Smith Butterfield and Elizabeth R. Butterfield were siblings, making Laurie and Clifford second cousins. Whether they were aware of their shared ancestry has not been established, but must certainly be borne in mind as a factor in their friendship.
3 In some records the name is spelled as Laurence (Probate, CWGC), in others as Lawrence (census, Soldiers Died in the Great War).
4 We know this from the Belle Vue Boys School memorial board which, although now lost, was recorded through the monumental work of the late P.D. Lodge and made available by the patient labour of Bradford WW1Group member Ray Greenough – see http://www.ww1bradford.org/bradford-memorials/.
5 1:2500 map 1908 edition (Alan Godfrey edition).
6 Bradford Grammar School Annual Yearbooks consulted courtesy of the school archives.
7 Reproduced by permission of Mike Thompson.
8 Bradford Roll of Honour lists 26 men who could be H. Firth, if he served in the war (http://www.ww1bradford.org/ww1-bradford-roll-of- honour/).
9 Reproduced by permission of Mike Thompson.
10 Yorkshire Evening Post 25th March 1914 (accessed using findmypast.co.uk).
11 Accessed using Ancestry.co.uk.
12 The National Archives WO 339-73081.
13 By permission of Mike Thompson.
14 Captain E.V. Tempest, History of the 6th Battalion West Yorkshire Regiment. Volume I. 1/6th Battalion, Percy Lund, Humphries, Bradford, 1921) pp.49-50
15 TNA WO 95-2272-4.
16 Tempest, History of the 6th Battalion, facing page 60. Neither the National Library of Scotland (https://maps.nls.uk/ww1/trenches/index.html) nor WFA TrenchMapper (https://www.westernfrontassociation.com/trenchmap per-members/) appears to have a map of this zone for 1915.
17 Tempest, History of the 6th Battalion pp.49-50.
18 Tempest, History of the 6th Battalion, p.52.
19 Arthur Kenneth 'Ken' Bloomer, left BGS July 1914 and enlisted on 5th August 19 instead of taking his scholarship at Oxford. I am grateful to Martin Shaw, who transcribed the originals, for permission to quote from them.
20 TNA WO 95/2794/2; Tempest, History of the 6th Battalion, p.63-4.
21 Bradford Weekly Telegraph 31.12.1915. The report entitled "A Loss to All of Us" was one of those Clifford kept in the envelope referred to above.
22 From the Bradford Grammar School Old Boys Association Memorial book, with thanks to the Headmaster and Old Bradfordians Association.
23 From the Brocklehurst collection, shared by Tricia Platts, Bradford World War One Group..
24 These dates are taken from the Officer Record for Lieutenant John Clifford Thompson TNA W0 339- 73081.
25 London Gazette Supplement 4th October 1916.
26 Both photos reproduced by courtesy of Mike Thompson.
27 https://search.findmypast.co.uk/record?id=GBM%2FAIR76%2F503%2F0%2F0040&parentid=GBM%2FAIR76%2F89738.
This site is very helpful to interpret the record: https://www.airhistory.org.uk/rfc/abbreviations.html.  
28 London Gazette 24th January 1919.