Captain (Acting Major) Cecil Harold Crichton-Browne was aged just 22 when he died on 13 December 1918. At the outbreak of the war he had joined his father's regiment, the King's Own Scottish Borderers. In just four years he was promoted from Second Lieutenant to acting Major and briefly commanded the 1st Battalion. This is his story.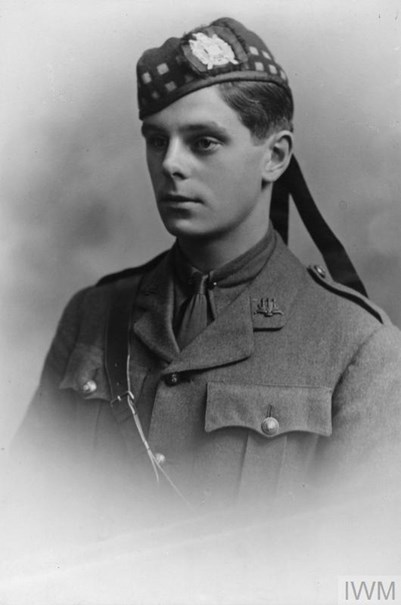 Cecil Chrichton-Browne came from a wealthy family. His grandfather was Sir James Captain Chrichton-Browne (1840-1938) was a well known psychiatrist and neurologist who based himself at the West Riding Lunatic Asylum in Wakefield from 1866 to 1875. James's son (Cecil's father) was Harold (1866-1937) who had married Josephine Verdin in 1894. Harold made a career out of joining the army, and eventually became Lt Col in his regiment - the King's Own Scottish Borderers. Cecil was born in December 1896 and after attending St Michael's School at Westgate-on-Sea (near Margate on the north Kent coast) he went to Eton.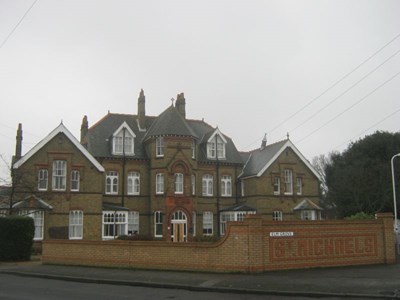 Above: St Michael's school
Whilst at Eton Cecil was awarded the Headmaster's Prize for French and came third in the King's Prize (which is awarded for French).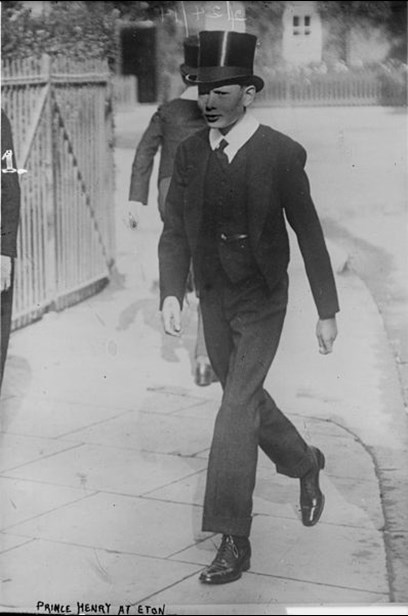 Prince Henry, Duke of Gloucester at Eton in 1914.
Cecil was intended for the Diplomatic Service, but at the outbreak of war had applied for a commission in the KOSB.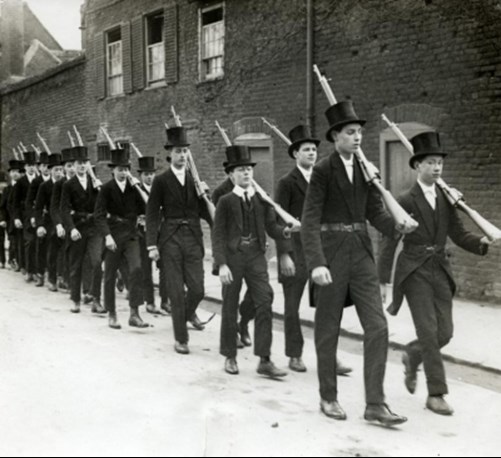 Above and below: boys from Eton college formed the school's OTC.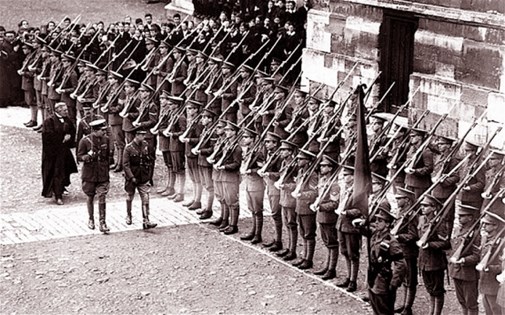 As a 2nd Lieutenant he was soon promoted to Lieutenant in November 1914 and again to Captain in February 1915.
He served with the 2nd Battalion in France and later in Edinburgh as adjutant. Returning to France he joined the 6th Battalion but was wounded in April 1917 and invalided home.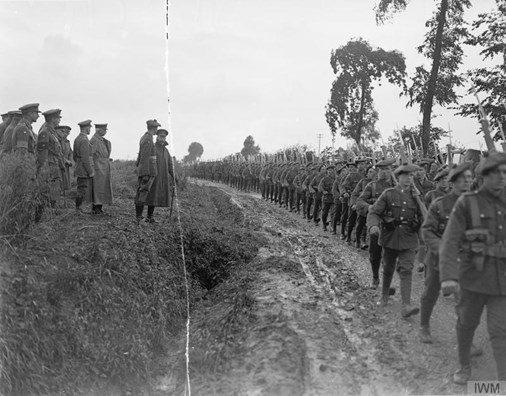 Troops of the 6th (Service) Battalion, King's Own Scottish Borderers marching past King George V near La Brearde, 6 August 1918.  IWM Q 9202 
Little more than a year later he was out in France again, this time with the 1st Battalion, serving with then from July 1918 to the armistice.
He was awarded the Military Cross for 'gallant conduct and devotion to duty' in two actions – the first on 30/31 August 1918 near Bailleul and the second on 15 October near Salines (close to Mons).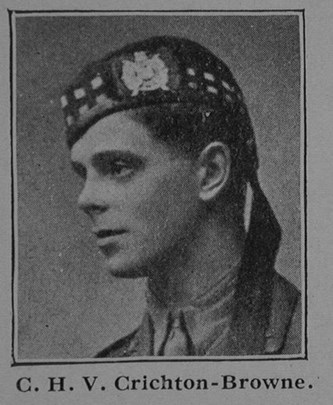 Cecil's photo in De Ruvigny's Roll of Honour
The attack at Salines was part of the Battle of Courtrai - itself part of the 'advance to victory'. The 29th Division, had as one of its infantry battalions the 1/KOSB. A useful passage about the action here can be found in the regimental history of the Border Regiment, whose 1st Battalion took part in this action in the same brigade as 1/KOSB.  
"The Battalion [1/Border] came at once under heavy fire of all kinds, but pressed on, and carried the enemy's first line of resistance; a second line in rear of a broad belt of wire gave more trouble, but this was overcome and this line carried by about 9.35am, while 10 minutes later "A" Company reported being in possession of the village of Salines. There was now a slight check owing to opposition from the enemy holding Gulleghem, but by about 10.40 this village was also cleared, touch established with 36th Division and the advance went on , the front line companies attacking the buildings and enclosures in Heule where the left hand company managed to get a footing; but the Bois d'Heule had not yet been taken and enfilade fire being experienced on the left..." 
The divisional pioneer battalion was the 1/2nd Bttn Monmouthshire Regiment and there are images of this unit's soldiers on this day.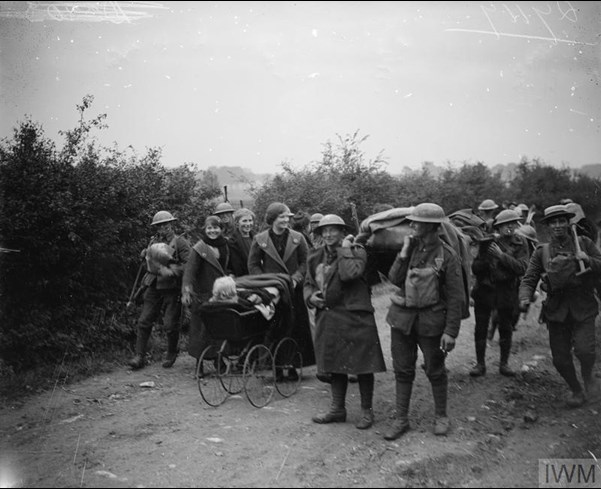 Belgian refugee women and British wounded of the Monmouthshire Regiment coming back. Gullegem, near Heule, 15 October 1918. One of the soldiers wears a straw boater hat instead of a helmet. © IWM Q 7117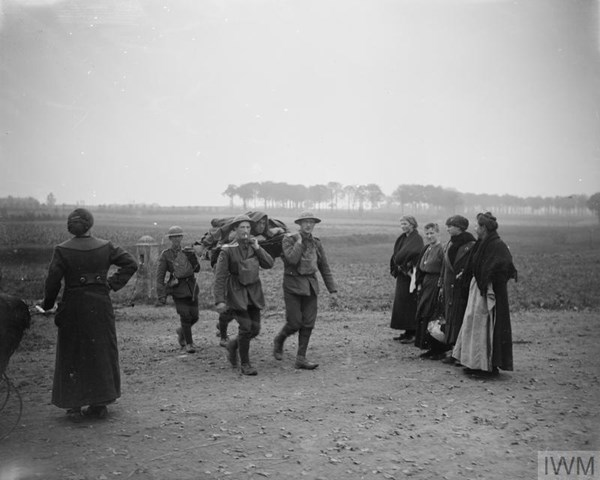 Belgian refugee women watching British wounded of the Monmouthshire Regiment being brought in. Gullegem, Near Heule, 15 October 1918. © IWM Q 7119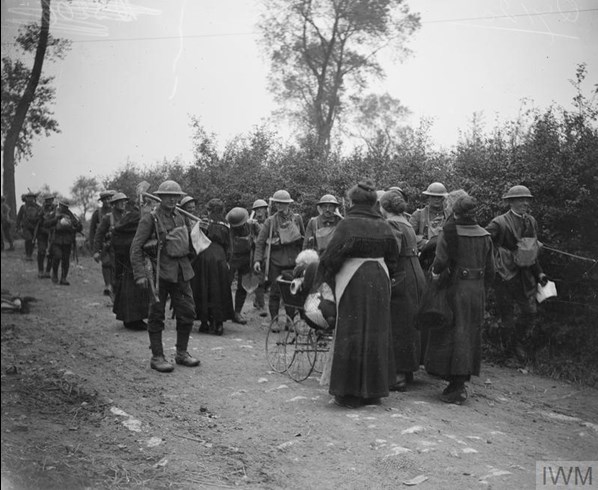 Men of the  going forward and Belgian refugee women going back. Gullegem, near Heule, 15 October 1918. © IWM Q 7120
Cecil's commanding officer wrote "apart from being such excellent company your son was one of my best company commanders. He did extraordinarily well in the last show we had". It must be assumed this 'last show' was the attack at Salines. 
No particulars of Cecil's actions at either Bailleul or Salines has yet been located but he clearly distinguished himself. 
An inspection of the battalion 1/KOSB war diary (WO95/2304) confirms that Cecil - who was acting adjutant - 'assumed duties of second in command' of the battalion on 30 October, and just four days later, the same war diary records the battalion CO Lt Col Wilkinson "assumed command of the brigade in the absence of the Brigadier-General."

A further note, on 9 November, shows that Wilkinson rejoined the battalion on 9 November. It is therefore almost certain that for a short period Capt (A/Major) Cecil Crichton-Browne was temporarily commanding the battalion.
Two days later, the armistice was announced, no doubt to the great relief of all ranks of the battalion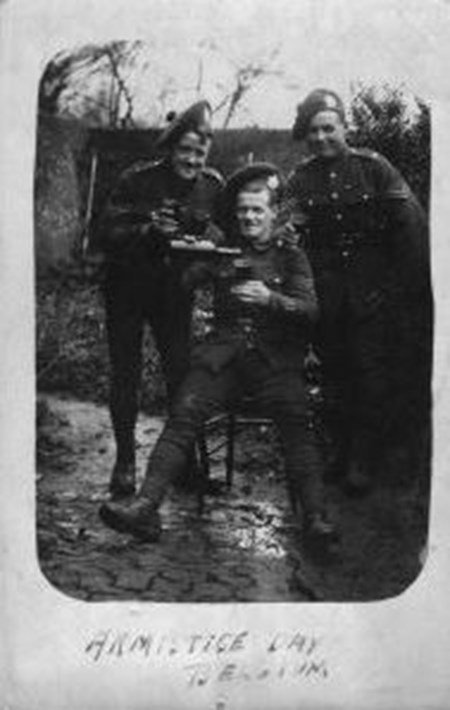 Above: men of the KOSB on armistice day. It is not known which battalion these men are from, but as it is annotated 'Belgium' there is a very good chance this shows men of Cecil's battalion.
Sadly there is a further reference to Cecil in the war diary. On 13 December, as the battalion marched into Germany as part of the army of occupation, there is a single line saying "Captain CHV Crichton-Browne died in No 1 CCS and buried in Communal Cemetery Mons on 14th Inst"
An officer wrote - presumably to his father:
"The regiment has lost a most gallant officer and one beloved of us all. Joining at the very beginning of the war when a lad of 17½ he had done excellently all through, and no officer has set a higher example of devotion to duty than he, of which his specially applying to be allowed to go out (ie to France) again last summer (ie July) was an illustration. He was possessed of great talents and of capabilities far beyond his years. His memory will not fade not will his example be forgotten".
One of his majors also wrote "It seems doubly sad after had fought so much latterly, and the war had finally come to a close. I met the Officer Commanding the 1st KOSB only a week before his own death (this almost certainly refers to Lt Col George Beaty-Pownall who died of his wounds on 10 October) .... He had the very highest opinion of Cecil , and told me that he and the Brigadier practically captured Bailleul between them".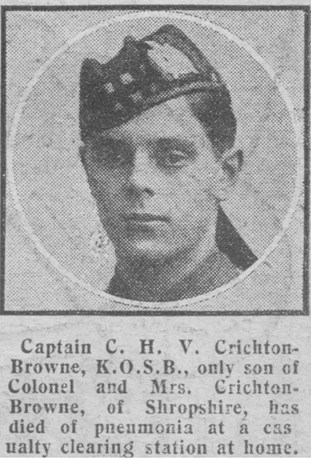 It is an amazing achievement for someone who just prior to the war had been sitting French exams at Eton to join the army before his 18th birthday, and within only four and a half years an acting Major and for ten days commanding a regular battalion on active service.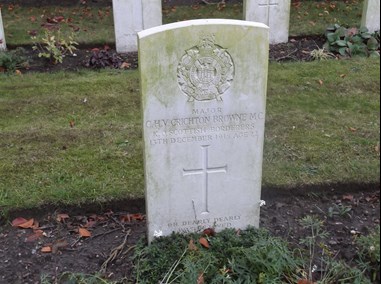 Above and below - Cecil's headstone at Mons (Bergen) Communal Cemetery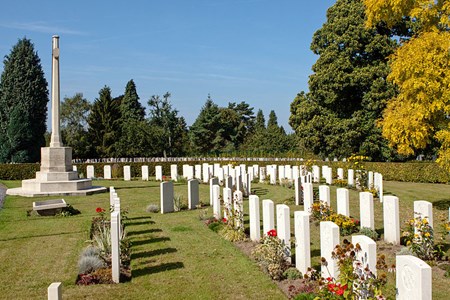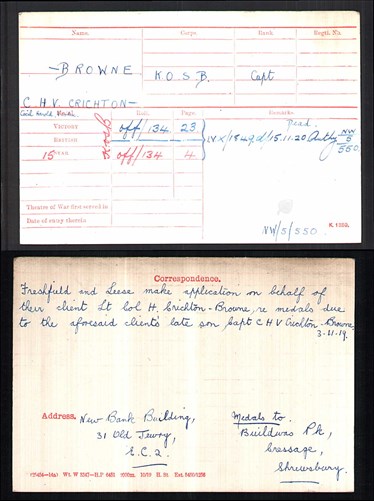 Above: The Medal Index Card showing the application for his medals by his father's solicitors, Freshfield and Leese
Article by David Tattersfield, Vice-Chairman, The Western Front Association