George Peachment was, when he enlisted, not much different from many other young volunteers in that he lied about his age to try to 'do his bit' for King and Country. His first attempt to enlist was unsuccessful (according to a family member, to try to make him look older, he borrowed his father's bowler hat when he tried to enlist aged 17 years and 11 months ). A second attempt to enlist succeeded and he 'signed up' on 18th April 1915, giving his age as 19 years and one month.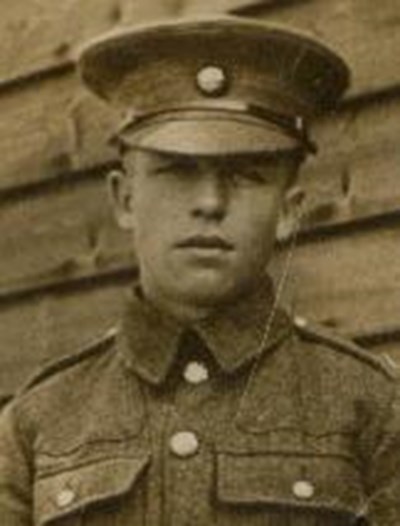 We know that George was educated at Parkhills United Methodist Church School, St Chad's Junior School and Bury Technical School, where he studied engineering. He was an apprentice fitter engineer at Ashworth & Parker of Elton, Bury. He was recruited into the King's Royal Rifle Corps, the cap badge of which can be clearly seen on the photograph below.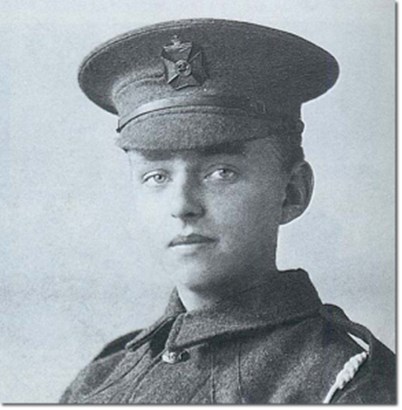 After less than three months, he was in France, this is evidenced on the medal index card, which shows his arrival in France on 28 July 1915.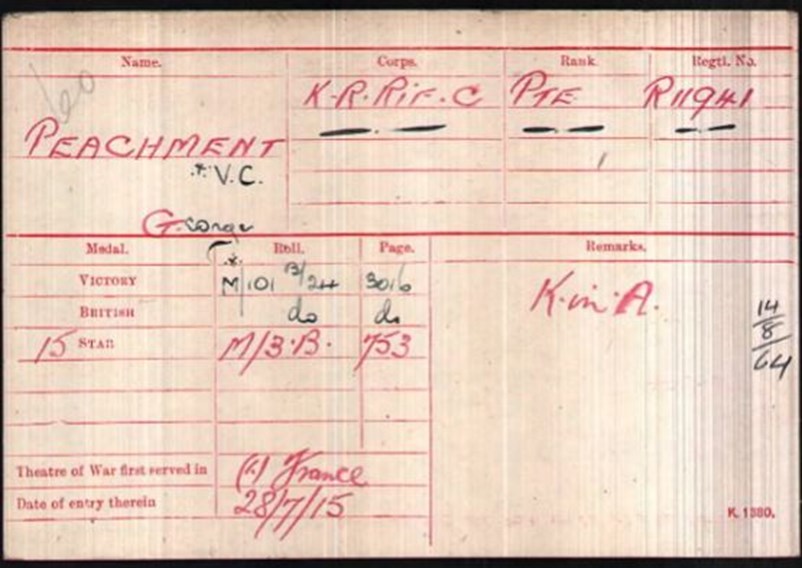 George's battalion - the 2nd Kings Royal Rifle Corps (KRRC) was one of the units destined to take part in the biggest British attack of 1915, at Loos.
Just days before the start of the battle, George was in trouble, and was 'confined to barracks' for three days on 19 September 1915, for having a dirty sword (the KRRC's term for a bayonet) whilst on guard parade.
On 25 September 1915, the 2nd KRRC and 1st Battalion The Loyal North Lancashire Regiment were south of the Vermelles to Hulluch road. They had to deal with uncut wire and were badly affected by chlorine gas, blowing back over British lines. By 8am they had been forced to retire to reorganize.
Above: An image which is possibly from a still from a film called 'The Pipes of Loos'. This (post war recreation) shows the gas canisters used as part of this attack.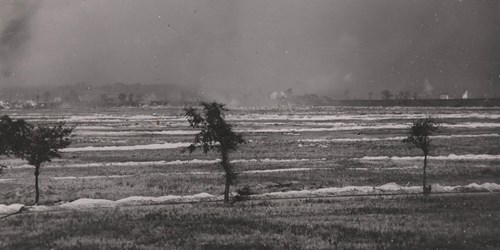 Above: A Gas attack on the Hohenzollern Redoubt at Loos, October 1915
During the action on this day, Private George Peachment made a brave attempt to rescue his wounded company commander, Captain G R Dubs, whose orderly he was.
 Above: An artist's impression of George Peachment helping Capt Dubs.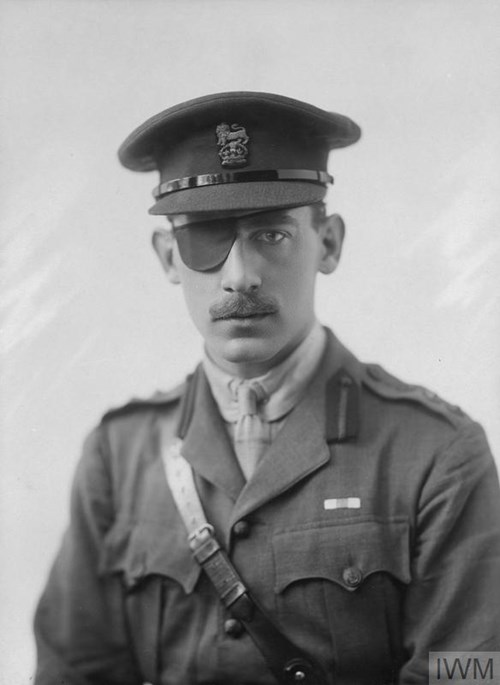 Above: Captain G R Dubs MC. King's Royal Rifle Corps (IWM HU 121486)
By using the WFA's Pension Records, it has been possible to find out a little more about Dubs, as detailed on the card below: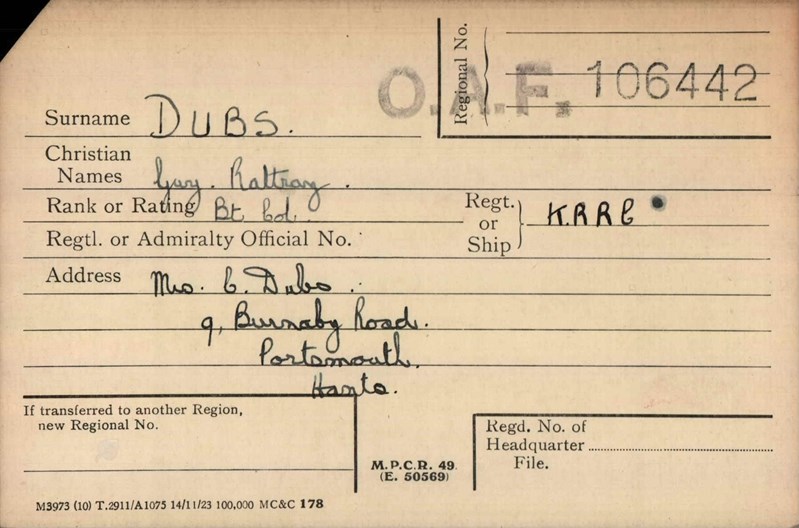 In a letter written by Dubs, we learn more of what happened that morning: 
"The [barbed] wire, untouched by our artillery fire, was an almost impassable obstacle. However we had to push on and I gave the order to try to get through and over it. Your son followed me over the wire and advanced about 20 yards till we were only about 15 yards from the German trench. 
"None of the other men were able to get as far and he was the only man with me. I had not noticed your son was with me but at this point a bomb hit me in the eye, blowing it and part of my face away. I fell to the ground but on sitting up found your son kneeling beside me. The German fire was at this time very intense but your son was perfectly cool. 
"He asked me for my field dressing and started bandaging my head quite oblivious to the fire. His first thought was to help me and though there was a shell hole nearby where he might have got cover, he never thought of doing so."
Some minutes later, George was killed, Dubs's account continues:  
"Of course the Germans were bound to see us sitting up and one of them threw a bomb which hit your son in the chest while at the same time I received a bullet also in the chest.
"Your son was beyond feeling any pain, though still alive. I tried to drag him into the shell hole but at that moment a bullet hit him in the head and killed him. I lay beside him there all day and eventually we were picked up when the trench was taken by a flank attack. 
"I can't tell you how much I admired your son's bravery. He lost his life in trying to help me and no man could have been braver than he was… I have recommended him for the VC . If he gets it, perhaps it may be a comfort . Your son died the finest death that man can die, he showed the greatest gallantry a man can show and I hope these facts may help you in your sad loss, together with the fact that he was spared all pain and suffering."
The recommendation for a VC was agreed, and the citation read:
"For most conspicuous bravery near Hulluch on 25th September, 1915. During very heavy fighting, when our front line was compelled to retire in order to reorganise, Private Peachment, seeing his Company Commander, Captain Dubs, lying wounded, crawled to assist him. The enemy's fire was intense, but, though there was a shell-hole quite close, in which a few men had taken cover, Private Peachment never thought of saving himself. He knelt in the open by his Officer and tried to help him, but while doing this he was first wounded by a bomb and a minute later mortally wounded by a rifle bullet. He was one of the youngest men in his battalion and gave this splendid example of courage and self-sacrifice." (Third Supplement to The London Gazette of 16 November 1915. 18 November 1915, Numb. 29371, p. 11450)
As often happened, a 'mock up' showing Peachment with a VC on his breast pocket was circulated as one of the 'Gallagher' series of Cigarette Cards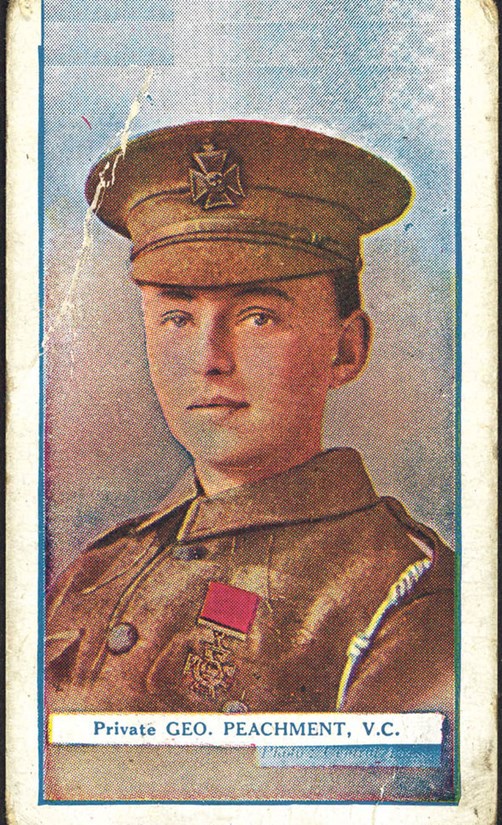 He was also featured heavily in press reports.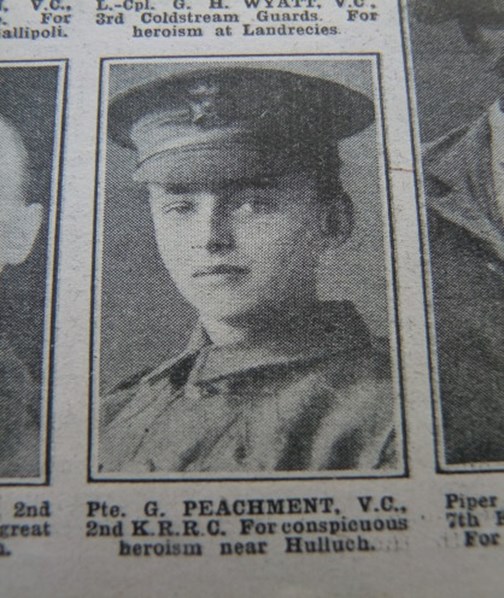 Using the pension records saved by The Western Front Association, we can find some more detail about George's family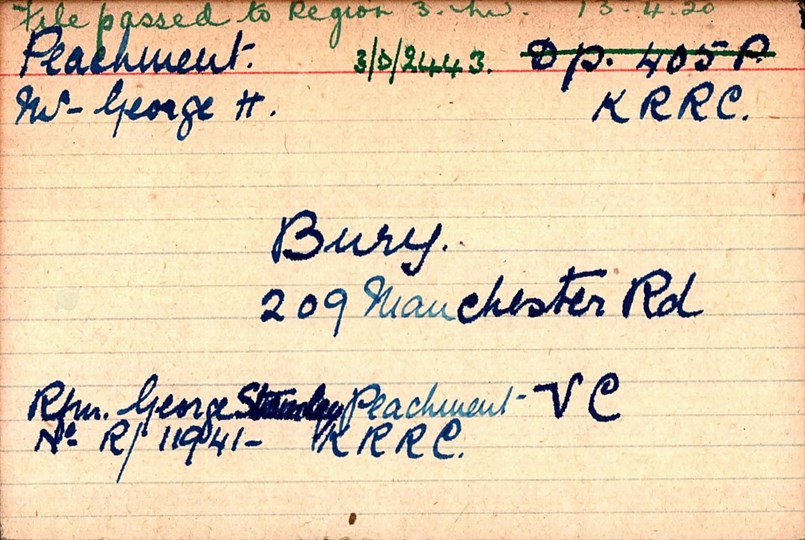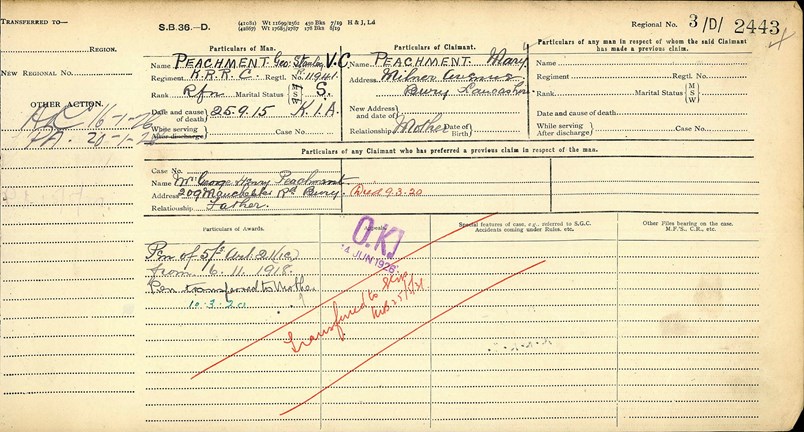 There exists an account of George's actions (see images below) which was written by James Price Lloyd of the Welsh Regiment, who served with Military Intelligence. After the war, the government destroyed all the archives relating to this propaganda (section MI 7b (1)) because they were regarded as being too sensitive to risk being made public. Somehow these documents have survived in the personal records of Captain Lloyd.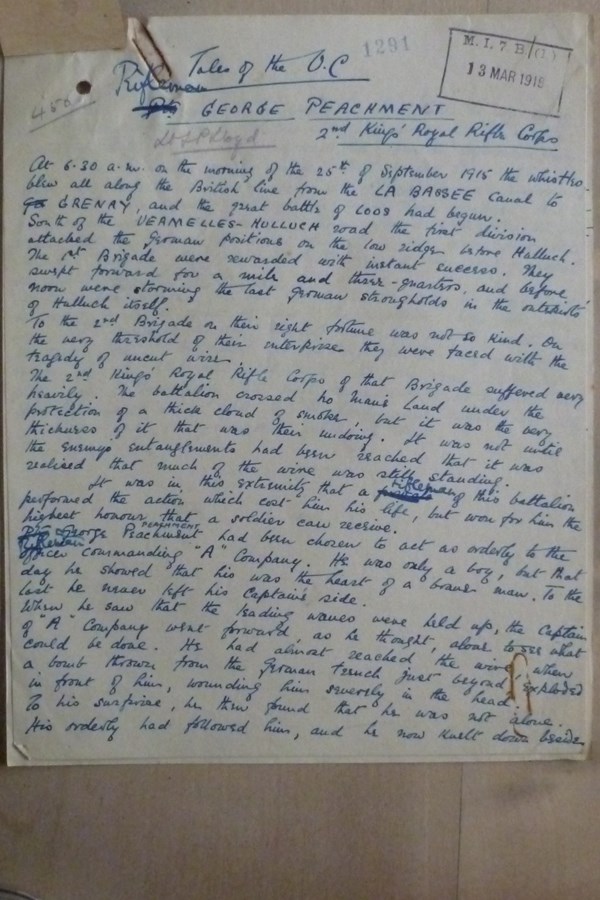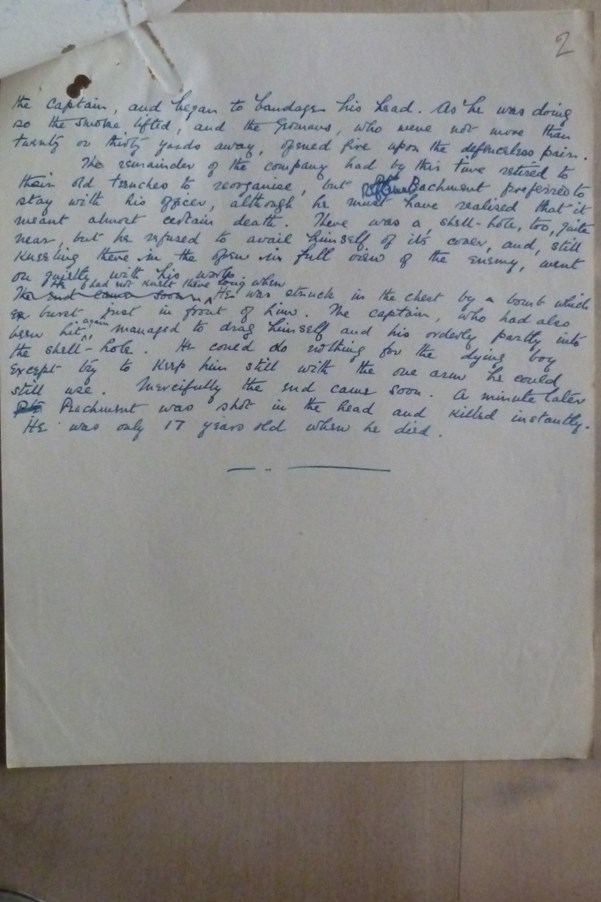 The originals of this document can be found on the Europeana website 
Below: A close up of the last paragraph of the above document
George Peachment's VC was presented to his mother by George V at Buckingham Palace in November 1916. 
His body was not recovered so he is commemorated on the Loos Memorial.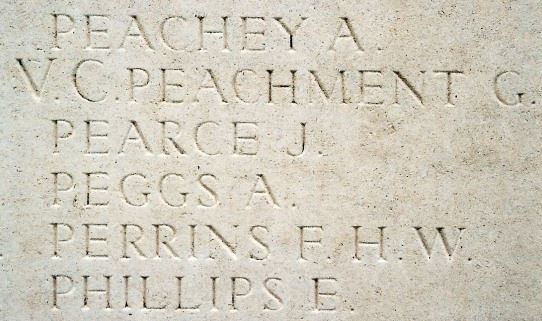 Above: George's name on the Loos Memorial
Below: A view of the memorial which surrounds Dud Corner Cemetery.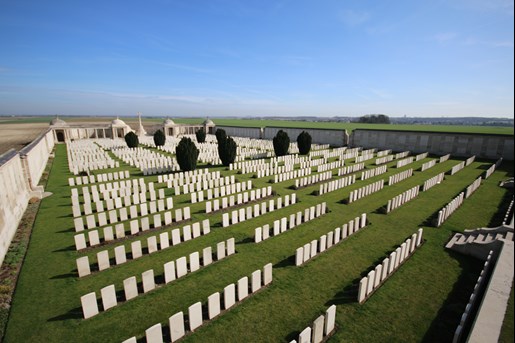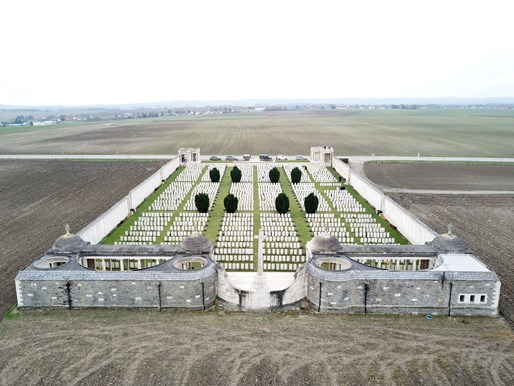 Above: Another view of Dud Corner Cemetery and Loos Memorial, from a 'different' angle. Image courtesy of Carl Liversage. 
Article by David Tattersfield, Vice-Chair, The Western Front Association 
To find out more about the award of the Victoria Cross in the First World War, watch a presentation by Mark Smith entitled 'For Valour'
There is also a WFA pod cast entitled 'The 8th Lincolns at Loos' which talks about this battle.