Webinars which have been produced by The Western Front Association and watched live or via the Facebook page have been a rich source of information, giving us access to wide ranging subjects during these difficult times, and thanks must go to those involved in their production.  At the same time they have also allowed a sneaky peek into the homes of fellow viewers, revealing enviable book collections, interesting items of militaria, but to date no Great War crested ware has been evident.
These humble items were often to be found in the glass fronted cabinets of grandparents or great aunts, lovingly collected over the years as mementos of seaside holidays, or received as a gift from Ethel next door for looking after her cat.  The coming of the railways had given working class people a chance to travel, and white glazed porcelain souvenirs were both affordable and popular.
Traditionally, collectors of  Crested China tended to focus on three areas: themed i.e. Great War pieces, geographical, or by maker.  The firm of W.H. Goss is perhaps most well known for developing this type of porcelain, along with other manufacturers like Arcadian, Grafton, Shelley, Swan and Carlton, mostly based around Stoke in Staffordshire.  However, from the mid-nineteenth century German companies also started production, often using a photo or postcard in the design.  The outbreak of war in 1914 ended German porcelain exports to Britain, and seaside holidays were no longer uppermost in people's minds.  As one market closed, another opened when enterprising businesses started a whole new war themed range of products.
As wartime events unfolded, statues of Edith Cavell, King George V, Kitchener, Jellicoe, Joffre and Lord Roberts became popular, mounted on a plinth and often with a coat of arms.  Goss also made a range of regimental and battleship crests, together with the crests of French towns where our troops were stationed.  Their standard of workmanship was high, but still very affordable for the mass market. As men were called up and workforces producing tableware depleted, the less labour intensive miniatures were a natural progression.  Tanks, aeroplanes, shells and hand grenades appeared, and after the war reproductions of war memorials appeared and still sold well in the 1920's.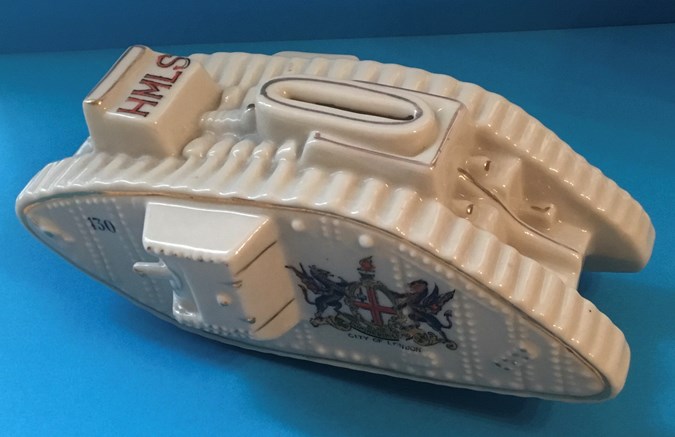 Above: Tank – HMLS Crème de Menthe -  City of London money box
On the reverse side of this piece it says 'The Victory of Justice. Armistice of the Great war signed November 1918.  British Tanks gave them hell at the Marne 1918.  Made by Carlton China, Stoke on Trent.'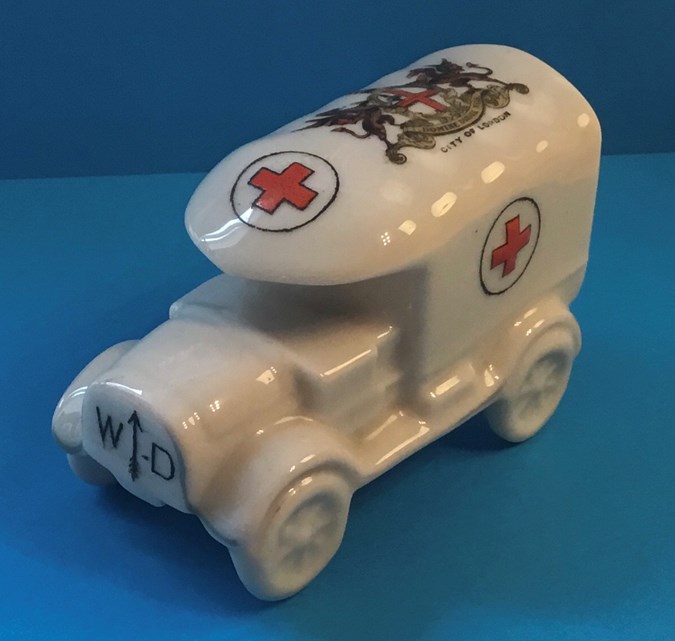 Above: Ford model T Ambulance – City of London crest, by Carlton China.
The Great War saw the first use of motorised vehicles to transport the wounded.  In October 1914 The Times Newspaper launched an appeal for ambulance funds, and raised enough money in just three weeks to purchase 512.  Towns and cities would also have fundraising campaigns, with vehicles bearing their sponsor's names.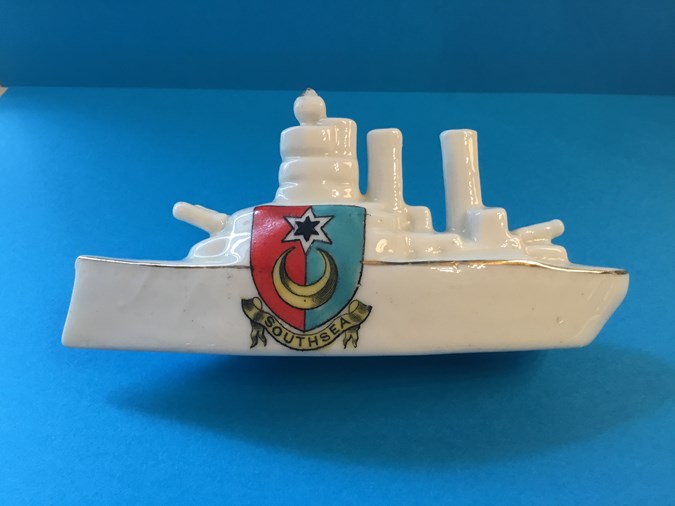 Above: Battleship with Southsea crest, made by Arcadian Ware, Stoke on Trent.  The imposing Portsmouth Naval Memorial is sited on Southsea Common, and Arcadian manufactured copies in two different sizes.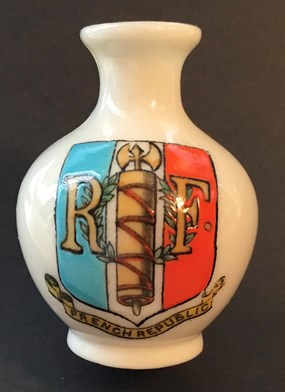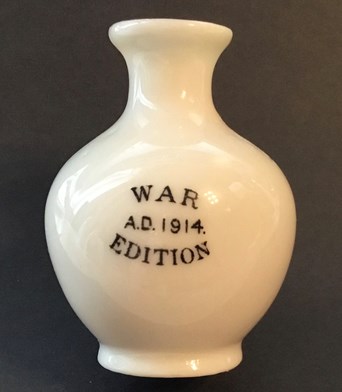 Above: French vase, war edition, by Swan China of Hanley.  This company produced a variety of pieces including Zeppelins, Russian Cossacks, Soldier wearing new gas respirator, and possibly their most popular piece – Tommy Driving a steam roller over the Kaiser.  Now rare and valued at over £800.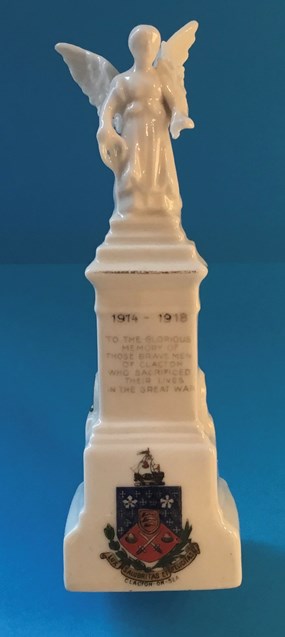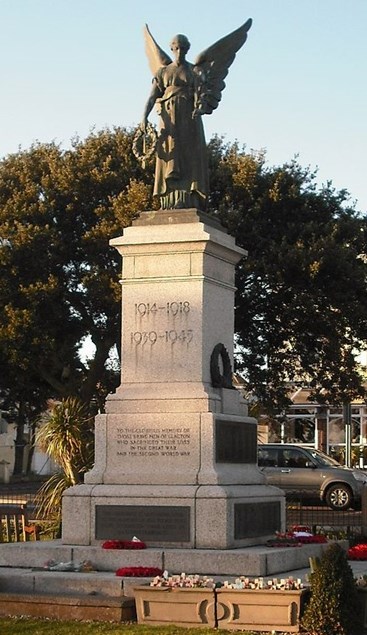 Above: Clacton on Sea War Memorial, unknown manufacturer, together with actual memorial in Garden of Remembrance, Marine Parade West.  The figure of Victory on a plinth was designed by Charles Hartnell, and commemorates 216 dead from the Great War, plus 165, including civilians, from the Second World War.  It was unveiled in 1924 by the Lord Lieutenant of Essex, and is now a Grade II listed structure.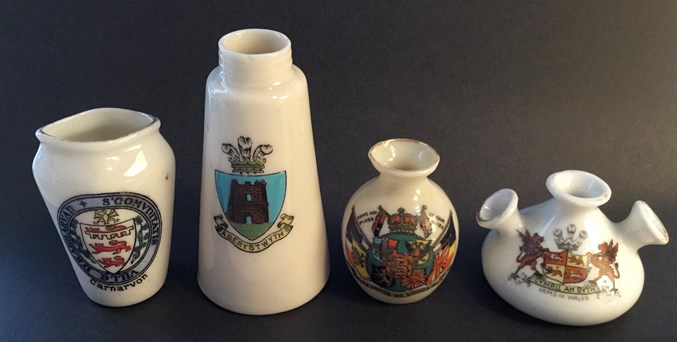 Above: Selection of Vases featuring Welsh crests.  One by Arcadian China shows 'Arms and Flags of Our Allies' with a subtitle of  'War 1914, United We Stand".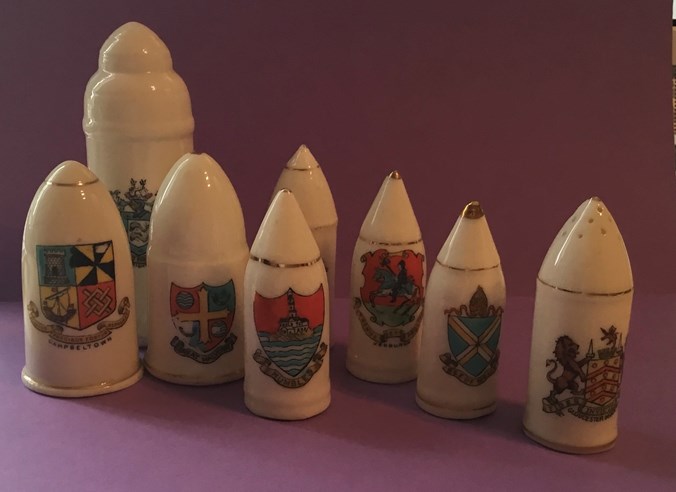 Above: Mixture of Shells by Goss and Carlton Ware.  The shape of these items easily  lent themselves to become salt and pepper pots, which every family would have on their dinner table.  The largest shell with a crest of Brighton, has inscribed on its base: 'model of Russian Shrapnel shell.  The original was captured by the Huns and fired by them at the British."  A subtle bit of anti-German propaganda to contemplate over breakfast?
The shell second from right shows the crest and mitre of the See of Wells. On the base is the name of a shop in the town who commissioned the batch, and these are generally scarcer because of the smaller quantity involved in the order, as compared with a larger amount for a seaside souvenir shop.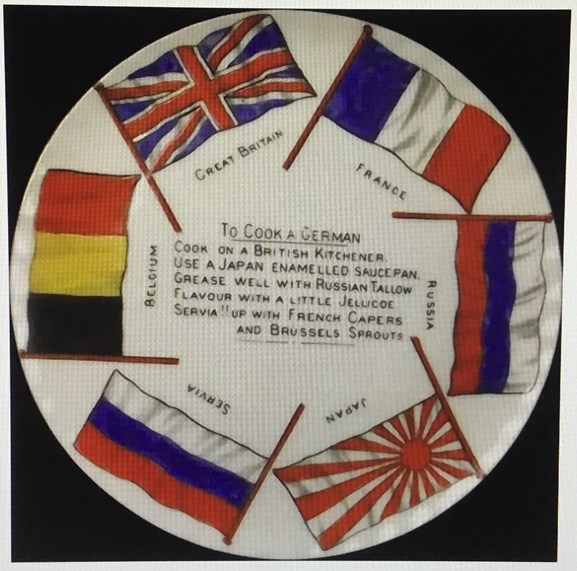 Above: To Cook a German side plate, by W.H. Goss.
Blatant anti-German sentiments on this item, with cooking instructions based on puns of  Allied attributes.  Around the plate edge are the flags of Great Britain, France, Russia, Japan, Servia and Belgium.
'Cook on a British Kitchener.  Use a Japan Enamelled Saucepan.  Grease well with Russian tallow.  Flavour with a little Jellicoe. Servia !! up with French capers and Brussels Sprouts.
Unfortunately, our oldest ally does not get a mention, but will risk adding "and drink a glass of Port (ugal)'.
This plate does come up in auctions for around £250, but Crested Ware is also found cheaply at car boot sales, in charity shops, jumble sales and second hand shops.  Goss alone made over two and a half thousand different models, with a huge variety in excess of ten thousand decorations.  They are quirky bits of social history that illustrate a part of life during the Great War.  From an age when the candlesticks and Staffordshire dogs on the mantelpiece were joined by biplanes and bomb throwers, not to mention the odd Anzac cap and a trench mortar.  Finding space to house any collection can be an issue, but Crested Ware is small, mostly inexpensive, but as time goes by the value of rarer pieces rises, and best of all easy to look after.
Article by Dora Ringland