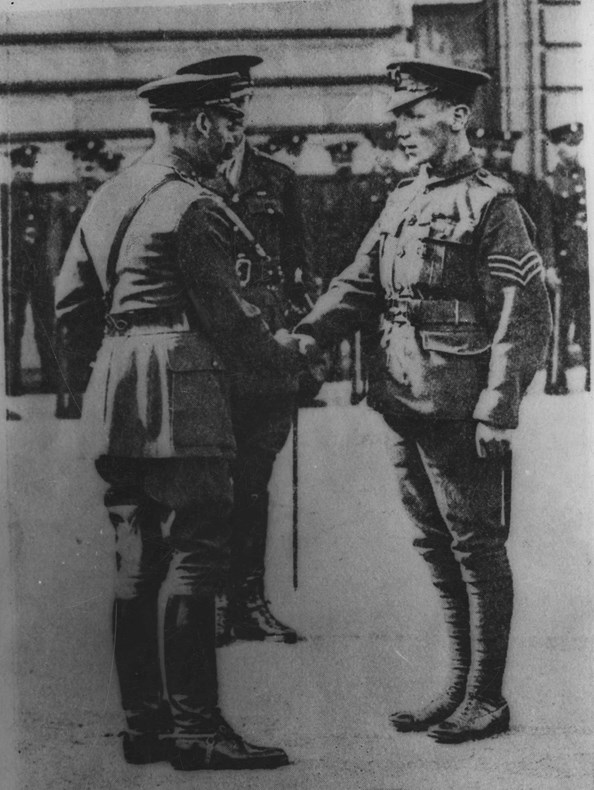 Ted Cooper writes how his granda won the VC.
Edward Cooper was born in Stockton on the 4th May 1896. He left school at the age of 13 and by 1914 he was selling fruit for the Co-operative Society.  When war was declared, many of the Co-op's horses were commandeered by the army and Ned was unable to work. He was put on an early holiday, during which he volunteered for the Army, joining the King's Royal Rifle Corps.
After months of training he went into the line near Ypres before later action on the Somme.  Ned returned to Ypres and on 16th August 1917 he went into action at Langemark in the most appalling conditions.  Troops were carrying massive backpacks and weaponry across the flooded terrain delineated by shell holes and concrete blockhouses.  His officer and many comrades were cut down by machine guns, but he was determined to continue. With just three remaining men he advanced towards a blockhouse, where, at about 100 yards range, they tried to silence the machine guns with their rifles.  This failed, so Ned then went off on his own, with some covering fire from his men, to get beyond the machine guns arc of fire, and attack the blockhouse on his own. He was lucky, very lucky!
Close to the blockhouse the ground became more manageable, as it was in a main street.  He edged round to the front and put a shot into one of the machine guns, disabling it. He then rushed to the rear, where throwing a bomb in would be the normal approach.  But he did not want unnecessary killing, he just called on them to surrender! And indeed they were coming out until he unfortunately shot the first man dead! This unarmed German was very large and appeared from an unexpected doorway, thus startling Ned as he swung around to face him.  Ned was brandishing an unfamiliar pistol, taken from his dead officer, and he squeezed too much on the trigger.
After another trip around the outside of the blockhouse, firing a few shots inside, he again called for their surrender.  This time he held his familiar rifle and as all the Germans came out, he lined them up outside, facing the enemy lines. His handful of comrades came forward to help round up the prisoners.  But, unfortunately a couple of Germans had previously slipped out, taking a machine gun with them and they soon brought it into action, hitting both British and German troops.
Thankfully Ned had his sniper available, and he put the machine gunner out of action. They captured a total of 45 men and 7 machine guns and also released a wounded British soldier, who had been sheltering in the blockhouse.
Ned was awarded the Victoria Cross for this action and the ceremony was perhaps the first to be held in public at Buckingham Palace, with cine cameras recording the highlights.
Ned was then given officer training and, through his own insistence, he returned to the Western Front to serve through the last weeks of the war.
He later served in World War 2 in the Home Guard, retiring as a major. He received the Freedom of his home town in 1985, just before he died.
Written by Ted Cooper.