While working on The Western Front Association's 'Big Push' project, my wife (Management) was adding addresses to the index in Ancestry's Fold3 and came across this Pension Record Card for Beasey E J – it posed an interesting problem as the address appeared to be Villa Naunanuna, Braulis-sur-mer, France. A simple google search for this rather obscure French address proved unsuccessful, and the start of what turned out to be a 'three pint problem' (apologies to Sir Arthur Conan Doyle!)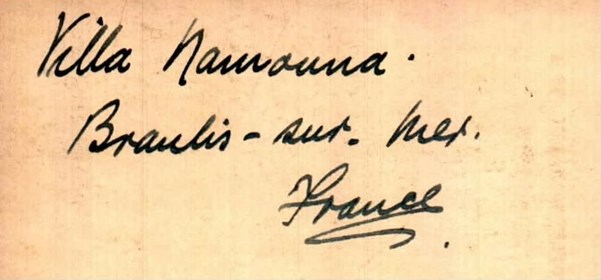 A closer look at the card revealed his regimental number to be 225 in the AIF.
His Australian Army service records showed he was Ernest James Beasley, born in Worcester, England, in 1881, and gave his enlistment address in Sydney, NSW. His occupation was given as shoemaker.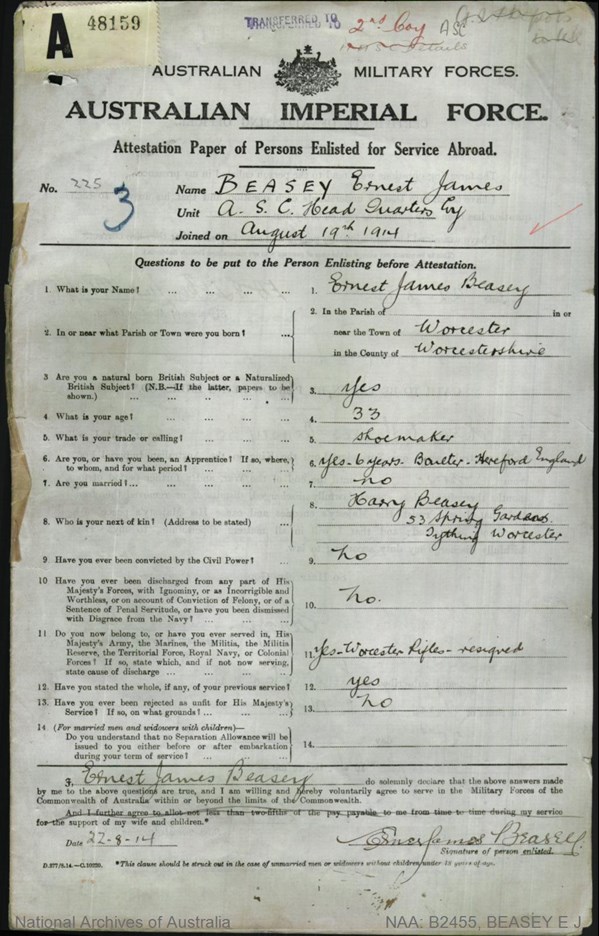 He later served in the ASC HQ, and his trade was listed as a valet. Correspondence showed his British War Medal, which would normally have been sent with the Victory Medal, was requested to be sent to Australia House, London in July 1925 as Beasey was, by then, a resident in England. A further document stated he had been awarded a pension, and since no current address was known, asked if he could he be traced. There was no subsequent item in the file to suggest this request for information was actioned, certainly the hoped for mention of France was absent.
At this stage we had a British man, who served in the Australian army, returned to England, and lived in a seaside villa somewhere in France, which is rather above the expected station of a ranker, so the challenge was to find how he got to be there. Examination of various British documents showed his birth was registered in Worcester as Ernest James Beesley in 1881, but he can subsequently be found as Ernest J Beasey in the 1891 Worcester census, living with his parents Henry and Fanny. Fortunately, his name is very unusual.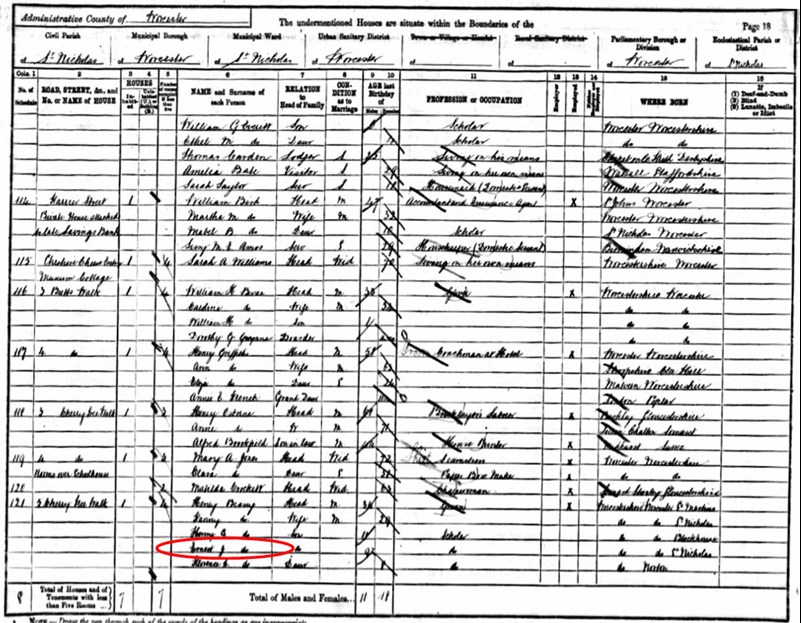 An electoral roll entry for 1913 confirmed he was by then living in NSW, Australia.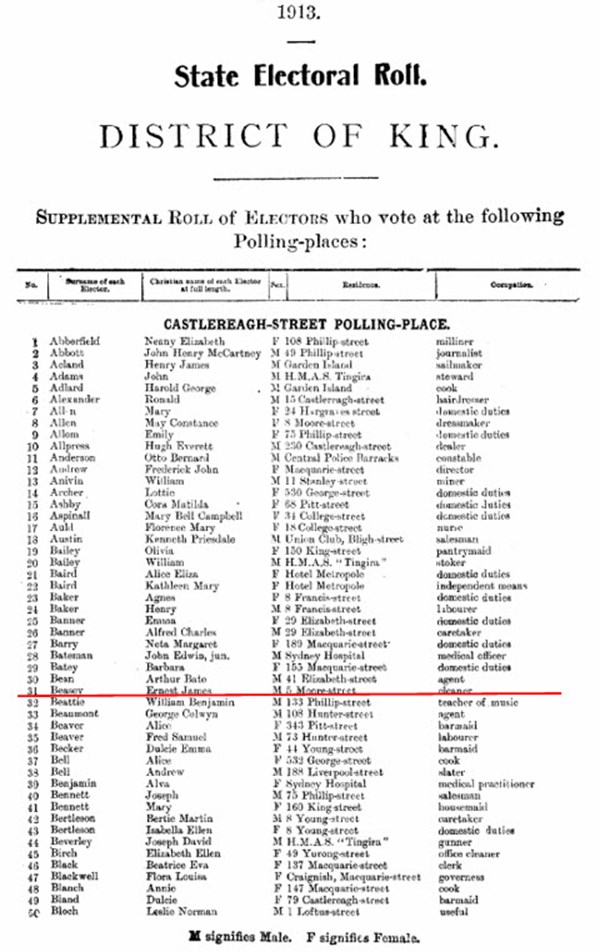 The next surprise was that he applied for naturalisation in the US in 1924, being married to Annie, from St Andrews in Scotland who was currently still living in Scotland. His occupation was given as butler.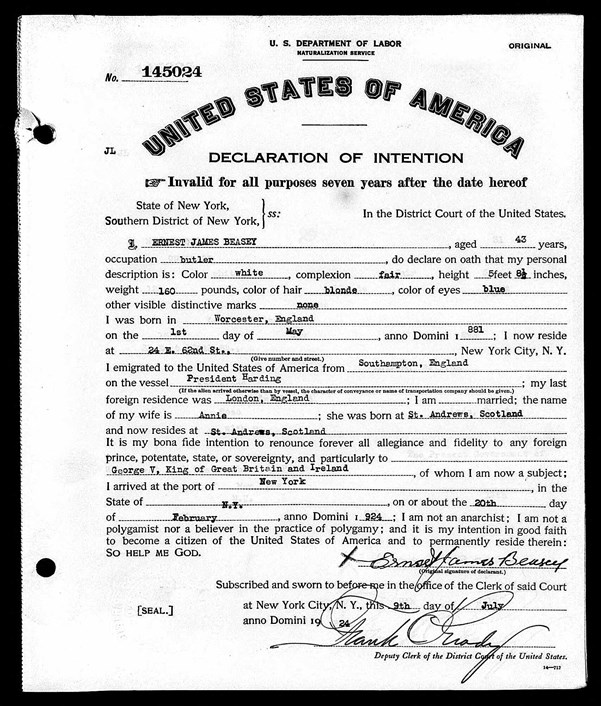 He had married Annie Wood Staig, from Perthshire, in Birmingham in 1922, but under the name Ernest Russell Beasey.

However, his elaborate signing of 'Ernest' on his marriage certificate corresponds with that on his enlistment papers, his father's name is as expected from census and baptism records, (but also with a 'Russell' thrown in), and his occupation is butler, again as expected. The couple can be found living in Wandsworth in the 1939 register, he being a retired butler, and both their dates of birth correspond with those expected from all other source records. So much for settling in the US, and still no sign of France.

Two shipping records from England to the US were found, the second in 1925. However, the interesting one was in 1924, where he was a butler, travelling with Lord Castlerosse (Valentine Edward Charles Browne) to Palm Springs. This record spans two pages (to be read side by side):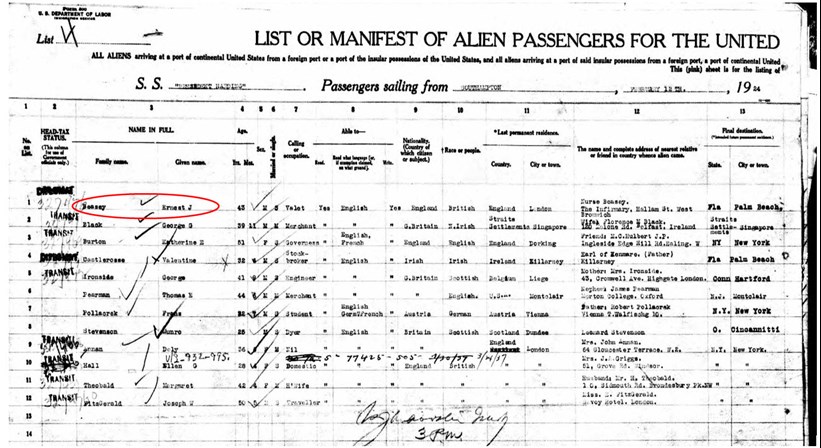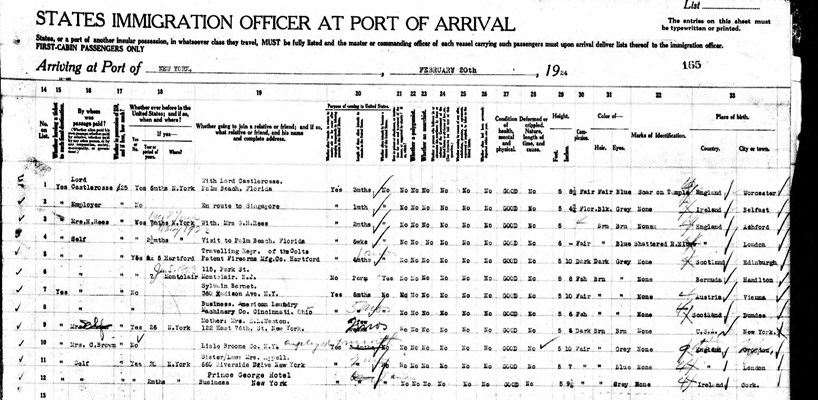 This working association was thought very likely to be the reason for his French address, so the next plan was to follow his master.
According to Rudyard Kipling's 'The Irish Guards in the Great War', Lord Castlerosse, was wounded in September 1914 serving with the Irish Guards, and subsequently survived the Somme. His first wife, Doris Delevingne was a very interesting lady with a French background whom he married in 1928, She is rumoured to have had affairs with several well-known figures, including Winston Churchill, his son Randolph, Lord Rootes, etc., but there was no clue to where her family might have lived in France, so that did not help at all, so back to the master.
The next step was to try to find if Lord Castlerosse had a French property, as it was very likely that the French villa mentioned in the pension record either belonged to him or was where he was staying. His pension card proved to be disappointing, not giving an address at all, much less a villa in France.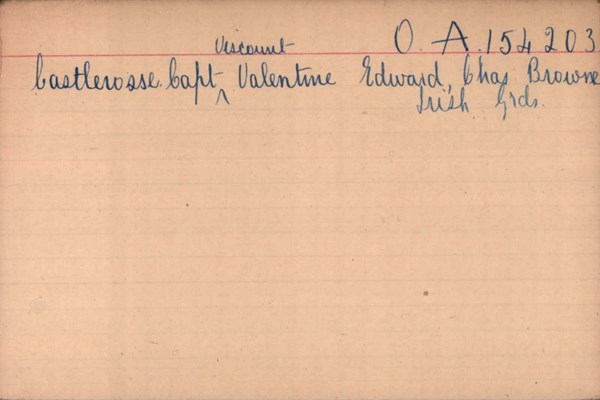 Although his biography is still available to purchase, acquiring this seemed over the top at this stage, so his later life was investigated online. He was found to have been a newspaper journalist and newspaper director, and a very close friend of the publisher Lord Beaverbrook, a man of great wealth.  So, approaching the last throw of the dice, the plan was now to follow his master's mate.
Lord Beaverbrook definitely could be associated with France as he evidently owned Villa La Capponica in Cap-d'Ail, just outside Monte Carlo. Now Cap-d'Ail is just a petanque ball's throw from a tiny village called Beaulieu-sur-Mer, and closer examination of the pension card showed the address had actually been written as Beaulis-sur-Mer, surely an incorrect spelling of Beaulieu-sur-Mer. Time for a beer.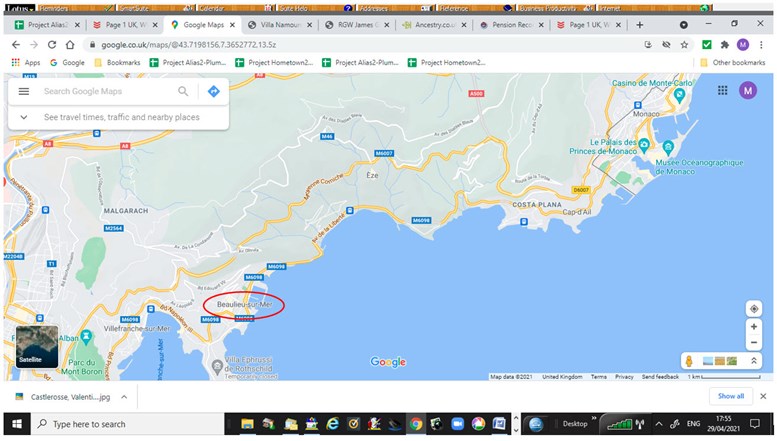 A detailed map of the village of Beaulieu-sur-Mer was searched for obvious villa names, without success, but the last piece of the puzzle fell into place while reading an online history of Beaulieu-sur-Mer. A certain James Gordon Bennett, publisher of the New York Herald, lived there until his death in 1918, at a house called Villa Namouna, prompting an exclamation of the latter part of his name, a sigh of relief, and a further couple of pints of beer. Presumably Lord Castlerosse either bought or rented the property and resided there along with his faithful valet/butler, Ernest Beasey. So not Villa Naunanuna in Braulis-sur-mer, and well done (bien cuit) to all those who got the address first time without the need for all this ferreting around, and a mention in despatches to anybody who recognised the address as that of Gordon Bennett at first glance.

Regarding the villa's decrepit name board, I can only advise that it's amazing what sellotape can do, other repair options are also available.
So, another card completed and, in this case, a question mark over why the project is called 'Hometown'! I just hope Management doesn't hand out any more tasks for a while.
Postscript: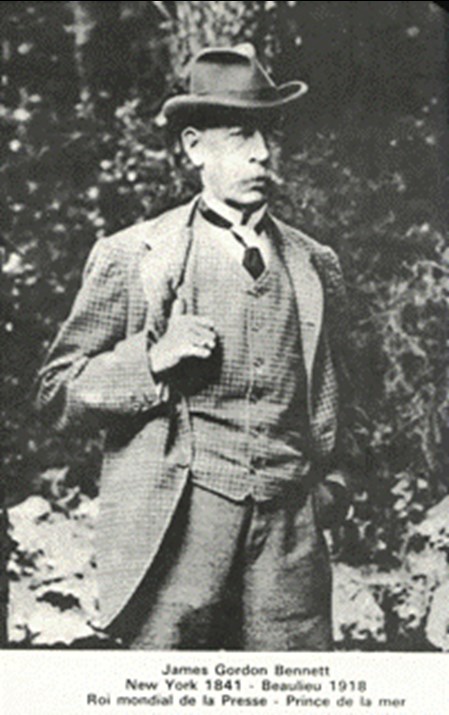 James Gordon Bennett is indeed the originator of the famous exclamation 'Gordon Bennett', and it would seem in retrospect to have been inconsiderate of him to rename his house from a probably more legible 'Belvedere' to 'Namouna' when he purchased it in 1903, seemingly just because he owned a steam yacht with that name. I was very interested to discover that it was Gordon Bennett who financed the expedition of Henry Morton Stanley to search for David Livingstone in Africa. One of our family traditions is that we are related to the great missionary, but, sadly, this is one genealogical area of proof that remains just a rumour. Four of my Livingstone great uncles served in France in the Great War, but sadly only two came home.
There were a few items of interest thrown up by my brief research into Ernest James Beasey that I followed up on later. Although Ernest had a very unusual surname, this is often a mixed blessing as there are many variations of it. As mentioned above, he actually married his wife Annie under the name Ernest Russell Beasey, and I was determined to discover if there was an underlying reason. 
Firstly, there is no birth registered under the actual name of Ernest J Beasey, so I was intrigued that the only marriage I could find for an Ernest J Beasey was in 1912, in Chelsea, to an Alice Caron, but unfortunately the certificate cannot be viewed online, as it was probably a registry office marriage. I cannot identify Alice Caron, or subsequently find this pair. This concerned me as on his 1924 shipping record Ernest gave next of kin as a nurse Beasey in West Bromwich, whereas the 1925 shipping record was more specific, citing an Alice Beasey, of Rous Hospital in Newmarket. Could it just be possible that Ernest's marriage to Annie in 1922 was bigamous? (This proved not to be the case, see later)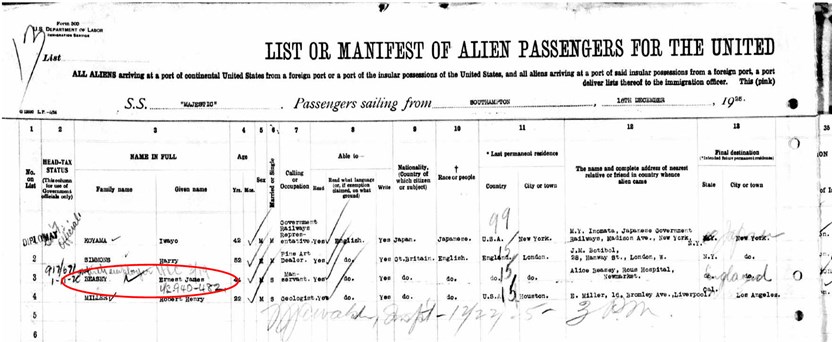 I knew from the 1881 birth index record that Ernest James' mother's maiden name was Robertson, and the 1891 census record gave his parents names as Henry and Fanny. As ever these indexes are somewhat unreliable, and his parents' marriage in Worcester was actually between James Henry Beasley and Fanny Robinson in 1878. The next discovery was that the 1901 Worcester census showed his father James Beasey living with a Caroline rather than Fanny, and Ernest James had by then left home. Fanny Beasey's death occurred in Worcester in 1894, and James Henry Beassey [sic] married Caroline Price in Worcester in 1897. Caroline died in 1910 and, by the time of the 1911 census, James Henry Beasey was living alone in Worcester. Although Ernest's father's occupation is consistently given as cab driver or groom across censuses, he was listed as a confectioner on Ernest's marriage certificate. This anomaly can be explained as Ernest James' sister, Florence, was a sweet maker in 1901, and presumably her father shared the same occupation in later life.  
The 1901 census also appears to solve the riddle of Alice, as James & Caroline had a daughter Alice M, listed in the 1898 births index as Alice Maud, with mother's maiden name of Price. Alice Maud Beasey is therefore Ernest's half sister. Alice M Beasey married a Thomas C Hunt in Newmarket in 1929, and is almost certainly the Alice Beasey, the Newmarket nurse, cited on the 1925 passenger list. The clue that I originally missed is that the name on the shipping list had to be that of the nearest relative or friend in the country whence the alien (Ernest) came from. This country would thus be England, in which case he couldn't list his wife Annie, who would still have been in Scotland, and so gave his half sister instead. The anomaly of why Ernest married in Aston, Birmingham, in 1922 can now also be explained, as his half sister Alice was known to be a nurse in West Bromwich, Birmingham in 1924, so no surprise that she signed as a witness in the marriage register.
That still doesn't explain the 'Russell' second name in the 1922 marriage, and also I'm very tempted to send for that 1912 marriage certificate, although it does look like Ernest James Beasey is off the hook.
The electoral registers for London show that Ernest and his wife Annie settled in London as early as 1929 and, whereas Annie lived there till her death in 1977, Ernest James Beasey, unpredictable to the last, appears to have died in Bath in 1957, the same year as his last entry in the London electoral rolls.
Although this latter information wasn't essential to identify the address on the pension card, it does serve to illustrate that not everything is as black and white as on 'Who Do You Think You Are', where every census record and marriage record pops up first time as if by magic. If only they showed the 'boring' bits as well!   
Dr Alan Hawkins
-----------------------------------------------------------------------------
Addendum - December 2021
Some months after the above article, 'The French Connection', was published on the WFA website, I was both surprised and pleased to be contacted by Michael Beasey, a grandson of Ernest James Beasey, and who had come across it quite by accident.
While it added little to Michael's knowledge of Ernest, who he had researched extensively in the past, it at least made him aware of his much travelled grandfather's visit to France, the original source for this article. On the other had he was not only able to provide assurance that the research into his grandfather was essentially factually correct, but volunteered important additional  information, including priceless family photographs, which make such a difference to any story.
Ernest had lived and worked in Vienna at the turn of the century, which was why he couldn't be found in the 1901 census, this is backed up by a ship's manifest he discovered, from Hamburg to Tilbury, as confirmation. This experience explains why his service record stated that he had visited Germany and spoke German, and had also visited Austria and Hungary.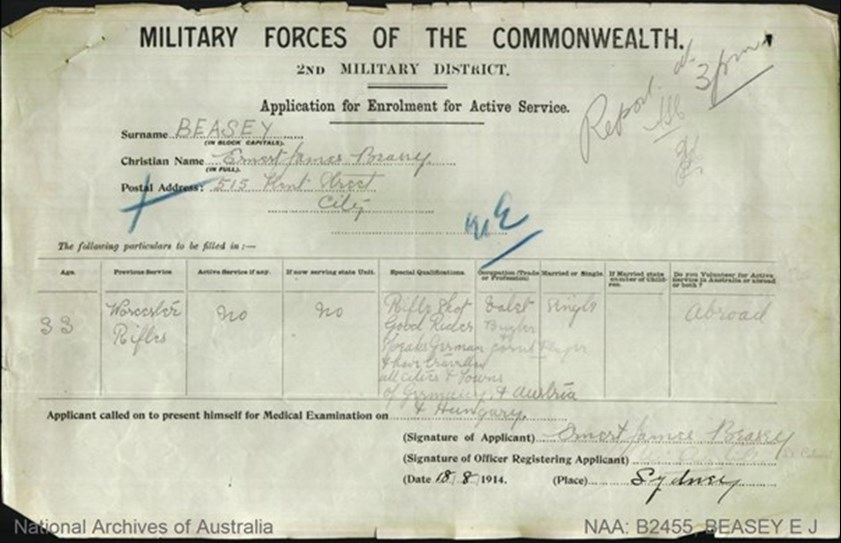 Ernest is known to have worked for many famous people, including the renowned Scottish artist William Bruce Ellis Ranken, who had a studio at 14, Cheltenham Terrace, Chelsea, and where Ernest was to be found in the 1911 census. Ranken was a prolific artist whose commissions included portrait work for the British Royal Family and the American aristocracy.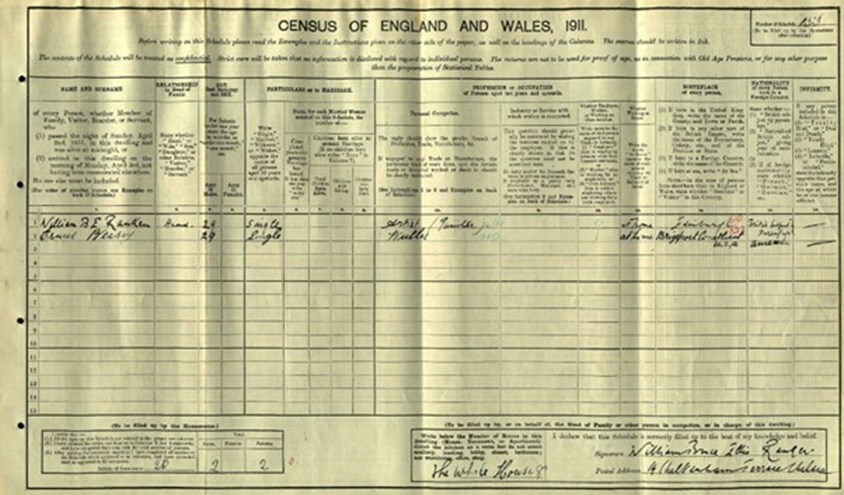 This was missed in my previous research, my only excuse being the spurious birthplace for Ernest of Bridgeport Connecticut, and the claimed American nationality. There is no known explanation for this anomaly. 
Ernest also worked for Ernest Thesiger, who had served as a rifleman in the 9th London Regiment, been wounded in France in 1915, and later married Ranken's sister. In addition to being a well known actor, he set up the 'Disabled Soldiers' Embroidery Industry' to provide useful work and raise morale. His protégés works include the Haig banner for St George's Memorial Chapel at Ypres, and also the altar frontal for the chapel at Buckingham Palace.  Appropriately Thesiger appeared in the 1930 film 'Journey's End'. 
Ernest's service with the AIF took him initially to Egypt, followed by Gallipoli and the Palestine campaign, before being transferred to England and Tidworth barracks.
Michael provided this priceless photograph of Ernest in his Australian uniform, and a second one with his comrades.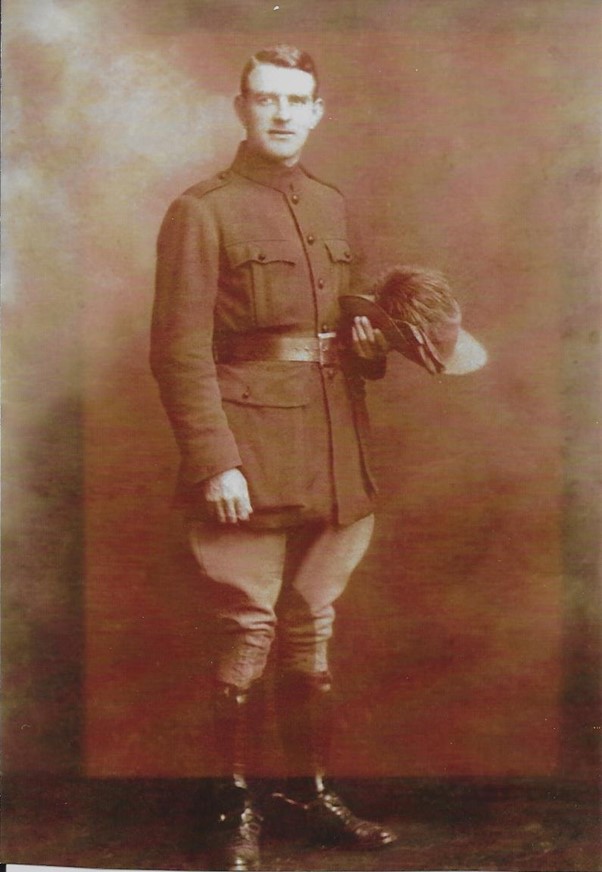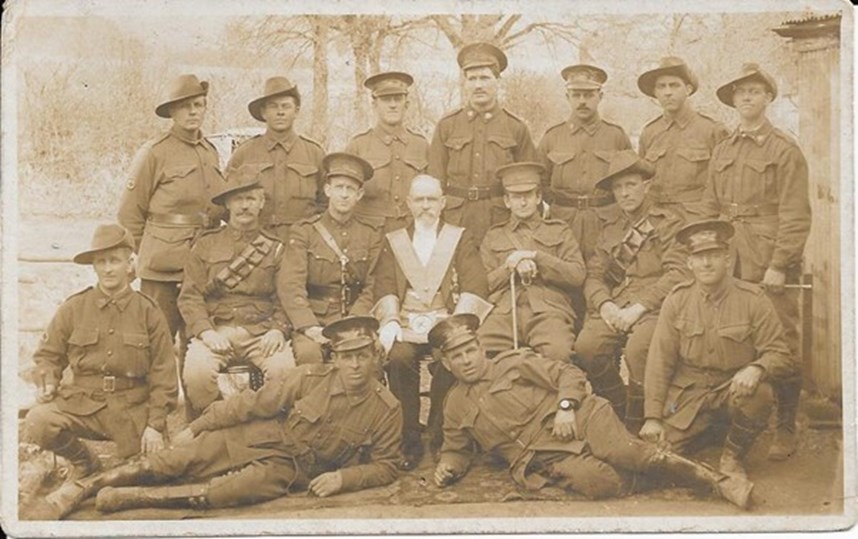 Immediately after the war Ernest worked as a steward on cruise ships, travelling extensively between England, the United States, Canada and Australia. He later worked as a butler for a number of prominent people, which might explain why he considered taking up American citizenship in 1924, perhaps to remain with an employer.
A photograph in civvies reveals a very smart looking man, with the obvious presence required for his profession.
He had five children from his marriage in 1922, and had considered settling in Australia in 1938, with war on the horizon, but became ill and returned to England.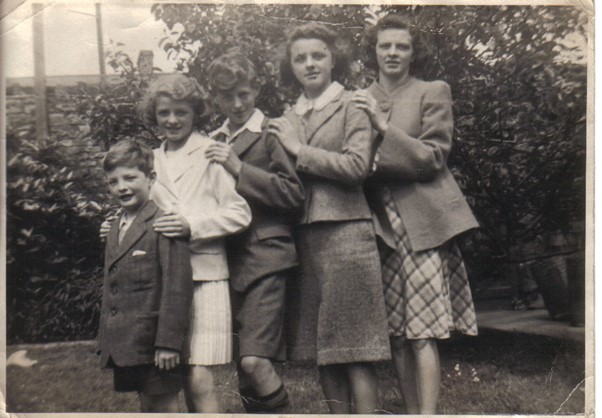 To resolve a last anomaly from the initial research, the reason why his death was recorded in Bath in 1957 is because he was visiting his eldest daughter and her family. Sadly Michael was born after the death of his much travelled grandfather, so could never hear his stories at first hand.  
Very many thanks to Michael for allowing the story of Ernest James Beasey to quite literally come to life, rather than remaining a name found in documents. If only we could help to provide a similar tribute to everybody found on a pension card!      
Dr Alan Hawkins