One of the greatest writers in the English language is PG Wodehouse whose books are still a joy to read well over one hundred years since he started his literary career.
'Plum' as he was known had poor eyesight and as a result did not serve in the armed forces in the Great War. It is thought that in all of his books he hardly mentioned the Great War, but there is one character that he created that has First World War connections.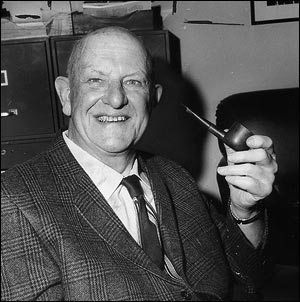 Above: Pelham Grenville Wodehouse. 
Wodehouse was also very much 'in love' with the game of Cricket and played as a schoolboy. His greatest claim to fame whilst playing also has First World War connections.
Percy Jeeves
One of Wodehouse's most well known characters was the valet 'Jeeves' who worked for Bertie Wooster. Jeeves made his 'debut' in the short story "Extricating Young Gussie" but was really under-written in this story, having only two lines. 'Extricating Young Gussie' was published in 1915.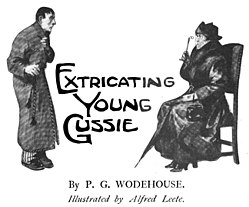 The character became better developed in Wodehouse's later stories, starting with the story 'Leave it to Jeeves' (this is the UK title). This came out in 1916.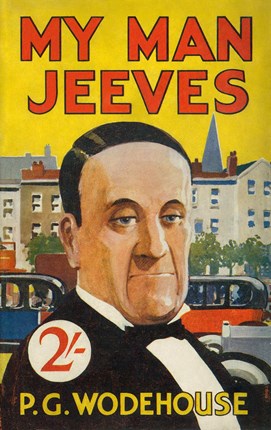 Jeeves on the cover of My Man Jeeves (1920)
Wodehouse's Jeeves was given a new 'lease of life' with a television adaption some years ago.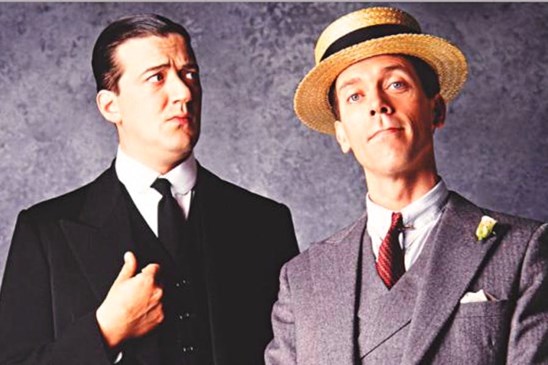 Above: Stephen Fry (left) played 'Jeeves' on television. 
But who was Jeeves 'in real life'?
Percy Jeeves was born in 1888 in Earlsheaton (a suburb of Dewsbury). Percy's father worked as a guard for the Lancashire and Yorkshire Railway. Within a few years his family had moved to Goole (this seems to have been in 1901). Jeeves played cricket at Goole Cricket Club, and subsequently became a professional player at Hawes Cricket Club. Seeing his promise he was invited, in 1910, to have a trial with the Yorkshire County Cricket Club but failed to impress his native county and moved to Warwickshire instead. He played for this county against the Australian and South African touring teams in 1912 before qualifying to represent the county in Championship matches. As a fast-medium bowler, he took 106 wickets for the county in 1913 at an average of under 21, while making occasional useful contributions with the bat; he continued to impress the following season, with a further 90 wickets. His best performance was three for 80 and seven for 34 against Worcestershire in 1913, skittling the neighbouring county for 74 in the second innings.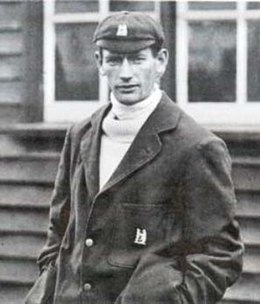 Above: Percy Jeeves (the badge on his blazer is that of the Warwickshire Country Cricket Club)
On 9 July 1914, Jeeves played for the Players against the Gentlemen at The Oval, assisting the Players to victory by taking 4-44 in the Gentlemen's second innings. Jeeves played his last first-class match on 27 August 1914 for Warwickshire against Surrey. Jeeves had played two first-class matches in 1912, 24 first-class matches in 1913, and 24 first-class matches in 1914.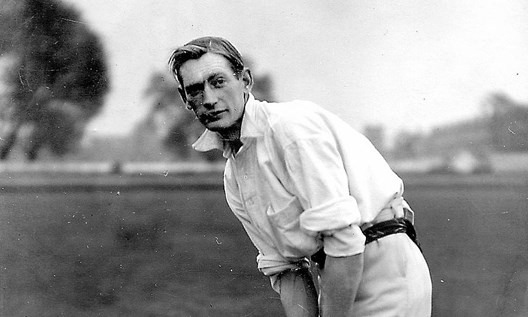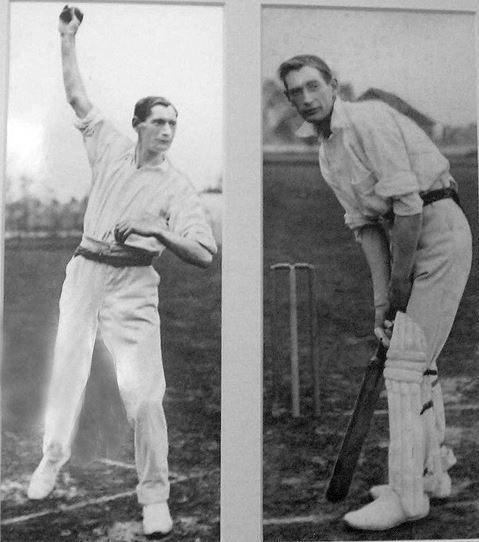 Above: Jeeves in action with the bat and ball
When asked – many years later – about the name 'Jeeves' Wodehouse said the following
"Yes, you are quite right. It must have been in 1913 that I….went to see Warwickshire play Gloucestershire on the Cheltenham College ground. I suppose Jeeves's bowling must have impressed me, for I remembered him in 1916 when I was in New York and starting the Jeeves and Bertie saga, and it was just the name I wanted."  
Another version of the story appears in one of his autobiographies (Bring on the Girls!) 
"For a long time I was stumped for a name, then I remembered a cricketer in the years before the war called Jeeves. Played for Gloucestershire, I think [sic - Warwickshire]. Calling a character after a county cricketer is lucky. Sherlock and Holmes were both county cricketers. I believe Doyle had decided on Sherrinford Holmes, when he suddenly thought of Mordecai Sherlock [sic], who used to keep wicket for Yorkshire. Jeeves seemed to me just right for the sort of bloke I wanted."
War service
After the outbreak of the war but after the cricket season had finished, Jeeves volunteered, joining one of the 'pals' battalions in Birmingham. He became Private 611 of the 2nd Birmingham Battalion, this became the 15th Battalion Royal Warwickshire Regiment. Jeeves would spend Christmas with his family in Goole for the last time in 1914.
In mid-November 1915, the battalion went home on a short leave, and then on 21 November, they were deployed to France. C Company (which was Percy's company) first went to the front lines on 22 December.
On 22 July 1916, Private Jeeves (aged 28) was killed in action at High Wood. Unfortunately his body was never recovered and his name is detailed on the Thiepval Memorial. He is also listed on the Goole war memorial.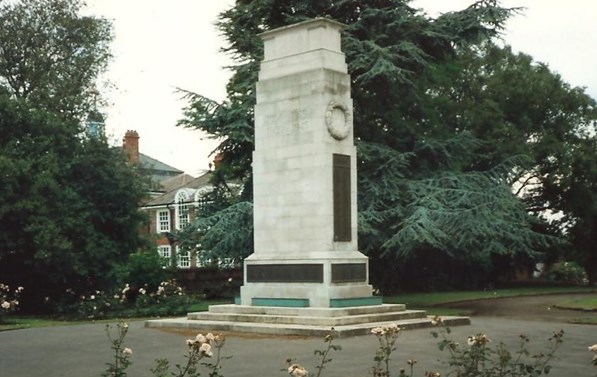 Above and Below: Goole War Memorial. Percy Jeeves' name appears as the very last individual on the right hand column of names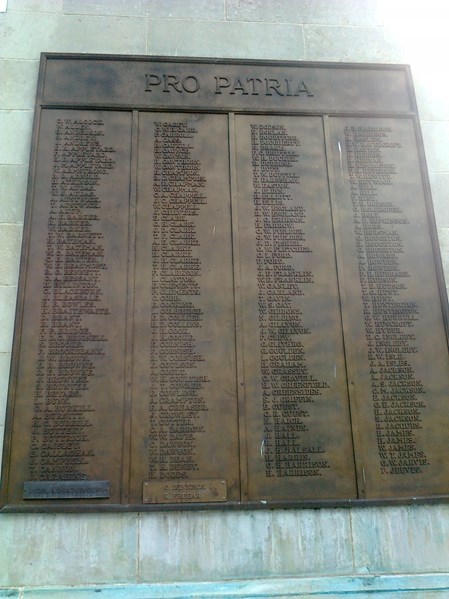 Percy's family had moved back to the Dewsbury area, settling in Ravensthorpe, and it was presumably there that they heard of their son's death.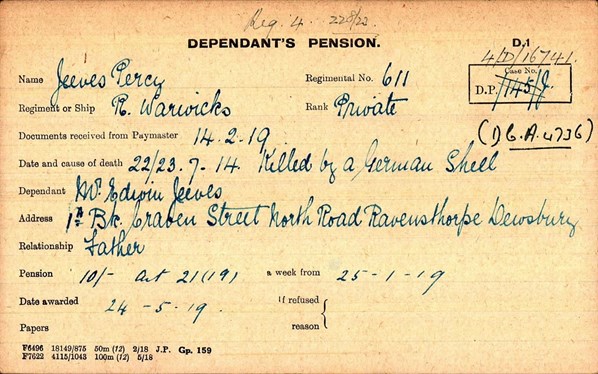 Above: The Pension Record Card showing his parents' move to Back Craven Street in Ravensthorpe.
Below: Craven Street today.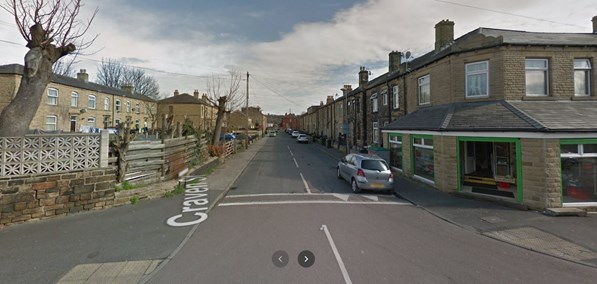 During the Cheltenham Cricket Festival, on 14 July 2016 a tree was planted on the Cheltenham College Ground where Jeeves once played and was watched by Wodehouse. A memorial in the shape of a book sits alongside the tree to commemorate Percy Jeeves.
Wodehouse playing cricket.
Plum had been educated at Dulwich college and was in the school's Cricket team.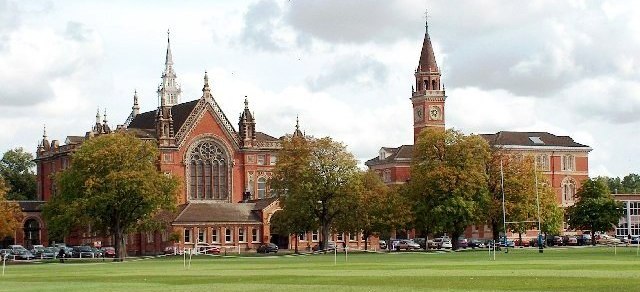 Above: Dulwich College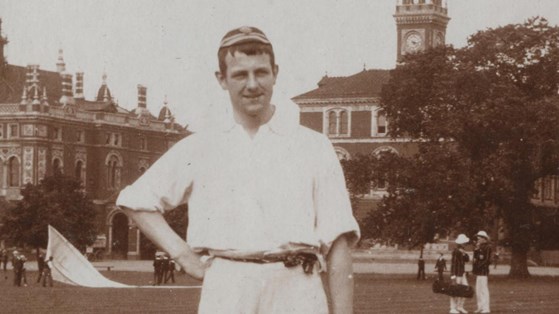 Above: PG Wodehouse in his last year at Dulwich College in 1900. He had hoped to go to Oxford but ended up working in a bank (Image: Dulwich College Archive) 
Wodehouse's match reports include the much-quoted reference, 'Bailey awoke from an apparent coma to strike a four'. Trevor Bailey, the finest modern player to come from Dulwich, was later able to laugh at this but at the time was rather hurt: in 1994 he recalled that he felt it a little unfair as 'I had quite a good match' (he took five wickets and made 41 not out in the single innings game).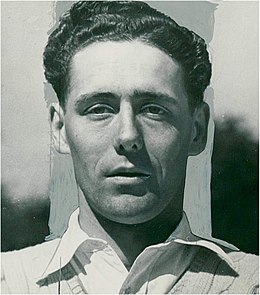 Above: Trevor Bailey (1923-2011)
As a player Wodehouse was a 'genuine tail ender' batting at number 11 but seemed to have some skill as a bowler. Possibly his greatest 'claim to fame' with the ball was in a game against Tonbridge school.  
'Wodehouse bowled excellently throughout the innings, taking seven wickets for 50 runs', reads the account of Dulwich, who were well beaten by Tonbridge. Wodehouse failed (as usual) with the bat, scoring a duck. In this match, however, he secured his most glorious scalp – having the aggressive but graceful Kenneth Hutchings caught for 60. Aged 16 at the time, Hutchings was an outstanding schoolboy cricketer who went on to play for Kent and seven times for England. 
Kenneth Hutchings 
In 1906 Hutchings scored four centuries and played, according to Wisden, with "amazing brilliancy" whilst The Guardian described him as "the most brilliant" of Kent's batsmen in a team with very strong batting. He was picked for the Gentlemen v Players match and was chosen as one of Wisden's Cricketers of the Year in 1907.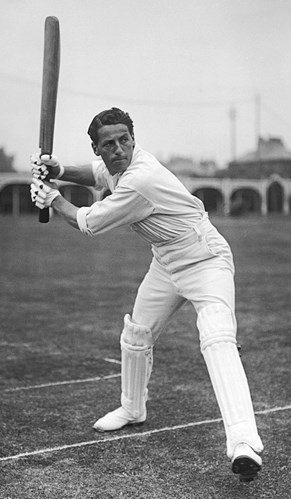 Above: Hutchings photographed by George Beldam in about 1905
Hutchings (like Jeeves) enlisted early in the war, serving in the King's Liverpool Regiment and was in France as early as April 1915. His service with the Liverpool Regiment was interrupted for a spell whilst he was attached elsewhere. He was promoted to Lieutenant and from July 1916 he served with the 12th battalion of his regiment as part of the 20th (Light) Division. 
Hutchings was killed in action on 3 September 1916 near Ginchy. Reports suggest he was hit by an artillery shell and, according to Wisden, was killed instantly. At the time of his death he was described as the most famous cricketer to have died in the Great War.
The 20th (Light) Divisional memorial is close to where Hutchings was killed, as can be seen via the map available on the article about Divisional Memorials on the Western Front. 
Jeeves and Hutchings are just two of the cricketers who lost their lives in the Great War. They were separated in death by only five weeks and a few miles of Somme battlefield. Their names are listed together on the Thiepval memorial, but – in life - they possibly never realised their connection via the bowling arm and pen of PG Wodehouse.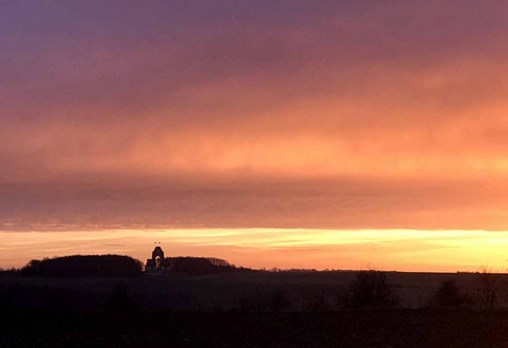 Above: The Thiepval Memorial. Image courtesy of Paul Reed (this image is featured on the WFA's 2021 calendar) 
Percy Jeeves: match stats (courtesy of https://www.espncricinfo.com/england/content/player/15666.html ) 
First class batting 
Matches 50 | Innings 81 | Not Out 6 | Runs 1204 | Highest Score 86* | Average 16.05 
First class bowling
Matches 50 | Balls 8952 | Runs 3987 | Wickets 199 | Best 7/34 | Average 20.03 | 5w 12 | 10w 1
Article by David Tattersfield, Vice-Chairman The Western Front Association