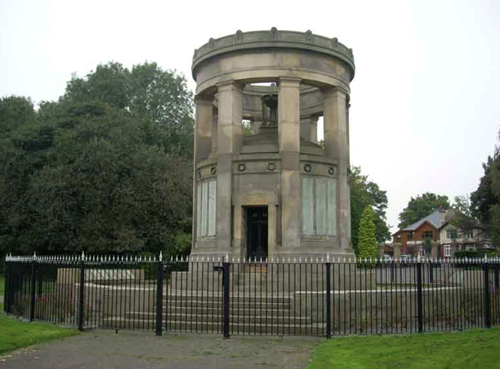 In 2014 a group by the name of Dewsbury Sacrifices was formed with the primary intention of researching the 1053 names in the Dewsbury Roll of Honour and the War Memorial in Crow Nest Park. As these were inaugurated in 1923/24 it meant verifying all the names and endeavouring to find newspaper articles from the war years and later so that photographs and family details could be included in profiles. An initial grant from The Western Front Association and a more substantial one from the Heritage Lottery Fund meant that we were able to purchase the complete newspaper archives from 1914 to 1924 and to be able to obtain birth, marriage and death certificates from the General Register Office and to visit museums and other places where information was stored.
Our work revealed some spelling variations of the names and inaccurate dates and places of death or wounding but intriguingly, some men used an alias upon enlistment and we were able to match this with their true names. The Commonwealth War Graves Commission has very strict criteria with regard to amending their records, especially in the case of newspaper articles, some of which were notoriously incorrect.
One of the men who used an alias was Thomas (Tom) Brown who served as Private 38465 Thomas Smith in the 13th Battalion of the King's Liverpool Regiment and died of wounds in France on 12th December 1917. He was not a local man by birth, having been born near Gateshead but after the death of his mother in 1897 and according to his obituary in the Dewsbury Reporter on 9 March 1918, he had been brought up from the age of seven by the family of a Mr Richard Power who resided in Savile Town, Dewsbury.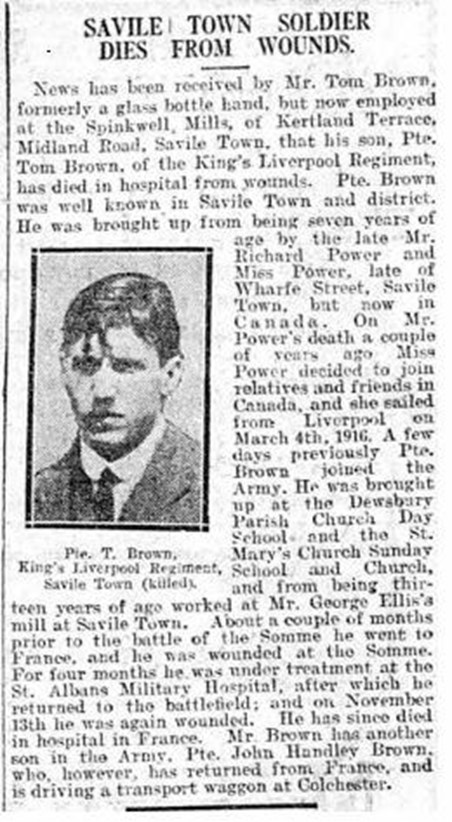 Upon the death in 1916 of Mr Power who was a widower, his daughter decided to emigrate to Canada and Tom Brown enlisted in Liverpool as Thomas Smith. The reason for the use of this alias is unclear.
Whilst his soldier's effects record was endorsed with his alias, it was not deemed to be enough proof that Thomas Smith was in fact Thomas Brown. The rescue and release of the Pension Cards by Western Front Association via Fold3 brought further proof that Thomas Smith was indeed Thomas Brown. The cards for him showed that his father (also Thomas Brown) claimed a Pension on behalf of his son.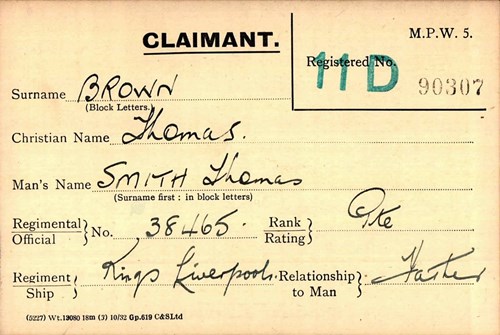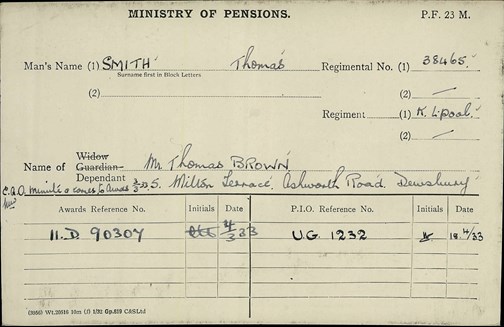 Following The Western Front Association's Project Alias exercise, an appeal was put out asking for potential aliases not previously recorded. Peter Bennett passed the case to WFA, and it was passed to Mike Akerman to investigate.
The record of Soldiers' Effects was a key document.
It not only noted an alias as Thomas Brown but showed Selina Deacon as sole legatee. A 'Soldier's Will' existed, and this showed the alias (Brown) and his wishes leaving all his property to his sister Mrs Deacon. Selina Deacon's Marriage Certificate showed her maiden name as Brown with father Thomas.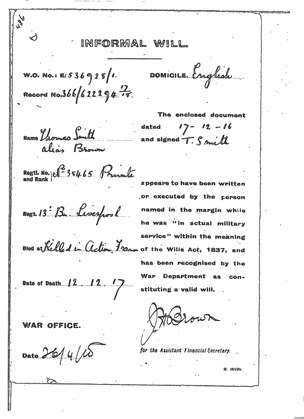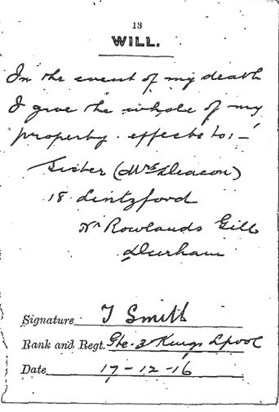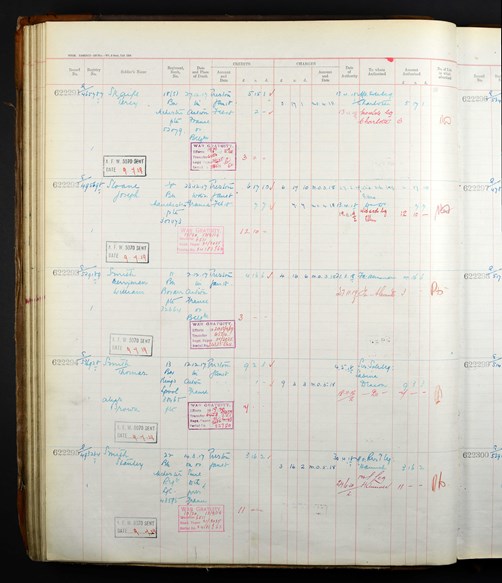 In April, this year we supplied CWGC with all items of reference including Census returns, newspaper report, certificate and will (twelve items in all). In view of this overwhelming evidence, on 20 May the CWGC confirmed that their main record would be changed to record his true name cross-referencing the alias record. They also confirmed that his headstone would be amended although warned us that it could be up to 12 months before this was done.
Finally, after 100 years Thomas Brown will be remembered under his true name.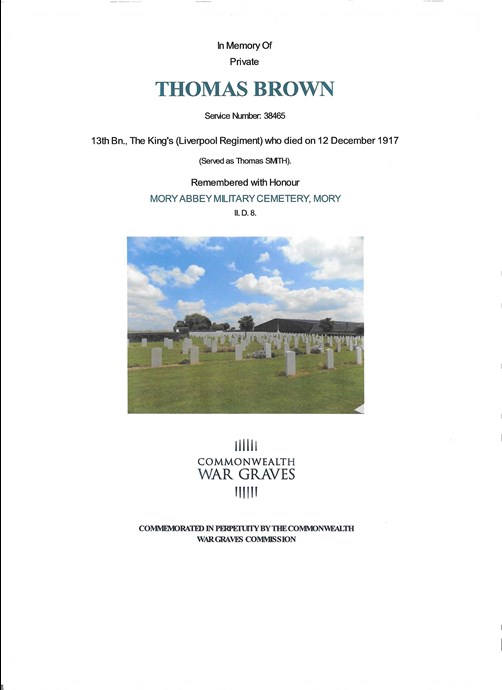 Article by Peter Bennett and Mike Akerman