Captain Geoffrey Bowlby of the Royal Horse Guards (The Blues) was killed leading his squadron in a charge across 1,000 yards of open country north of Bellewarde Farm, during the 2nd Battle of Ypres, on the afternoon of 13 May, 1915.
His commanding officer wrote: "I cannot tell you what a loss he is to the Regiment; he was as gallant as he could be and a magnificent soldier. He was so keen and energetic and proud of his squadron, of which he took the greatest care."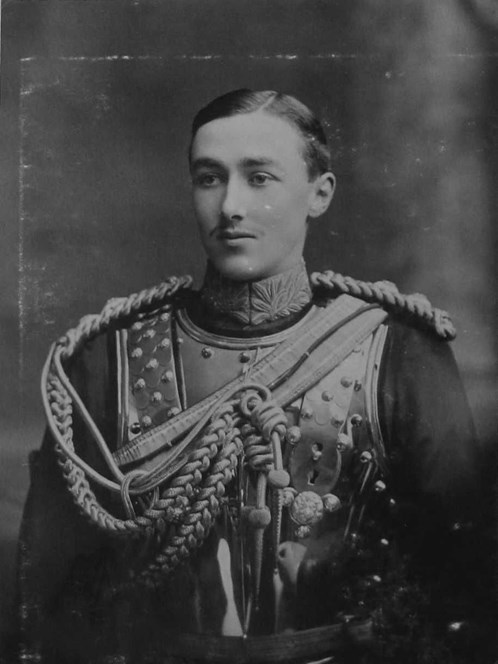 Captain Bowlby was a fine polo player, and enjoyed great popularity at the London grounds. In his day there were few to surpass him in skill and dash. For several seasons he was No. 1 in the Blues' team, and in two years (1910 and 1912) he helped the side to win the Inter-Regimental Cup at Hurlingham.
Geoffrey was the sixth (second surviving) son of the late Edward Salvin Bowlby, (a prominent English barrister) of Gilston Park, Harlow, Essex, and Knoydart, Inverness.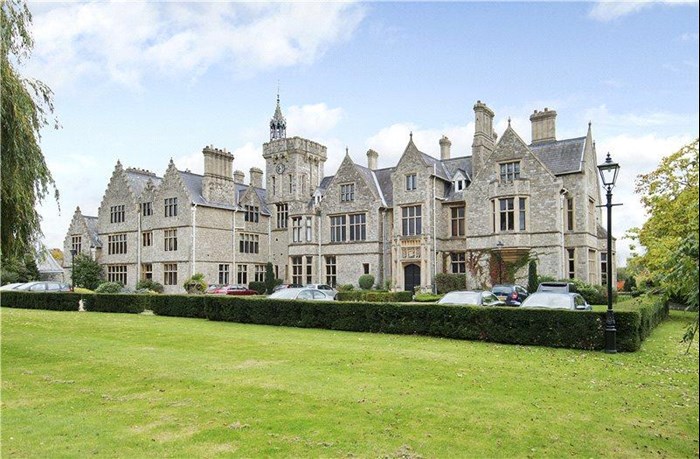 Above: Gilston Park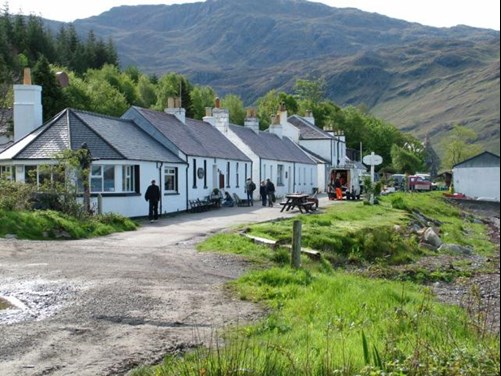 Above: Inverie on the Knoydart peninsula
His brother Lionel died a year after Geoffrey whilst serving as a Lieutenant in the 2nd Dragoons (Royal Scots Greys). He is buried at Bedford House Cemetery, just south of Ypres. 
Geoffrey was promoted to Lieutenant 1 February 1905, and Captain 6 May, 1908. He went to Ireland in 1909 as A.D.C. to Sir Neville Lyttleton, returning to his regiment in September 1910 to take over the Adjutancy which he held to September 1913.
He married at Holy Trinity Church, Sloane Street, 18 October 1911, the Hon. Lettice, née Annesley. They had two children: John Edward Richard and Elizabeth Mary.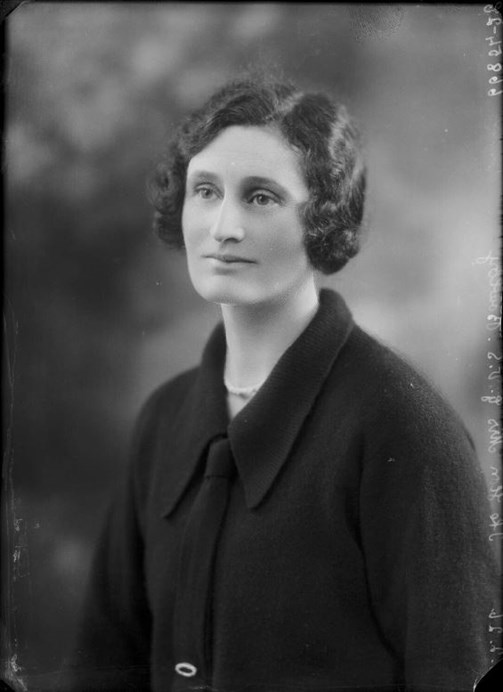 Above: Hon. Lettice Bowlby (née Annesley) photographed in 1926. Image courtesy of the National Portrait Gallery.
Lettice lived a long life, passing away in 1988 aged 102.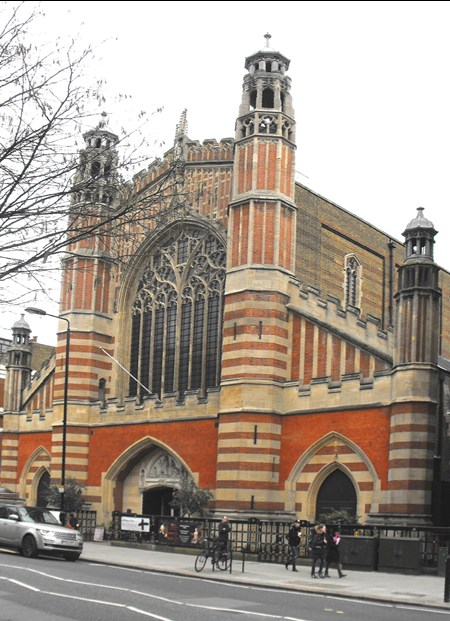 Above: Holy Trinity, Sloane Street
On the outbreak of war Geoffrey was sent to France in advance of the composite Regiment, as billeting officer to the 4th Cavalry Brigade, rejoining his Regiment the day before the battle of Mons.
After the fight at Wytschaete, 29 Oct.-1 Nov. 1914, Captain Bowlby was the senior officer left and took over command of the composite Regiment for a short time, until each squadron went back to its own Regiment On rejoining the "Blues" he commanded the A Squadron until his death on 13 May 1915.
Above: Blues Royal Horse Guards dismounted (IWM Q 66195)
There are several memorials to Geoffrey.
He is commemorated on the Menin Gate at Ypres. This is because his body could not be located after the war. This is despite there being two wooden grave markers in existence. He is also remembered on a 'Private Memorial' on 'Cambridge Road', North of the Menin Road and Railway Wood, near where he was killed.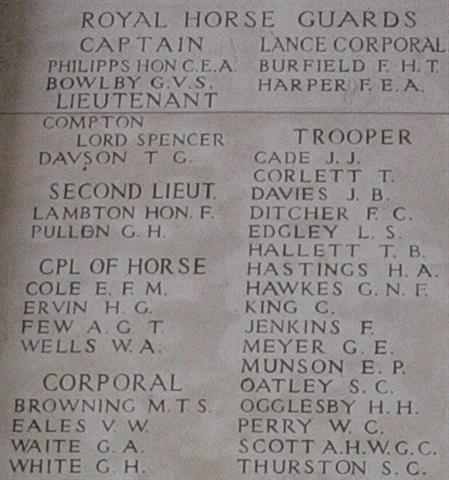 Above: The panel on the Menin Gate Memorial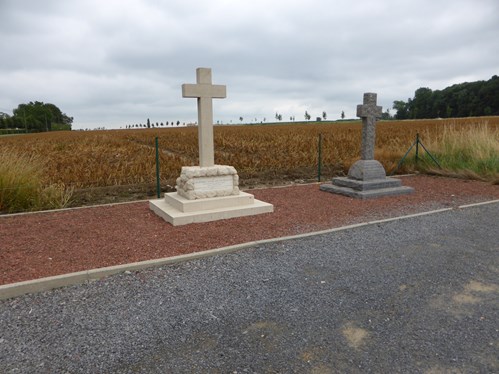 Above: The Private Memorial to Geoffrey Bowlby.
Below: Detail from the memorial. Further details of this can be found here PRIVATE MEMORIAL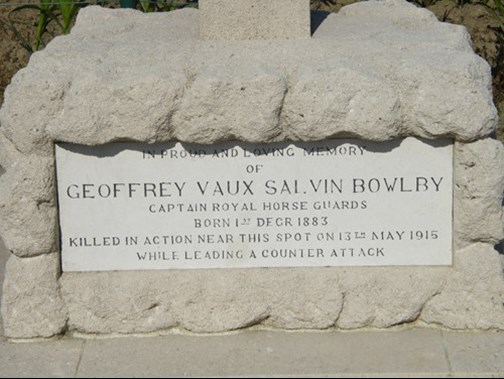 There are two wooden grave markers in existence – the original one is in St Giles Church, Bletchingdon, Oxfordshire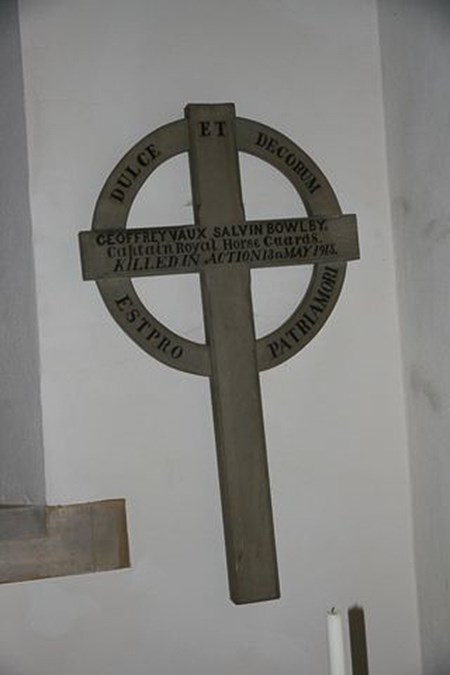 Above: The original grave marker courtesy IWM / Matthew Hathaway (WMR-31189)
This reads: DULCE ET DECORUM and in the lower section : EST PRO PATRIA MORI
GEOFFREY VAUX SALVIN BOWLBY. / Captain Royal Horse Guards. / KILLED IN ACTION 13th MAY 1915.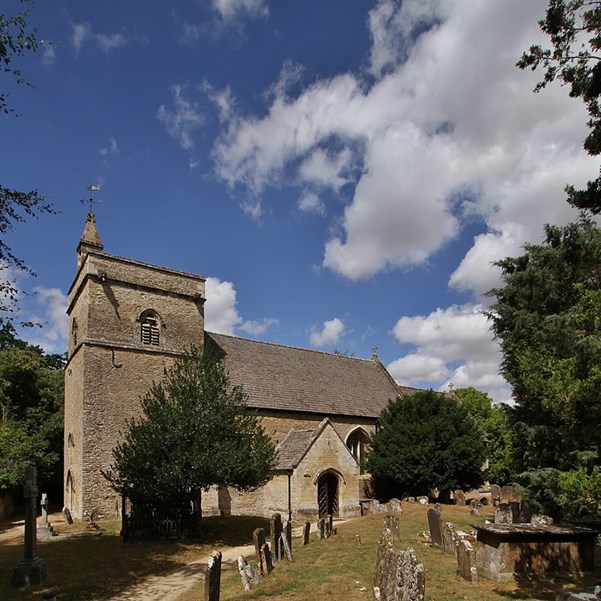 Above: St Giles Church, Bletchingdon
Geoffrey's widow, Lettice who died in 1988 is buried in the grounds at St Giles.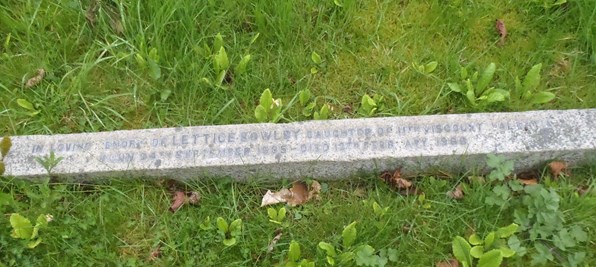 The 'second' cross sits alongside that of Geoffrey's brother in St Lawrence Parish Church, Marston St Lawrence, Northamptonshire,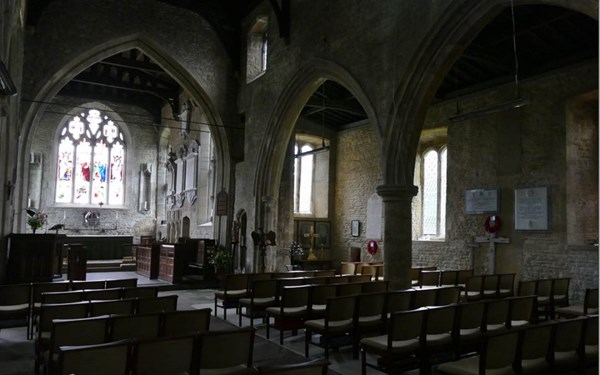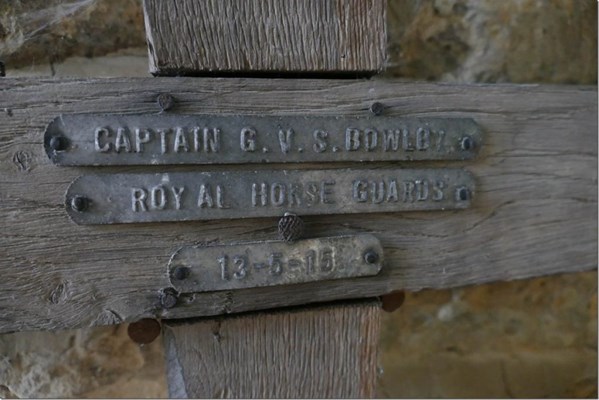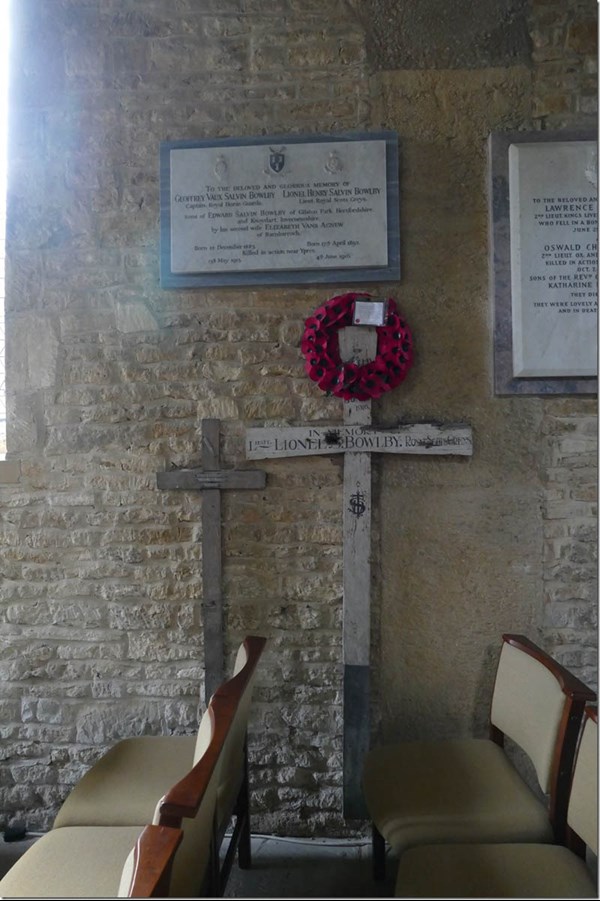 Above: The two wooden grave markers for Lionel and Geoffrey at St Lawrence Parish Church, Marston St Lawrence. The above images are courtesy of Mark and Janet Ratcliff - www.thereturned.co.uk/crosses/marston-st-lawrence/
It seems they are here because their widowed mother moved from Gilston Manor in Herts to Marston St Lawrence and presumably arranged for the crosses to be placed in the church together with a memorial in their honour.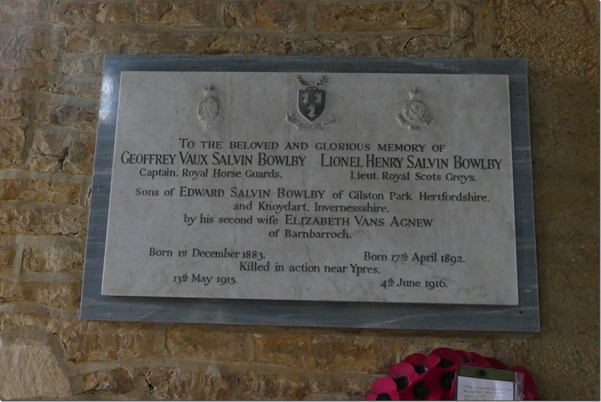 Above: The Memorial on the wall above the two brothers' crosses.
Lionel's original cross St Botolph's church, Eastwick Hall Ln, Eastwick, Herts
It is likely that one of the original wooden crosses for Geoffrey was transferred (without his body, which could not be found) to White House Cemetery, St Jean. The CWGC's record suggests this was placed in Plot III, Row X, however the layout of the cemetery tells us that there is no longer a 'row X'.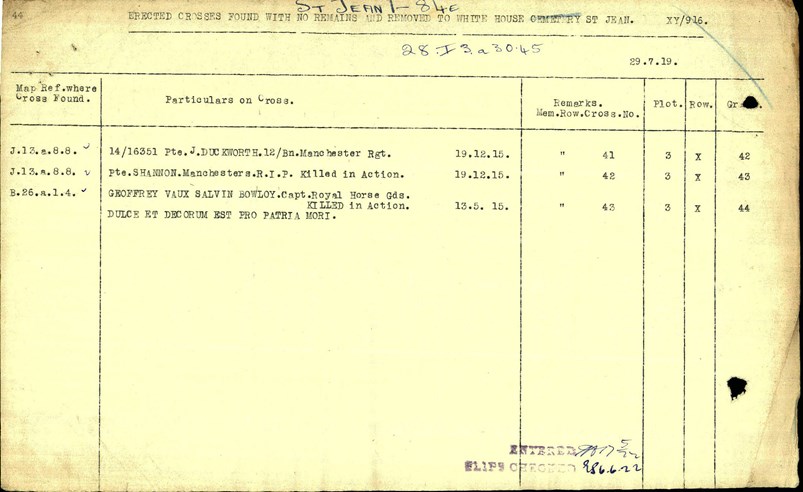 Above and below: These documents from the CWGC suggest Geoffrey Bowlby's wooden grave marker was moved to White House Cemetery, St Jean, but his body was not located.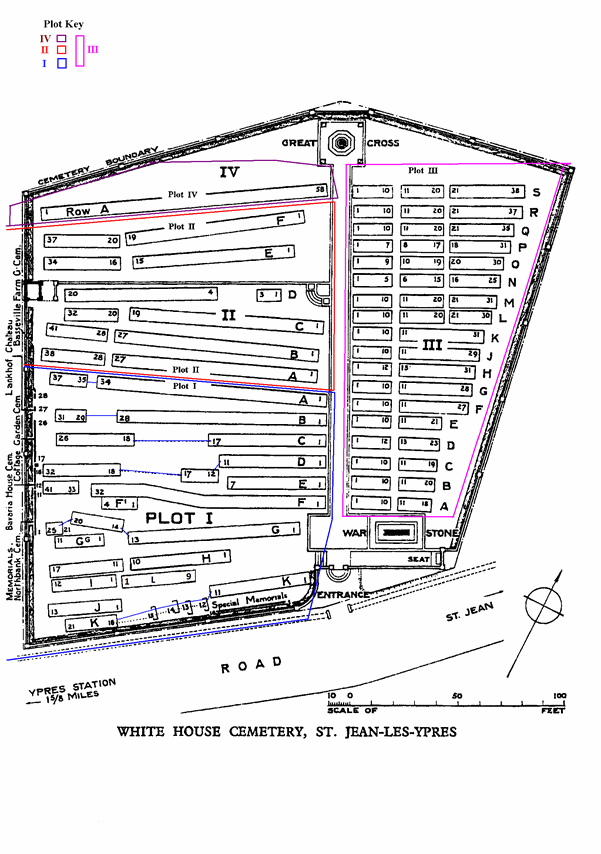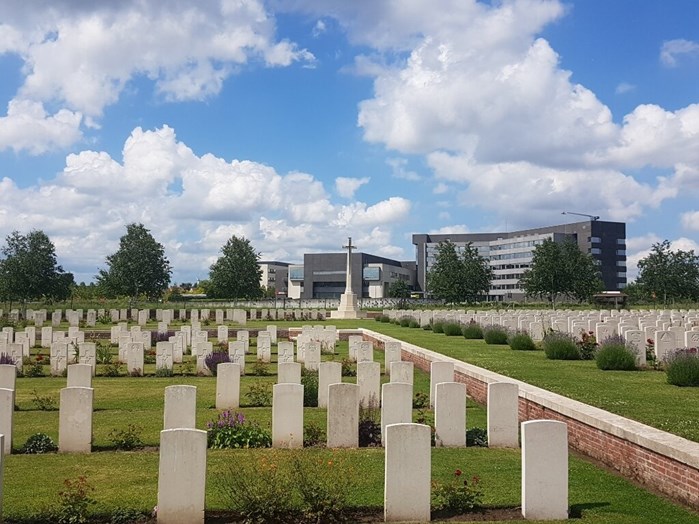 Above: White House Cemetery, St Jean (c) CWGC 2021 
Geoffrey is also remembered by name on the M.C.C. Memorial at Lord's Cricket Ground. The memorial is to be found on the top staircase of the pavilion and takes the form of a nowy-headed wooden board with gold lettering that is accompanied by a framed print giving details of membership, date elected, date of death and place of burial. The club emblem can be found at the top of the board. There are 330 names listed.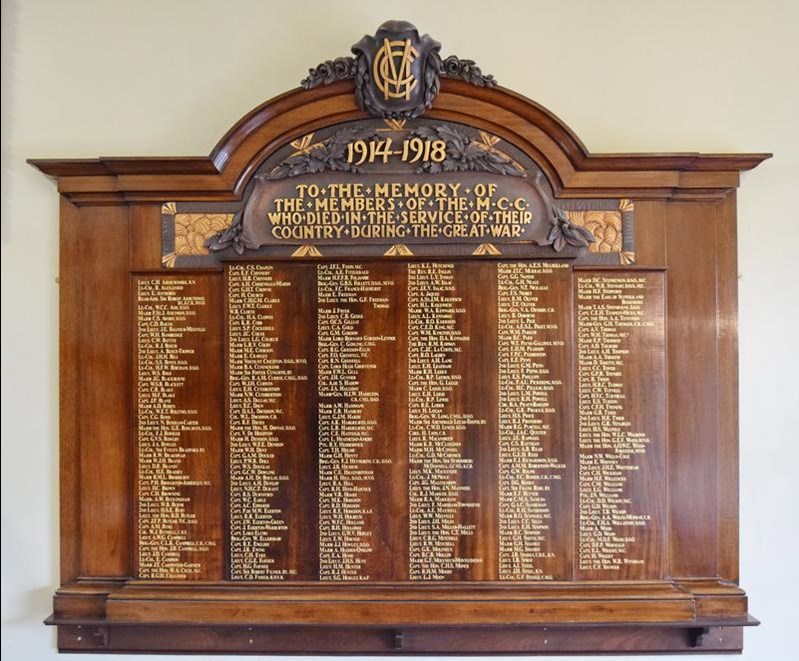 Finally there is a memorial at on Knoydart. Dedicated by his wife to Captain Geoffrey Vaux Salvin Bowlby, killed at Ypres. The Bowlby family were previous owners of the entire Knoydart estate.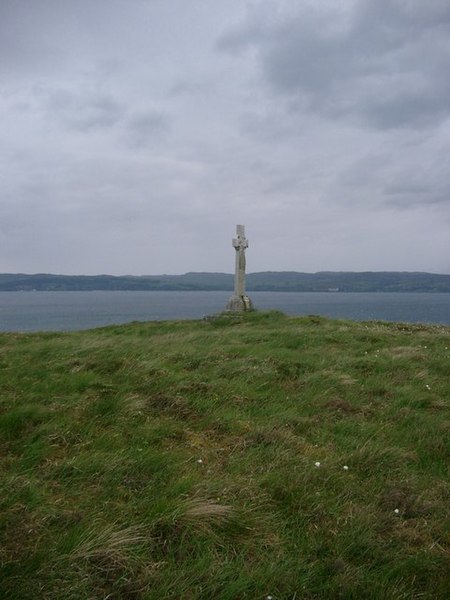 Above: War memorial on Knoydart
Article compiled by David Tattersfield, Vice-Chairman, The Western Front Association