Capt GVS Bowlby, Royal Horse Guards.
Killed in action 13 May 1915.
No known grave. Remembered on the Ypres (Menin Gate) Memorial
Memorial: A stone cross next to the Skrine Memorial (qv) on Cambridge Road, N of Menin Rd and Railway Wood, 2.5km W of Ypres
Location on Google Map
Guardian: CWGC.
Born in London on 1st December 1883, Geoffrey Vaux Salvin Bowlby came from a military family; indeed his grandfather was at Waterloo. Educated at Eton and Sandhurst, he excelled at polo, was promoted Captain at the early age of 24 and soon afterwards became ADC to the C in C Ireland. He married in 1911 the Hon. Lettice, 4th daughter of Viscount Valencia, and they had two children. His sister married Capt. Hon. James Boyle (qv).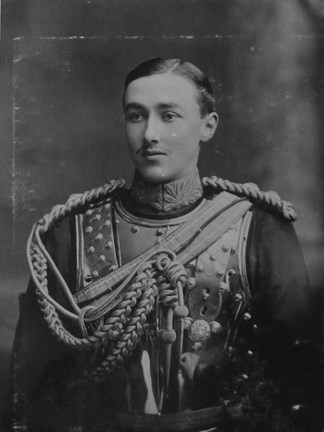 Bowlby was in France from the beginning of the War and distinguished himself at Wytschaete at the end of October when, as the senior officer left, he took command of a composite battalion and was mentioned in despatches. Returning to the 'Blues' he commanded 'A' Company and was killed leading a successful afternoon counter attack up the hill across open country near Gully Farm after part of the Brigade had been driven out of their trenches earlier in the day. "Poor old Bowlby was shot and refused assistance; he was almost instantaneously killed."
After the War his grave could not be found. His widow, the Hon Lettice Bowlby, who had meantime thrown herself into war work becoming Commandant of the Auxiliary Hospital and twice mentioned in despatches, determined to commemorate her husband on the spot where he fell. She found that the field had already been bought by the sister of Captain Henry Skrine for the same purpose, but arranged to buy the strip of land concerned and in due course the two memorials were erected, some 150 yards apart.
Captain Bowlby's memorial, a stone base surmounted by a stone cross within a small garden, was built beside the track to Gully Farm about 100 yards from the road and in 1930 arrangements were made and funds provided for the memorial to be cared for by the Commonwealth War Graves Commission. The inscription reads:
'IN PROUD AND LOVING MEMORY OF GEOFFREY VAUX SALVIN BOWLBY CAPTAIN. ROYAL HORSE GUARDS BORN 1 DEC 1883 KILLED IN ACTION NEAR THIS SPOT ON 13th MAY 1915 WHILE LEADING A COUNTERATTACK.'
In 1937 Mrs Bowlby looked at the possibility of selling surplus land to raise capital for future care as the railings and supports had already cost more than expected to maintain, but found the price of land too low. At a later time, probably around 1957, ownership of the surplus ground did revert to the Belgian state, however.
During the Second World War Mrs Bowlby expressed concern about the fate of the "memorials around Ypres" but they survived with little damage although the corner posts of her husband's memorial needed replacing in 1950. In 1966 the railings and surrounds were simplified to reduce costs and, concerned for its future, Mrs Bowlby made further provision before she died in 1988. Since the death of her husband she had been Lady in Waiting to the Duchess of York, and continued to attend her as Woman of the Bedchamber when she became Queen, and later Queen Mother. She was made CVO in 1937.
Vulnerable and difficult to maintain where it stood, there was concern about this memorial. In 1996 Captain Bowlby's daughter, the Countess of Meath, agreed to the memorial being moved to the roadside next to that of Captain Skrine. The work was duly carried out by CWGC, a lay-by was provided for the use of visitors and the future of these two memorials now seems assured.