The Labyrinth was a maze of trenches at the southern end of the Vimy Ridge, north east of the villages of Anzin and Maroeuil. On the right the ground sloped down to the ruined village of Roclincourt.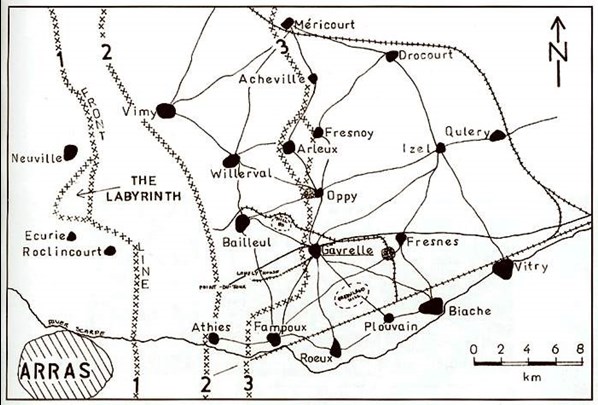 Above: The Labyrinth (Ashdown Forest Research Group)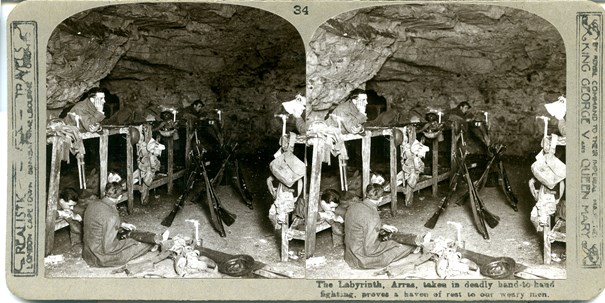 Above and below: Stereoscope images of the Labyrinth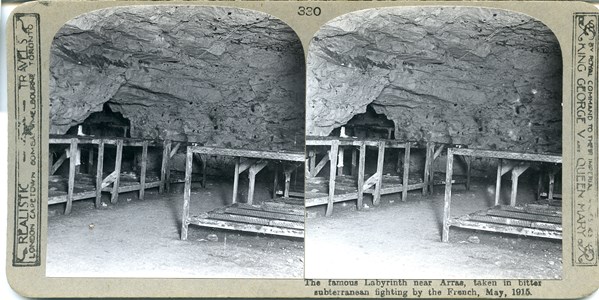 The area had been the scene of fierce fighting between the French and Germans in 1915.
On 11 March 1916, the 6 Seaforth as part of 152 Brigade, took over the labyrinth from the 78 French Infantry Regiment, alongside the 8 Argylls on the left, the 6 Seaforth in the middle and 5 Seaforth on the right. Prior to the handover, the French informed the British that the area was subject to mining activity by the Germans. Due to this activity, the Battalion kept a minimum number of men in the front line, with the remainder held further back but ready to rush forward to pre-determined positions in the event of an attack.
Over the next few weeks, the Battalion had spells in the front line and in reserve in both Maroeuil and Ariane.  From its arrival at the Labyrinth, it suffered a number of casualties during frequent artillery barrages.
The local newspaper recounted the words of one Seaforth Highlander describing the barrages:
'These mortars are of a tremendous size. You can see them coming through the air, twirling round and round and then they reach the earth a terrific explosion occurs….they are filled with nails, pieces of iron and lead pellets which fly in all directions. The weather isn't the best just now and the trenches are very muddy'.
One mortar bomb explosion in a dugout killed three men (all from Morayshire) on 16 April 1916 and wounded several others. Lance Corporal Hay Guthrie, from Elgin, was killed instantly as he stepped outside of the dugout. He was born in March 1881, the son of Hay and Elizabeth Guthrie who lived in Elgin. A gardener, he enlisted on the outbreak of war and went to France with the Battalion on 1 May 1915. He was home on leave in January 1916, when he married Isabella Shearer and left a daughter who had been born to the couple in 1910. Within barely six weeks, his brother Harry would die of wounds sustained in early June 1916.
Colonel Grant Smith wrote to Hay's widow thus:
'He is buried near the spot where he fell, and I am arranging to erect a memorial cross in the cemetery here, which will bear your husband's name, and after it has been erected I hope to send you a sketch of it. Your husband's brothers were near him when he fell, but are uninjured'.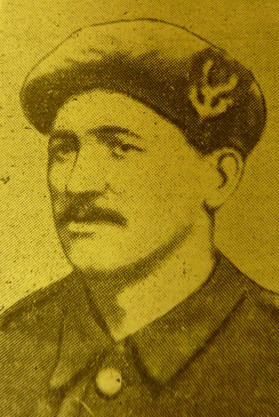 Above: L/Cpl Hay Guthrie and below, his Pension Record Card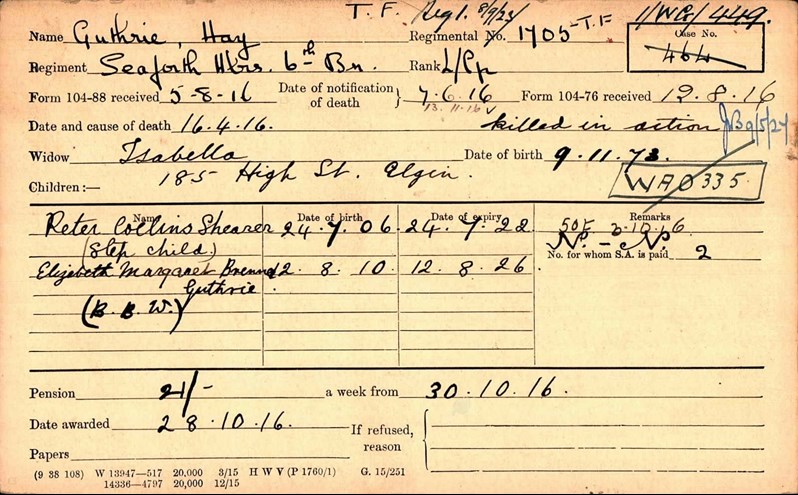 The grave was obviously lost in later fighting and Hay Guthrie is commemorated on the Arras Memorial.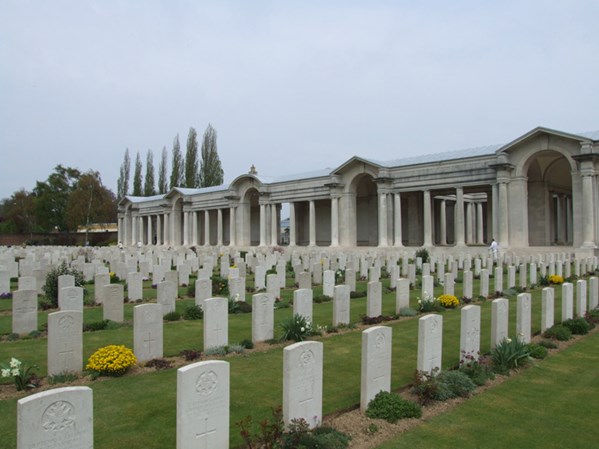 Above: The Arras Memorial - CWGC
Another casualty was Lance Corporal John Darnley, buried in Maroeuil British Cemetery. He was born in New Spynie, Elgin in October 1896, the second son of Andrew and Margaret Darnley. By 1911, the family was living at Loanhead, Dyke with John working as a forester's apprentice before he enlisted.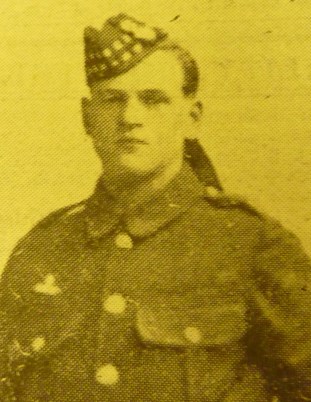 Above: L/Cpl John Darnley, and below his Pension Record Card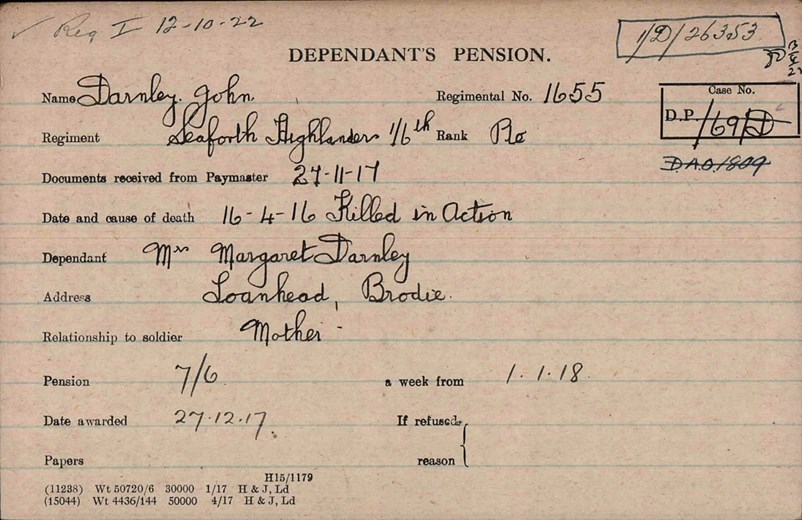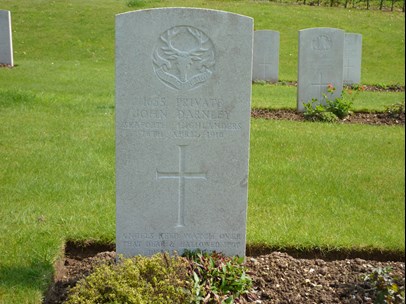 Above: John Darnley's grave at Maroeuil British Cemetery
The final casualty on 16 April 1916 was Private Andrew Latto, also from Elgin. He was born in May 1896, but his mother died of puerpural fever just days after his birth and his father died in September 1912. He had recently written to his former employer:
'I will be going up the line tonight and will once more see some fun. They say it is a hot corner, and some of the boys who have not been up before are fair excited and anxious to be in it.'
The next letter from the front that his former employer would receive was from Second Lieutenant Macdonald, informing him of Andrew's death, as a testimonial from the employer was the only item with an address on it in Andrew's personal effects. Andrew is buried in Roclincourt Military Cemetery.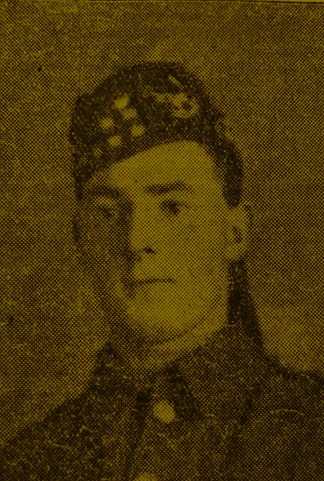 Above: Private Andrew Latto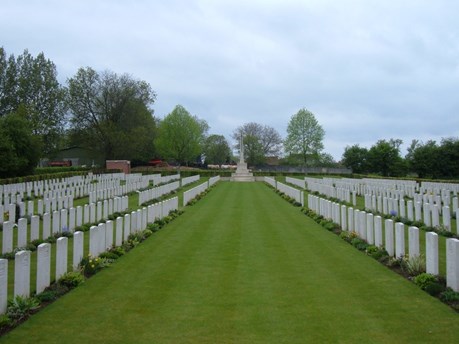 Above: Roclincourt Military Cemetery - (c) CWGC 2021
However, worse was yet to come with the events later that month.
28 April 1916
After three days back on the front line, having relieved the 5 Seaforth Highlanders, just after 2am on 28 April 1916, the Germans detonated a number of mines under the front line.
The Battalion War Diary records:
'…enemy sprang seven mines on our immediate front and launched an attack against our right (A) Coy. Prompt action by the artillery and our own garrison rendered the attack abortive, although they succeeded in entering our front trench at two points for a very short time. Our casualties were 15 KILLED, WOUNDED 5 Officers + 26 O.R., MISSING 19…'
It later transpired that one Officer, Lieutenant Arthur Cross, had a particularly eventful time during this episode. He had tried to get to his platoon in the darkness and confusion and after rushing out from his damaged dup out, he slipped into a large crater, whereupon three Germans attacked him. He was knocked down and one assailant managed to sit on him and hit him over the head with a club while shouting in English for him to 'give in'. Although badly stunned, Cross managed to get his hand free and was able to fire his revolver at the Germans, killing two and wounding the third. More Germans then arrived and he pretended to be dead, even when they tried to drag him away, but after a while they gave up and concentrated on their wounded comrades instead. While they were otherwise occupied, Cross managed to escape from the slippery crater and get back into the Seaforth's trench where he recovered sufficiently to assist the rest of the Battalion to repel the attack. He later developed symptoms of concussion and was set to the field hospital and then back to England for treatment. For his actions at this time, he was later awarded the Military Cross.
Back in Morayshire, in the week after the mine explosions, the local newspapers reported that 'the Seaforths are having rather a hot time' as initial casualty lists were published.
A week later, further details of the events of 28 April were recounted in the newspaper thus:
'Day was now beginning to dawn and laid bare the terrible scene. Men were lying dead or wounded in and around the huge craters, 40 to 60 feet wide and 40 feet deep. The first duty was the work of rescue of the wounded, and it was most gallantly accomplished, several men crawling out in the open and dragging in their wounded comrades under persistent sniping by the enemy. The roll call of the companies holding the front line revealed the fact that they had sustained about 70 casualties, over 30 of which were shown as killed or missing.'
Private Alexander Wood, Lance Corporal Slade and Corporal David Smith were later awarded the Military Medal for their actions in rescuing wounded comrades.
That week, and in coming weeks, the Morayshire newspapers would carry photographs and obituaries of those missing or killed – many of whom came from Morayshire, the traditional recruiting area of the Battalion. The following are only a few of those killed at this time at the Labyrinth.
Private Edwin Clark was initially reported missing after the mine explosion. Born in 1895, the son of George and Helen Clark, he had worked as a painter before enlisting and had served in France since May 1915. News that Edwin was missing came to the family from a comrade and indicated 'Everything possible has been done to find some trace of him but I am sorry to say without success. There will be a final search tonight as soon as darkness comes'. His brother, Harry, also served in the battalion and later wrote home to his parents:
'I am sorry that I have to convey the sad news of Edwin's death. He was on duty in the sap along with five others when the enemy sprang a mine. I am feeling his loss terribly, for he was a good brother. He was doing extra duty at the time and he had only an hour or so to go before being relieved. They have got some of their bodies this morning but there is no sign of Edwin's yet'.
Edwin has no known grave and he is commemorated on the Arras Memorial to the Missing.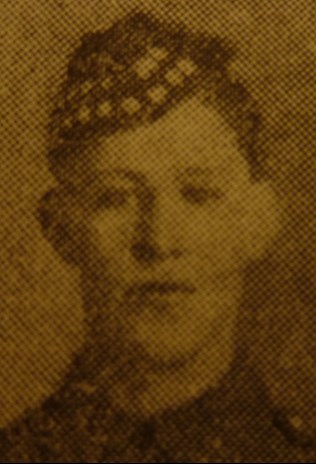 Above: Private Edwin Clark and below, his Pension Record Card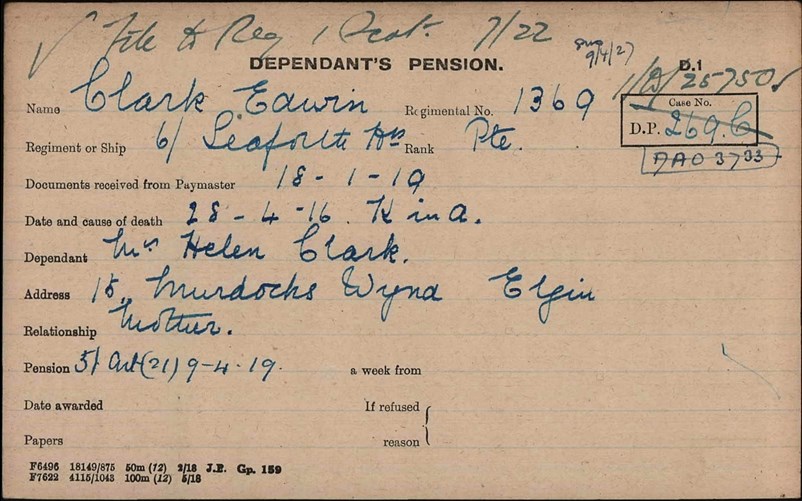 Private George Donald, born in April 1897, was the youngest in a large family from Elgin. His mother, Barbara, had died several years prior to the war and by 1909, his father had remarried. George was in France by May 1915 although only just 18 years old at the time. He died one day after his 19th birthday. George is also commemorated on the Arras Memorial.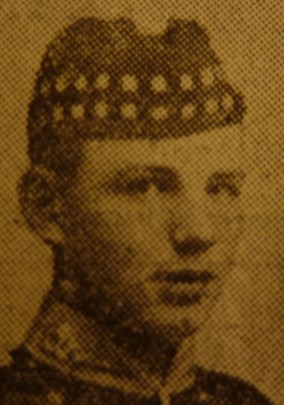 Above: Private George Donald
Sergeant James Fraser, born in 1889, was a carpenter before enlistment and a married man with two children, with his wife expecting their third child when James was killed. He had enlisted in November 1914 and had gone to France in November 1915. James was also killed on the 28 April and is buried in Nine Elms Military Cemetery at Thelus.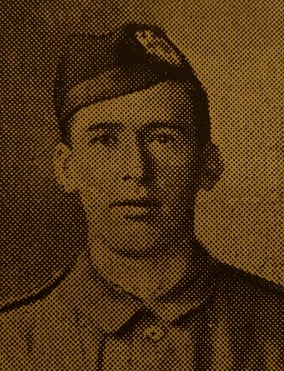 Above: Sergeant James Fraser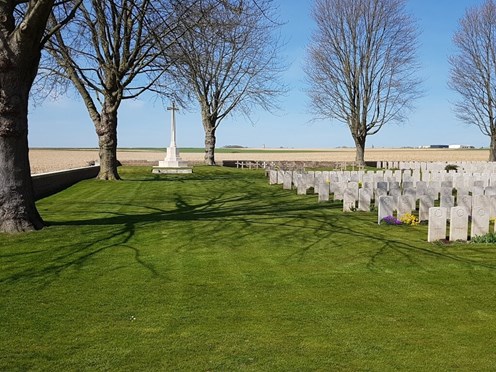 Above: Nine Elms Cemetery, Thelus - (c) 2021 CWGC
Article by Jill Stewart, Honorary Secretary, The Western Front Association