An introduction to British Aircraft of the First World War
If one were asked to choose a paradigm to represent the effect of a major war on the speed of technological change, the evolution of heavier-than-air aircraft in the First World War would be a good choice. But of particular note would be the dramatic development of the immediate pre-war basic wood and fabric, single-seater bi-plane, such as the Sopwith Tabloid ex-racing plane, into the dedicated machines of total war such as the Handley Page Type O/400 heavy bomber of 1918.
The advent of the aircraft as an effective weapon of war and terror made it possible for the first time to strike the enemy far beyond the range of ground artillery, or the shell-fire of even the largest warships. It also brought into range virtually the entire population of the enemy, both military and civil. Only small segments of the civil population were eventually safe from the threat from the skies and all felt its malign effects on their way of life.
At the outbreak of the War in August 1914, the British Royal Flying Corps (RFC) - later, on 1st April 1918, to be combined with Royal Naval Air Service (RNAS) to become the Royal Air Force, (RAF) - had no bomber aircraft in service and none was on order.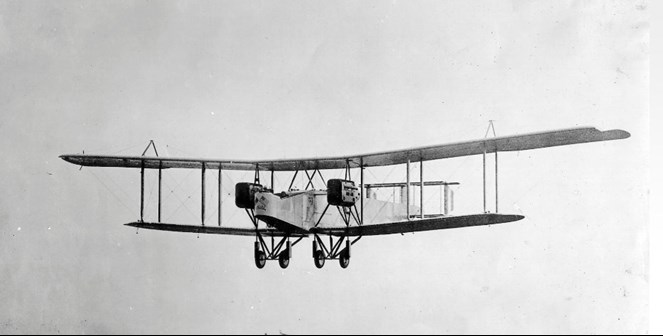 The development of the Handley Page prototype
Handley Page Ltd quickly responded and came up with a design identified as the Type O, later redesignated as the Type O/ 100. Four prototypes were built.
In specification it was:
Construction:  bi-plane; wings with a parasol type bracing towards the end of the upper wing and a bi-plane tail; wooden frame covered with doped fabric (linen); glazed cockpit and armoured plating to protect the crew and engines. The complete bi-plane wing folded to a max

imum width of 34ft (10.4m) and height of 18ft (5.5m) thus facilitating under-cover storage.

Crew: four or five – pilot, observer and two or three gunners.
Engines: two Rolls Royce 260hp Eagle II, V-12 cylinder, water-cooled, mounted in two nacelles, situated between the wings one on each side of the fuselage and powering tractor propellers. The fuel tanks were located in the engine nacelles.
Dimensions: wingspan = 100ft (30.5m); length = 62.8ft (19.1m); height = 22.0ft (6.7m).
Speed: 76mph (122kph) at 6,500ft (1850m).
Operational ceiling: 8,500ft (2,590m)
Armament: one or two 0.303in (7.7mm) Lewis guns mounted in each of the forward, dorsal and ventral gun turrets – total three to six guns.
Maximum bomb load: 6,000lbs (2,700kg) carried in internal bomb bay as eight 250lb (93kg) bombs, or sixteen 112lb (42kg) bombs plus a 1,650lb (616kg) bomb carried externally.
The first prototype flew on 7 December 1915, but was found to be overweight. Accordingly, the cockpit glazing and armoured plate was removed in the second prototype which first flew in April 1916. This type became the production model and a total of 42 production O/100's were built.
Service history of Handley Page Type O/100 (hereafter HP O/100)
The first bomber squadron of the HP O/100 was formed in August 1916 and was deployed on the Western Front in November 1916 by 7A Squadron, RNAS, stationed at Dunkirk, France.
The HP O/100 first saw service in a night attack on the 16/17 March 1917, when a single aircraft attacked a German railway station at Moulin-lès-Metz in occupied France. Also daylight attacks began including a successful attack on a German destroyer in April 1917. However, due to a loss of an aircraft to German fighters, the HP O/100 was restricted to night attacks, usually by single aircraft, whilst the targets were changed to enemy-occupied Channel ports, airfields and the railway system.
Other deployments were anti-U-boat patrols in British waters and to Greece where a HP O/100 based at Mudros, Lemnos attacked Constantinople, the capital of the Ottoman Empire.
One HP O/100 fell into German hands in January 1917 when it strayed behind enemy lines, but it subsequently crashed whilst being test-flown.
The HP O/100 was successfully flown throughout the war but was superseded by a more powerful engined Type, with some additional technical modifications, the HP O/400.
Handley Page Type O/400 (hereafter HP O/400)
The more notable specification changes of this Type were:
Engines: two 360hp Rolls-Royce Eagle VIII, V-12. Other compatible engines were used i.e. Liberty (USA), Sunbeam Maori and Cossack (British) and Fiat (Italian).

Fuel tanks: relocated from the two engine nacelles to the fuselage.

Speed: 97mph (156kph).
The first HP O/400s went into service in April 1918 in the role of ground support for the troops on the Western Front – where it played a vital role in the German 1918 Spring Offensive - and as a general service strategic bomber for the RAF where up to 40 bombers were deployed in a single raid. In all, ten RAF squadrons were equipped with the HP O/400, ie Squadrons 58, 70, 97, 100, 115, 116, 207, 214, 215 and 216, and five RNAS squadrons, ie Squadrons 7, 7A, 14, 15 and 16. Additionally, one HP O/400 was deployed with the Australian Flying Corps in the Middle East.
A total of 663 HP O/400s were built including 107 that were built under licence in the United States by the Standard Aircraft Corporation (SAC) fitted with the aforementioned USA Liberty engines. An order for more than 1,000 more of the SAC production was cancelled after the Armistice. 
Handley Page V/1500 (hereafter HP V/1500)
Another Type of the HP heavy bomber aircraft, an even larger four-engined version designated the Handley Page V/1500 (the Super Handley), first flew in May 1918. It entered into service with the RAF in October 1918, principally as a night bomber, and three became operational with 166 Squadron in November 1918. But it never saw combat service due to the end of the war: the first sortie on Berlin by three aircraft on the night of 10 November 1918 was literally taxi-ing on the runway when the flight was called off because of the imminent declaration of the Armistice the next morning.
The principal differences in specification between the HP V/1500 and the HP O/400 were:
Crew: eight or nine.

Engines:  four Rolls Royce Eagle VIII, 375hp V-12 cylinder mounted in twos tandem-wise between the wings on either side of the fuselage respectively powering traction and propulsion propellers (pull and push). Alternative engines were BHP Galloway 'Atlantic' 500hp or Napier 'Lion' 450hp.

Wingspan:  126.0ft (38.4m). Upper and lower wings were of the same span with a pronounced sweepback.

Length:  64.0ft (19.5m).

Height:  23.0ft (7.0m).

Operational ceiling:  11,000ft (3,350m).

Operational range: 625 miles (1,000km) i.e. Eastern England to Berlin.

Armament: Six to eight 0.303in (7.7mm) Lewis guns - additional turret in tail.

Maximum bomb load: 7,500lb (3,400kg) as thirty 250lb (113kg) bombs, or two 3,300lb (1,497kg).
Postscriptum
The HP O/400 aircraft only remained in squadron service for a short while after the Armistice, being replaced by the Vickers Vimy heavy and Airco DH 10 Amiens medium bombers.
However, the later types of the Handley Page bomber continued to fly and some were converted to passenger airliners – the former HP O/400 carried 10 passengers and the HP V/1500 took 40 - whilst others were used on endurance and route proving flights.
Recommended reading:
Jane's Fighting Aircraft of World War (reprinted 2001) Random House Group, London. ISBN 1 85170 347 0.
Angelucci, E. et Matricardi, P. Avions 1/des orgines à la première guerre mondiale. L'edition francaise. (1978) Elselvier Séquoia, Bruxelles. ISBN2-8003-0243-7.
Visit the WFA Online Book Store.
Contributed by Dr David Payne.
All images sourced from Wikimedia. The third image shows a Handley Page O/100 aircraft 1459 "Le Tigre" of No 3 Wing, RNAS, March 1917,  at Ochey, France.