The German Albatros aeroplane shown here is preserved at the AWM in Australia. It was shot down during what is perhaps one of the strangest combats in flying history on 17 December 1917.
Above: Albatros D.Va, Serial D.5390/17, at the Australian War Memorial in Canberra
This German Albatros D.Va (numbered 5390/17) was being flown by Leutnant Rudolf Clausz (some records have this as 'Clauss'), and was part of Royal Prussian Jasta 29 based at Bellincamp. The Jasta had come across an Australian Flying Corps RE8 crewed by Lieutenant J L M Sandy (pilot) and Sergeant H F Hughes (observer).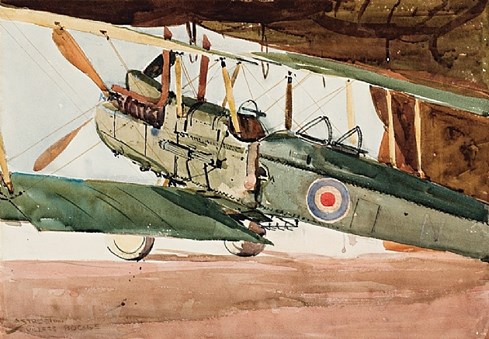 Above: Watercolour by Arthur Streeton of R.E.8. aircraft "N" of 3 Squadron A.F.C. 
Sandy and Hughes had been tasked to range fire from an 8 in. howitzer battery, using wireless transmitter to signal corrections to the fall of shot.  The six German fighters buzzed around Sandy and Hughes who successfully defended themselves for some minutes and shot down the Albatros 5390/17 piloted by Leutnant Rudolf Clausz.
Above: RE8 Combat [Graphic by Gustav Farmer] www.3squadron.org.au
Clausz was wounded in the fight with Sandy and Hughes and his aircraft landed behind the 2nd Division AIF lines. (The men who collected the Albatros reported that the Albatros had been holed in the petrol tank. The pilot's boots which are now in the AWM collection, have two holes in them, one thigh high, the other in the foot. The foot hole is rust coloured from blood.)
During the combat, another RE8 joined Sandy and Hughes, and the two RE8s then fought for a further ten minutes until a third RE8 flown by Lt's H N Wrigley and J R Blair appeared and the five remaining German aircraft retired.

Capt Jones flew close to Lt Sandy's aircraft, still cruising normally on its "beat", and concluded they were continuing their work spotting for the howitzer battery. Radio contact with Lt Sandy's aircraft ceased and the aircraft disappeared from its allotted area. 
Sandy and Hughes, whose aircraft was seemingly flying normally and had apparently resumed its patrol... but had it?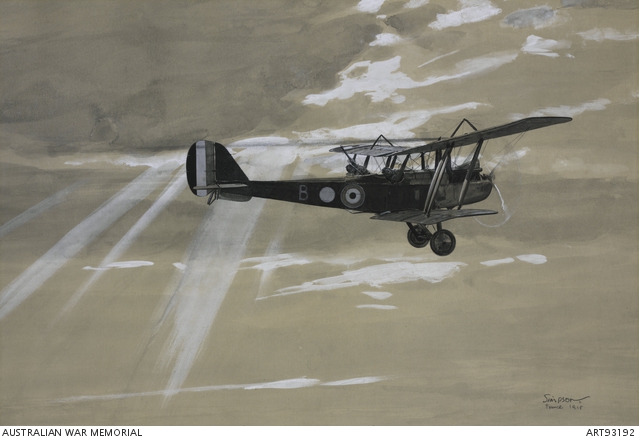 Above: "The Ghost RE8". [AWM  ART93192] Watercolour by Joseph Simpson
Sandy and Hughes though were not heard from in the squadron that night. The next day a telegram from the Hospital at St Pol arrived with the detail of Sandy and Hughes's bodies had been recovered from a safely landed RE 8. The Doctor who attended concluded the pair had been dead for several hours. 
Above: The grave of Lieutenant James Lionel Montague Sandy AFC. (AWM P09378.014)
An officer from the squadron was sent to the site and discovered the RE 8 had only a broken propeller and damaged right wing, the throttle was wide open. Clearly Hughes, the observer had been unable to attempt to take control of the aircraft.
The post mortem of Sandy and Hughes found that they had been killed by the same bullet, passing through Hughes's lung and into Sandy's skull.
The only conclusion that could be drawn was Sandy and Hughes were killed in the combat and the arrival of the third RE8 had driven off the attacks. Although dead at the controls, the RE 8 had flown in wide circles, slowly being blown and drifting North-West until running out of fuel, 50 miles away from the original combat, and landing rather than crashing in the field where it was found. 
Vizefeldwebel Eugen Weiss of Jasta 29 was credited with a victory over the RE 8 (though the Germans cannot have seen the crash); it was his second, and final, victory.
Who were the crew?
James Sandy was born in Sydney on 4 February 1886, and was a Company Secretary when he joined the 1st Field Artillery Brigade Ammunition Column in Sydney on 16 August 1914.  He left Sydney on HMAT A8 Argyllshire on 18 October; he then served at Gallipoli before being evacuated due to a septic right ankle, which caused him to be treated in England before being returned to Australia in May 1916.  A medical assessment in July recommended that he be discharged from the Army, but the Medical Board recommended that, despite his having a severe limp,  he be enlisted for 'motor or flying work on account of his being skilled in this type of work'. 
Above Left: Portrait of Lieutenant (Lt) James Lionel Montague Sandy, wearing the colour patch of the 1st Field Artillery. A company secretary from Burwood, NSW prior to enlistment, Sandy had originally served overseas as a Lieutenant in the 1st Field Artillery Brigade. (AWM DAAV00043) 
Above Right: "Jim and Lt Sandy on Ulysses." Informal portrait of Lieutenant (Lt) James Brake and Lt James Lionel Montague Sandy (AWM P10814.017.003)
He transferred to the AFC on 24 October, the day before he left Melbourne on HMAT A38 Ulysses.  On arrival in the UK he went through flying training with Nos 49, 81 and 82 Reserve Sqns RFC before being posted to No 69 (Australian) Sqn in August 1917.
Above: Unidentified members of the 69th Australian Squadron, later designated No. 3 Australian Flying Corps (AFC), fixing incendiary bombs to an R.E.8 aircraft, October 1917
Above: Pilots of of No 69 Squadron, Royal Flying Corps (later No 3 Squadron, AFC) standing next to their RE8 (Reconnaissance Experimental 8) aircraft at Lympne ready to leave for France. (AWM P05140.001)
Above: 69 Squadron (Sandy is middle row, third from the left): www.airwar19141918.wordpress.com

Above: An R.E.8 of No 69 (later No 3) Squadron, Australian Flying Corps preparing to set out on a night bombing operation from Savy near Arras
Henry Francis Hughes was born in 1890 and was the son of Terence and Henrietta Hughes, of 25, Argo St., South Yarra, Victoria, Australia. He was a native of Prahran, Victoria.
Above: The Australian Red Cross Wounded and Missing File for Sgt Henry Hughes
Sandy and Hughes had been recommended for immediate awards (MM and DCM respectively). 
They are buried in graves H8 and H10 (ie nearly adjoining) in St Pol Communal Cemetery Extension.

Above: The burial report from the Commonwealth War Graves Commission
Above: St Pol Communal Cemetery Extension. (CWGC)
Article submitted by David Tattersfield
Vice-Chairman, The Western Front Association
Further reading: Cutlack, F.M. (Frederic Morley) The Australian Flying Corps in the Western and Eastern Theatres of War 1914-8, Pages 204-5