If asked to suggest the most numerous (or even preferred) type of 'Staff Car' used by British Generals and other officers to drive around during the First World War, most people will immediately say "Rolls Royce".
But that would not be correct. Even King George V was not afforded this make of vehicle when he visited the western front.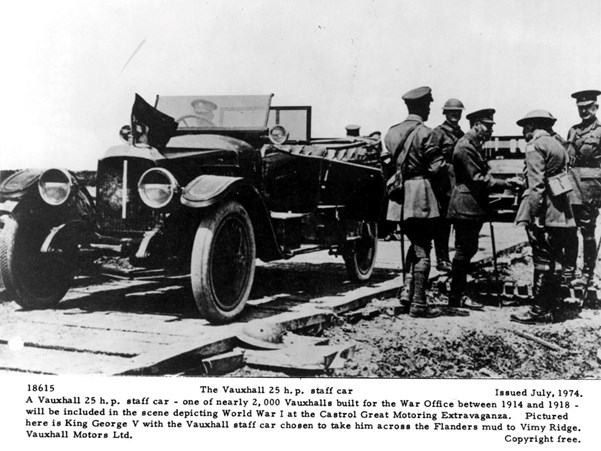 Surprisingly perhaps, the 'standard' Staff Car in the First World War was the Vauxhall 'D'-type: these were in use throughout the war. The image below of one being unloaded in 1914 is probably a D-type but is not sufficiently clear to be identified with certainty.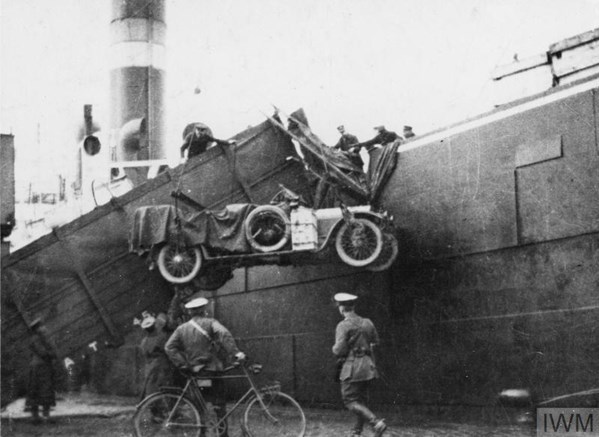 Above: A group of British troops land a staff car from a boat onto a dock, somewhere on the Western Front, 1914 (IWM Q53505)
Although hardly an 'all-weather' or 'all terrain' vehicle, these cars gave sterling service during the war, despite perhaps occasionally being defeated by the conditions.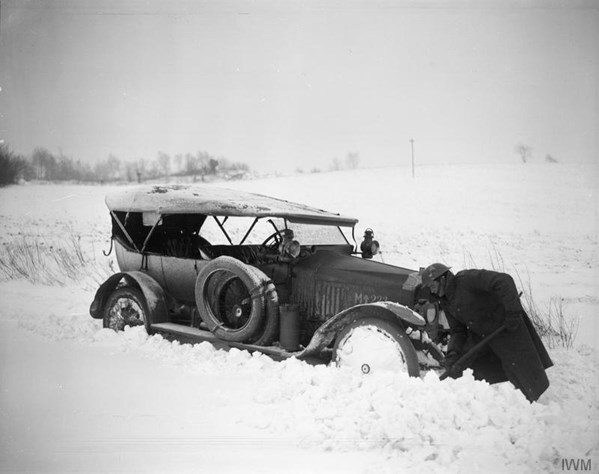 Above (IWM Q6397) and below (IWM Q6398). British soldier (Army Service Corps?) digging out a snowed-up car at Neulette, 17 December 1917.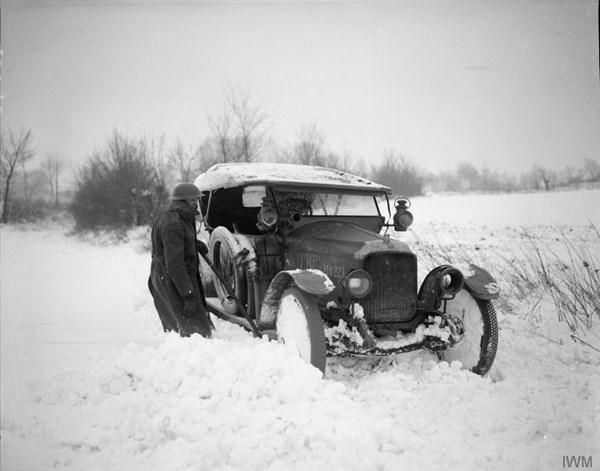 If the caption can be believed, this photograph was taken at Neulette, which is in this area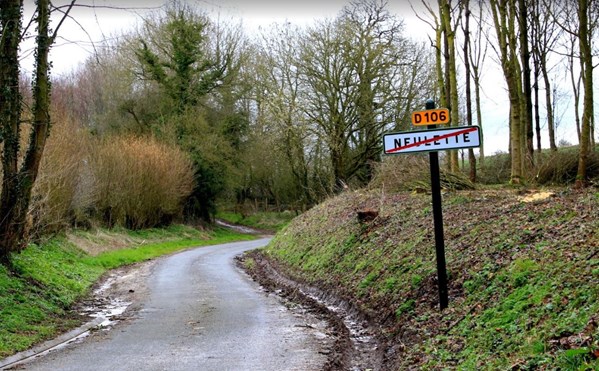 Above: Neulette is just west of St Pol.
Of course, it was not just snow that caused 'transport' problems on the western front. The ubiquitous mud could snarl up most forms of transport very effectively, as shown in the image below.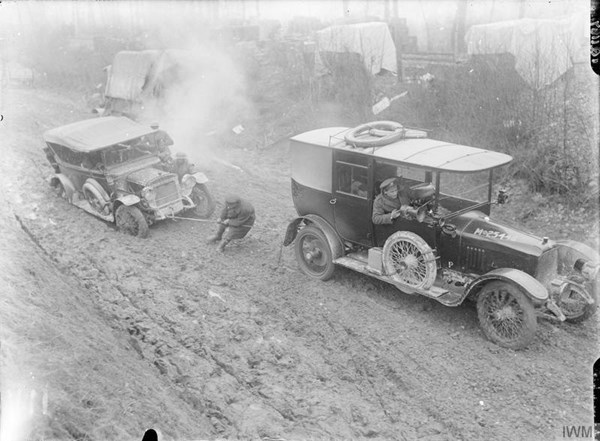 British Army motor car, M-25446, (Vauxhall 25 limousine) towing a motor car out of the mud at Hamel, January 1917. (IWM Q1767). The rear wheels seem to be spinning in this image, but the front wheels are static.
The Vauxhall D-Type, or "25hp," had a 4-cylinder 3,969cc engine that could take five passengers to just over 60 mph. It was developed from the 'Prince Henry' Vauxhall (1911-1914). Nearly 2,000 were built for the Home Office. Civilian production continued until 1922. The manufacture of this car had begun before the beginning of the First World War. During the conflict, the War Department bought many with strengthened suspension for heavy loads and rough roads.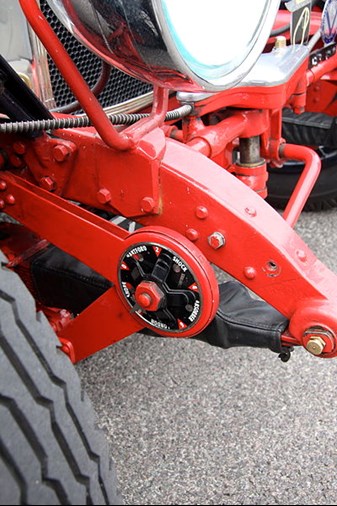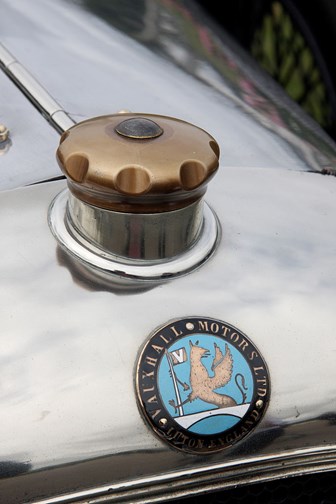 Above left: the suspension on a 'D-type'. Above right: the Vauxhall badge and distinctive radiator cap. 
Staff cars were for the transport of staff officers doing administrative jobs, and many other jobs, not just (in the imagination of many of the public) for Generals flitting from one chateau to another!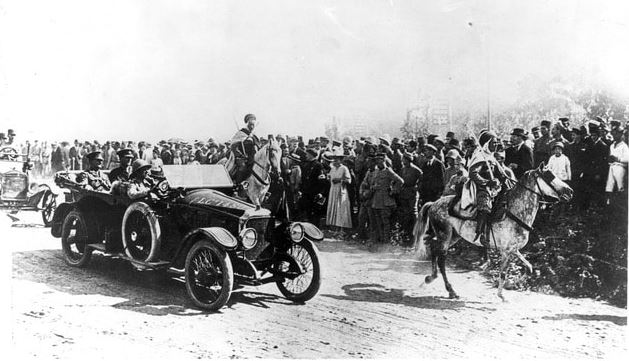 arrives in Jerusalem, Dec 1917 (Image: www.vauxhallhistory.org)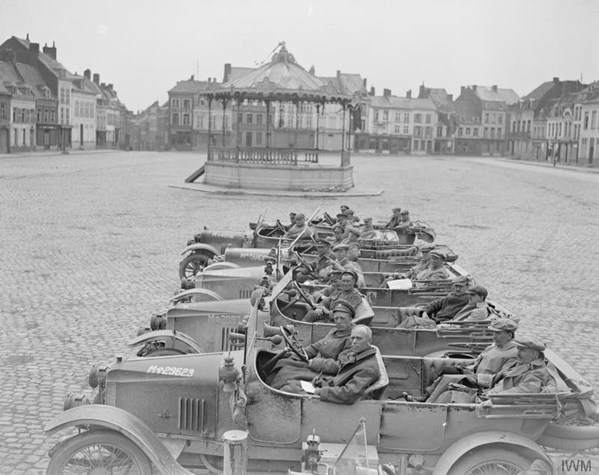 A party of Canadian journalists' cars in the square at Hazebrouck, 28 July 1918. (IWM Q 10373)
Perhaps many of the drivers were proud of their cars, and, like the soldier below, were photographed standing besides these vehicles.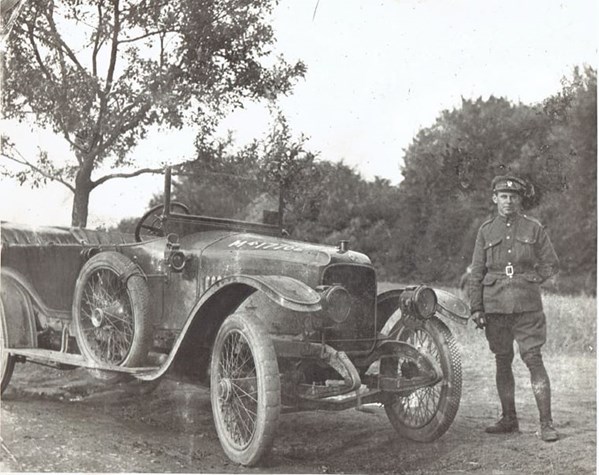 Above: Possibly an ASC driver. Image courtesy of www.vauxhallregister.com
However, it is likely that many of the cars were destroyed during the war.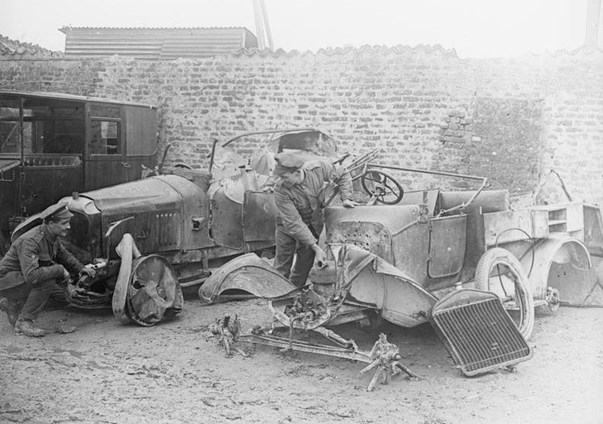 Damaged Vauxhall at the Heavy Repairs Depot, Arquata, Italy (IWM Q 26238)
But seemingly others were repaired.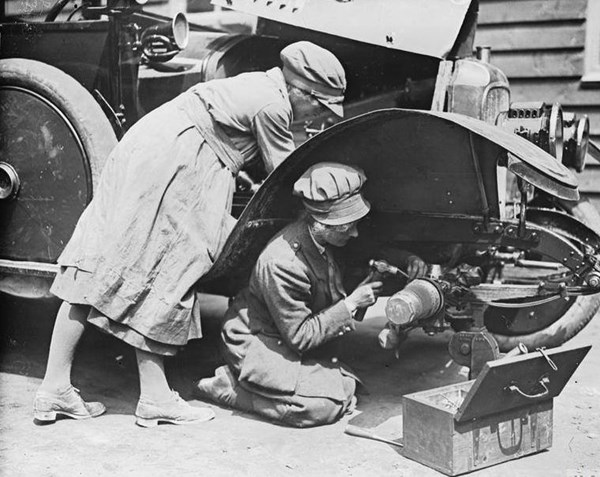 Above: VAD fitters at work on a car in Etaples (IWM Q 9047)
We even have a short clip of footage courtesy of the Imperial War Museum. Below is a video file numbered IWM 131 entitled 'Péronne shortly after its capture by the British, Western Front, 17 March 1917'. This briefly shows a Vauxhall staff car crossing the Somme.
Other footage from the Imperial War Museum (IWM 351) taken in October 1918 shows a Vauxhall staff car gingerly crossing a canal - probably in the Ostend area.
Unsurprisingly these cars are now very rare, indeed there is believed to be the only one surviving military-bodied example (HM 2157).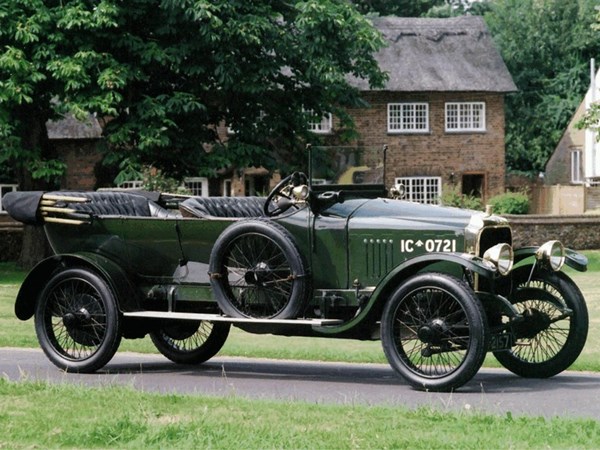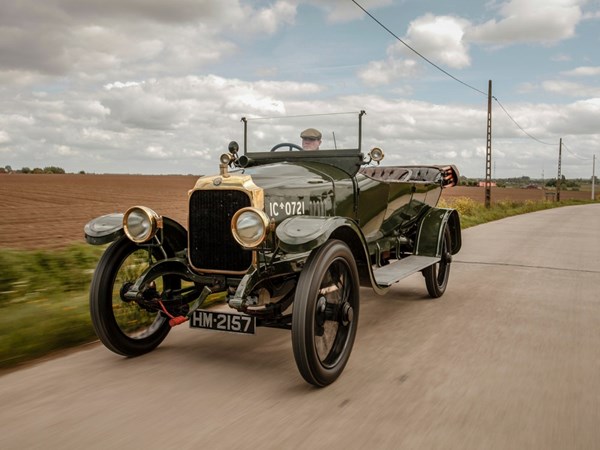 It even found itself in an 'iconic' setting in Ypres (courtesy of www.wired.com)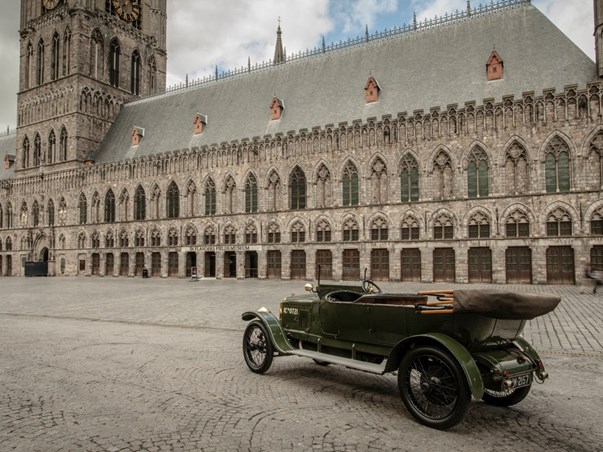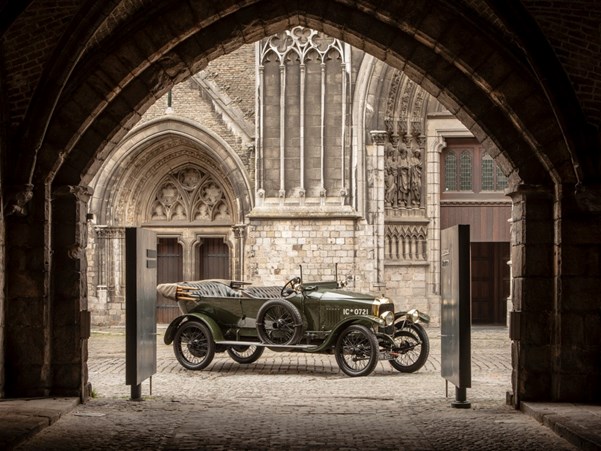 Vauxhall Cars was founded by Alexander Wilson in 1857. Originally it was named Alex Wilson and Company, the company then became "Vauxhall Iron Works" building pumps and marine engines. In 1903, the company built its first car, a five horsepower model steered using a tiller, with two forward gears and no reverse gear. 
By 1910, the company had built its first hand-built sporting vehicle and raced in the German Prince Henry trials. Two cars were entered in these trials, and although not outright winners, performed well, and replicas were made for sale officially as the C-type, but now known as the Prince Henry. The cars achieved amazing successes and to take advantage of this a series of road-going cars, dubbed the 'Prince Henry', were created. During the First World War, Vauxhall nearly 2,000 of the D-type for the War Office. These being a Prince Henry chassis but with a deliberately 'derated' engine (this to prolong the engine's life).  These were used as Army Staff Cars, and were fitted with both tourer and landaulette bodies (where the rear passengers are covered by a convertible top).  Other different-bodied vehicles were also used, such as the limousine body (shown below).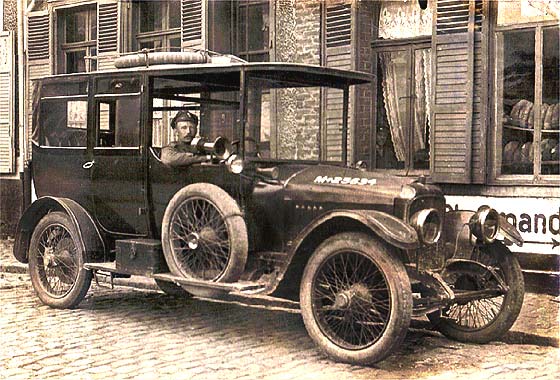 Above: From numbers on bonnet, the car is a British staff car, probably a 1913 requisitioned version. (www.svvs.org)
There is evidence that some were converted to other uses such as the ambulance shown below.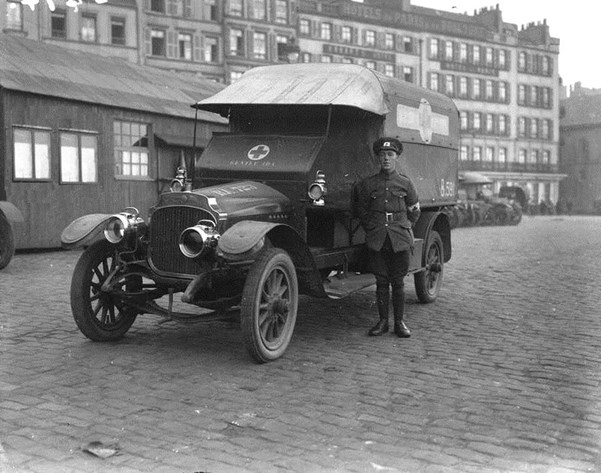 Vauxhall D-Type (or 16-20?) Ambulance. Army Service Corps (ASC) Motor Transport, Boulogne, 1916 (www.vauxhallregister.com). The wheels on this model are clearly different to those in other examples shown in this article. 
In their advertising Vauxhall were keen to point out that this was 'The finest car in Active Service' and reported that it had 'those qualities of design that make for liveliness, ease of handling, ample power, high efficiency and general distinction of performance'. Earning its colours in the field, the company advised that 'The after-war Vauxhall will be the rage among buyers of the best-class English car, and you will do well to book your order in advance'. Post-war demand was indeed healthy and when they had finished their service many Staff cars returned to England to Vauxhall Motors to be refurbished and sold.
In December 1918 The Auto Motor Journal described in detail the D Type chassis design which had been revised for 1919, again reflecting on the model's vital wartime role:
'It is the handsomest the writer has seen. Lacking nothing of the prettiness of the drawing-board, it simultaneously embodies the teachings of many season's successful speed-work on track and road, tens of thousands of miles' touring in the care only of pleasure-bent owner-drivers, and – on top of that little lot – four years solid slogging on the busiest fronts of the present… war.
 
No tank is tougher; no battleplane is fleeter (relatively and in potentiality); no light cruiser is smarter to the eye…'
With the coming of peace came the cancellation of War Office orders and in 1919 Shaw and Kilburn, Vauxhall's agents in London, were advertising '1918 War Office Model' D Types fitted with the fairly plain 'Newmarket' open touring body at a price of £900 (over £50,000 in today's money).  By 1922 the D Type (25 h.p.) a fully-equipped 30-98 chassis with 'Velox' body (many body styles such as the 'limousine' were offered) was catalogued at £1,195 (over £68,000 today).
Sir Stanley Reed KBE, politician, author and editor of The Times of India was a very satisfied owner of a post-war 25 horsepower car. In a testimonial letter to Vauxhall published in early 1920 he enthused that
'I need hardly say that I am absolutely delighted with the car. Although I have never had occasion to develop its full speed, the sense of power under the driver makes touring a perfect joy, whilst at the same time the remarkable flexibility of the engine makes it quite an easy car to drive in the thickest traffic of London. I do not keep a driver and look after the engine entirely myself, but I have never found that the car offers any difficulty to the intelligent owner-driver.'
Because of their high build quality, rugged reliability and an ability to cope with poor road surfaces at speeds of up to 60 miles per hour, a significant proportion of D Types were exported, particularly to Australia and New Zealand. After World War I, the 30/98 E-Type model was introduced
Although registered for the road in May 1921, the car below (registration No. 2353) was retained by the factory until 1926, when it was sold as 'ex-Government surplus'. This vehicle sold for $77,000 (approx. £60,000) in 2007.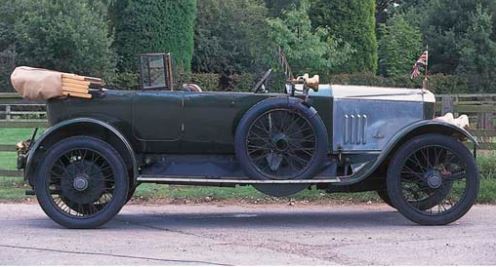 The dashboard of these cars is significantly different to today's cars with inbuilt satnav now almost standard!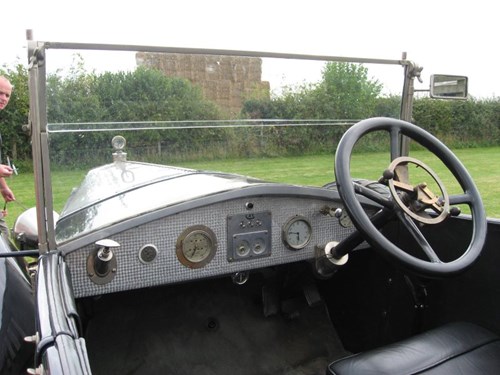 Above: The dashboard of a 1921 Vauxhall 25HP Kington tourer at the Wilton Windmill car show in 2006. Chassis D3750 Engine D3912 Registration XW 289
Article by David Tattersfield, Vice-Chairman, The Western Front Association