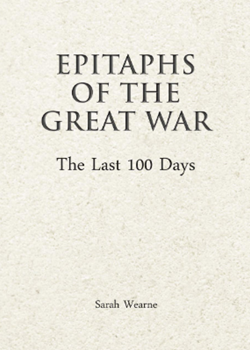 By Sarah Wearne
Epitaphs of the Great War: The Last 100 Days, (Unicorn Publishing, £10.99, hb) is the third volume of Sarah Wearne's unique books on the unusual inscriptions on CWGC headstones chosen by those who had loved and lost. Aptly, 100 men are honoured. They range from an underage volunteer – Albert Knowles, who served in France for over three years before he became 'of age' to join–up – to the much –decorated (VC, DSO and MC) 54–year–old Reverend Theodore Bayley Hardy. The lives, military service and deaths of individuals are recorded alongside the chosen words of grief, love, belief and pride. Perhaps one of the most touching is in Orchard Dump Cemetery, Arleux–en–Gohelle.
The words on Lance Corporal Thomas McBride's headstone record that 'THIS GRAVE WAS VISITED BY HIS PARENTS SUNDAY SEPT. 30TH 1923 RIP'.
As the author notes, '... his permanent headstone had not yet been erected. If it had been it would have been too late to have this inscription carved on it.' She adds, 'five years after McBride's death his grave was still only marked by a temporary wooden cross'. It is a good illustration of the size of the War Grave Commission's task and of the length of time it took to construct the war cemeteries and a fitting memorial, not just to the chosen hundred who died, but, by reflection, all who lost their lives in the '100 Days'. Highly recommended.
DJF