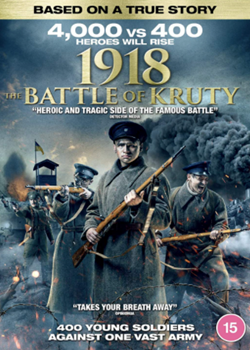 1918 The Battle of Kruty is top and tailed by a contemporary Ukrainian soldier visiting the memorial to those killed at Kruty in January 1918 the tale tells the story of a group of students, their loves and families, as plucky efforts are made to stave off the conquest of Ukraine by the burgeoning and enormous forces of the Bolshevik army. With a keen readiness to Google the places mentioned it is hardly surprising that were the invasion to occur today it would follow a similar route to Kyiv. 
War films come in many genres: band of brothers, romance, espionage, propaganda and 'true stories' - even horror. Most have some basis in fact, however fanciful, while others verge on the docu-drama, in the case of '1918 The Battle of Kruty' we get much of the above (without the horror). It tries to be many things, succeeds at some, and fails at others. Though 2 hours in length, what is truly needed and deserving here is a six or eight part series so that each differing string could be developed. We have a core of four recently graduating students who have a week to train then go into battle.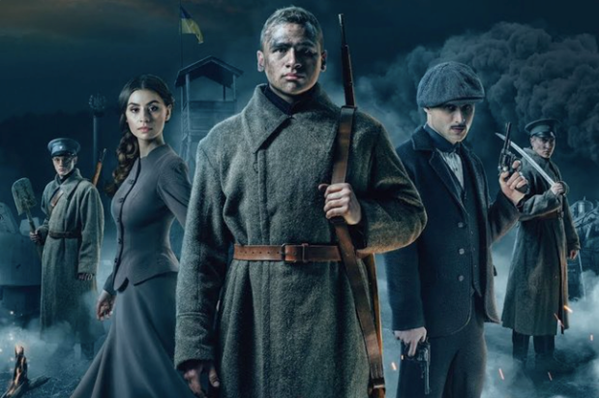 In 1918 two hundred enlisted, many were killed and 30 were captured and all but two executed. We have some rivalry for the love of a pretty girl between brothers. We have espionage, banditry and skulduggery as documents are exchanged with a view to splitting the Bolsheviks between Lenin and Trotsky. Foch is on the phone and there's tangential involvement from Britain too. There is also internal strife to cover with a popular uprising of workers stirred up by the Bolsheviks. The propaganda is gently done with patriotic speeches (could have been edited), ballads and uplifting words spoken around the Kruty War Memorial at the end.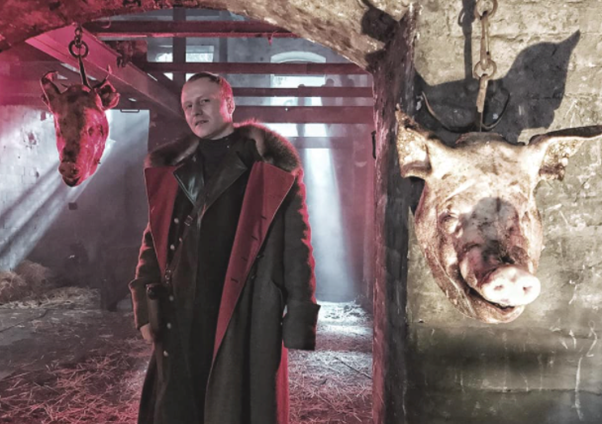 Less would have been more; there is a sense that the producers wanted to keep it all in and as a result the emphasis is too often taken away from the plight of the student soldiers. There are some stand out moments, a suitably devilish heroine taking unhinged  Bolshevik General Muravyov, a role that has me thinking of Gary Oldman at least if not Marlon Brando, a comical owner of a patisserie, a sensitive alto tenor turned fighter, as well as the protagonist - a cartographer and pacifist turned able machine gunner. There are war movie tropes: enlisting, first experiences of training, saying goodbye to family, peeling spuds, firing weapons for the first time and later digging in, artillery fired from armoured trains and authentic night and day shooting on snowy landscapes. That's one thread, the other is the Buchanesque exploits of a dashing young officer, the son of a General and the brother of one of the students whose story we follow most closely. On its own this has elements of Young Indiana Jones but somewhere the plot gets lost concerning documents incriminating Lenin that need to be put into the hands of Trotsky: the director is less confident with hand to hand fighting in these scenes which looks like early contestants in Strictly Come Dancing making a hash of a foxtrot.
You are also left wondering how, with the protagonists, they manage to transport themselves back and forth over many hundreds of miles ahead of the main class where opposing forces are themselves delivered by train. On the other hand, the intercutting of the landscape, the sensitive use of close-ups of people and things, a magical score and memorable songs and at times insightful and funny script makes it worth watching. Indeed, for an introduction to a pivotal moment in Ukraine's history this may well be the place to start before picking up a few texts on the subject. 
Review by Jonathan Vernon (Digital Editor).
For a list of over 180 films on or featuring the First World War > First World War Films & TV