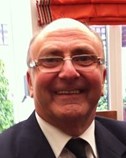 Mark spent most of his working life in the Ministry of Defence. On taking early retirement in 2003 he was awarded the Imperial Service Medal (ISM). When living in Chesterfield he was a member of Chesterfield and District Caledonian Association and was President for two years.
Mark now lives in Retford (North Nottinghamshire) with his wife Jean.
Mark's interest in the Great War (which he says is now a dedication and passion) started in September 2010 when he went with a group to visit the Battlefields on the Western Front.
Mark says that he really had his eyes opened. Although he had always been interested in history this was something different and he decided to join The Western Front Association and attends the Chesterfield Branch (of which he is now Vice Chair).
Mark is also a Friend of Lochnagar. And a Trustee of The Western Front Association.
When people remark that he has a great interest in The Great War History, he responds by saying, "Sorry it's not an interest, it's an enormous passion."