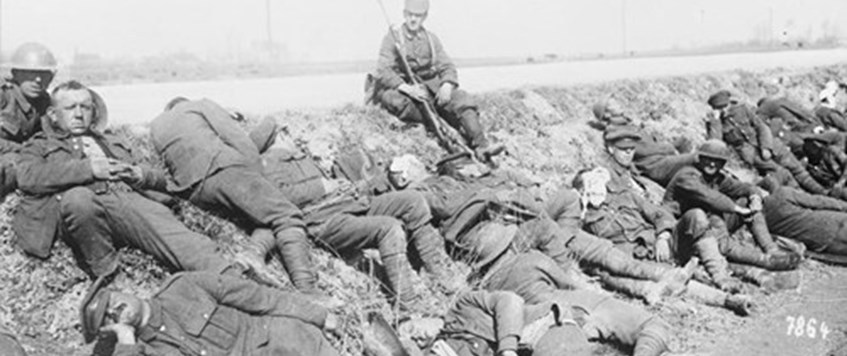 Caption: British prisoners after the 1918 Spring Offensive (Courtesy: IWM)
This talk has been moved to 1st December 2022 from 3rd November 2022.
About the talk: Signaller Sam Sutcliffe's son and editor Phil will read excerpts from his father's WW1 frontline experiences… briefly sketch his poor London childhood, his September 1914 enlistment at 16 with the 2/1 Royal Fusiliers, his first battlefield experience in Gallipoli (Suvla Bay, V Beach), and his personal view from the Somme trenches including July 1, 1916 (Gommecourt, with the Kensingtons)… but then at Middlesex WFA's request concentrating on Sam's 1918-19: the  battle against the Spring Offensive outside Arras (Fampoux, amid the  2/7 Essex's fight to the last bullet) and terrible, sometimes terribly funny, stories of his eight months as a starving POW wandering occupied France and southern Germany until Armistice… then his extended homecoming: his long trek back westwards, then via various Allied hospitals, his return to London, his family, and the aftermath – guarding German POWs! – through to July, 1919, when he attended and riotously enjoyed the Peace Parade. "I was just 21…" Well, a flavour of all that will be attempted!
About the speaker: I was born in 1947 when my father was 49, hence the years we span between us. I worked as a journalist until semi-retirement and he asked me to edit his writings which I did, at last, in time to publish the memoir in July, 2014. It needed only a light touch and I can say all the words are his – though not necessarily in his original order.
Where we meet and how to get there:  We meet at 19:15 for a 19:30 start at the Hewitt Room, Whitton Community Centre, Percy Road, Whitton TW2 6JL. The meeting normally finishes about 21:00. The community centre is close to Whitton Station and on H22 and 110 bus routes.
Hewitt Room, Whitton Community Centre, Percy Road, Whitton, TW2 6JL
01 Dec 2022 19:15