Search results for War Memorial.
/world-war-i-articles/lewes-war-memorial-by-dr-graham-mayhew/
Erected in 1922, following a design competition judged by the Slade Professor of Fine Art at Cambridge University, Lewes War Memorial stands twenty-seven feet high in the middle of Lewes High Street, at the top of School Hill. Its Portland Stone obelisk is topped by a bronze winged victory looking straight down the hill. At its foot are two more …
---
/the-latest-wwi-podcast/ep-145-stories-from-the-bo-ness-war-memorial-alan-gow-robert-jardine/
Alan Gow and Robert Jardine about their book (written with Richard Hannah) on the lives and war service of the men who commemorated on the Bo'ness War Memorial, West Lothian.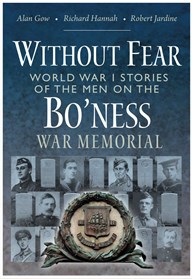 ---
/world-war-i-articles/the-search-for-daniel-lightfoot/
The search began with the war memorial on the wall of a former pub, the Dog & Partridge, 5 Hot Lane, Burslem, which was opposite my primary school and at the back of the brickworks where my father worked.  I have known it virtually all my life. Only when my friend Mick Rowson and I decided to compile a Great War Roll of Honour for Burslem did I…
---