Behind every name on a war memorial there is a story, but that of John Christie Wright, commemorated on the Rothiemay War Memorial – a small community in what was formerly Banffshire – is particularly remarkable.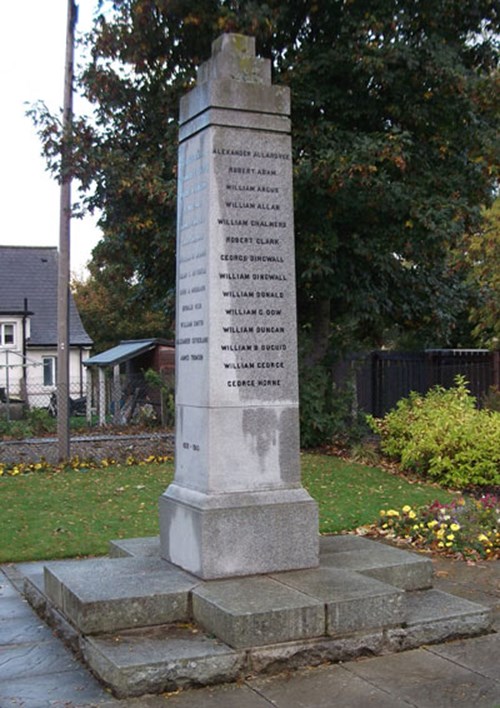 Above: Rothiemay war memorial (c) Moray Council 2021 
John Christie Wright was born in Aberdeen on 22 August 1889, the son of Moses, a general merchant, and his wife, Margaret (nee Christie). He was barely eight months old when his father died on 16 April 1890. His mother would later return to her family home at Waulkmill, Rothiemay. John was educated at Robert Gordon's College and then at Gray's School of Art in Aberdeen, where he was deemed to be an exceptional student, winning scholarships and prizes.
He later studied at the Royal College of Art in London before emigrating to Australia, arriving in Melbourne in May 1912. He was appointed as first lecturer in art at the College of the University of Sydney. He designed some notable sculptures in Sydney. These were primarily reliefs for the façade of the Daily Telegraph building on Castlereagh Street, Sydney and the Perpetual Trustee Company Building on Hunter Street, Sydney. The Telegraph works were the bronzes Commerce and Knowledge and the fine Arts and stone figures Justice and Truth.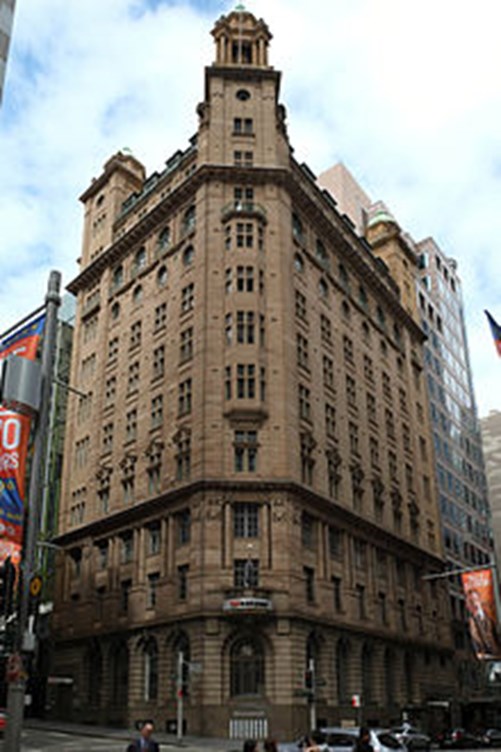 Above: Castlereagh Street, Sydney
The statue Perpetuity for the Perpetual Trustee Company won for him the Wynne Prize in 1915.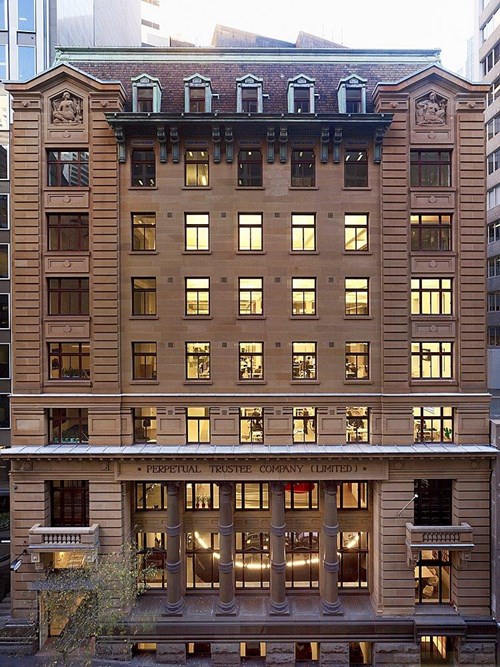 Above: A view of The Perpetual Trustee Building (photo Kamirice)
He also designed medals for the Sydney Society of Artists to commemorate the landing of Australian troops at Gallipoli in April 1915 (image below).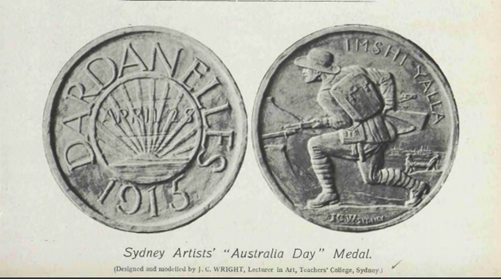 In February 1916, he was appointed as Principal to the Adelaide School of Art despite telling the selection committee that he had submitted an application to enlist earlier that month. In his few weeks at the helm before his attestation on 26 April 1916, he set about its reorganisation into the South Australian School of Arts and Crafts.
Above: John Chritie Wright's Attestation Papers 
He was later gazetted as Second Lieutenant in  October 1916.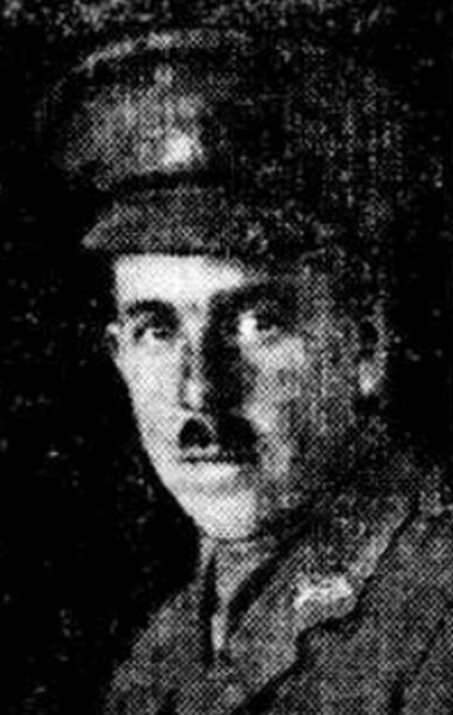 Caption – Second Lieutenant John Christie Wright
John left Sydney on 25 October 1916 with the 17th Reinforcements, arriving at Devonport on 28 December 1916 and then proceeding to Rollestone. He later embarked for France on 11 March 1917 where he joined 20 Battalion on 19 March 1917.
His service record includes a report from the Chaplain that:
'this officer was killed by a H.E. shell whilst jumping off line at Bullecourt attack on 2 May 1917, most probably not buried'
In an article in the 19 May 1917 edition of the 'Adelaide Advertiser', the Premier of South Australia, Crawford Vaughan, said:
'The news of the death of Lieutenant Wright, principal of the Adelaide School of Art, came as a great blow to me. Lieutenant Wright was a young man of high attainments and of brilliant promise. He was selected by the Government for the post of principal of the School of Art after he had actually enlisted, but he was able to devote a few weeks before he left for the front to reorganising his department. In that brief time, he displayed excellent capabilities as a teacher and as an organiser. As a sculptor he attained high distinction, and his figures which cap the 'Sydney Daily Telegraph' building are a particularly fine artistic achievement, both in conception and execution. He was a man who could ill be spared, but having heard the cry and call of duty, he went forth to fight for the liberty of others.'
John Christie Wright had served in France for only six weeks prior to his death ... his story is not about the campaign but of the loss of exceptional talent during the war. Indeed, the only reference to him in the War Diary of 20 Battalion is '2/Lt Wright killed'.
He is commemorated on the Villers-Bretonneux memorial in France.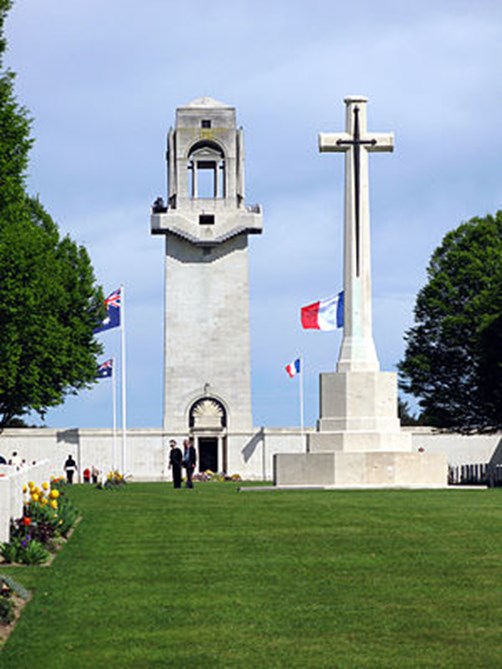 Above: Villers-Bretonneux (Somme, France) - La croix du cimetière militaire et la tour du Mémorial National Australien. Photographed by Marc Roussell  CC BY-SA 3.0 
His memory also lives on in Australia where a fountain was commissioned in his memory in Macquarie Place Park, Sydney.
In addition, the John Christie Wright Memorial Prize is awarded annually to an outstanding student majoring in Painting and graduating from the Bachelor of Visual Arts (Specialisation) at the South Australian School of Arts.
Article by Jill Stewart, Honorary Secretary, The Western Front Association