On 30 August 1917, Francis McLaren, who was a Liberal MP for Spalding, was killed in an Avro 504 A which fell into the sea off Montrose. He was on a training flight at the time. Second Lieutenant McLaren was undergoing pilot training with Number 18 Training Squadron (RNVR).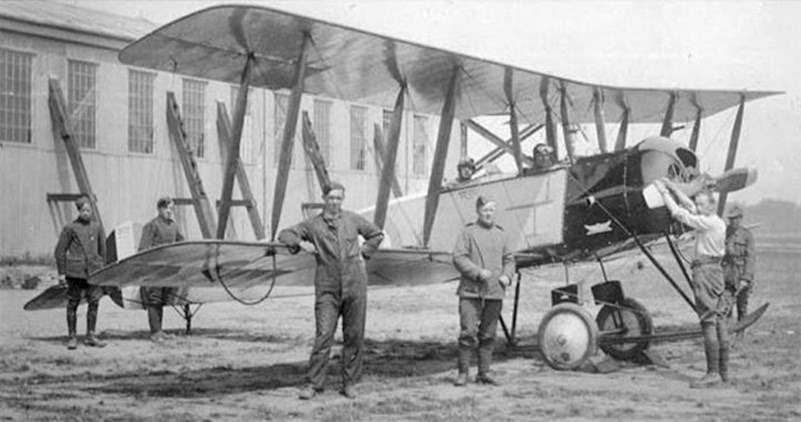 Although rescued by a fishing boat, Francis did not regain consciousness and died of his injuries before reaching land.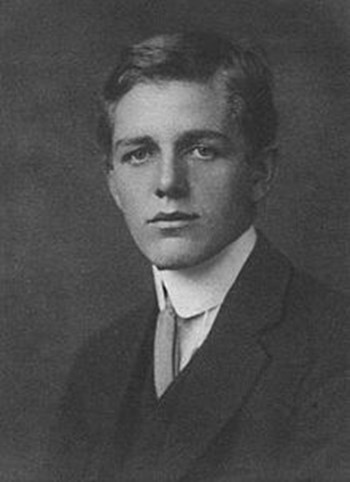 McLaren was the only Member of Parliament to be killed between 1914 and 1918 whilst serving in the RFC or RAF. The former Prime Minister, H. H. Asquith, whose son, Anthony, and daughter, Violet, had been a page and a bridesmaid at McLaren's wedding in 1911, paid tribute in the House of Commons, saying: 
we have lost one of our youngest and most loved of our members … who was cut off in a youth of radiant promise, still untarnished by disappointment, a man with clear and firm conviction, a faithful and loyal friend.
McLaren was the youngest Liberal member of the Commons, aged 23. His entry to Parliament was certainly helped by his family's political history - his father, Sir Charles Benjamin Bright McLaren (1850-1934) - was the Liberal MP for the Bosworth division of Leicestershire. Also, his older brother Henry (1879-1953), had held the seat of West Staffordshire from 1906 until January 1910. More famously, his brothers-in-law was Reginald McKenna (Home Secretary and then Chancellor of the Exchequer).
Francis McLaren's service started with the Royal Naval Volunteer Reserve when was commissioned as a lieutenant in September 1914. He left for France a month later.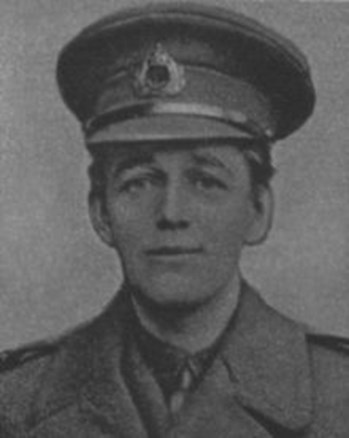 His fellow MP, Josiah Wedgwood, stated that McLaren 'had got overseas by offering his Rolls-Royce car to the General with himself as chauffeur'. A meeting between McLaren and Wedgwood at Ostend led to McLaren joining Wedgwood in the Royal Naval Armoured Car Division. To being with, the two men were based at Wormwood Scrubs.
Wedgewood wrote that McLaren would 'vanish nightly for bridge with the Asquiths in Downing Street'. 
After training at Henley-on-Thames the two MPs persuaded Asquith and Churchill and then the Admiralty to send armoured car squadrons to Gallipoli. They arrived at Lemnos in April 1915. Worried that the armoured cars could be left without a role, McLaren transferred to HMS Doris as an observing officer, but this meant that he missed the actions of the River Clyde at V beach on 25 April.
In early May Josiah was injured by shrapnel. He said that McLaren saved his life after he searched for him on the hospital ship and persuading the doctors to operate on Josiah straight away. Whilst Wedgwood was wounded, McLaren commanded the armoured cars during the Third Battle of Krithia on 4 June, the only occasion on which they were in action during this campaign.
McLaren contracted dysentery and ended up at home. It was at this point he went to the Royal Flying Corps on 1 January 1916. Ill health during his training resulted in him being invalided out later in 1916, but he 'besieged the War Office' and rejoined the RFC as a second lieutenant in June 1917. He had almost completed his advanced training when he was killed in the flying accident.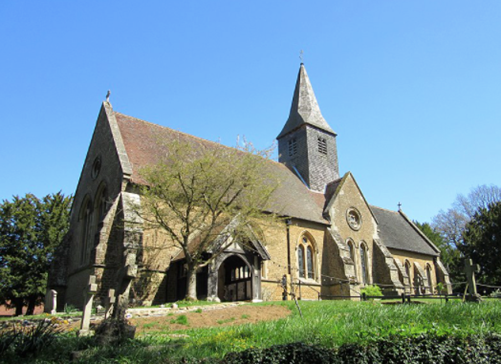 McLaren was buried in Busbridge churchyard, Godalming, Surrey, where his grave is marked with a carved oak headboard designed by Edwin Lutyens.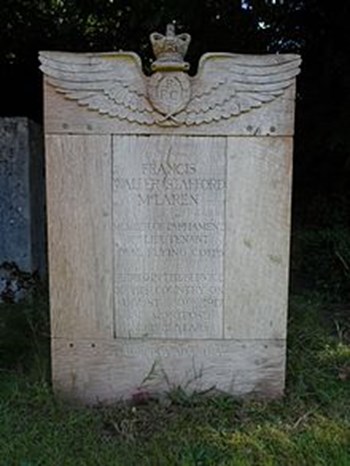 He is commemorated on the Parliamentary War Memorial in Westminster, one of 22 MPs that died during the First World War to be named there.