Ivor Gurney was born at 3 Queen Street, Gloucester, in 1890, as the second of four surviving children of David Gurney, a master tailor, and his wife Florence, a seamstress. In 1911 he was living with his parents and 2 sisters at 19, Barton Street, Gloucester. The census records him as a Musician. He showed early musical ability. He sang as a chorister at Gloucester Cathedral from 1900 to 1906, when he became an articled pupil of Dr Herbert Brewer at the cathedral. There he met a fellow composer, Herbert Howells, who became a lifelong friend. Alongside Gurney and Howells, Brewer's third pupil at this time was Ivor Novello, then known as Ivor Davies. He also enjoyed an enduring friendship with the poet F. W. Harvey, whom he met in 1908.
Gurney possessed a dynamic personality, but he had been troubled by mood swings that became apparent during his teenage years. He had a difficult time focusing on his work at college and suffered his first breakdown in 1913. After taking a rest, he seemed to recover and returned to college.
Gurney's studies were interrupted by World War I, when he enlisted as a private soldier in the Gloucestershire Regiment in February 1915. At the front, he began writing poetry seriously, sending his efforts to his friend, the musicologist and critic Marion Scott, who worked with Gurney as his editor and business manager. He was in the midst of writing the poems for what would become his first book, Severn and Somme, when he was wounded in the shoulder in April 1917.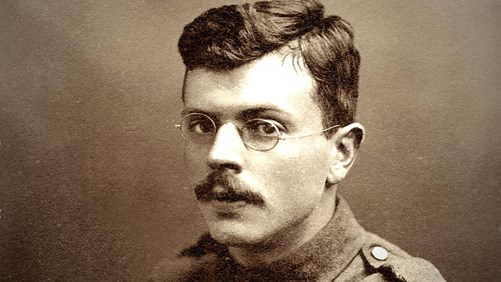 Above: Ivor in uniform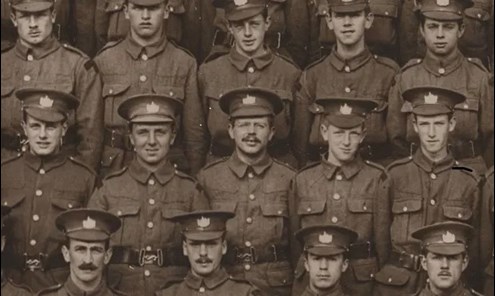 Above: A group picture with Ivor centre in the middle row
He recovered and returned to battle, still working on his book and composing music, including the songs 'In Flanders' and 'By A Bierside'. In the meantime, Gurney was gassed in September the same year and sent to the Edinburgh War Hospital, where he met and fell in love with a VAD nurse, Annie Nelson Drummond, although the relationship later broke down.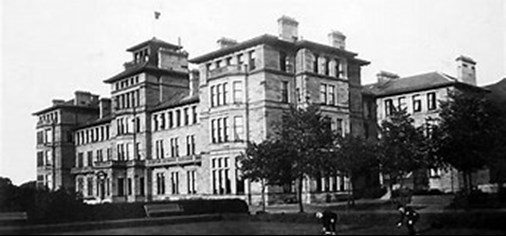 Above: Edinburgh War Hospital, Bangour
There remains some controversy about the possible effects of the gas on his mental health, even though Gurney had clearly shown signs and symptoms of a bipolar disorder since his teens. Gurney wrote in a letter to Marion Scott on 17 September 1917:
"Being gassed (mildly) [his parenthesis] with the new gas is no worse than catarrh or a bad cold"
After his release from hospital, he was posted to Seaton Delaval, a mining village in Northumberland, where he wrote poems, including "Lying Awake in the Ward". His volume 'Severn and Somme' was published in November 1917.
In March 1918, Gurney suffered a serious breakdown, triggered at least in part by the sudden failure of his relationship with Annie Drummond. He was hospitalised in the Gallery Ward at Brancepeth Castle, County Durham.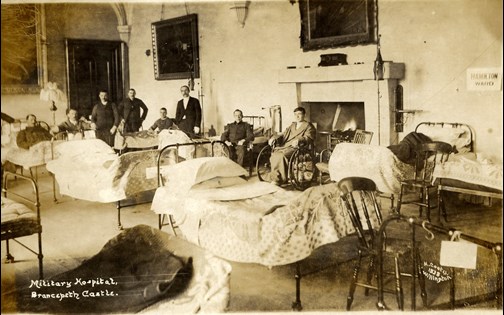 Above: Brancepeth Castle
Gurney slowly regained some of his emotional stability and in October was honourably discharged from the army. He received an unconventional diagnosis of nervous breakdown from "deferred" shell shock. The notion that Gurney's instability should primarily be attributed to "shell shock" was perpetuated by Marion Scott, who used this term in the initial press releases after Gurney's death, as well as in his entry for Grove's Dictionary of Music and Musicians.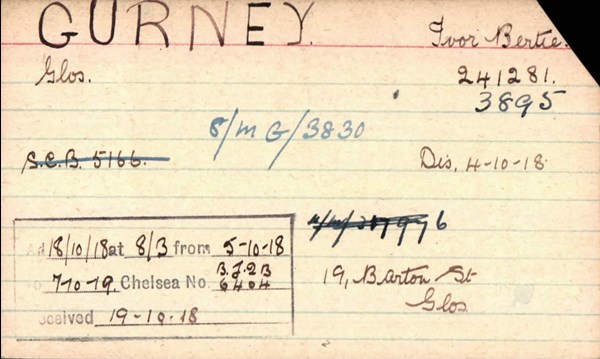 Above and below: The pension record card and ledger.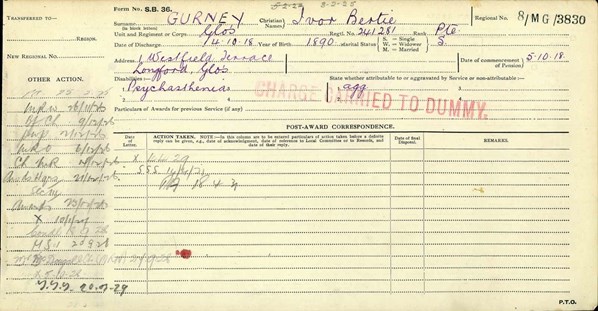 Ivor seemed to thrive after the war and was regarded as one of the most promising men of his generation, but his mental distress continued to worsen. He studied for a brief time with Ralph Vaughan Williams upon returning to the Royal College of Music, but he withdrew from the college before completing his studies. His second volume of poetry, War's Embers, appeared in May 1919 to mixed reviews. He continued to compose, producing a large number of songs, instrumental pieces, chamber music, and two works for orchestra: War Elegy (1920) and A Gloucestershire Rhapsody (1919–1921). His music was being performed and published. However, by 1922, his condition had deteriorated to the point where his family had him declared insane.
Gurney spent the last 15 years of his life in psychiatric hospitals, first for a short period at Barnwood House in Gloucester, and then at the City of London Mental Hospital, Dartford, where he was diagnosed as suffering from "delusional insanity (systematised)". He wrote prolifically during the asylum years, producing some eight collections of verse. His output included two plays in Shakespearean style – "Gloucester Play" (1926) and "The Tewkesbury Trial" (1926). During this time he appeared to believe himself to be Shakespeare in person. He continued also to compose music, but to a far lesser degree. By the 1930s Gurney wrote little of anything, although he was described by Scott as being "so sane in his insanity".
An examination of his archive suggests that up to two-thirds of his musical output remains unpublished and unrecorded.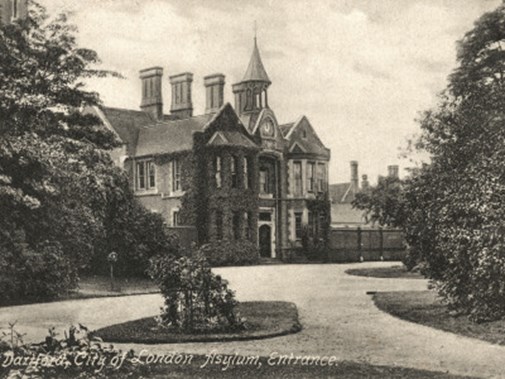 Above: Dartford hospital
Gurney died of tuberculosis while still a patient at the City of London Mental Hospital, on 26 December 1937, aged 47. He was buried in Twigworth, near Gloucester. The service was conducted by his godfather, Rev. Alfred Cheesman.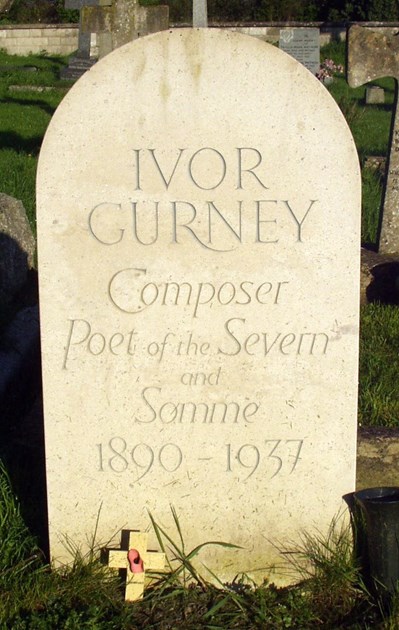 Above: Ivor Gurney's gravestone
On 11 November 1985, Gurney was among 16 Great War Poets commemorated on a slate stone unveiled in Westminster Abbey's Poet's Corner. The inscription on the stone was written by a fellow Great War poet, Wilfred Owen: 'My subject is War, and the pity of War. The Poetry is in the pity.'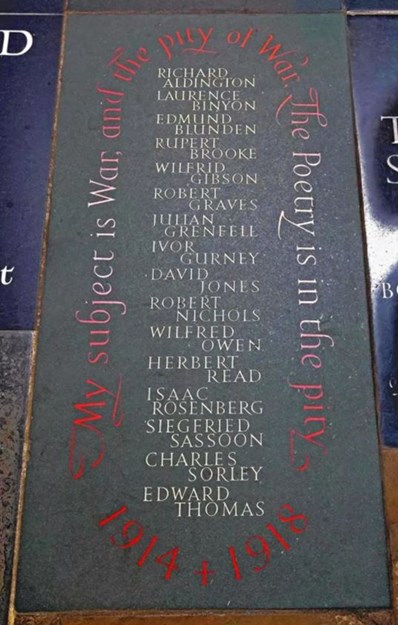 Above: Poets of the First World War Memorial, Westminster Abbey 
In 2000, a stained-glass window was installed in St Mary de Lode Church, Gloucester and dedicated to the memory of Ivor Gurney.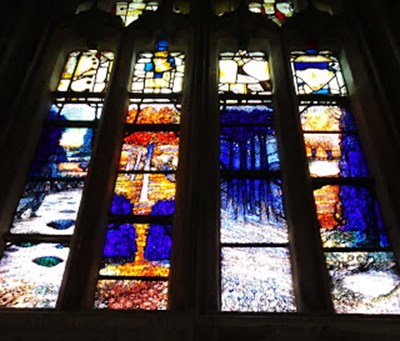 Above: the stained glass window
A memorial to Gurney was erected in 2009 Sint-Juliaan, near Ypres, close to the spot where he was the victim of a mustard gas attack in 1917.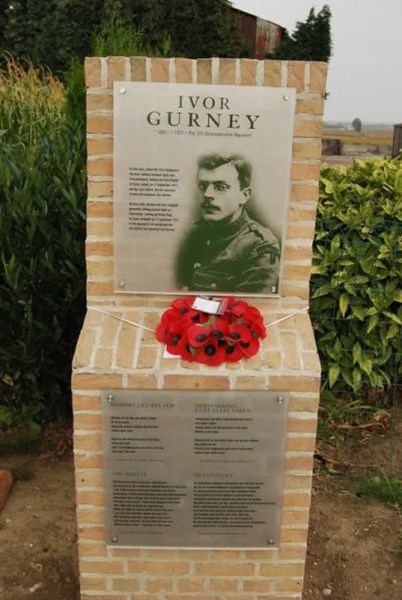 Above: Ivor Gurney Memorial (Tracesofwar.com)
A sculpture by Wolfgang Buttress entitled The Candle was unveiled in 2011 in Victoria Dock, Gloucester Docks; it is inscribed with lines from the Gurney's poem "Requiem" around the base. There is also a blue plaque memorial to Gurney in Eastgate Street, Gloucester.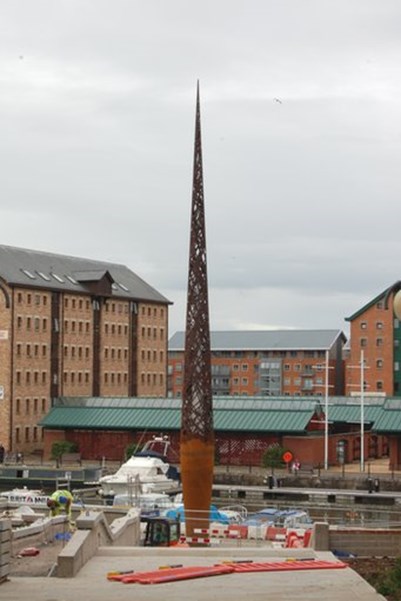 Above: The Candle, Gloucester Docks
Ivor Gurney has been the subject of a number of documentaries and academic research including a BBC 4 documentary "The Poet Who Loved the War", presented by Tim Kendall (April 2014) and another on the BBC Radio 3's Composer of the Week programme (June and July 2014) based on Dr Kate Kennedy's biography, Ivor Gurney: Dweller in Shadows, as part of the station's Music in the Great War series. The programmes included a number of Gurney's pieces, especially recorded by the BBC.
Edmund Blunden, at the urging of Gerald Finzi, assembled the first collection of Gurney's poetry which was published in 1954. This was followed by P. J. Kavanagh's Collected Poems, first published in 1982 and reissued in 2004. It remains the most comprehensive edition of Gurney's poetry. Gurney is regarded as one of the great World War I poets, and like others of them, such as Edward Thomas, whom he admired, he often contrasted the horrors of the front line with the beauty and tranquillity of his native English landscape – these themes were explored in the 2012 musical play A Soldier and a Maker.
Gurney wrote as a ranker not an officer, offering a complex, wry, unheroic view of the soldierly world of the Western Front: presenting not a large statement (for or against war), but an individual experience. Without diminishing the horrors of the front line, Gurney's poems often emphasise the moments of relief. "On Rest" was above all what he called "the relief of knowing mere being". By detailing the "small trifles" of trench life[ – moments of comradeship, letters from home, singsongs, bread and Fray Bentos corned beef, wine, chocolate and café-au-lait, Gurney was able (in Blunden's words) to "express part of the Western Front secret... with distinctive, intimate and imaginative quickness."
At the same time, Gurney was something of a local poet, rooted in Gloucester and its surroundings, which remained a touchstone of reality for him, in the front line and later in the asylum. In the preface to his first book, he wrote of "my county, Gloucester, that whether I live or die stays always with me." His tribute poem, "Crickley Hill", was described by Edna Longley as "perhaps Gurney's most rapturous expression of local patriotism".
On Monday 3 May 2021 The Guardian featured an article entitled 'Silenced' a voice of Great War poet to be heard for first time...Ivor Gurney's writings from an asylum that have been previously ignored., but a new study by Cambridge academic and broadcaster Kate Kennedy reveals their genius.
Kennedy, a fellow at the University of Oxford, was granted rare access to the unpublished manuscripts and is one of only a handful of people ever to have read them. "In two genres, he's telling us what it feels like to be forgotten, to be isolated, to be fighting for your own mental survival. And we can't hear that voice, because most of it's not published and we don't have the right context."
"It's extraordinary," she says, "to find a great poet and composer, who was very confident in his technique, going into his mature period and having no audience. There's almost no other example I can think of."
Until now, Kennedy feels there has been a "double silencing" of Gurney as an asylum inmate. "Not only did his work not get published or reviewed or heard, but anything he wrote while he was in the asylum has been treated with suspicion." This includes his compositions. "If he writes a slightly eccentric chord sequence of a song – and you think, gosh, why are we in F sharp minor all of a sudden, that's odd – it's been seen as a mistake, a symptom of his madness. Now if [Alexander] Scriabin or [Igor] Stravinsky did that, we'd think it was fantastic. It would be expressive and genius. But for Gurney, it's crazy."
The few compositions that were published are now widely held to be masterpieces. "Those are the canonical songs that lots of music college students will sing in their final recital."
During her 15 years of research for the biography, Kennedy unearthed evidence that Ralph Vaughan Williams frequently visited Gurney, his former pupil, at the asylum. Vaughan Williams would play the songs Gurney had been writing on the asylum piano and discuss them with him.
"Here are 200 songs that no one's really looked at and many have been worked through by Vaughan Williams. They are not just scribblings in insanity, they are actually being endorsed by one of the greatest voices in British music. And they are very often extraordinary."
Some of Gurney's unpublished songs will be heard for the first time on BBC Radio 3 in a documentary presented by Kennedy on 20 June 2021.
Article by Robert Stone
References
The Ivor Gurney Society (https://ivorgurney.co.uk/)
Kate Kennedy, ed. 'Ivor Gurney: Poet, Composer', Ivor Gurney Society Journal 2007
'Silenced' voice of Great War poet to be heard for first time: The Guardian (3 May 2021) which features a new biography of the poet, Dweller in Shadows – A Life of Ivor Gurney by Dr Kate Kennedy,
https://www.ancestry.co.uk/imageviewer/collections/1219/images/30836