This story of discovery begins with researching the life of my Great Grandfather Alfred Nelson William Beckley BAKER. This research was undertaken as part of the wider exploration of my family's history. The story comes full circle at the end with the information found on The Western Front Association's Pension Index Cards and Ledgers that have recently been made available online.
Acknowledgement and thanks must be made to the many correspondents on the Great War Forum (GWF) for their knowledge in decoding the content of his service papers and suggestions for his actual military activities, in the absence of more definitive service records.
My Original Understanding About Alfred's Life
On my mother's side, I knew that her grandfather, Alfred, had been a military man and had died during the Great War.  As a lad I had heard a 'family story' that he had been shot in the back by his own men, when going 'over the top', because he was so hated.  There were no photographs of him on display anywhere, but that did not seem strange to me, at the time.  My Great Grandmother was still alive then (85 years old), but it did not occur to me to ask her directly about him.  There was another 'story' in those days, that our family was descended from Lord Nelson, but more of that later in this article. 
Having obtained the overall population and relationships of my ancestors, I then concentrated on Alfred's civil and military service.  I met with a cousin, whose existence I had discovered during my research.  She had also investigated our ancestors and had a number of photographs and documents, and even a couple of Alfred's medals !  One of the documents was an Obituary written by the Masonic Brotherhood, of which he had been an active member. 
Alfred's Life According to the Masonic Brotherhood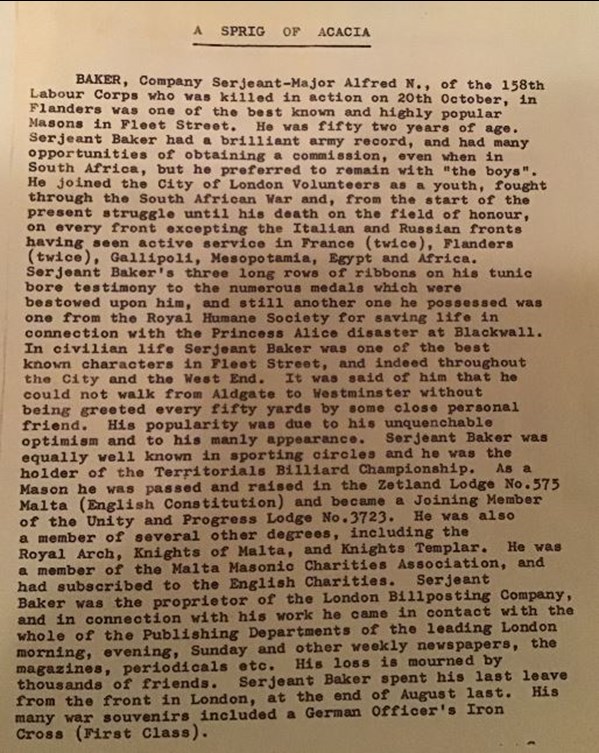 Alfred's Obituary
There are a few inaccuracies in its content, mostly of a detailed nature, but more importantly, in relation to his WW1 service.  After discussions with the GWF, it has been established that he could only have served in France and then only once, which was where he died. The writer was obviously impressed by the main Royal Fusiliers Battalions' exploits, and had assumed that Alfred had served with them.  Moreover, mention of the H.M.S. Alice disaster (which is an error, it should have referred to H.M.S. Albion) led me to exploring the records of the Royal Humane Society.  In 1898, at the ship's launch, by the then Duke and Duchess of York, a 'tidal wave' resulting from the ship entering the water, caused many onlookers to be washed into the river from the pontoon on which they were standing.  Many other onlookers dived in to save them, one of which was Alfred.  He was one of the 26 people awarded the Bronze Medal for saving lives that day.
Alfred's Service During the Boer War
Fortunately, attestation papers relating to his earlier serving in the Boer War are available. These indicate that he signed up in the first instance with the 2nd Royal Fusiliers (No. 8972) in February 1900, for service in South Africa, having already been in the 1st Volunteer Battalion Royal Fusiliers.  He returned to England in September 1900 suffering from rheumatic fever and was later discharged in December 1900 'at his own request, his services not being further required'. He received the usual £5 war gratuity at that time and qualified for the Queen's South Africa Medal with 3 clasps (Cape Colony, Orange Free State and Transvaal, for fighting in those theatres). In February 1901 he again signed up to the Royal Fusiliers (No. 9097), for a second term in South Africa.  He was discharged in June 1902, this time 'on termination of the engagement', receiving another £5 gratuity.  For this second involvement he was awarded the King's South Africa Medal with 2 clasps (1901 and 1902, for serving during those years).
Around this time he was also awarded the Volunteer Force Long Service Medal. He had been in the Volunteers and Territorials since the age of about 16. Being a member of the RF Volunteer Battalion, he apparently took part in the respective parades for the coronations of King Edward VII and King George V;  and, for each of these events, he received a commemorative medal.
The Obituary above also led me to the Masonic Library, which holds records of its members and lodges. Their records showed that he joined the Zetland Lodge in Malta, in December 1915/January 1916; the Resurrection Chapter in Malta, in April 1916; and the Unity & Progress Lodge in London, in January 1917.  This helped to establish his Great War service, as described below.
Alfred's Burial
Unfortunately, records of his service after the Boer War and during WW1 no longer exist. We know from the Medal Index Cards that he was abroad in the Royal Fusiliers (renumbered as No. 200010) and later in the Labour Corps (No. 199140) and was therefore entitled to the British War Medal and the Victory Medal. The records of the Commonwealth War Graves Commission (CWGC) confirm that he was in the Royal Fusiliers (albeit No. 90) and was later transferred to the Labour Corps. 
Although the role of the Labour Corps was fundamental to supporting the war effort, I understand that, in many older soldiers' minds, it did not have the cachet of their original front-line regiments
He is buried in Sanctuary Wood Cemetery, near Ypres.  His Headstone has the regimental crest of the Royal Fusiliers and only refers his R.F. service.
Interestingly, in the CWGC records, there is a letter referring to his mother's complaint about the sorry state of Alfred's grave in Beythem Cemetery (where he was originally interred) and her request that he be removed to a Military Cemetery.  It appears this request was acceded to, which is why he was later re-interred in Sanctuary Wood.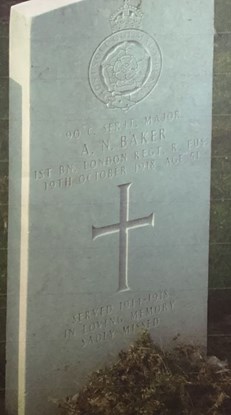 Alfred's Gravestone in Sanctuary Wood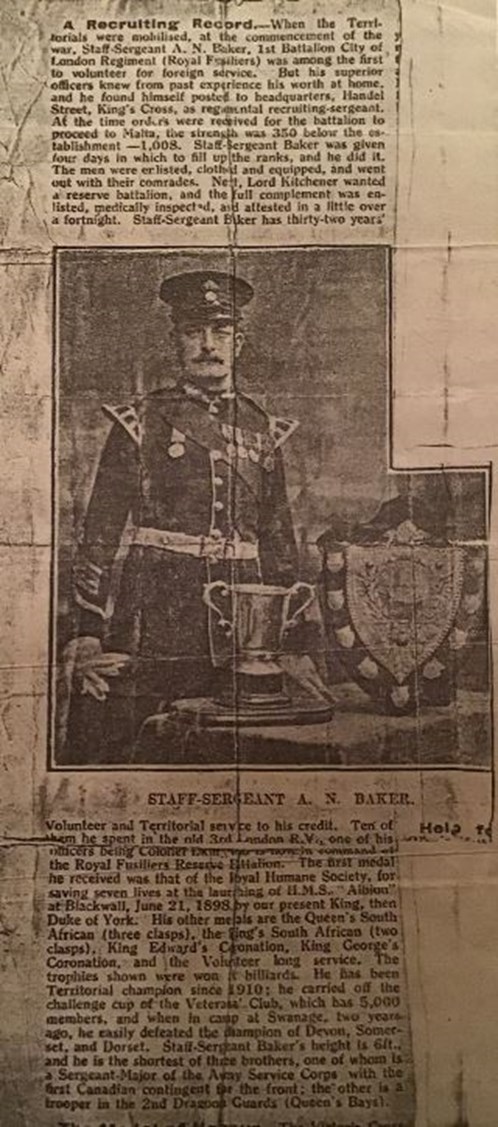 Newspaper Article describing Alfred's prowess  as a Recruiting Sergeant
Alfred's WW1 Service
By putting together the CWGC records, those of the Masonic Library and the war service of the various Battalions of the Royal Fusiliers, my correspondents on the GWF have deduced his probable whereabouts, during the war, thus:
It appears that although involved in the recruitment for the early Battalions of the Royal Fusiliers, he did not go with the 1/1st Battalion to Malta, in September 1914. At some point prior to December 1915, he did go to Malta, presumably to join the 2/1st, as the Masonic Records state that he was there as a Quartermaster Sergeant, at least during the period December 1915 to January 1916. That means that he could not have gone with the 2/1st to Gallipoli. These records then show him back in London in January 1917, as a QMS, Royal Fusiliers.  He then appears to have gone to France with the (new) 2/1st, in January 1917, being renumbered in the Territorial Force as No. 200010. Then, possibly being considered 'unfit' for front-line duty (he was 50 by that time), he was transferred in May 1917 to the Labour Corps (No. 199149) and at some point later joining the 58th Labour Company, as Company Sergeant-major.
Alfred in his WW1 uniform circa 1918
The Truth About Alfred's Demise
I obtained Alfred's Death Certificate, which recorded the cause of death as 'Killed Accidentally' ! The document records that, at the time of his death, he was 51 years of age and serving as a Company Sergeant-major in the 58th Labour Company. Intrigued by the original 'family story' and curious about his role in the war, I tried to find out what was involved in being a member of a Labour Company.
I was advised by a correspondent on a military internet site that, whereas a war diary was maintained for each unit and regiment, this was not the case for Labour companies, since they were (generally) not involved in combat operations.  In any event, only officers are usually mentioned by name, not those of Other Ranks.  However, in the case of the 58th Labour Company, he advised that there was a rare book, which had been written by its commanding officer - Captain T. C. Thomas, O.B.E., M.C. ,  entitled: "With A Labour Company in France – Being the War Diary of the 58th Labour Company".  I successfully located and purchased this book and in Chapter 10, there are the following paragraphs:
"Shortly after midnight, I was awakened by the sergeant of the guard with the sad news that my C.S.M. had been killed on the railway near the camp.  He had left the train at Bailleul and was proceeding by road to join us.  Reaching Beythem, he had accepted a lift in a light railway train from the main road to our camp, but at the first points the truck jumped the rails and threw him under the tractor, killing him instantly.
It was a great shock to us all. Sergeant-major Baker was an old veteran, the wearer of a long row of ribbons, who had by his courtesy, tact and consideration, endeared himself to everyone.  We buried him the next day in a soldier's plot in Beythem cemetery, amidst unusual regret that so gallant and honourable career should be terminated in such a terrible fashion."
So, not only were the circumstances of his death documented, he was also specifically named. This was a tremendous coup for me.
By the time of his death, the long row of ribbons mentioned above comprised the following
Queen's South Africa Medal
King's South Africa Medal
Territorial Long Service Medal
Royal Humane Society Bronze Medal
Serbian Cross of Mercy
How he came to be awarded this last is still a mystery, although he may have received it through his service in Malta, where many Serbian casualties were treated.
The 58th Labour Company was primarily a Railway Company, tasked with maintaining and repairing the standard gauge rail network across the country; and the construction and continual repair of the narrow gauge / light railway network that supported the front line and trenches. Although Labour Company personnel were not supposed to be anywhere near the front line, this book describes a number of occasions where the men were fired upon.
Alfred's Medals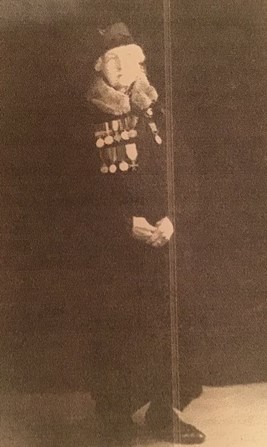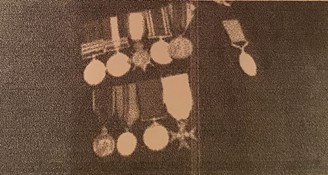 Alfred's mother wearing his medals and close-up of medals
This shows his mother wearing all his medals in a photograph taken in November 1931. Apparently, she regularly attended the commemoration at the Cenotaph. Previously, correspondents on the GWF had confirmed the identity of the medals in the picture, including one as, either the 1914 (Mons) Star or the 1914-15 Star. Now that we have deduced his actual service, he would not have been entitled to either Star, since it appears that he did not enter an overseas theatre of war until 1917. We can only speculate that his mother may have considered that Malta was 'overseas' service and had obtained a Star by unofficial means.
Alfred's Siblings
Alfred had three (younger) brothers, all of whom served in the Great War: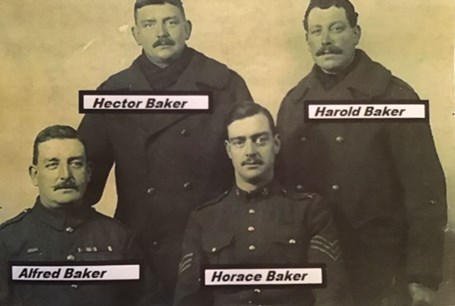 The Baker brothers in their WW1 uniforms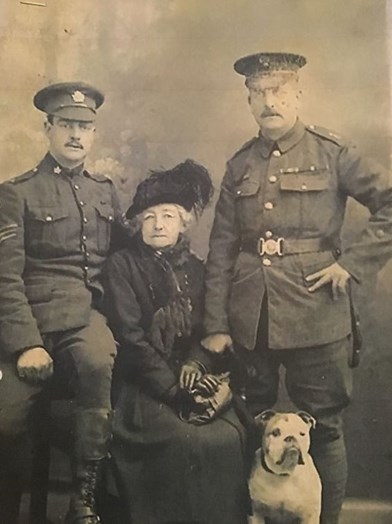 Alfred's mother with Alfred and Horace in their WW1 uniform
Harold Olney Watts Thomas Beckley Baker joined the 28th Battalion Imperial Yeomanry (No. 38793) in January 1902, and served in South Africa during the Boer War.  Rising to a Corporal, he was discharged in November 1902, 'at his own request'.  According to his service papers, he was awarded the Queen's South Africa Medal with clasp for 1902.  Surely, this should  have been the King's South Africa Medal with clasp for 1902?  In September 1914, he enlisted in the 2nd Dragoon Guards (No. 5270), but was deemed fit 'for the Army Reserve as Instructor for home service only'.  He was later discharged as 'medically unfit' in February 1915 and duly awarded a Silver War Badge.  During WW2 he served with the A.R.P. and the Civil Defence.  Harold died 7 September 1967.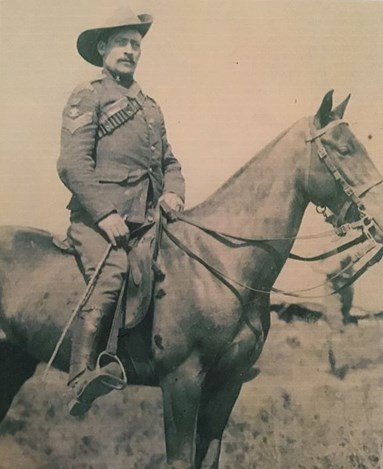 Harold in his Boer War uniform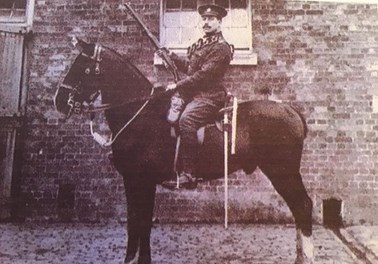 Harold in his WW1 uniform
Hector Nelson BAKER, always known as George Nelson Baker, apparently served in the 11th London Regiment (No. 453500) from July 1917 to February 1919.  His service papers have not survived, but his Medal Roll shows his period of service and medal entitlement, i.e. British War Medal and Victory Medal.  Hector (George) died 20 December 1957.
Horace Nelson William Beckley BAKER, emigrated to Montreal, Canada sometime prior to 1911, and was married there.  According to his WW1 attestation papers, he had originally served in England for two years with the 14th Imperial Yeomanry (going to South Africa, where he was wounded in the thumb); and then for three years served in the No.18(?) Coy, Canadian Army Service Corps.  He enlisted in the 1st Reserve Park Canadian Army Service Corps - Horse Transport (No. 35335) in September 1914 and served in France from 25 April 1915 onwards. He returned to Canada for three weeks during February 1916, suffering from Scabies.  On his return to France he was promoted to C.Q.M.S. and then to acting R.Q.M.S. in January 1919, then being discharged with that rank in August 1919.  Curiously, although his wife was listed as the next of kin, the papers show that his mother, Mrs H B Baker should be informed in case of casualty !
From 1914, records show that Horace assigned some of his monthly pay to his wife, although from October 1919 to February 1920 his War Gratuity and Separation Allowance were allotted to his mother, Mrs H B Baker.  Perhaps his wife had died, by that time.  Horace died 20 October 1960.
Alfred's Sons
Following in their father's and uncles' footsteps, both his eldest sons enlisted for WW1 service:
Reginald Alfred Olney Baker joined the 6th Battalion Rifle Brigade (No. 8445) in January 1915. In fact he was only 15 years old. This was discovered when his mother wrote to the commanding officer. He was allowed to stay in the Army, but served in the officers' mess pending his 19th birthday, in April 1917.  He then went to France. He suffered a severe leg wound in August 1917 and was repatriated to the UK, finally recovering and being discharged in August 1918, as being 'no longer medically fit for service', so he was awarded a Silver War Badge.  In WW2, he served in the Home Guard. Reginald died 6 June 1961.
The youngest child, Frederick George Baker, enlisted in the Royal Marine Light Infantry (No. 21545) in September 1917, although he did declare that his age was 17 years, 6 months and 23 days.  His attestation papers record that he signed up for 12 years, 5 months and 8 days!  The papers also record that he  forfeited 161 days service for being under age.  He was discharged in May 1918, having been invalided at the R.N. Hospital, Chatham suffering from Pulmonary Tuberculosis; and was duly awarded a Silver War Badge.  He died 14 February 1920, directly as a result of TB.  He was not originally listed on the National Roll of the Great War.  I was able to provide documented evidence that he had died as a result of contracting the disease whilst in military service and, thanks to the efforts of the 'In From The Cold Project', his name was officially added to that Roll and his burial place listed.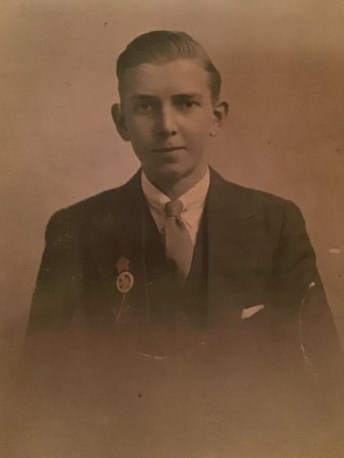 Frederick George in civvies after discharge
The 'Nelson' Connection
Alfred's mother, whose maiden name was Horatia Belini Nelson, was a jobbing actress, using that name professionally.  She initially performed in plays on the stage, then acted in silent films from the age of 72, later in 'talkies', and then finally starting broadcasting on the radio at the age of 89!  Among more than 100 films, she was a passenger 'extra' in Alfred Hitchcock's first 'talkie', The Flying Scotsman made in 1929; and apparently had a few words to say as a knitting woman next to the apparatus in the film Madame Guillotine.  She had married the widower William Beckley Baker in 1866 and by him went on to have eight children over the next 14 years. 
In interviews with newspapers when she was 84, she claimed that her father was a nephew of Lord Nelson. Although her father was named Horatio Nelson, and he was about the correct generation to be a nephew, there is, in fact, no paternal or maternal connection between Horatia's Grandfather and the Admiral.  In those days, there were no sceptical investigative journalists there are today, so they believed her and published her story.  However, the name Nelson stuck as it was included in the names for three of their four sons.  She was widowed in 1899 and died in 1935, aged 89, still working.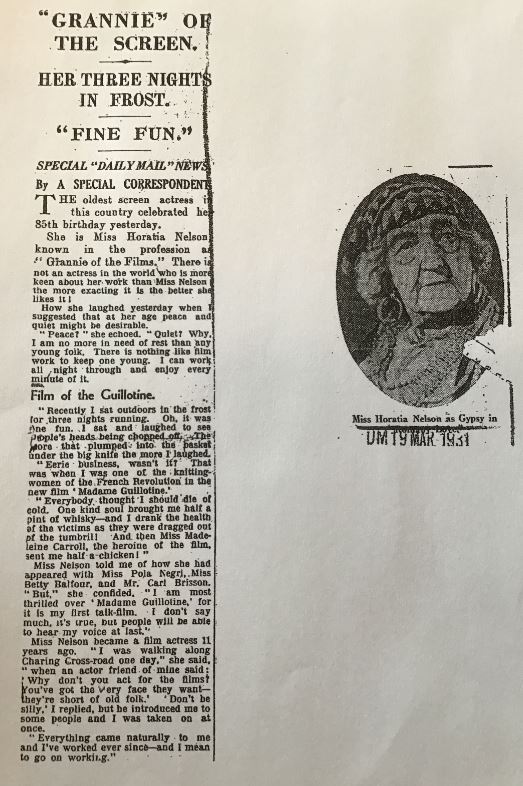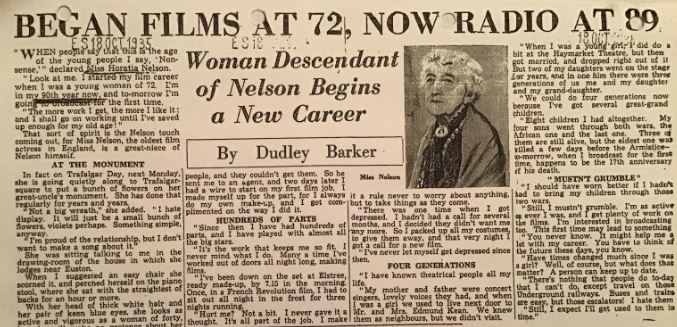 Two newspaper clippings regarding Horatia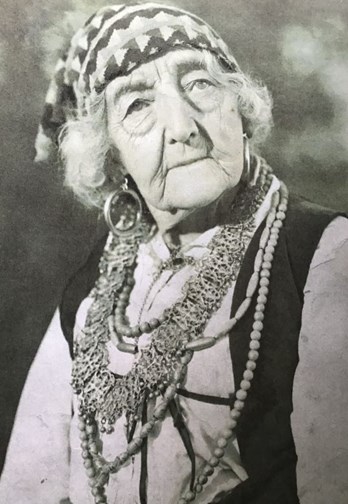 Horatia as 'Gypsy'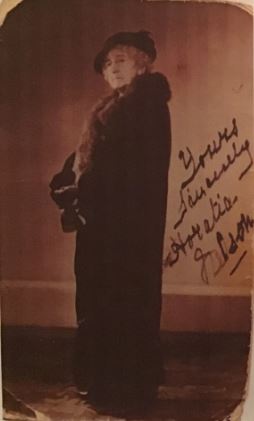 A Publicity Photograph of Horatia on her 89th Birthday
Alfred's Civilian Life
He married Alice Louisa Challis in October 1897 and they had five children, born in 1899, 1900, 1901, 1903 & 1905. On the children's Birth Certificates he is listed, variously, as a Policeman on the G.N. Railway; a Certificated Bailiff; a Sergeant in the R.F.; an Advertising Canvasser; and a Journalist.  According to his Obituary written by the Masons, he was the Proprietor of the London Bill Posting Company.  I can find no official contemporary record of that company, but the occupations of some of his relatives were also recorded as Bill Posters.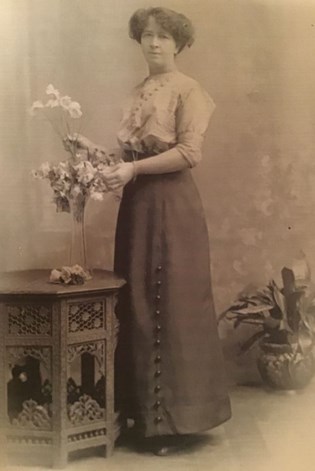 Alice Louisa Baker circa 1900
It appears that circa 1912 he had started 'seeing' another woman.  This is according to the recollection of his youngest son, William, who told his daughter - my third cousin – about the day he and his mother followed Alfred and discovered another 'Mrs Baker', and her holding a baby. Apparently, William never saw his father again.
Since Alfred's mother lived and worked in 'Theatreland' in the West End of London, it is likely that is where Alfred met this woman - Mary Ann - who was a barmaid in a theatre. Thenceforth, they lived together as man and wife, although never actually marrying.  They went on to have four children, born in 1912, 1913, 1914 & 1917.  In each case, the mother's name on the Birth Certificate is recorded as M. A. Baker and the father as Alfred Baker. In 1920 on the Death Certificate of one of their daughters, he is recorded as Alfred Nelson Baker (deceased) Quarter Master Sergeant Labour Corps, so the link with Alfred is indisputable.
Mary Ann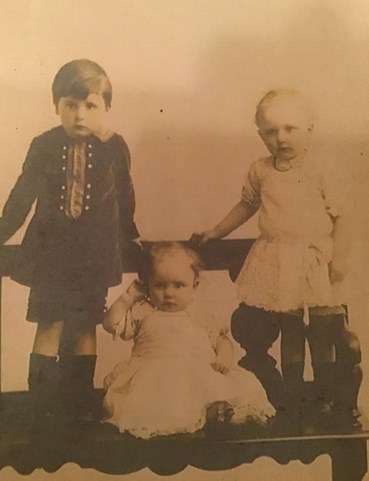 The eldest three of the children of Alfred and Mary Ann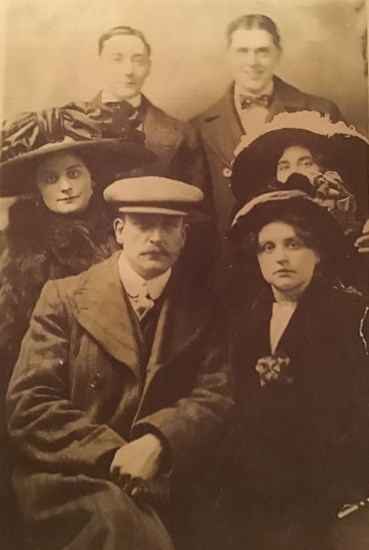 Alfred, Mary Ann and friends
These pictures were provided by the living descendants of his first illegitimate child, Alfred Stanley Baker. One of these descendants contacted me when it became clear that they had also been researching what turned out to be our common ancestor - Horatia Bellini Baker. They had believed that 'their' Alfred may have had another family, but were unaware of the details and the parallel family of my ancestors.
Alfred's Will and Soldier's Effects
Alfred had written a formal Will in February 1900, prior to going to South Africa. It states that he left his 'real and personal estate, whatsoever and wheresoever, unto my dear wife Alice'; and '... appoint her sole Executrix'.  In April 1919, 'Probate was granted to Alice Louisa Baker the sole Executrix...'.
The Soldiers Effects Ledgers shows two records relating to Alfred.  One had a total amount of £51.10s.1d and the other for £3.14s.5d.  Both records show the authorised recipient as 'Wid. & Sole Exec. Alice Louisa'.
Alfred's Army Pension
According to an Army Form 3038, which was sent to his widow Alice following Alfred's death in 1918, 'The separation allowance and allotment of pay now being issued to you will continue to be issued for a period of 26 weeks ...... after which a pension (or gratuity in certain Dependants' cases) becomes issuable'.

Army Form 3038
Pension Index Cards & Ledgers
There are two Pension Cards relating to Alfred, both referring to his last Service No. in the Labour Corps. Although, they provide interesting information not previously known, they do also raise a few questions: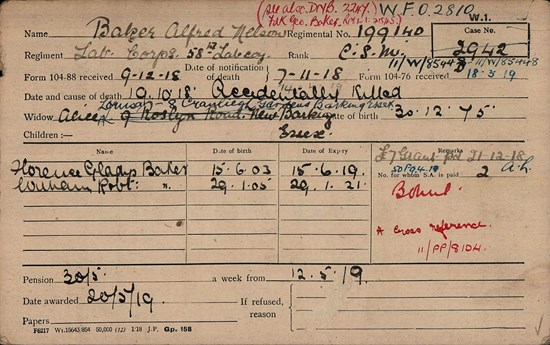 Alfred's First Pension Card
This indicates that Alfred's 'true' widow claimed a pension for herself and two qualifying children, and was seemingly granted as 30s 5d per week, from 12.5.1919.  The expiry dates for the children's payments shown agree with those of their respective 16th birthdays.  It also appears that a Grant of £7 was paid earlier on (21.12.18).  Although the commencing date appears to be some months after Alfred's death, I assume that the separation allowance, etc, mentioned above, would have helped while Alice waited for the granted pension to start.  The change of address recorded is correct, but I do know that, later in life, she moved at least once more to somewhere else in Barking, but the card has not been updated.   Could this be because she could still get the pension from the same Post Office, so did not need to advise a change?  If that were the case, it seems short-sighted in the light of any subsequent correspondence.  
Note:  There are cross-references to (a) the pension claim from the other Mrs Baker (8104) and (b) the Pension for Frederick George Baker RMLI  No.21545 (her deceased son).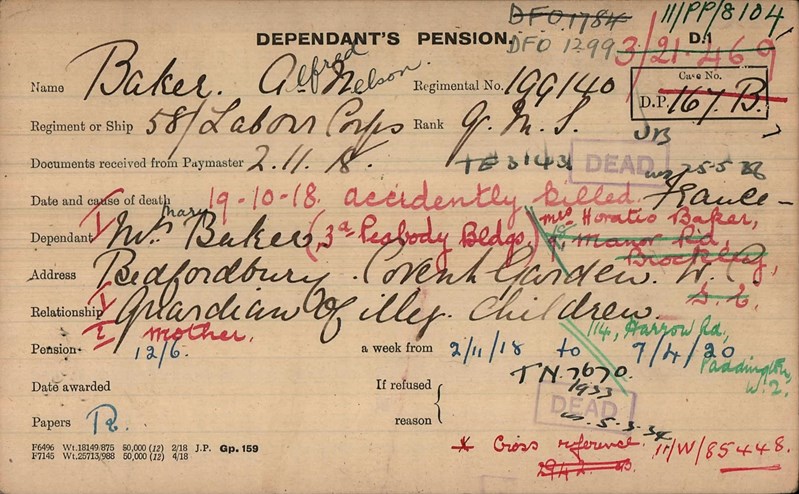 Alfred's Second Pension Card
This shows a Dependant's Pension claim by the other Mrs Baker, as 'mother' and 'Guardian of Illegitimate children', which was seemingly granted as 2s 6d per week from 2.11.1918 to 7.4.1920. Interestingly, the commencing date of these payments is much earlier than either the initial grant or the ongoing pension granted to his 'true' widow. The reason for the expiry date is not apparent and does not agree with the date on which she subsequently married, which was 6.9.1919. There is also no reference to the ages of the illegitimate children, who would have all been under 16 years of age at that time, nor to the respective expiry dates, where their 16th birthdays would have been 1928, 1929, 1930 & 1933.  Mary died 18 January 1968.
Note:  There is a cross-reference to the pension claim from the 'true' Mrs Baker (85448).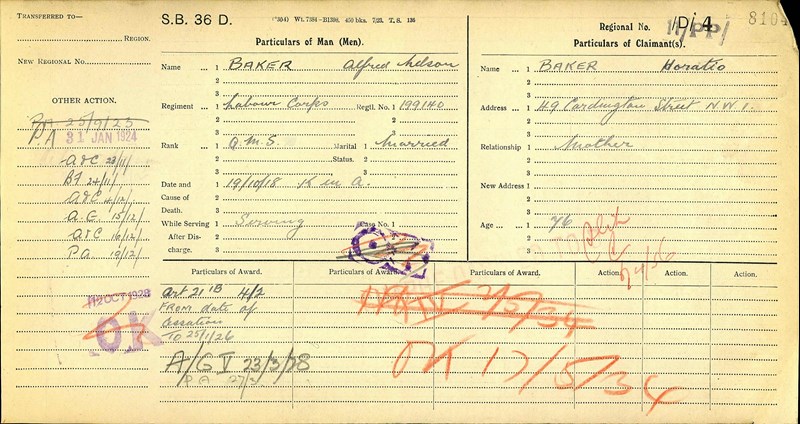 Linked Pension Ledger
There exists only one ledger card relating to Alfred's pension(s) and, strangely, that records his mother, Horatia Baker, as the claimant.  There are no details of dates or amounts.  Perhaps other related Ledgers were weeded out in subsequent years.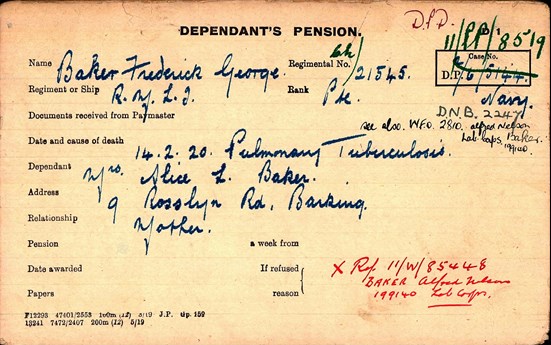 Frederick George's Index Card
Frederick George's Linked Pension Ledger
These show that Alice Baker had claimed a pension in respect of her son, who had died of TB.  From the Pension Ledger, it appears that a pension of 5/- was granted, although there is no commencement date specified.  Alice Louisa Baker died 28 December 1963.
There is another 'family story' that, after the war Alice was comparing notes with another war widow, discovering that Alice was getting a lesser pension than her friend.  So the 'story' goes, they went to the MOD to query this and were told that Alfred's pension had been split between the two Mrs Bakers.  I have been advised by my learned correspondents on the GWF that there was not a 'finite' pension relating to a soldier (which may have been or could be split), but that each claim was treated separately and in its own right.  This fact undermines another of those 'family stories'.
Conclusion
So, at last, I have discovered what really happened concerning Alfred's civilian and military life - with documentary evidence to support that truth.  By way of my family history exploration, I had already uncovered the existence of the second Baker family, but the Pension Records have confirmed the situation.
Alfred appears to have been a fine upstanding member of the community and the Masons; and a considerate and well-liked person during his long military career.  I can understand how he got a 'bad press' from Alice and why this was passed on to their Grandchildren (my mother, aunts and uncles).  It is only now, later, that I have found that they knew about his leaving, but they certainly did not know about the rest of his life.
Although it is true that he 'abandoned' his wife and five young children, for another woman, Alice did receive a separation allowance during his WW1 service (and, incidentally, continued to live in the house owned by Alfred).  She also later successfully claimed an army pension, so it appears that he did support Alice and his children to some extent.  She also benefited from his Will (whose gross value was £149.8s.6d) and his Soldier's Effects (totalling £55.4s.6d).  As Alice did not have a job, and she still had to bring up the younger children, she had to take in lodgers to provide supplementary income.
As far as the other Mrs Baker is concerned, she also appears to have received some amount of support from the Army.  In the absence of Alfred's service papers, we cannot determine whether he also assigned any of his pay to her whilst serving.  Within a year of his death, she got married, with her new husband presumably being happy to take on four step-children.
The WFA Pension Index Cards & Ledgers have certainly provided details of what happened after Alfred's death, that I did not know.
I am glad that, as a result of my research, I have been able to establish the truth - both good and bad - about my Great Grandfather Alfred.
Finally, as far as the Nelson connection is concerned, sadly I can confirm that there is no truth in it, whatever Horatia had told the press.  That said, it was always a good 'story' to roll out !
Article by David Taylor, November 2019