On 31 May 1916 the largest naval battle of the First World War took place off the coast Denmark. the Battle of Jutland is now easily the most remembered of the First World War naval engagements.
HMS Queen Mary put to sea with the rest of the Battlecruiser Fleet to intercept a sortie by the High Seas Fleet into the North Sea.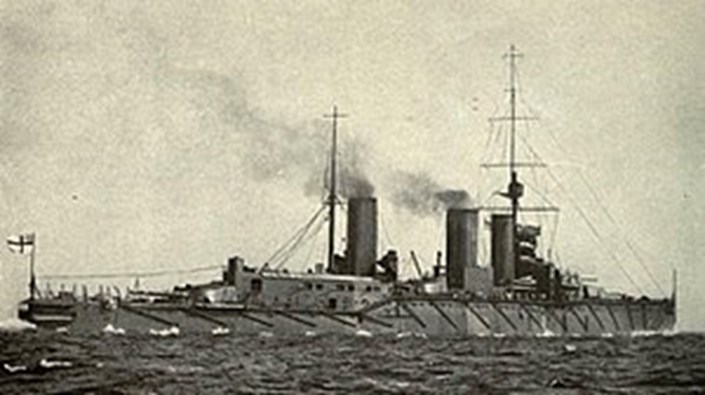 The British had been able to decode the German radio messages and left their bases before the Germans put to sea. The outcome of the battle of Jutland remains contentious with both sides claiming a "victory" of sorts but with over 6,000 British sailors losing their lives it remains much debated. What can be said is that the Battle of Jutland went into the history books as a hollow strategic victory gained at immense cost.
These high losses were partly due to the unexpected sinking of three large ships: HMS Invincible, HMS Queen Mary and HMS Indefatigable. The British fleet used cordite, which was highly volatile, i.e., explosively combustible, in contrast to other types of chemical propellants used in big guns. It was also Naval policy to engage in rapid fire at the outset of an action. This required ammunition handlers to move propellant charges for the main guns more rapidly to the turret crews and, just as important, made it desirable to carry more ammunition aboard ship, to avoid running low during a prolonged engagement. As far as the Queen Mary is concerned there is evidence to indicate that in addition to the charges normally in transit from the ship's magazines to the guns there were large numbers of unprotected cartridges inside the turrets stacked for "ready use." Under these conditions, it has been concluded, each turret became its own magazine in which case a single hit on any turret would have produced an enormous explosion and consequently the loss of the ship.
The outcome of the Queen Mary's loss to such devastating internal fire and explosions led to major changes in the future construction and isolation of gun turrets and magazines on board battleships.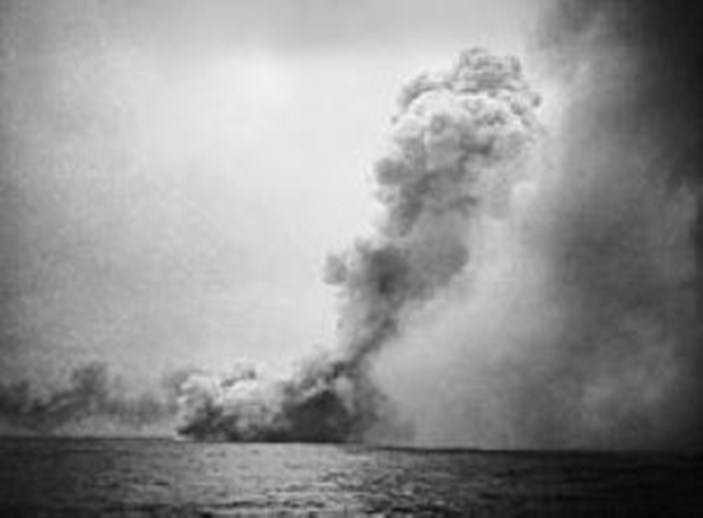 The Queen Mary sank with the loss of 1,266 crewmen with only 9 survivors.
Here is the pension record of one of the lost crew. James Dennis McCormack (PO/J38818) . He served as a Boy Telegraphist and was just 18 years old.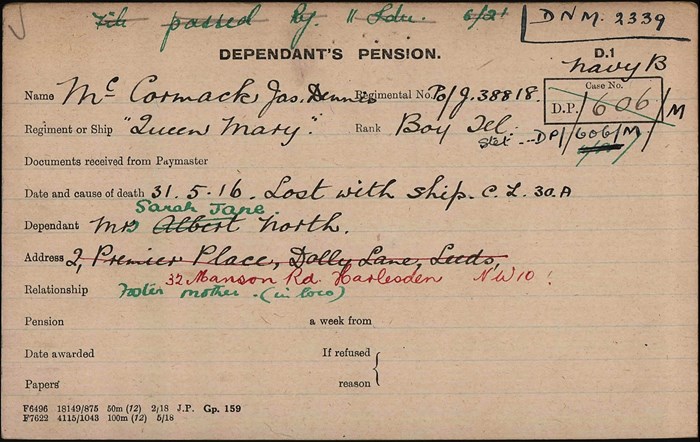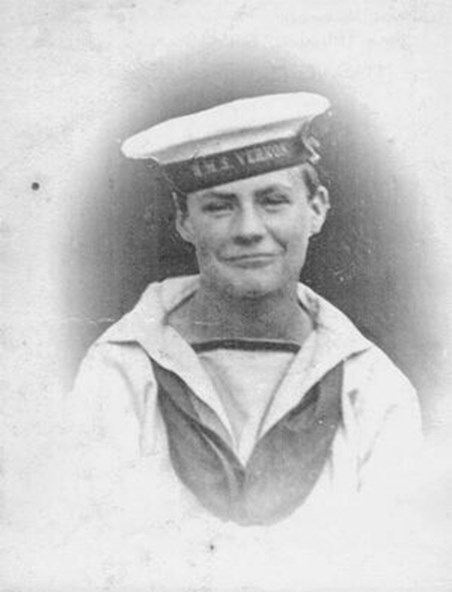 There were a number of fatalities to very young sailors during the Battle of Jutland, below are two more pension cards that serve as examples here: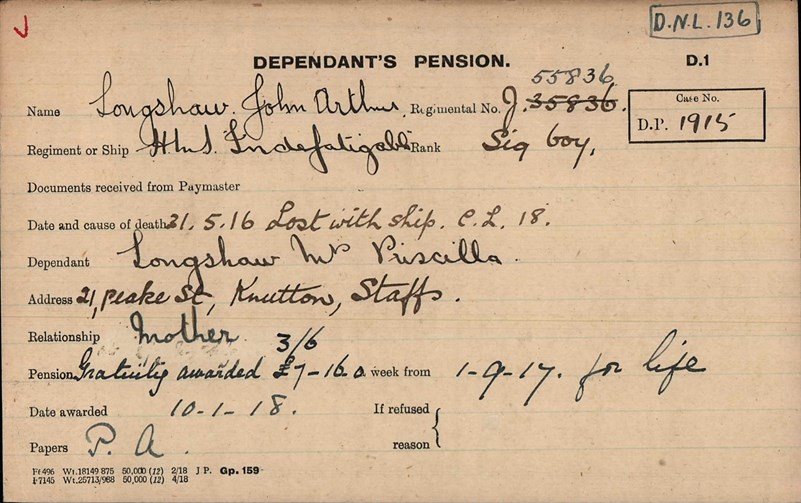 Above: John Longshaw was aged 15 when HMS Indefatigable was sunk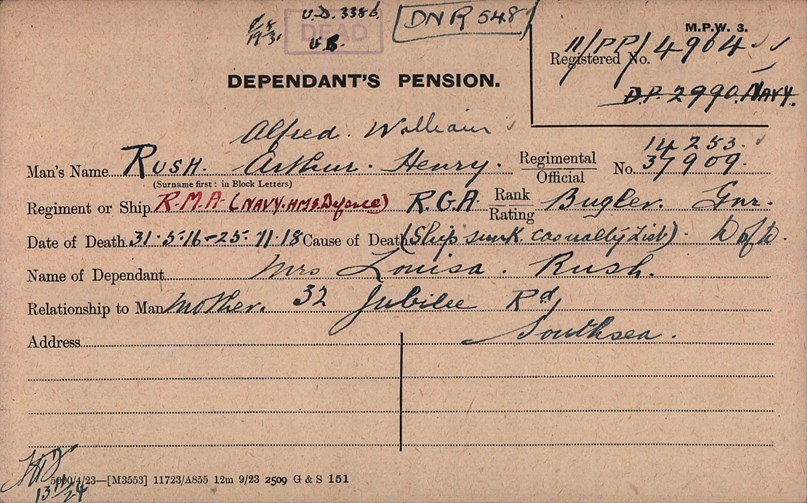 Above: The Pension Record Card for another 15 year old. Alfred Rush was drowned when HMS Defence was sunk. Also recorded on this card is his brother, Arthur of the Royal Garrison Artillery.
A very human side to the work being done by the W.F.A. teams that ensures their memory survives.
Article by Robert Stone
(Bob is one of the many WFA volunteers currently working on 'Project Hometown')
Read More: How to use the WFA's Pension Records to locate naval fatalities